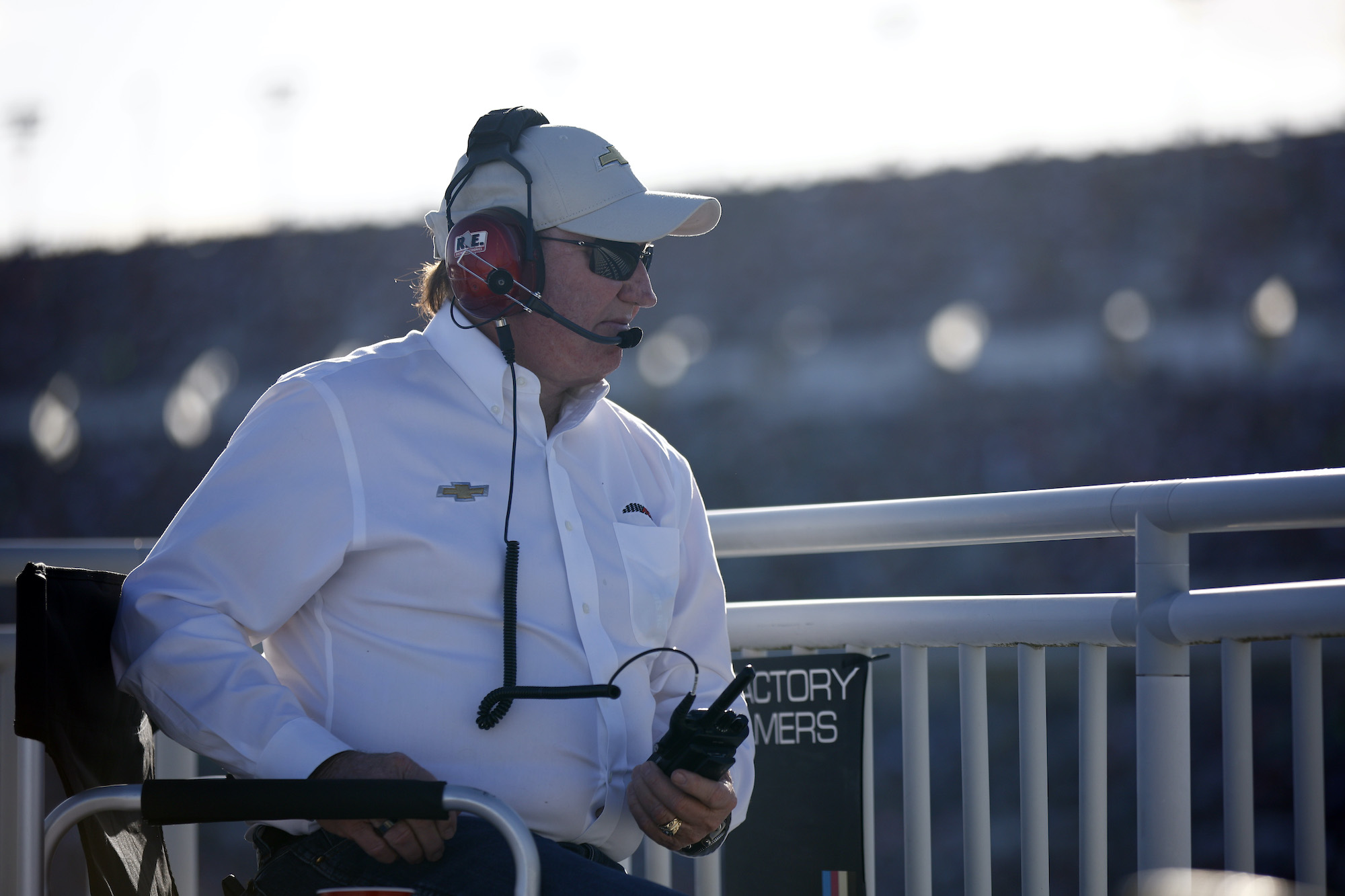 Richard Childress Makes Massive Offer to Ukrainians in Conflict With Russia
Richard Childress is in the news after announcing that he's getting involved in the Ukraine conflict with Russia
Richard Childress made news just before the start of the 2022 NASCAR Cup Series season and it wasn't for anything his team did on the track. 
This week, the legendary team owner is making headlines again for something off the track. Interestingly, this latest move doesn't have anything to do with racing cars but a race to save lives. 
Richard Childress Racing announces CBD sponsorship 
In January, Richard Childress Racing made a somewhat surprising announcement that it had signed 3CHI as a primary partner for Tyler Reddick and the No. 8 car in 2022. 3CHI is a hemp-based product for consumption and therapeutic purposes.
"This is a first-of-its kind partnership, both within motorsports and within the sports industry as a whole," said Torrey Galida, president of Richard Childress Racing. "We're proud of our role as industry leaders in this category and look forward to introducing a pioneer in hemp-based consumer products to NASCAR, as well as educating fans about 3CHI's innovative, science-based products."
Some questioned the move. Childress knew going in that there would be questions and said that's why they went through a rigorous review process with NASCAR. 
"We had to do a lot of testing and a lot of different stuff for the product," Childress said. "I've just got to thank everybody at NASCAR for opening the category. I'm just really thrilled to be part of the first time out. For us to have it on the car means a whole lot."
Richard Childress to send million rounds of ammo to Ukraine
This week, Richard Childress appeared on Fox News. He wasn't there to talk about his team or the first two races of the season. Instead, he came on to discuss the conflict between Ukraine and Russia and announced that he was working with a company to send a million rounds of ammunition to Ukraine.
"I was listening the other day and heard President Zelensky say he didn't want out, he needed ammunition," Childress told Fox's Brian Kilmeade. "I called my good friend Fred Wagenhals, who is the chairman of Ammo Inc., which is a publicly-traded company. I said, Fred we got to help these people. They need ammunition. And he stepped right up and said we will do it. Now we're turning our production to this as our No. 1 priority."
Kilmeade then brought up the subject of civilians being caught in the line of fire.
"I tell you, Brian, this is a wake-up call for America, why we have to have our second amendment," Childress said. "We have 82 million gun owners in America. And to see the people in Ukraine fighting, it's terrible to see the lives that are being lost over there. We have to do all we can, and I felt that with Ammo Inc. and myself, we were doing the right thing and we're going to get that ammunition as quick as we can to them."
Childress, who serves as a member of the company's board of directors, explained how they plan on getting the ammunition to the Ukrainian people.
"We're working with some government agencies," he said. "But to get it there quickly we're going to work through a private company that will be working to get it in there."
RCR teams off to a promising start
While Childress is in the news for what he's doing off the track, his team is making headlines for its on-track performance in the first two races of the season.
Austin Dillon started with a 25th-place finish at Daytona and followed it up with an impressive second-place run behind Kyle Larson last weekend in Fontana. Interestingly, Dillon wasn't the best RCR car in California. 
That belonged to Tyler Reddick, who was dominant early, winning both Stage 1 and 2. He led 90 laps before a flat left-rear tire late in the race and William Byron, who lost his car and slammed into the No. 8 car, ended his day.  
It's an encouraging sign for RCR to have two fast cars run up near the front on one of the most challenging tracks on the circuit. It appears team owner Richard Childress has provided his team with all the tools to succeed with the new Next Gen car in 2022.
He's hoping to do the same with the Ukrainians. 
Like Sportscasting on Facebook. Follow us on Twitter @sportscasting19.