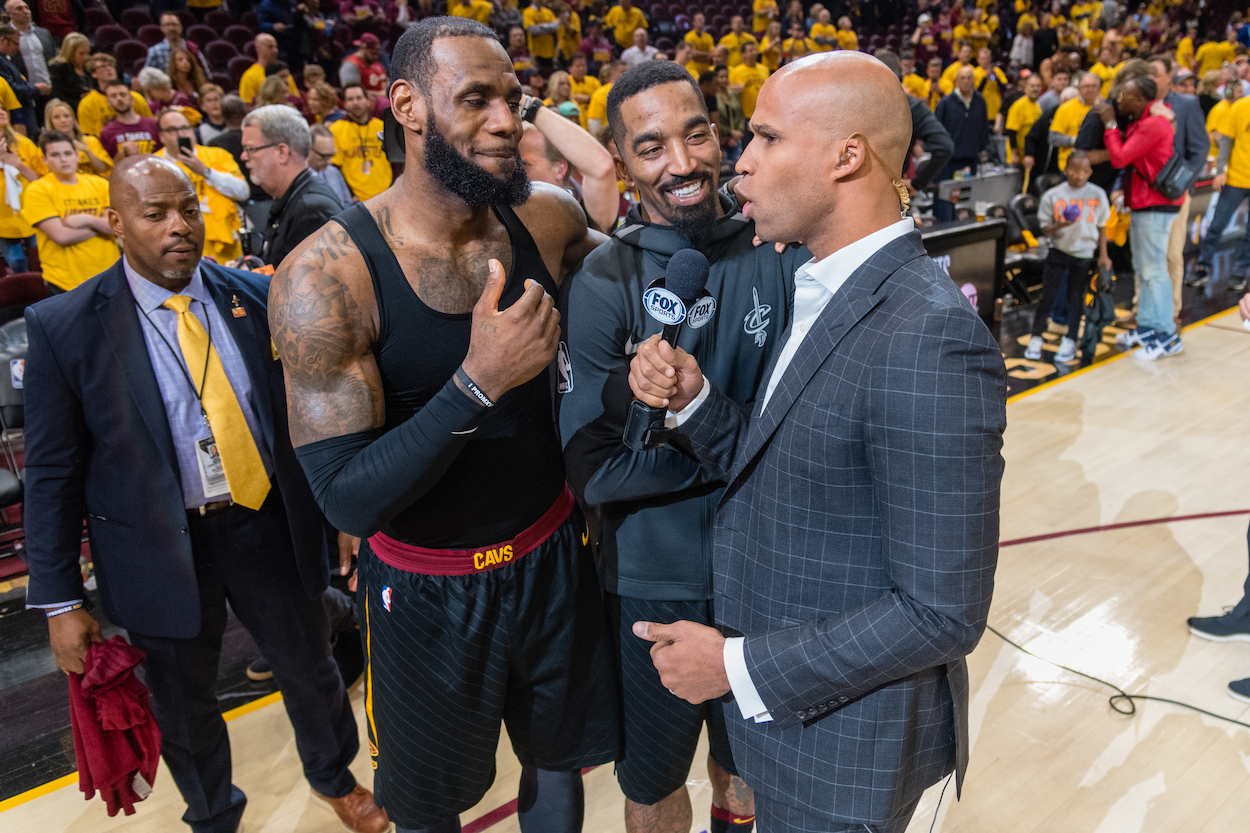 Richard Jefferson Fires Direct Shot and Calls Out LeBron James' Supporters
Many NBA fans apparently forget Richard Jefferson and LeBron James won an NBA title together. Jefferson expressed his frustration about that ignorance during Friday night's game on ESPN.
Richard Jefferson and LeBron James have a history. It was five short years ago the pair brought an NBA championship to Cleveland. Their history on the court has translated into entertaining banter off of it since Jefferson moved into the broadcast booth in 2018.
There have been plenty of exchanges in television interviews, reflecting their close past together as teammates. Despite that history, some fans don't know it exists or flat out refuse to acknowledge it. Jefferson shared his frustration on Friday night calling out those supporters of James who just can't take a joke.  
LeBron James and Richard Jefferson win NBA title together
Richard Jefferson joined LeBron James in Cleveland for the 2015-16 season. At age 35 and in the twilight years of his career, Jefferson served a role. He played a shade under 18 minutes a game. Averaged 5.5 points. Very much a bit player.
Conversely, there's LeBron James. That season James already had two NBA championships under his belt from his time in Miami. In his quest for a third, he averaged 25.3 points, 6.8 assists, and 7.4 rebounds per game for Cleveland.
The Cavaliers were the team to beat in the Eastern Conference, and no one could do it. LeBron James guided the Cavs to a 57-25 regular-season record and No. 1 seed. 
Cleveland breezed through the first two rounds of the playoffs with a pair of sweeps over Detroit and Atlanta. After defeating Toronto in the Eastern Conference Finals, the Cavaliers won a hard-fought seven-game series against the Golden State Warriors. 
Richard Jefferson and LeBron James would forever be linked in NBA history. 
Richard Jefferson directly calls out LeBron James' fans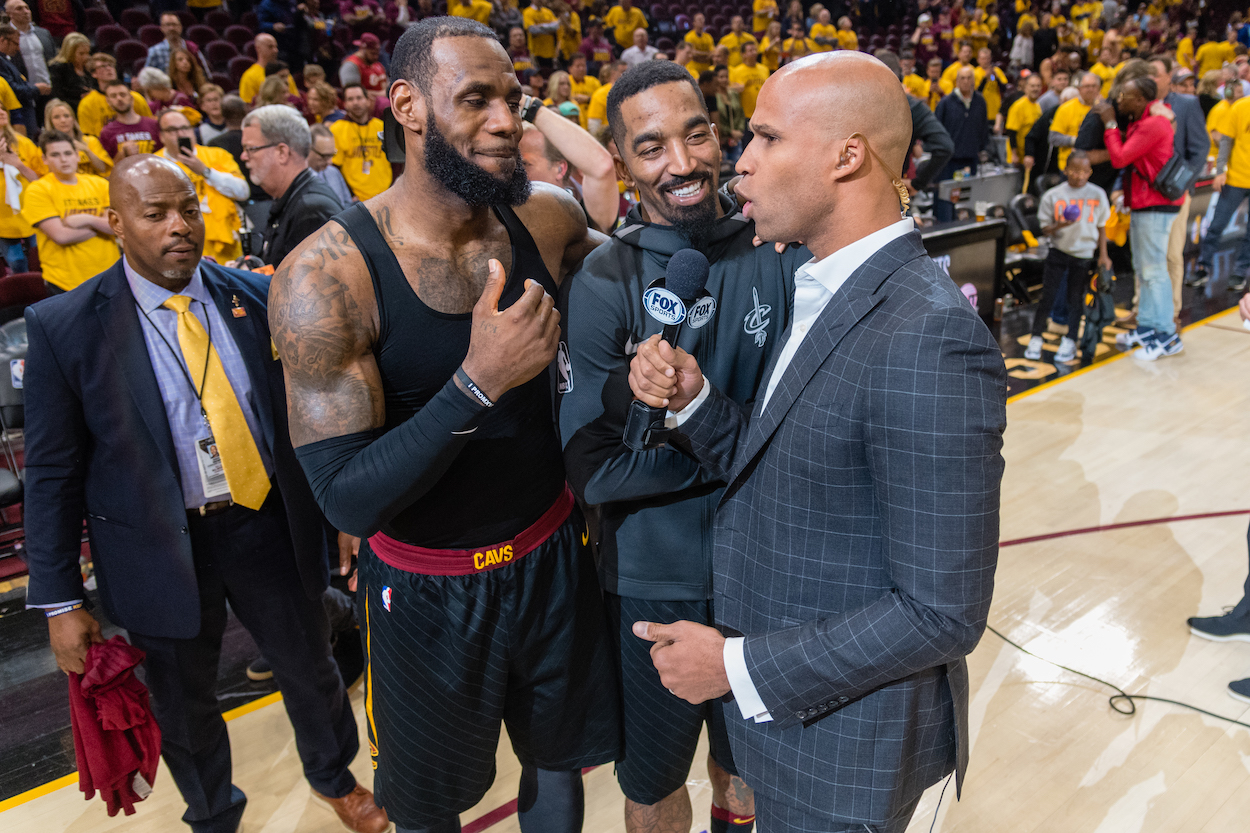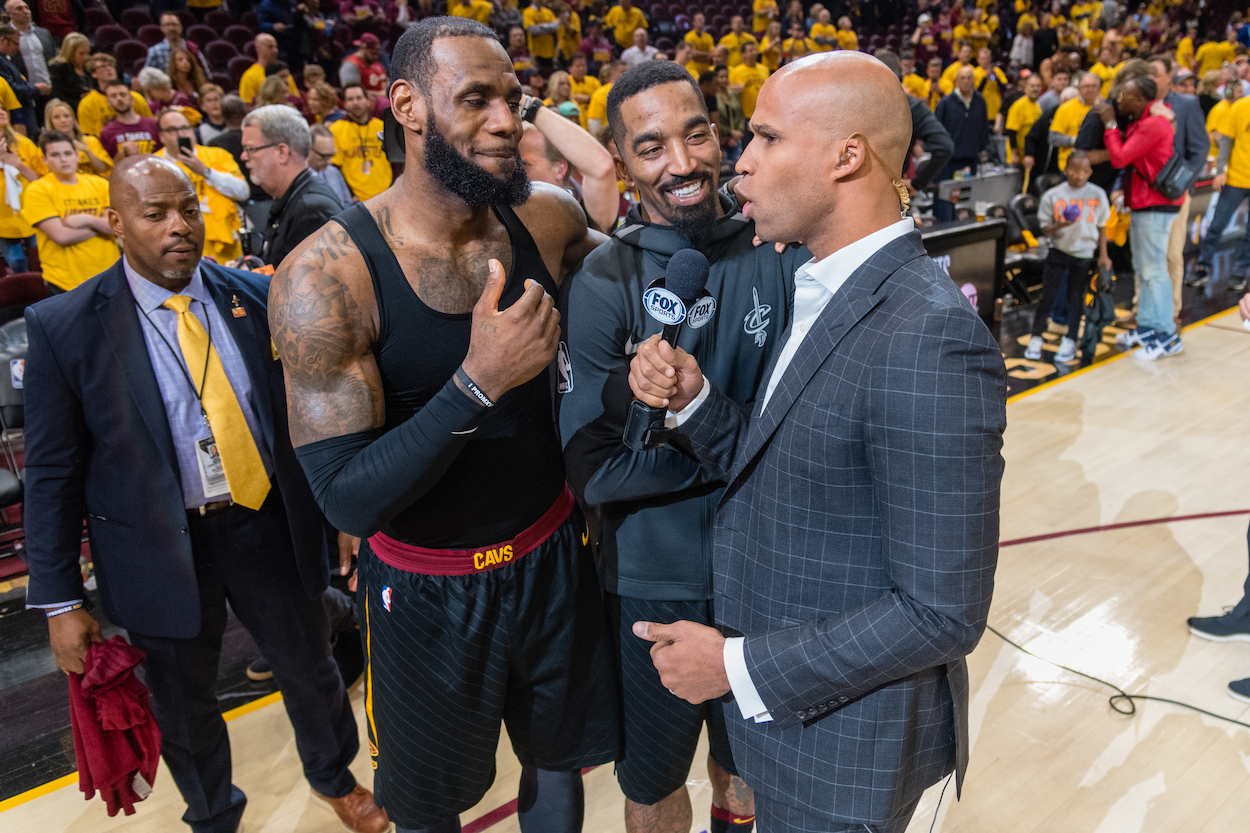 On Friday night, with the LA Lakers hosting the Memphis Grizzlies and a little over five minutes remaining in the third quarter, LeBron James got the ball after a Memphis miss and drove the length of the court, dodged several defenders down the middle of the lane, and went up for the slam. Challenged and fouled on the dunk attempt, the ball caromed off the back iron high up into the air. 
On the broadcast, Richard Jefferson wanted to make fun of his former teammate for missing the dunk. He didn't. He explained why moments later.
"See, I want to make a joke about this guy needing to retire after missing a dunk, but then all of his fans would start tweeting at me and be in my mentions. Guys, it's a joke. It's OK to joke with a guy after he misses a dunk," Jefferson said exasperated.
Friends joke with each other after the game
Following the Lakers' 115-105 victory, Richard Jefferson got a chance to visit with LeBron James in the postgame interview. With James able to directly respond, Jefferson felt safe enough to jokingly critique his friend's missed dunk in the third quarter.
"I want to know. You've been missing quite a few dunks lately. Is everything OK?" Jefferson asked.
After laughing so hard he put his hand over his face, James responded.
"I don't know RJ. I really don't know, man. I don't know if everything is OK. Man, I think the Washed King is really starting to catch up with me," James joked, referring to the times in the past where some have questioned whether or not he is washed up. 
"You know what's crazy, is I can't say anything critical because then my mentions just go through the roof," Jefferson said, mentioning the third-quarter incident. 
James responded again with a hearty laugh knowing full well the next time Jefferson criticizes him in a game, the future Hall of Famer's supporters will be ready and waiting to respond.
Like Sportscasting on Facebook. Follow us on Twitter @sportscasting19.