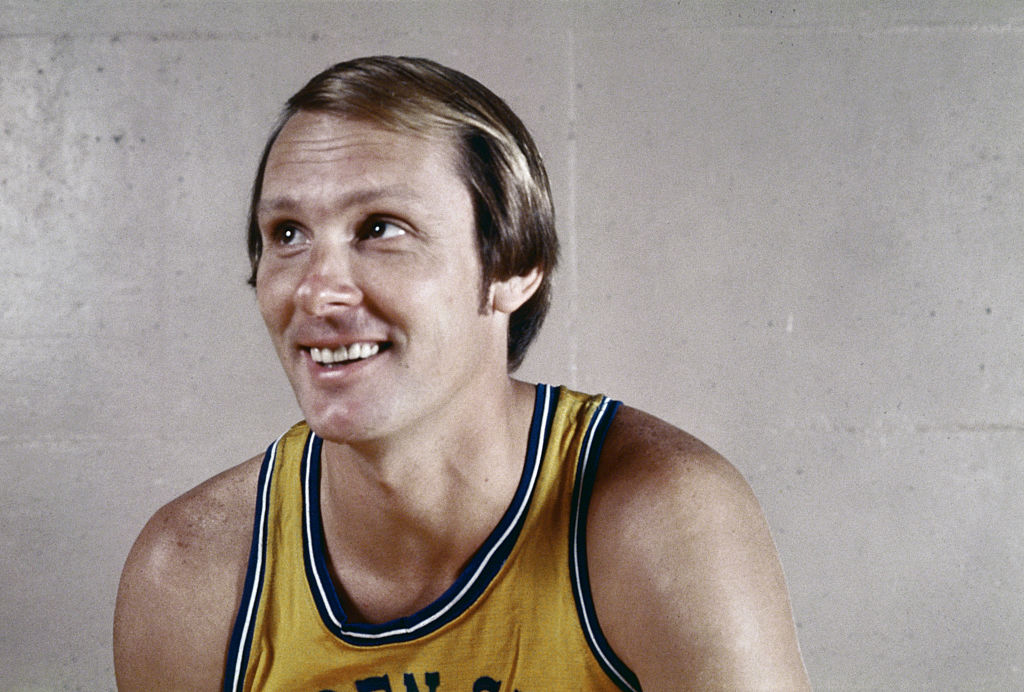 Rick Barry's Underhand Free Throws and Why NBA Players Today Don't Follow Suit
Rick Barry successfully mastered the art of the underhand free throw, but the NBA players of today aren't following suit.
It wasn't pretty, but it was highly effective. Rick Barry spent 14 seasons playing professional sports between the ABA and NBA (10 years in the NBA, 4 with the ABA). He was a scoring machine, averaging 30.5 points per game in the ABA and 23.2 in the NBA).
While Barry was an eight-time NBA All-Star and a four-time ABA All-Star, he is fondly remembered for his free-throw shooting style.
Rick Barry's underhand approach

Rick Barry's free-throw shooting wasn't typical, but it was effective. He finished his NBA career with a .900 shooting percentage from the line. Encouraged by his father when he was in high school in the 70s, Barry was hesitant to shoot that way at first because girls were known to shoot that way.


"So I said, 'I can't do that dad, everyone's going to make fun of me.' I remember him saying, 'Son, they can't make fun of you if you're making them.' "

Rick Barry
Barry went on to shoot underhand from the free-throw line throughout his professional days, leading the league seven times in free-throw shooting percentage. He is also the only player to ever lead the NCAA, NBA, and ABA in scoring.
Barry said it was the comfort at the line and the fluid motion that made him successful at the foul line. "The mechanics of shooting the underhand free throw makes so much more sense because everything is done—it's not one motion, then another motion, it's a fluid motion, the ball has a softer touch when it goes up there," he said
Why nobody in the NBA uses the underhand approach anymore
There have been some abysmal free throws shooters in the NBA in recent years, with Shaquille O'Neal and Andre Drummond quickly coming to mind.
When Shaq was asked why he didn't try shooting like Barry, he simply said it's boring.
Wilt Chamberlain was also a poor foul shooter, but during the 1961-62 season, he decided to give the underhand approach a shot. During that season, Chamberlain averaged 50.4 points per game.
In a game in 1962, Chamberlain went 28-for-32 from the free-throw line and finished the season with his best shooting percentage from the line at 61 percent. He finished that game with 100 points in the Philadelphia Warriors' 169-147 win over the New York Knicks. Yet, he went back to shooting the traditional way the following year.

In his autobiography, Chamberlain said, "I felt silly, like a sissy, shooting underhanded. I know I was wrong, I know some of the best foul shooters in history shot that way. I just couldn't do it."
Andre Drummond is a center for the Cleveland Cavaliers and a career 46 percent free-throw shooter. During the 2013 season with the Detroit Pistons, an ESPN reporter suggested to Drummond that he try the underhand approach. Drummond later tweeted that there was no way he was going to shoot underhand.
One NBA player tried to bring back the 'granny shot' in 2016
During his NBA debut in 2016, Chinanu Onuaku of the Houston Rockets attempted an underhand free throw, bringing back what has been referred to as the 'granny shot.'
Onuaku, a 6-foot-9 forward, said he knew people were going to make fun of him, but he was just looking to get better.
Barry said he appreciated the attempt to bring back the underhand shot.
"I admire the fact he was willing to try to something different," Barry said. "Unfortunately, his technique leaves a lot to be desired."