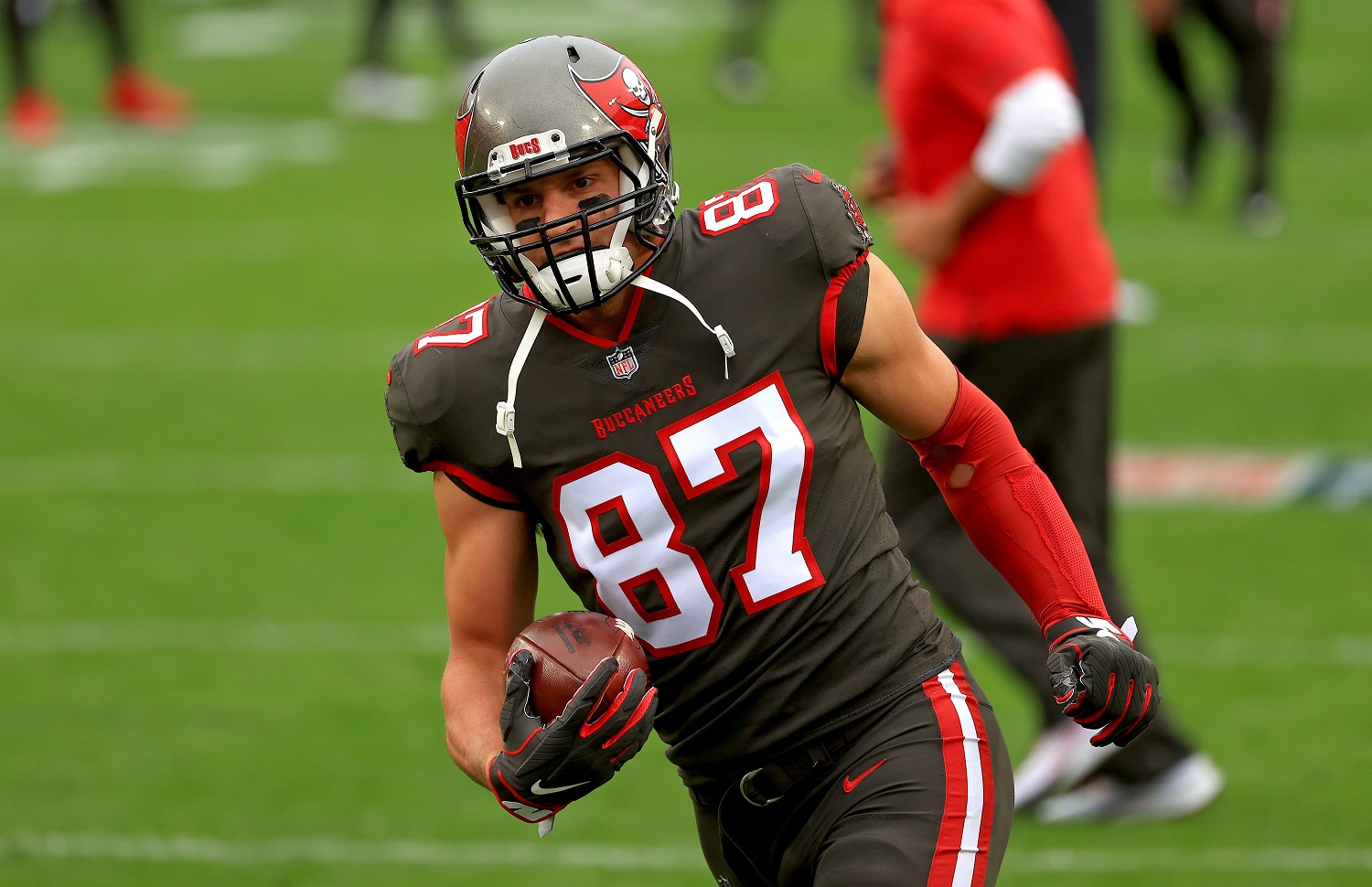 Rob Gronkowski Can Make Some NFL History in the Buccaneers' NFC Championship Matchup With the Packers
Tampa Bay Buccaneers tight end Rob Gronkowski can make some NFL history if he scores a touchdown in the NFC Championship Game this Sunday.
For the first time in what will in all likelihood turn out to be a Hall of Fame career, Rob Gronkowski will appear in the NFC Championship Game this Sunday when he, his longtime quarterback Tom Brady, and the Tampa Bay Buccaneers take on the Green Bay Packers at Lambeau Field.
Gronk appeared in five AFC title games alongside Brady with the New England Patriots (he missed the AFC Championship Game in 2012, 2013, and 2016 due to injury) and has played a total of 18 NFL postseason games in his career, including the Buccaneers' victories the last two weeks over Washington and New Orleans.
In those two games for the Bucs, Rob Gronkowski has caught just one pass for 14 yards but has provided some great blocks and is doing a lot of little things for the team that don't show up in the box score. However, if the four-time First-Team All-Pro can get into the end zone for the Buccaneers this weekend, he'll take a new place in NFL history.
Rob Gronkowski has been exactly what the Buccaneers have needed him to be
When Rob Gronkowski ended his retirement to join Tom Brady with the Tampa Bay Buccaneers, there were a lot of questions on just what the five-time Pro Bowler's role would be with the team.
With so many weapons for Tom Brady to choose from, it quickly became clear that Gronk wouldn't be his primary target as he was in New England but he's been exactly what Bruce Arians has needed him to be. He still gets a lot of attention in the red zone, which obviously frees up other receivers in the passing game, and his blocking down by the goal line has been spectacular, which also helps Tampa Bay's running attack.
And despite not being Brady's primary target, he still had 45 receptions, tied for the third-most on the team, and caught seven touchdown passes, which tied for second.
Gronk currently has the eighth-most receptions in NFL playoff history
Heading into the Buccaneers' NFC Championship Game matchup with the Green Bay Packers, Rob Gronkowski currently sits in eighth place on the all-time receptions list in the NFL postseason. He caught 81 passes in 16 playoff games with the Patriots and has one with the Bucs thus far. With four catches against Green Bay (or possibly over the next two games if Tampa Bay can make it to the Super Bowl), Gronk would tie Andre Reed for seventh and could also pass Michael Irvin to get into the top five with a monster game. Here's how the list shakes out right now.
Jerry Rice: 151
Julian Edelman: 118
Reggie Wayne: 93
Hines Ward: 88
Wes Welker: 88
Michael Irvin: 87
Andre Reed: 85
Rob Gronkowski: 82
But that's actually not the NFL history we were referring to in the title of this article.
With his next TD catch in the NFL playoffs, Rob Gronkowski will move into second place on the all-time postseason TD receptions list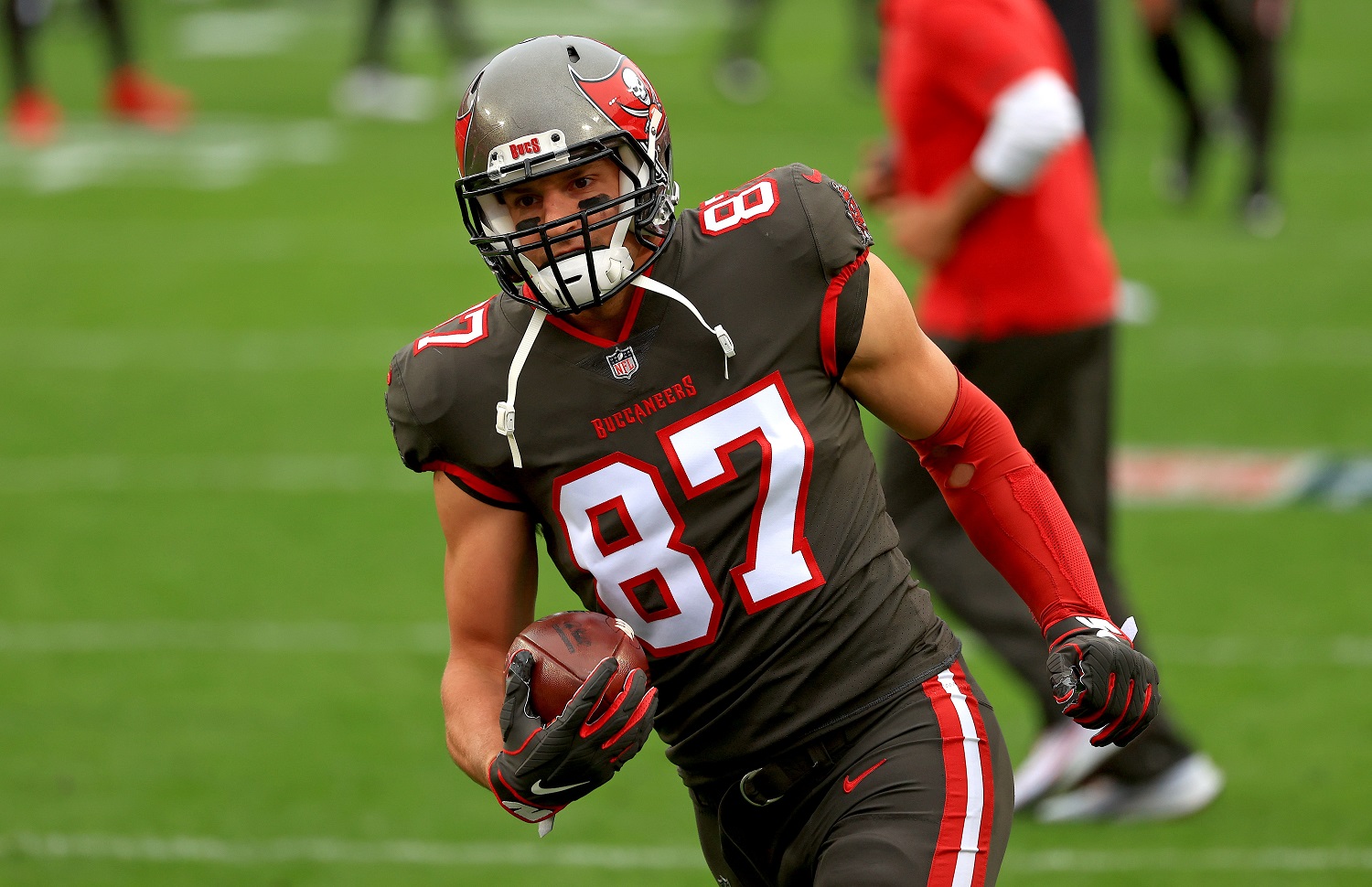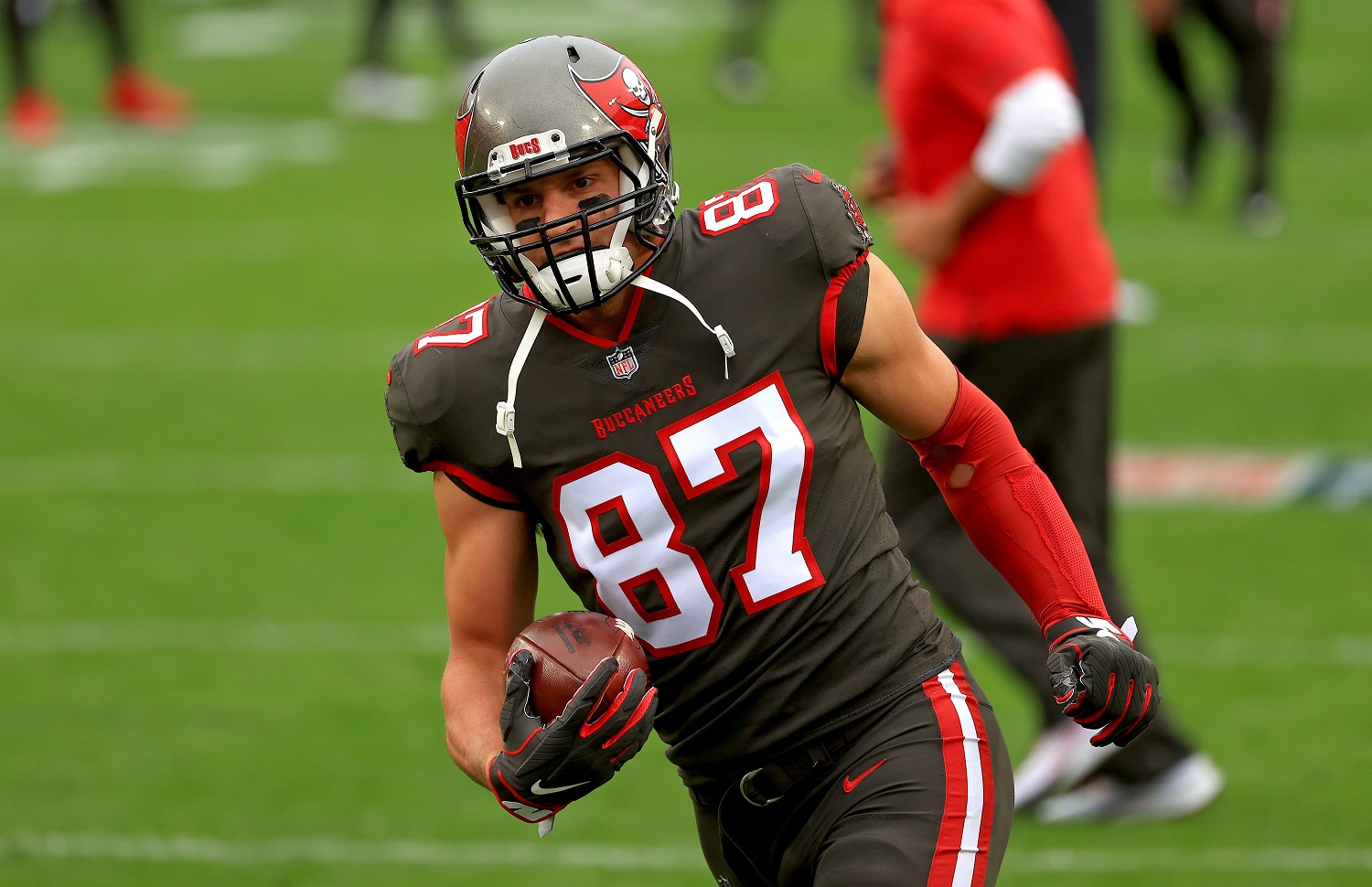 If Rob Gronkowski can catch one touchdown pass in the NFC title game (or the Super Bowl if the Bucs make it that far), he would break out of a tie with Steelers legend John Stallworth on the NFL's all-time postseason touchdown receptions list, which would put him in solo second behind only Jerry Rice, who he'll never catch. But second to only the greatest receiver in the history of the NFL is still quite the accomplishment. Here's what that list looks like.
Jerry Rice: 22
Rob Gronkowski: 12
John Stallworth: 12
Fred Biletnikoff: 10
Larry Fitzgerald: 10
Antonio Freeman: 10
Randy Moss: 10
Hines Ward: 10
Rob Gronkowski takes his next shot at history this Sunday when the Buccaneers and Packers square off at 3:05 p.m. Eastern on FOX.
Stats courtesy of Pro Football Reference