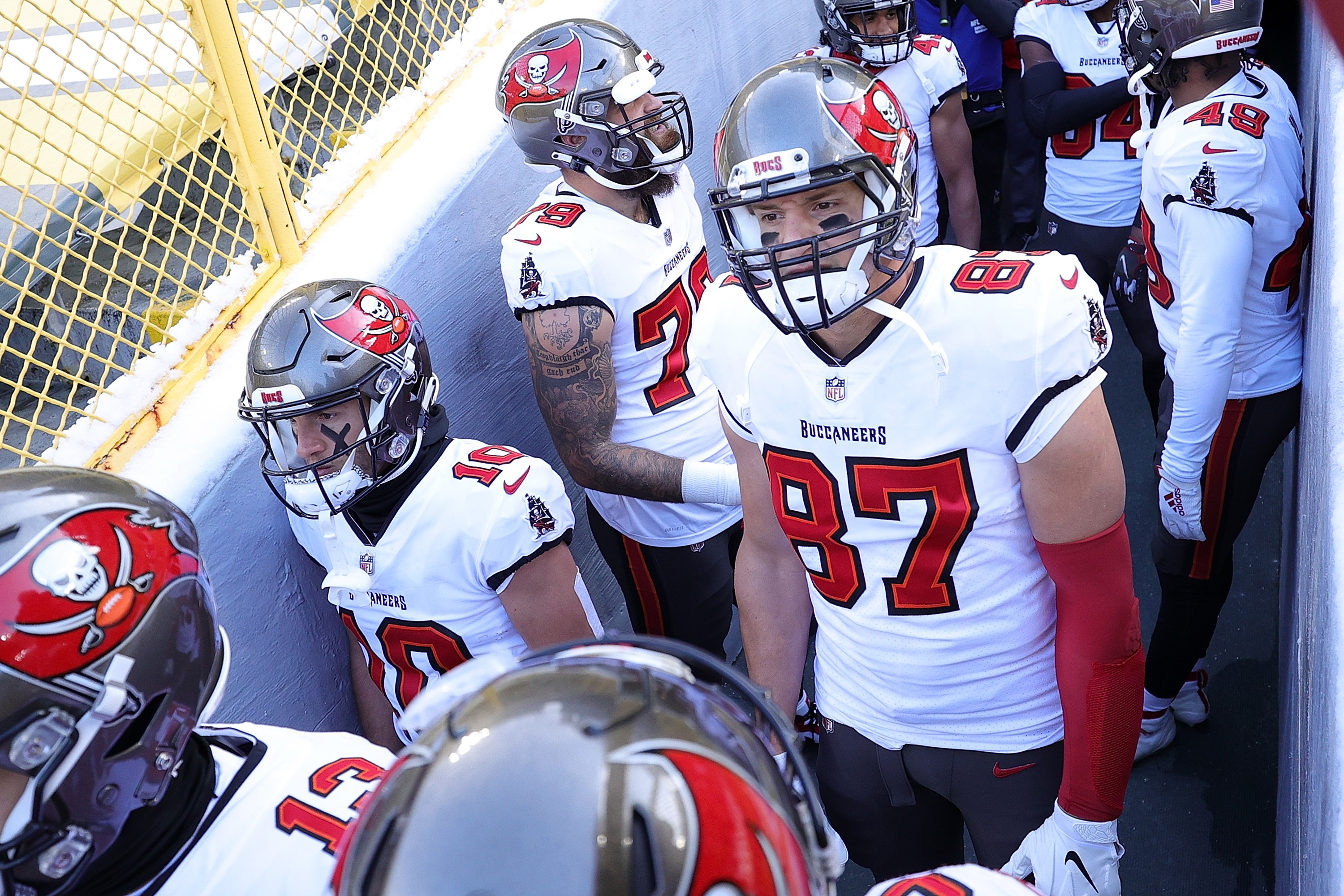 Rob Gronkowski Reveals 'Where the Legend of Gronk Started'
Tampa Bay Buccaneers tight end Rob Gronkowski reveals 'where the legend of Gronk started.'
Rob Gronkowski is no stranger to the Super Bowl. The five-time Pro Bowler will be looking to earn his fourth Super Bowl title in his first season with the Tampa Bay Buccaneers. Gronkowski took some time to reflect on his career and talk about "where the Legend of Gronk started."
Gronkowski's early years
For the first three years of his high school career, Rob Gronkowski attended Williamsville North High School in New York. There, Gronkowski was a three-sport star, excelling in football, basketball, and baseball. Football, however, was his main sport and he was named an All-Western New York first-team and All-State second-team as a junior.
Gronkowski moved to Pennsylvania for his senior year. He attended Woodland Hills High School and received numerous awards for his play on the football field. He was heavily recruited by Ohio State, Clemson, Arizona, Louisville, and Syracuse, among others.
Gronkowski attended the University of Arizona, where he played two seasons. As a freshman, Gronkowski had 28 catches for 525 yards and six touchdowns in 12 games. In his sophomore year, Gronkowski missed the first three games of the season but finished with a team-high 10 touchdowns on 47 catches for 672 yards. He missed his junior year after undergoing back surgery and entered the NFL draft in 2010.
Gronkowski was a beast with the New England Patriots
Because he missed the 2009 season with a back injury, Rob Gronkowski saw his draft stock slip a little. That was good news for the New England Patriots. The Patriots snagged the 6-foot-6, 268-pound tight end from Arizona in the second round of the 2010 NFL draft. Gronkowski was the 42nd player selected.
Gronkowski made an immediate impact in the NFL. In his rookie season, he finished the season with 42 catches for 546 yards and 10 touchdowns. In his second season, Gronkowski made the first of his five Pro Bowls. He led the league with 17 touchdown receptions and had career-highs in both catches (90) and receiving yards (1,327).
Gronkowski won three Super Bowl titles in New England and had four 1,000-yard seasons. In nine seasons with the Patriots, Gronkowski racked up 79 touchdown catches and 7,861 receiving yards. Gronkowski retired after the 2018 season. After sitting out the 2019 season, he was lured out of retirement by the Tampa Bay Buccaneers to join his former teammate Tom Brady.
Gronk reflects on his days with the Patriots
Rob Gronkowski is aiming for his fourth Super Bowl ring Sunday when his Tampa Bay Buccaneers play the Kansas City Chiefs. During a Zoom chat with the media Monday, Gronkowski acknowledged that he hasn't heard from Bill Belichick during his Super Bowl run. He went on to say how much he enjoyed playing for Belichick and how he loved his days playing for the New England Patriots.
"Those years in New England mean everything to me," he said. "That's where I started my career and that's where the legend of Gronk started. That's where it boomed. I appreciate those times. I am grateful for all those times. Just everything there. I learned so much throughout those times and I feel like I grew throughout those times throughout my time in New England. I feel like I learned so much information just about the game of football, about the game of life, just everything overall throughout my nine years there."
So while Gronk is shooting for his fourth ring with the Bucs, he has New England on his mind. "That will always be in a special place in my heart throughout those nine years that I was there," he said. "I have definitely taken some of those lessons I've learned and brought them with me to the next chapter in my life, too, and it has definitely helped me out to get to where I am now."
All statistics courtesy of Pro Football Reference.