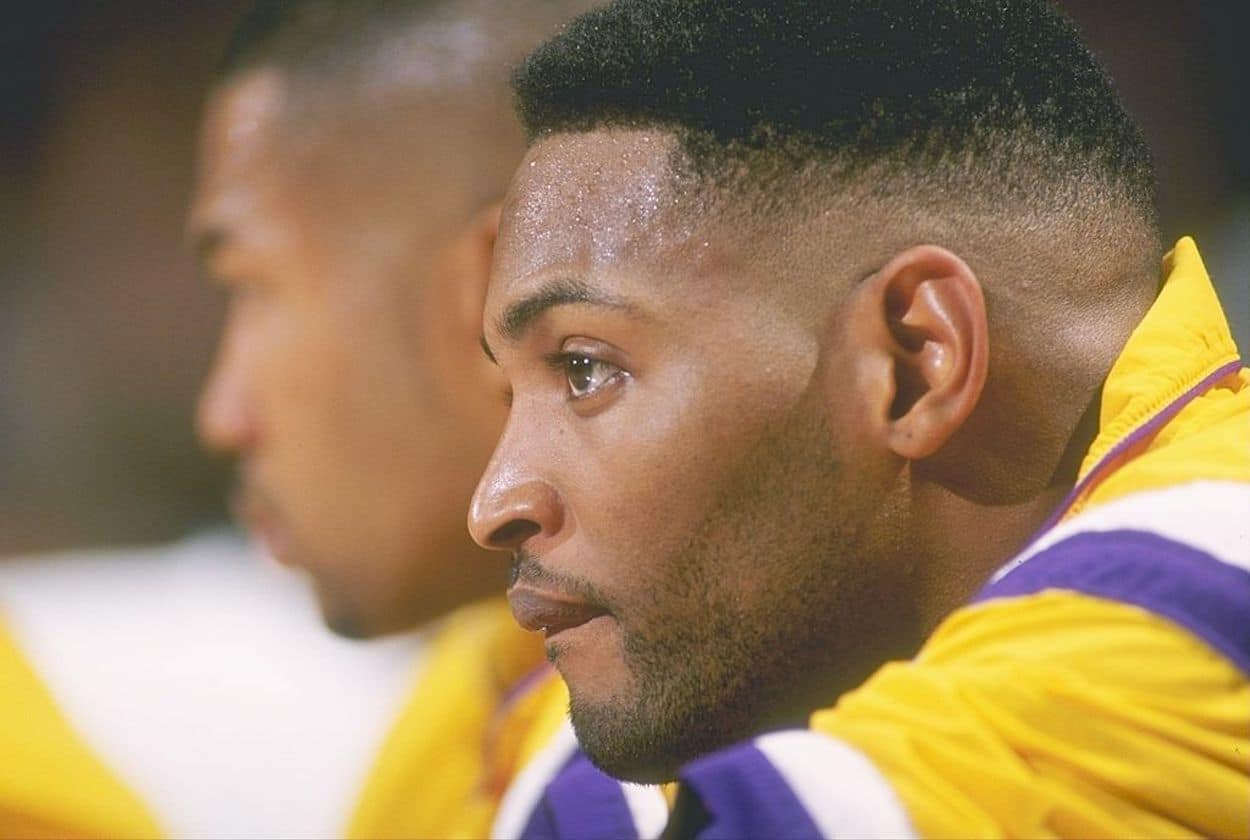 Robert Horry Is Still Haunted by a Missed Shot That Cost Him $6 Million
Robert Horry was one of the NBA's great clutch shooters, but he's still haunted by one particular miss.
While plenty of NBA players have ended up with nonsensical nicknames, Robert Horry wasn't one of those guys. During his time on the hardwood, he aptly became known as Big Shot Bob due to his ability to knock down big jumpers in crucial moments. That reality, however, doesn't mean that he doesn't have his fair share of misses and regrets.
During a recent appearance on The Dan Patrick Show, the former sharpshooter revealed the one miss that still sticks in his mind. According to Horry, a single shot during the 2003 NBA Playoffs cost him $6 million.
Robert Horry missed a big postseason shot, then left the Lakers as a free agent
As Wayne Gretzky (and Michael Scott) famously said, "You miss 100% of the shots that you don't take." While that may be true, misses can still have consequences. Just ask Robert Horry about that.
"Oh yes, man," Big Shot Bob explained when Dan Patrick asked him if any misses still haunted him. "It's a shot that cost me $6 million."
After setting the hook with that introduction, Horry proceeded to tell the full story.
"If I make this shot in my last year as a Laker, in the playoffs," he continued. "We're playing the Spurs in San Antonio. I had an awful playoffs, I'm not gonna lie. I shot the ball, I think I was like 3-for-39 [he was actually 2-of-38] from three or something. I was terrible. And we were in San Antonio, in their building, Kobe drives, kicks it to me, I miss that three. So we go down 3-2 in that series, we go home, and we lose that game. And the Lakers don't, you know, re-sign me the next year, and that would have been my big year. I'da made $6 million that year, so that shot cost me a lot of money."
For a bit of extra context, that miss came at the end of Game 5 of the 2003 Western Conference Semifinals. Kobe Bryant nearly led the Lakers to a 25-point comeback win, but Horry's shot rimmed out in the dying seconds of the contest. LA then lost Game 6, ending their season.
In an old Players' Tribune piece, however, Horry told a slightly different version of events. The Lakers, he explained, were interested in landing Karl Malone and needed to cut costs from somewhere.
"I'm a realist," Horry wrote (h/t SLAM). "Tell me like it is and I will respect you more, just don't go behind my back. I told them I'd stay for $2 million, but they weren't interested. All I asked them was to allow me to find a team before the money dried up and not to wait until the last day to release me. They told me, 'We won't do you like that.' […] Well, they didn't do me like that. They waited until the next to last day to release me."
He even admitted that he left Hollywood with "so much hatred for that team" despite the on-court success.
In the end, though, everything worked out for Big Shot Bob
While that missed shot may have led to a painful divorce, things still worked out pretty well for Robert Horry.
Although the forward didn't earn exactly $6 million the following season, he did land in San Antonio, where he earned more than $15 million across five campaigns. It's also worth noting that he won two additional championships in Texas; the Lakers, on the other hand, didn't win their next title until Horry had retired.
In the aforementioned Players' Tribune piece, Big Shot Bob even noted that things somewhat worked out. His relationship with the Lakers came to an untimely end, but that gave him the opportunity to return to Texas and earn a bit more silverware.
"I actually have five NBA titles thanks to the Lakers," he wrote. "Three from playing with the team, and two from them showing me the door."
That's certainly one way to get the last laugh and make up for some missing money.
Financial data courtesy of HoopsHype. Stats courtesy of Basketball-Reference