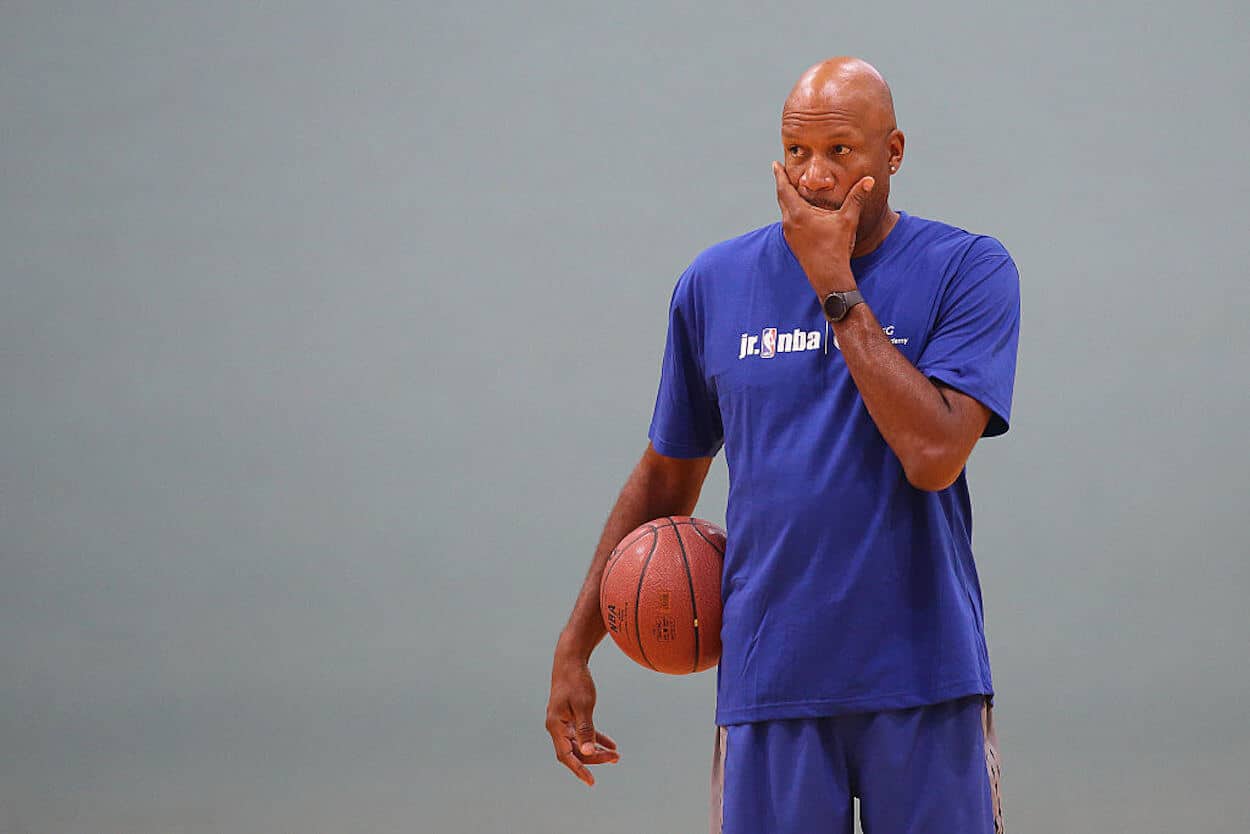 Ron Harper Refused to Mow the Lawn in an Effort to Preserve His Basketball Career: 'These Hands Weren't Made for Yard Work'
Whether you think it was an excuse or a genuine effort to protect his future, Ron Harper wasn't one to get his hands dirty.
When you're talking about the physical tools that enable an NBA player to succeed, there are some obvious attributes that probably spring to the front of your mind. Height is obviously important; sheer strength can also help. Soft hands, however, are a bit easier to overlook. That reality wasn't lost on Ron Harper.
Ahead of his time in the NBA, the guard apparently realized how important his large — and soft — mitts could be and did what he could to protect them. That meant avoiding hard labor wherever possible, including in his family's yard.
Think that sounds like something out of a sitcom plot? Well, sometimes the truth is stranger than fiction.
Ron Harper believed his hands were made for basketball, not physical labor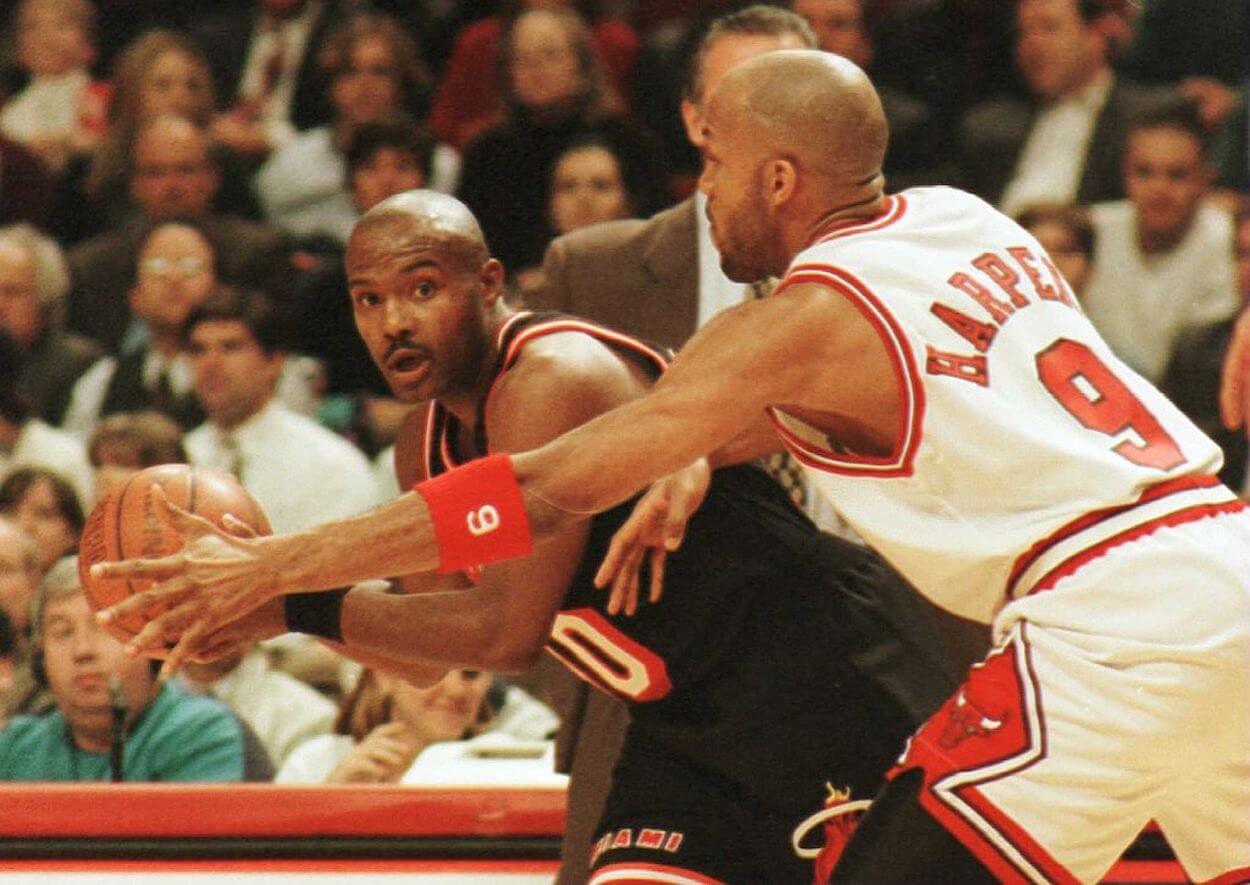 Over the years, there have been plenty of evolving ideas about how the state of one's hands demonstrates their social status and relationship to hard work. Ron Harper, however, was more concerned about his basketball future than anything else.
In a 1986 Sports Illustrated story, Roger Jackson began the piece with an anecdote about Harper and his hands.
"Ron Harper's massive hands can do wondrous things with a basketball," the scribe explained. "So he keeps them out of harm's way, avoiding things like manual labor.
While that's already quite the quote, things got even better from there. Harper's mother then entered the picture, providing a bit more insight into her son's habits.
His mother, Gloretha, who works on the assembly line at a General Motors truck and bus plant outside Dayton, was a good shooting guard in her high school days. She jokes that if she could trade places with her son, his first day at the plant undoubtedly would be his last. "He won't even mow the lawn," she says. "Ronald has always said, 'These hands weren't made for yard work. They were made to play basketball.' "

Roger Jackson
Although that may sound a bit dramatic, Jackson suggested that the guard's efforts were paying off.
"Harper is leading the MAC this season in scoring (24.3 points a game), rebounding (11.2), steals (3.2) and blocked shots (2.4), and he also takes a hands-on approach to defense," the story explained. "With those prodigious pincers at the ends of 39-inch arms, Harper can strip his man with the ease of a professional pickpocket, then take off for a breakaway dunk."
And, with a description like that, who can argue with Harper or Jackson?
In fairness to Harper, his strategy paid off
As I've already noted, hearing that Ron Harper was unwilling to do yard work in an effort to protect his hands sounds borderline comical; you can almost imagine a cartoon or a teen movie depicting the protagonist using that argument before heading to their room, cracking open a cold soda, and putting their feet up. For the Ohio native, though, everything worked out.
As Jackson explained, Harper made quite a name for himself at Miami (Ohio), establishing himself as a legitimate playmaker at both ends of the floor. That collegiate success allowed the guard to join the Cleveland Cavaliers as the eighth overall pick of the 1986 NBA draft.
In the Association, the 6-foot-6 swingman didn't miss a beat. He averaged 22.9 points, 4.8 assists, 4.8 rebounds, and 2.5 steals per outing as an NBA freshman, earning All-Rookie First-Team honors. While his numbers would rise and fall over the years, he remained a genuine two-way threat until the mid-1990s. After that point, Harper continued to be an invaluable starter, but he took a more defensive role and shouldered less of the scoring load playing alongside Michael Jordan.
To make things even sweeter, Harper reaped the rewards of that NBA career. He spent 14 seasons in the Association, earning five championship rings and nearly $35 million along the way (h/t Spotrac). If nothing else, that should pay for a lifetime of lawn care.