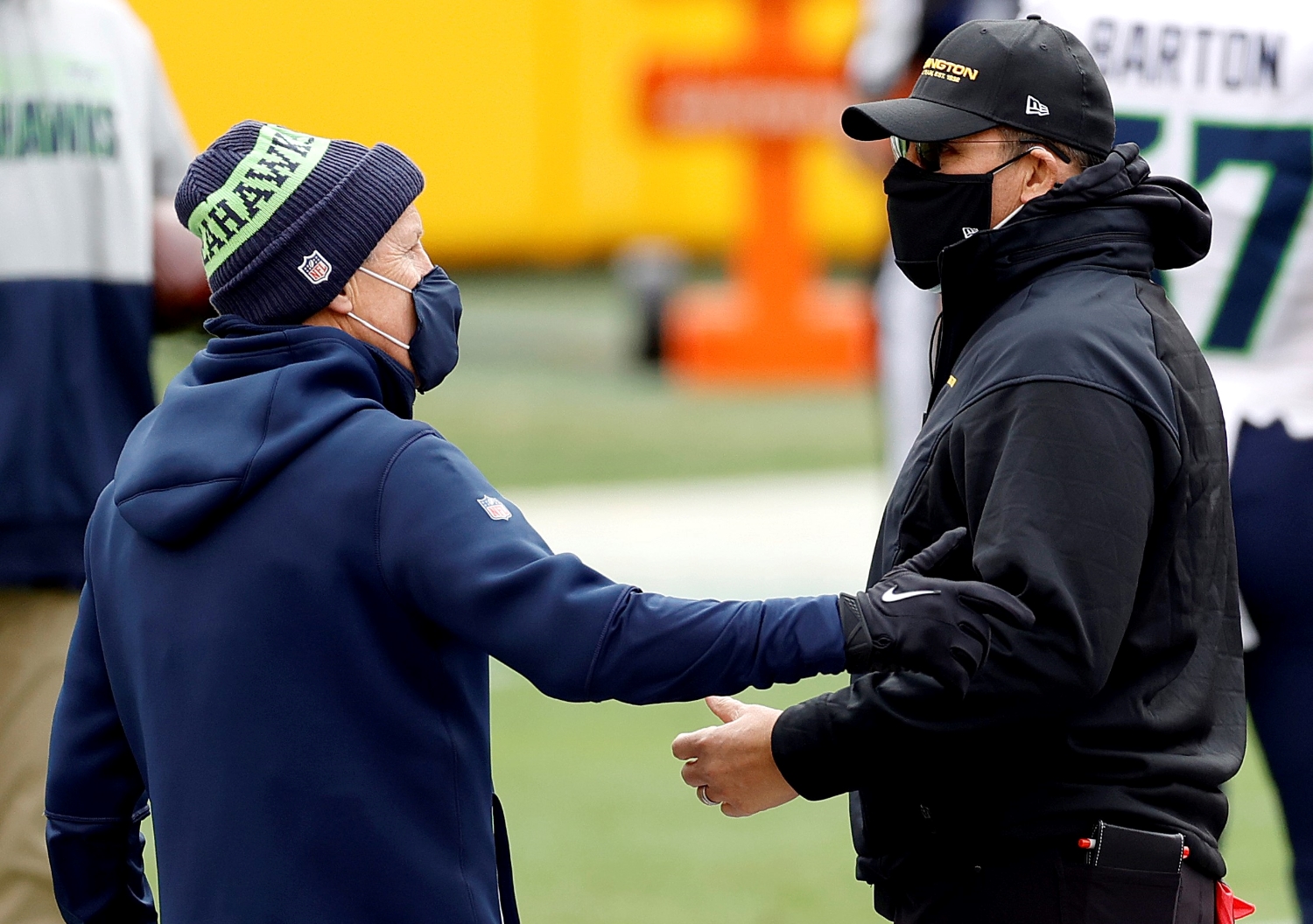 Ron Rivera's Career-Altering Conversation With His Highly Paid Defensive Leader Should Convince Pete Carroll to Get Brutally Honest With $70 Million 'Safety' Jamal Adams
Ron Rivera put it bluntly to Landon Collins that he's truly a linebacker. Will Pete Carroll come to his senses and realize he has the same situation going on with overpriced safety Jamal Adams?
Although they entered the season with the expectation of fielding an elite defense, the Washington Football Team shockingly ranks dead-last in points allowed through six games.
Needless to say, Ron Rivera expected better from a unit that features first-round picks on all three levels, including four along the defensive line.
Part of Washington's struggles stem from a middling pass rush that's produced a mere 12 sacks. At the same time, it's impossible to ignore the coverage issues that have cost the reigning NFC East champions dearly.
With veteran safety Landon Collins not exactly living up to his expensive contract, he and Rivera recently had a career-changing conversation that could pay big dividends for everyone involved. And since Washington's highest-paid defensive player has some of the same deficiencies as the Seattle Seahawks' own overpaid defensive back, it's time for Pete Carroll to have a tough talk with Jamal Adams before it's too late.
Think Washington has some second thoughts about signing Collins to an $84 million contract? After looking like a star with the New York Giants, the 2016 first-team All-Pro hasn't come close to justifying the record-setting deal he signed as a free agent two years ago.
After all, with only one interception and five passes defended in 28 games, there's no doubt Collins has failed to consistently provide the type of high-impact plays that helped him earn three Pro Bowl selections with Washington's division rival. As the highest-paid defensive player on the roster, that's obviously a major concern.
Collins, who ranks 78th out of 86 safeties graded by Pro Football Focus, has allowed 18 completions for 318 yards and five touchdowns on 29 targets. Plus, he's missed 15.2% of his tackle attempts — a startling mark for someone with a $14 million average annual salary.
His continued struggles from the safety spot have resulted in more reps at linebacker. Plus, the situation led to a career-altering conversation with his head coach.
"I did have a conversation with him about it, and he was very professional about it," Rivera told reporters Wednesday. "He and I talked about it and one of the things he expressed is he's a safety. He loves playing safety. One of things I expressed to him is we really believe he's a downhill player. He's an impact guy attacking at the line of scrimmage."
Although Collins may envision himself as a defensive back, it's clear his coach wants to utilize his strengths in a different role. As a physical tackler with obvious coverage deficiencies, the 27-year-old seems better suited to play in the box rather than in space.
And if one of Rivera's peers wants to put his own highly-paid "safety" in the best position to succeed, he needs to take a similar route.
Like Rivera, Pete Carroll has watched his defense get picked apart on a weekly basis. And just like Washington, Seattle employs a "safety" whose salary and name recognition don't match up with his on-field production.
Fresh off signing a four-year, $70 million contract extension with $38 million guaranteed, Jamal Adams doesn't rank anywhere near the top of the best players at his position. In fact, the three-time Pro Bowler checks in at No. 59 in PFF's grading system.
Not exactly a good look for someone who leveraged his way into a record-setting deal, right?
After showcasing decent coverage skills with the New York Jets, Adams has been an abject disaster in that area with the Seahawks. Coming off a season in which quarterbacks completed 35 passes for 411 yards on 45 targets in his direction, the fifth-year pro has allowed 14 completions for 271 yards and two touchdowns on 21 targets.
Most concerning?
Adams hasn't recorded a single interception since he arrived in Seattle. Oh, and after racking up 9.5 sacks and 14 quarterback hits a year ago, he's totaled zeroes in both categories through six games.
How much longer can Carroll continue to let one of the team's highest-paid players fall short of expectations? Adams clearly doesn't have the skill set to handle one-on-one coverage assignments, and he simply doesn't excel at making plays in space.
However, the 26-year-old does have adequate size (6-foot-1, 213 pounds) and speed (he ran a 4.56 coming out of college) to play linebacker in today's pass-happy NFL. Plus, for someone whose purported strengths include putting pressure on the quarterback and delivering an impact upon arrival, wouldn't it make more sense to utilize Adams closer to the line of scrimmage?
If Carroll wants to maximize the return on the Seahawks' investment, he needs to have a brutally honest conversation with a player who will make an average of $17.5 million through 2025. Adams remains a major liability in coverage, but given the structure of his contract, there's no way for Seattle to move on until after the 2023 season. Moving to linebacker would at least give the physical defender a chance to justify his top-of-the-market deal, as it would put him in a better spot to make impact plays and prevent him from getting exposed as often in coverage.
Will Pete Carroll take the same approach as Ron Rivera and have a career-altering conversation with his struggling "safety" in the near future?
If the Seahawks don't want to waste nearly $18 million a year on Jamal Adams, hopefully their 70-year-old head coach has the confidence to call him into his office for a tough talk of their own.
All statistics courtesy of Pro Football Reference. All contract data courtesy of Spotrac.