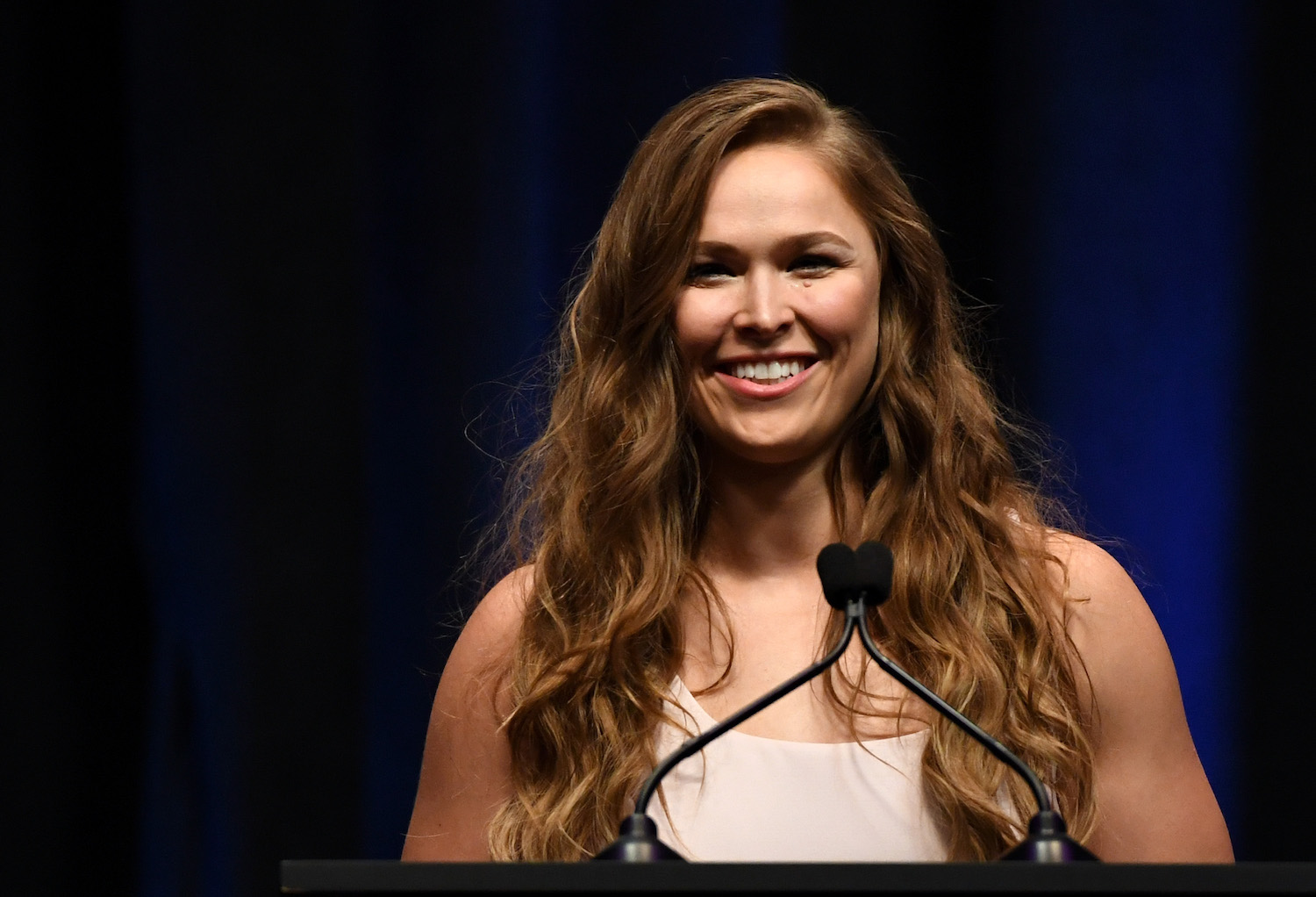 Ronda Rousey Has an Impressive Net Worth and She Keeps Adding to It
Ronda Rousey is one of the top female athletes on the planet. In her time with the UFC, and now with WWE, she has amassed a large net worth.
Ronda Rousey is one of the most well-known female names in sports and entertainment. Rousey is a crossover star who has achieved success in multiple areas, including the UFC, WWE, and television and film. As a result of her years of sustained success, Rousey has amassed a small fortune. What is Ronda Rousey's net worth?
Ronda Rousey's MMA career 
After years of success in the world of judo, including a gold medal at the World Junior Judo Championships and Olympic bronze at the 2008 Beijing Olympics, Ronda Rousey transitioned into MMA. In her first three amateur matches, she overwhelmed her opponents, winning all three combined bouts in less than two minutes, and all via armbar submission.
She turned professional in March 2011, and the results were much the same. In Rousey's first six fights, she was absolutely dominant. Each fight was a replica of the previous. Moments after the fight starts, Rousey attacks, and within moments she submits opponent via armbar in the first round.
In 2013, Rousey became the first woman fighting under the UFC promotion. Different promotion, same results. The only difference after she joined UFC was the method in which she defeated her opponent. At UFC 170, Rousey used knees to the body to take down Sara McMann. 
With a 12-0 record, Rousey suffered her first defeat in 2015, losing to Holly Holm by head kicks and punches in the second round. It was a shocking turn of events but one fight fans thought was just a bump in the road. In her return to the Octagon, Rousey lost to Amanda Nunes. She never fought again and retired. She was inducted into the UFC Hall of Fame in 2018.  
Rousey commits to WWE full time
Before Ronda Rousey retired from the UFC, she had already appeared with the WWE on numerous occasions. In 2015, Rousey and The Rock worked together in a dispute against Triple H and Stephanie McMahon. Rousey shined as she tossed both out of the ring. 
In 2017, Rousey reportedly signed with WWE and had been training in Orlando at the Performance Center. Her signing was confirmed in early 2018 when she made an appearance at the Royal Rumble. In March, she made her in-ring debut, where she continued her previous altercations with Triple H and McMahon. In the fight, Rousey got rave reviews as she won submitting Triple H using her trademark armbar. 
Since her debut, Rouse won the Raw Women's Championship. She held on to the title for a record 231 days before losing to Charlotte Flair at WrestleMania 35 in 2019.
What is Ronda Rousey's net worth?
While Ronda Rousey made her name in combat sports and carried that success into WWE, she has been successful in various other business ventures throughout her career. 
She's modeled and appeared in ESPN The Magazine's Body Issue as well as the Sports Illustrated Swimsuit Issue. She's made appearances on various television shows and films, including "The Expendables 3," "Furious 7," and "Entourage." In 2019, she landed a recurring role in Fox's "9-1-1 Series." 
Being a top female athlete, companies wanted to partner with Ronda Rousey. She's had endorsement deals with MetroPCS, insurance agency Insureon, Reebok, and Carl's Jr. All of her success inside and outside the Octagon, Rousey has established a net worth of $13 million.
Rousey's success and wealth have been hard-earned. But she's not satisfied or slowing down anytime soon. She launched a fighter management company a couple of years ago and has one of the top male middleweights under her wings. Her latest business venture just proves that Rousey may have left the UFC, but the UFC never left her.