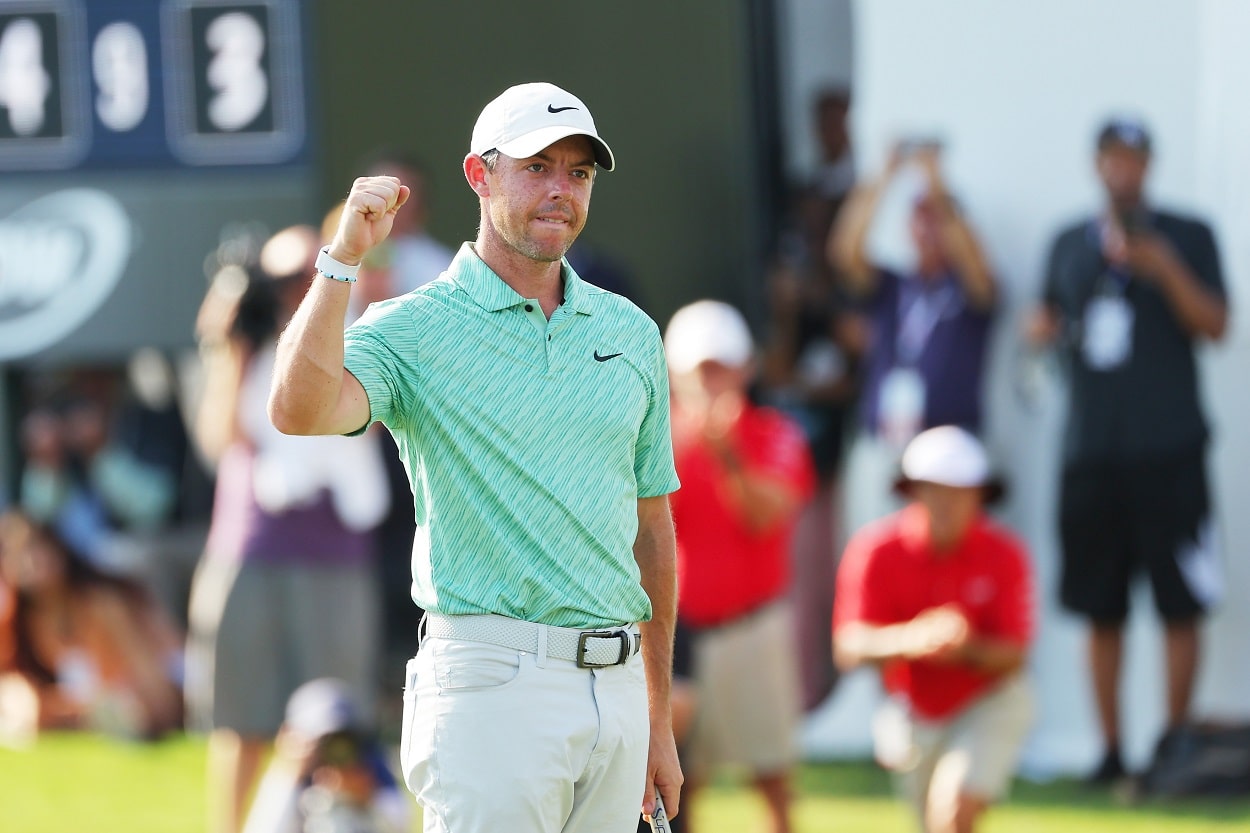 Rory McIlroy Continues His Assault on LIV Golf in the Wake of His Historic Tour Championship Victory
Rory McIlroy continued to speak poorly of LIV Golf in the wake of his PGA Tour Championship victory.
Rory McIlroy almost had to win the 2022 Tour Championship, didn't he?
With all due respect to Scottie Scheffler, who won The Masters this year and sits atop the world rankings, the PGA Tour needed McIlroy to win on Sunday at East Lake. With Tiger Woods now just a part-time player, Rory has become the face of the PGA Tour over the last few years and has certainly led the charge for Jay Monahan in the ongoing war with LIV Golf.
McIlroy has made no secret that he's not a fan of the Saudi-backed series and continued his assault against the renegade group mere moments after becoming the first three-time FedEx Cup champion.
Rory McIlroy came back from six strokes down to win the Tour Championship and his third FedEx Cup title
The final round at East Lake Golf Club was seemingly going to be a breeze for Scheffler. After playing fantastic golf to close out his third round early Sunday morning, the world's top-ranked player opened the final 18 holes with a seemingly insurmountable six-shot lead.
McIlroy played solidly to close out his third round as well, finishing with a 7-under 63 to get himself into the final pairing alongside Scheffler.
After both bogeyed the first, McIlroy made four birdies in the next eight holes to close out the front nine, while Scheffler made just one to go with two more bogeys, cutting his lead to one. Rory tied Scheffler with a birdie at the 12th but then again went down one with a bogey at the 14th.
But McIlroy came right back with a long birdie at the 15th to tie again and went up one when Scheffler bogeyed the 16th. Both made pars at 17 and 18, giving Rory the improbable victory and an extra $18 million in his bank account.
McIlroy subtly shaded Brooks Koepka during the trophy presentation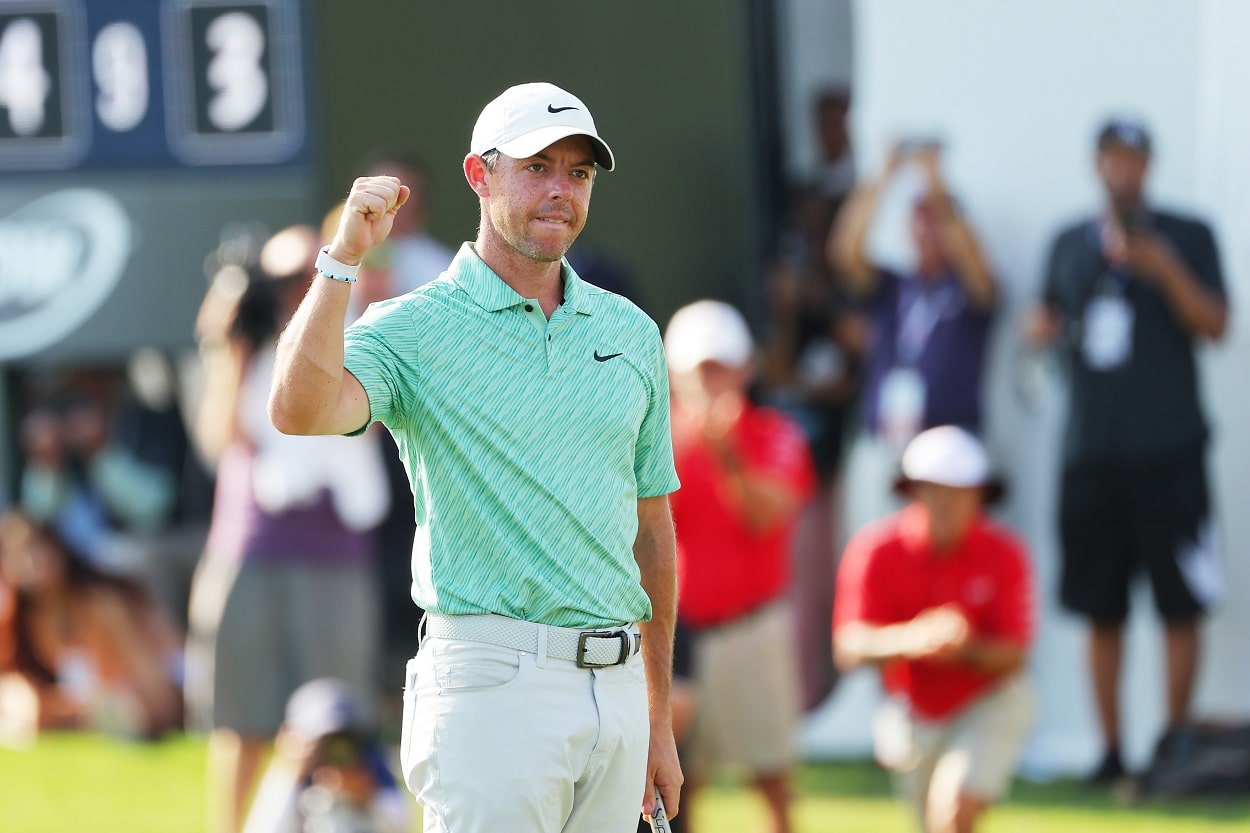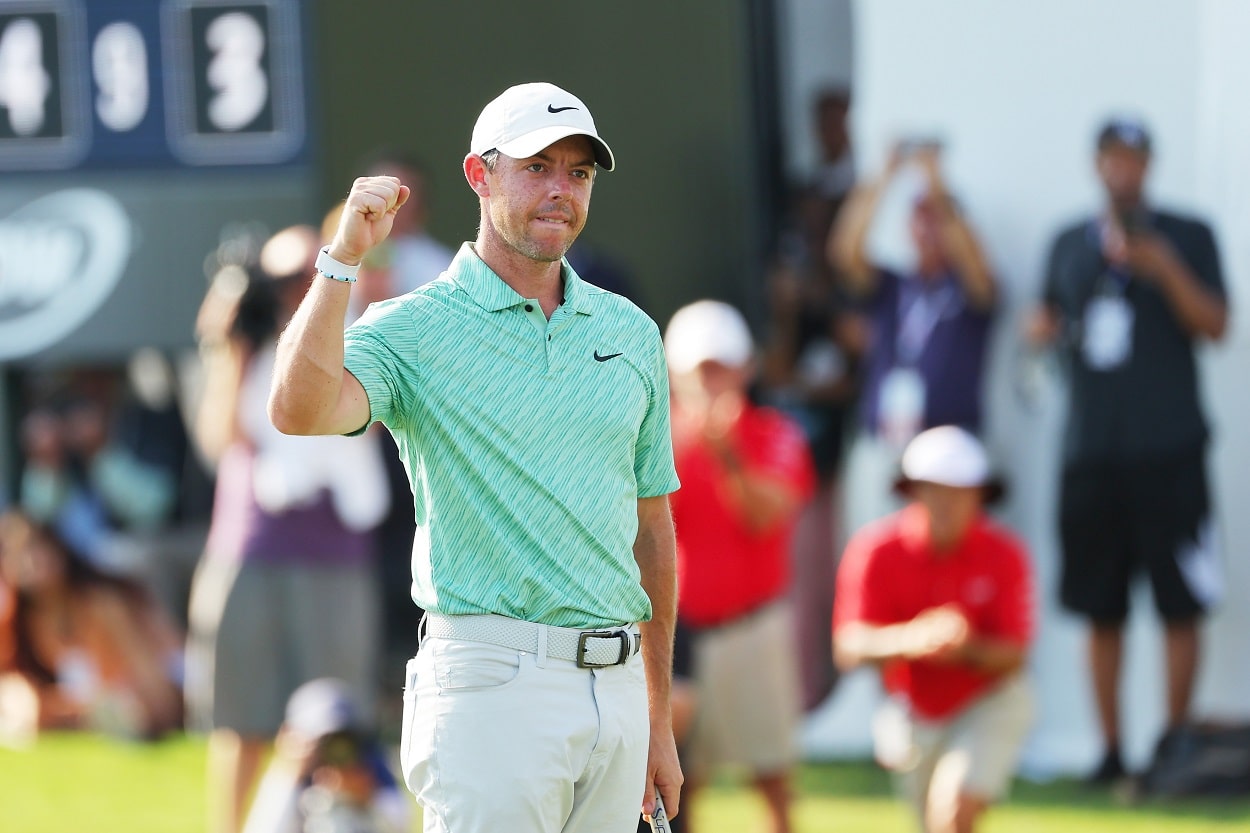 Moments after dropping his final putt to claim his record third FedEx Cup title, McIlroy gave his celebratory interview during the trophy presentation with NBC's Mike Tirico on the 18th green.
Rory first spoke about being in the final group at East Lake in 2018 alongside good friend and now-business partner Tiger Woods, but then quickly shifted gears to the following year when he took his second FedEx Cup title.
As he did on Sunday, McIlroy played the final round of the 2019 Tour Championship alongside the No. 1 player in the world, Brooks Koepka. And as he did on Sunday to Scheffler, McIlroy dusted Koepka over 18 holes, beating him by six to win the FedEx Cup title by four strokes over Xander Schauffele. Brooks finished five back.
Rory, of course, was very critical of Koepka when he jumped to LIV Golf this summer and took a little dig at his fellow four-time major champion when speaking with Tirico, saying how "awesome" it was to get the better of Brooks three years ago.
It may not have sounded like much, but there certainly seemed to be some intent there, just as there was with his subtle dig at Greg Norman back in June when he passed the LIV Golf boss on the PGA Tour's all-time wins list with victory No. 21.
But McIlroy certainly didn't stop with Koepka in running down LIV Golf on Sunday.
Rory isn't looking forward to teeing it up alongside several LIV Golf players at the BMW PGA Championship
In a post-round interview on Sunday night, McIlroy again didn't hold back his thoughts on LIV Golf, saying "what it's done to the world of men's professional golf is ripped it apart, which is unfortunate." He says he believes there are ways to mend the rift but doesn't "see that happening anytime in the future."
Rory says it's been "tough at times" to balance family life, his golf game, and being the face of the PGA Tour in this ongoing battle with the Saudi-backed series, but thinks he's handling it quite well. That might just be the understatement of the year, as the 33-year-old has done a phenomenal job.
While LIV Golf players cannot compete in PGA Tour events, that's not the case on the DP World Tour, as an arbiter recently temporarily blocked fines and suspensions for three events on the European circuit.
What that means is that at the upcoming BMW PGA Championship at suburban London's Wentworth Club, the DP World Tour's flagship event, close to 20 LIV Golf competitors will be in the field. McIlroy committed to the event last month and plans to honor the commitment. But he's not happy about his LIV rivals' involvement.
"It's a hard one for me to stomach the fact that I go over to play an event, and 18 of those guys are going to be playing in the same field.

"I don't like that, that's not something that I really want to be any part of, but for me, just as committed as I am to the PGA Tour, I want to make that commitment to the DP World Tour as well."

Rory McIlroy
As if Rory McIlroy needed any more motivation to win a golf tournament, right? He'll undoubtedly be dialed in at the BMW PGA as he competes for so much more than just another paycheck. Just imagine if he and one of the LIV Golf guys are in the final pairing together that Sunday.
You think he was laser-focused at East Lake? What a scene that could be at Wentworth.
Stats courtesy of PGATour.com
Like Sportscasting on Facebook. Follow us on Twitter @sportscasting19 and subscribe to our YouTube channel.