Scottie Scheffler's Wife 'Doesn't Care' That the Masters Champ Smashed a Record Previously Held by Tiger Woods
Scottie Scheffler says his wife "doesn't care" about his No. 1 spot in the Official World Golf Ranking.
Ahead of his Sunday round at The Masters, Scottie Scheffler turned to his wife, Meredith, and told her, "I don't think I'm ready for this." But as the world witnessed at Augusta National, the 25-year-old clearly was. Well, maybe minus those last couple of putts anyway. But such is the luxury of a big lead.
Scheffler played the exact round of golf he needed to play on Sunday to close out his first major championship victory and his fourth win in six starts, which is absurd. Despite closing out with a four-putt for a double-bogey six at the par-4 18th, the Texan fired a 1-under round of 71 to finish at 10-under for the week, three shots clear of second-place finisher Rory McIlroy, who closed with a ridiculous 8-under 64.
But while McIlroy's ascent up the leaderboard had some wishing for a Scheffler implosion to create a little more Masters Sunday drama, it never came. Again, outside of that nervous four-putt at the last, the top-ranked player in the world stayed within himself and showed exactly why he sits in that No. 1 spot, a spot Meredith apparently "doesn't care" about in the slightest.
Scottie Scheffler's wife "doesn't care" about his world No. 1 ranking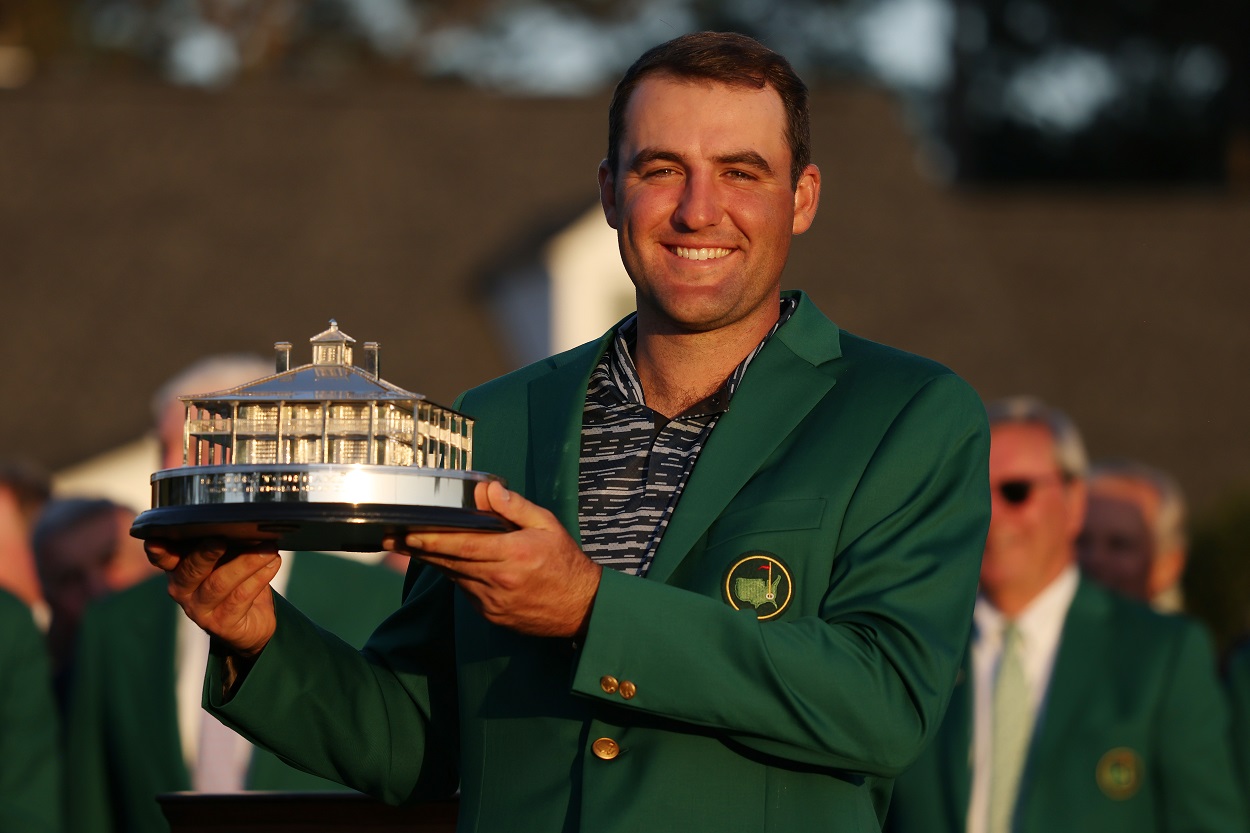 It's been quite the ascent to the top of the golf world for Scheffler. And as Scheffler and Meredith have been together for eight years — the two were high school sweethearts — she's been along for the entire ride of his professional life.
She was by his side when the former U.S. Junior Amateur champ first turned pro in 2018. She was by his side for his two victories in 2019 on the Korn Ferry Tour, which earned him Player of the Year honors and full-time status on the PGA Tour. And she was by his side when he won PGA Tour Rookie of the Year honors in 2020, the same year the two were married, and the same year he reached the top 50 in the Official World Golf Ranking for the first time.
She was by his side as he finished in the top 20 of all four major championships in 2021 and came close to earning that first PGA Tour victory. And she was by his side when that first win finally came just eight weeks ago in Phoenix. And for the second just three weeks later at Bay Hill and then the third just another three weeks later at the WGC-Match Play, the victory that made Scheffler the No. 1 player in the world.
Scheffler became world No. 1 just 42 days after his first PGA Tour victory, easily the quickest in history as he shattered the previous mark held by none other than Tiger Woods. It took Tiger 252 days to reach the top spot following his inaugural victory at the 1996 Las Vegas Invitational.
But Scheffler recently told Sky Sports that Meredith couldn't care less about him being the No. 1 player in the world and that she didn't even know it was a possibility when it was happening.
"She had no idea. I told her that because I want her to be able to experience these things with me, because she doesn't care what I'm ranked in the world, obviously.

"She gets to see how hard I work. She's seen the failures I've had over time and the sadness that comes with trying to achieve something and not being able to succeed at it."

Scottie Scheffler
On Sunday, just after Scottie turned to Meredith and told her that he didn't know if he was ready for his big moment at The Masters, she simply said to him that whether he won the green jacket or lost by 10 strokes, she loved him. And when the former happened a few hours later, she was naturally right there by his side to share the moment.
Ah, the beauty of unconditional love.