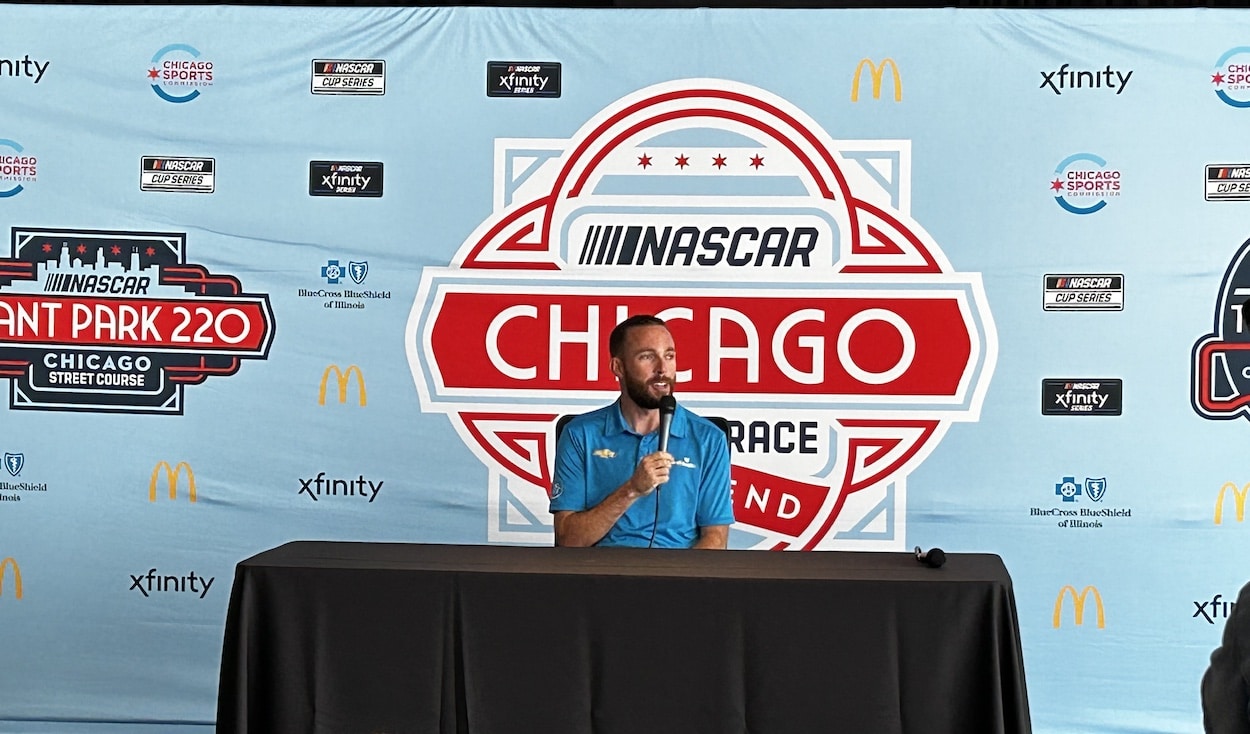 Ross Chastain Shares Story of How He Convinced Fans to Attend NASCAR Chicago Race Without Ever Revealing His Identity 
Ross Chastain told reporters how he convinced a family of tourists to attend the Chicago Street Race without ever revealing his identity.
Ross Chastain earned his first win of the 2023 season at Nashville last weekend. He comes into the first-ever Chicago Street Race with his confidence and popularity higher than ever.
Before the race in the Windy City, the Trackhouse Racing driver visited with reporters and revealed that he's not only a driver but a NASCAR salesperson when he shared a story of how he met some tourists and convinced them to go to the race without ever revealing his identity.  
Ross Chastain solid start in 2023
Ross Chastain started the 2023 season on a strong note, earning three top-five finishes in the first 10 races. Unfortunately, his solid on-track performance wasn't the only reason he was in the headlines. His aggressive driving and the growing list of drivers frustrated with him was also a hot topic of conversation. 
It was almost a new incident each week. Things came to a head when Rick Hendrick was critical of the Trackhouse driver and suggested the watermelon farmer needed to dial it back after Kyle Larson had been victimized by his aggressiveness on several occasions.
Chastain did just that, and it was reflected in his results. He finished three consecutive races outside of the top 20, his worst stretch of races in 2023.
Last weekend at Nashville, the 30-year-old brought speed as he has almost every week, but this time was more calculated in his aggressiveness, and it worked out well, with him snapping his 42-race winless streak and claiming his first victory in 2023 and a spot in the playoffs.
Convinces tourists to attend Chicago race without revealing identity
On Friday, Chastain visited with the media, where he revisited last week's win and discussed NASCAR's first-ever street course race. While discussing the latter, the driver was asked about any memorable experiences in Chicago. He had one.
"I'm a NASCAR driver, so of course, what I pull out of my bag without even thinking about it was a full Advent Health/Trackhouse Chevy t-shirt/workout shirt," Chastain said. "I didn't even think about it. We get out to Navy Pier, and this guy's like, 'NASCAR?'
"Didn't say NASCAR on it, but somehow he could tell. I'm like, 'Yeah, man, we're racing.' He's like, 'I heard about that. We're just visiting, but we don't fly out until Monday. I think we're going to try to come over.' I'm like, 'Yeah, you definitely should.' 
"He had no idea who I was, but he just saw my shirt and took it, somehow, he knew enough about NASCAR. So he was like, 'We're going to take the family.' So that was really neat.
"I didn't tell him who I was. He didn't ask. I just think I sold four more tickets. He had two kids and his wife there, so I think I sold four more tickets. Make sure I mention that to Mr. France that I'm out here hustling not just on track. We're getting tickets sold. That was a cool experience to be a part of."
Chastain has a good chance at Chicago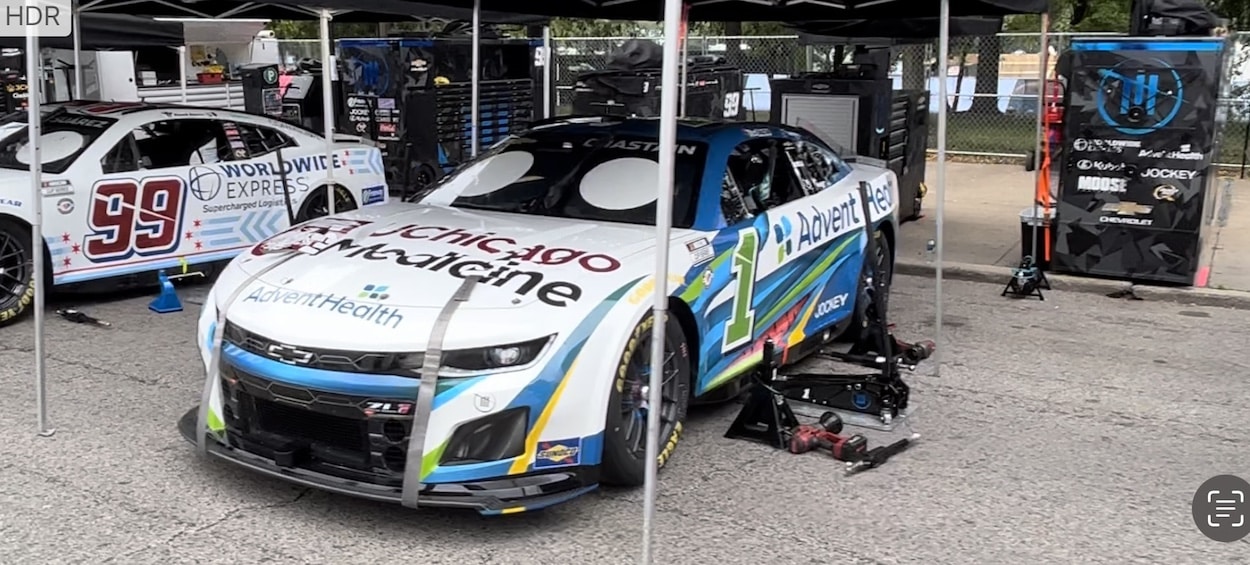 Chastain's popularity has been on a notable rise since last season when he recorded his first two career Cup wins and pulled off the Hail Melon move at Martinsville. This season, his aggressiveness, while frowned upon by most in the garage, is appealing to many of his fans, even resulting in some making Dale Sr. comparisons.
There's no denying the Trackhouse driver has momentum from last weekend's win heading into Sunday's race. Plus, he's had success on road courses, including his first win last year at COTA. This season, he finished fourth at the Texas road course and 10th a few weeks ago at Sonoma. He has proven to be successful on tracks with left and right turns.
All of it combined, he might find himself in Victory Lane after the inaugural Chicago event on Sunday. And if it happens, you can only imagine the surprise of four fans when they see him in all the photos for the winning driver.
To stay up to date on the latest happenings in NASCAR, including breaking stories you can't find anywhere else, follow Kyle on YouTube and Twitter.