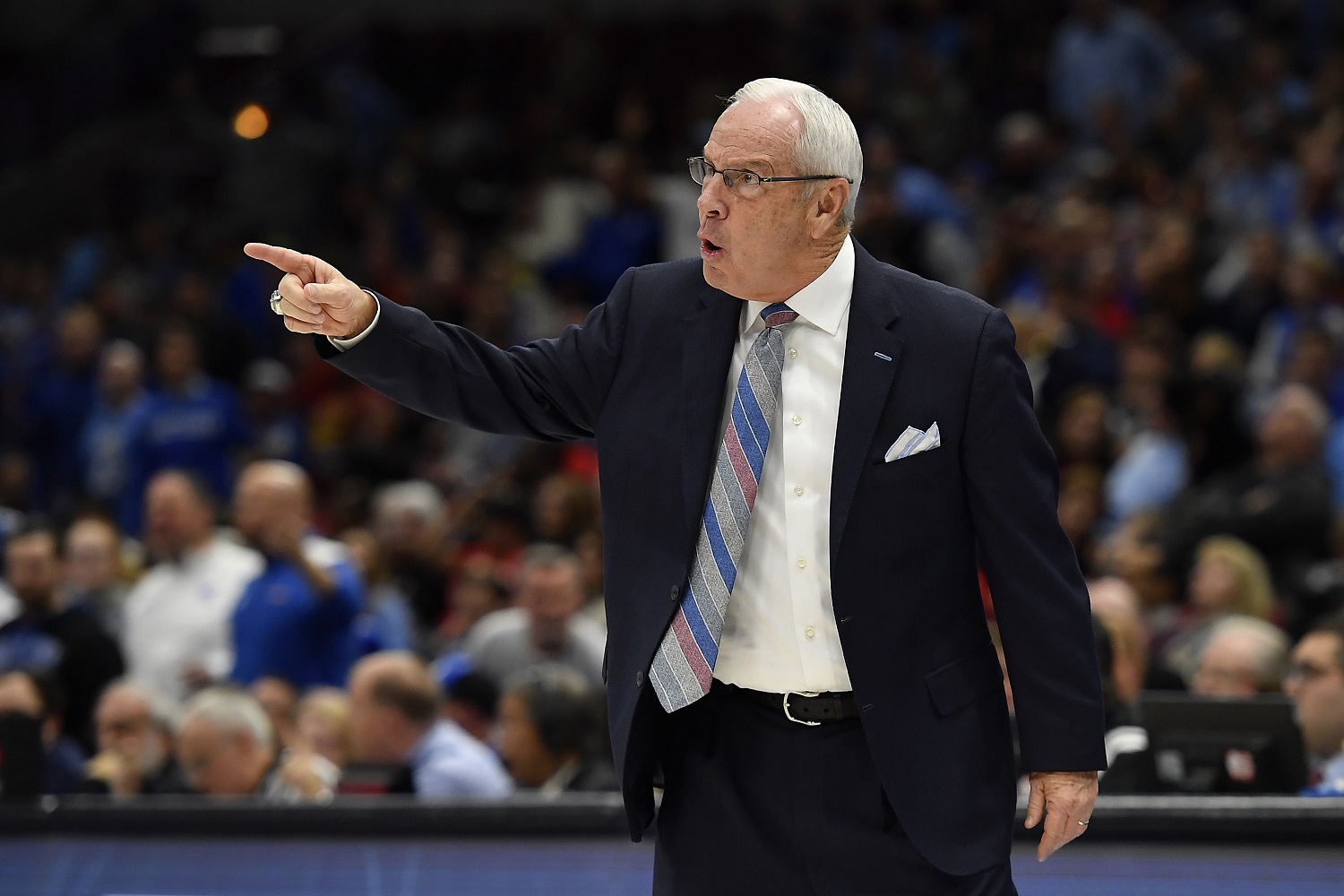 Roy Williams Is a Hypocrite if the Story of the Final Straw Behind His Retirement From UNC Is True
Roy Williams retired as the North Carolina men's basketball coach after three NCAA Tournament titles. His unexpected departure may have been triggered by a promising prospect's decision to explore a transfer.
As is the case with any 70-year-old person, Roy Williams is entitled to retire without explanation. Having won a combined 903 games coaching college basketball at Kansas and North Carolina, with three NCAA Tournament titles at the latter, he reached the top of his profession with minimal controversy along the way.
Nevertheless, his unexpected announcement on April 1, 2021, raises questions:
Who will replace Roy Williams with the UNC Tar Heels?
Did something hasten Williams' retirement?
Plenty of coaches would love the UNC job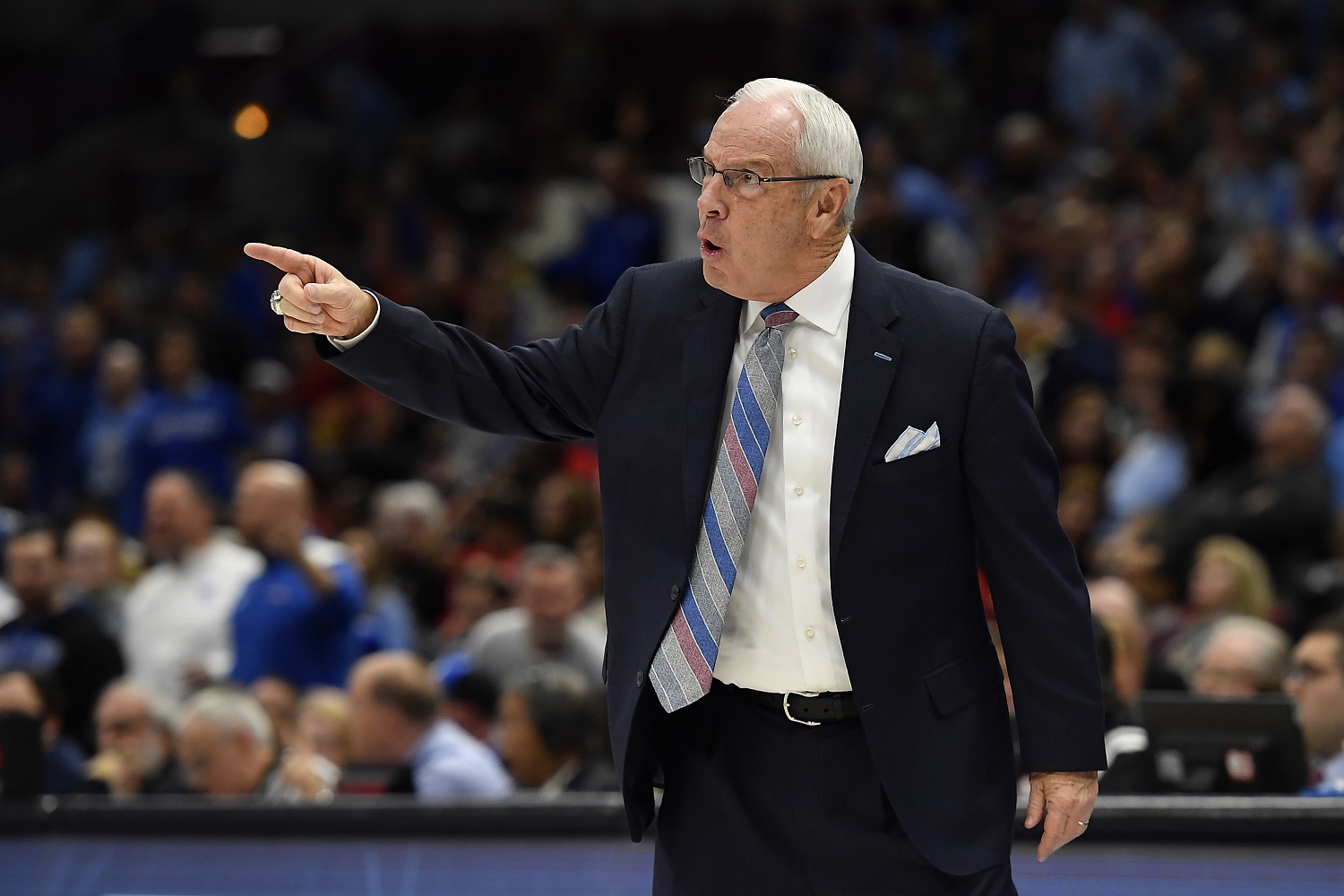 Roy Williams ended 18 seasons at the University of North Carolina, retiring with a record of 485-163. His Tar Heels won the NCAA Tournament three times and made two other Final Fours. His first championship came in Year 2 of the rebuild following a disastrous run under coach Matt Doherty.
Williams had just one losing season at UNC, going 14-19 a year ago. He rebounded by going 18-11 this season, but the Tar Heels bowed out of the NCAA Tournament in the first round.
With Chapel Hill located in a basketball-rich region and the Tar Heels able to get in the door nearly anywhere to recruit, the North Carolina job is coveted in the business. As such, they can have their choice of just about anyone to replace Williams.
The list of potential replacements starts in Chapel Hill. Hubert Davis was Williams' assistant for nine years. He played at the school under Dean Smith and went on to 12 years in the NBA. A second veteran assistant, Steve Robinson, followed Williams from Kansas but is regarded as the less-likely internal candidate.
UNC Greensboro coach Wes Miller, another Tar Heels alum, has been mentioned, too. Miller is just 38 but already has 10 seasons in charge under his belt. If he lands at UNC, it could conceivably be 2050 before the school searches for another head coach.
Brad Stevens' name trended on Twitter after Williams announced his retirement. But that could just be wishful thinking on the part of disgruntled Boston Celtics fans. After all, Stevens didn't jump at the Hoosiers job in his native Indiana last month.
What pushed Roy Williams into his decision to retire?
While Roy Williams said in his farewell that he no longer felt he was the right man to coach the North Carolina Tar Heels, USA Today's Dan Wolken tweeted that one episode may have pushed Williams over the edge if he had already been contemplating retirement.
Wolken reported that the decision by freshman Walker Kessler to enter the transfer portal last month may have been the trigger. As explained by Larry Brown Sports, Kessler was a McDonald's All-American who struggled for playing time for much of the season. However, he started to earn meaningful minutes down the stretch and had established himself as someone to be reckoned with next season.
If he follows through by transferring, the Tar Heels will have lost a potential three-year starter, and another Division I program gains an emerging star.
There have been player transfers for as long as there has been NCAA basketball. So the loss of one player, regardless of how good he might become, feels like an overreaction, even as a proverbial last straw.
Roy Williams is a hypocrite if the story of the final straw behind his retirement is true
Roy Williams isn't a fan of the transfer portal, which helps facilitate player moves from school to school.
"I'm old school. I believe if you have a little adversity, you ought to fight through it, and it makes you stronger at the end," Williams said in an interview unrelated to Walker Kessler's decision to leave, according to 247Sports. "I believe when you make a commitment, that commitment should be solid. And it should be to do everything you can to make it work out."
Williams at least had the good sense to acknowledge that it's easy for coaches to pick up and leave, too. He did just that in 2003. After leading his team to back-to-back appearances in the Final Four, Williams left the University of Kansas for UNC.
"I've told you guys that at one time in my life, I wanted to coach at one school and that was it," Williams said to reporters. "And things didn't go like that. And I've turned down a lot of jobs because I want to be at North Carolina. I didn't leave and try to find another place to coach last year after we had such a tough year."
At 69 years old and coming off a 14-19 season, where exactly was Williams going? Sure, schools would have hired him, but there's no way Williams would have considered leaving in the first place. He was disingenuous at best.
So, the real question is why Williams gets to gloss over leaving Kansas, another plum job in basketball, by rationalizing that he only did so because he'd landed his dream job. A teenage basketball star deserves the same latitude.
Like Sportscasting on Facebook. Follow us on Twitter @sportscasting19.