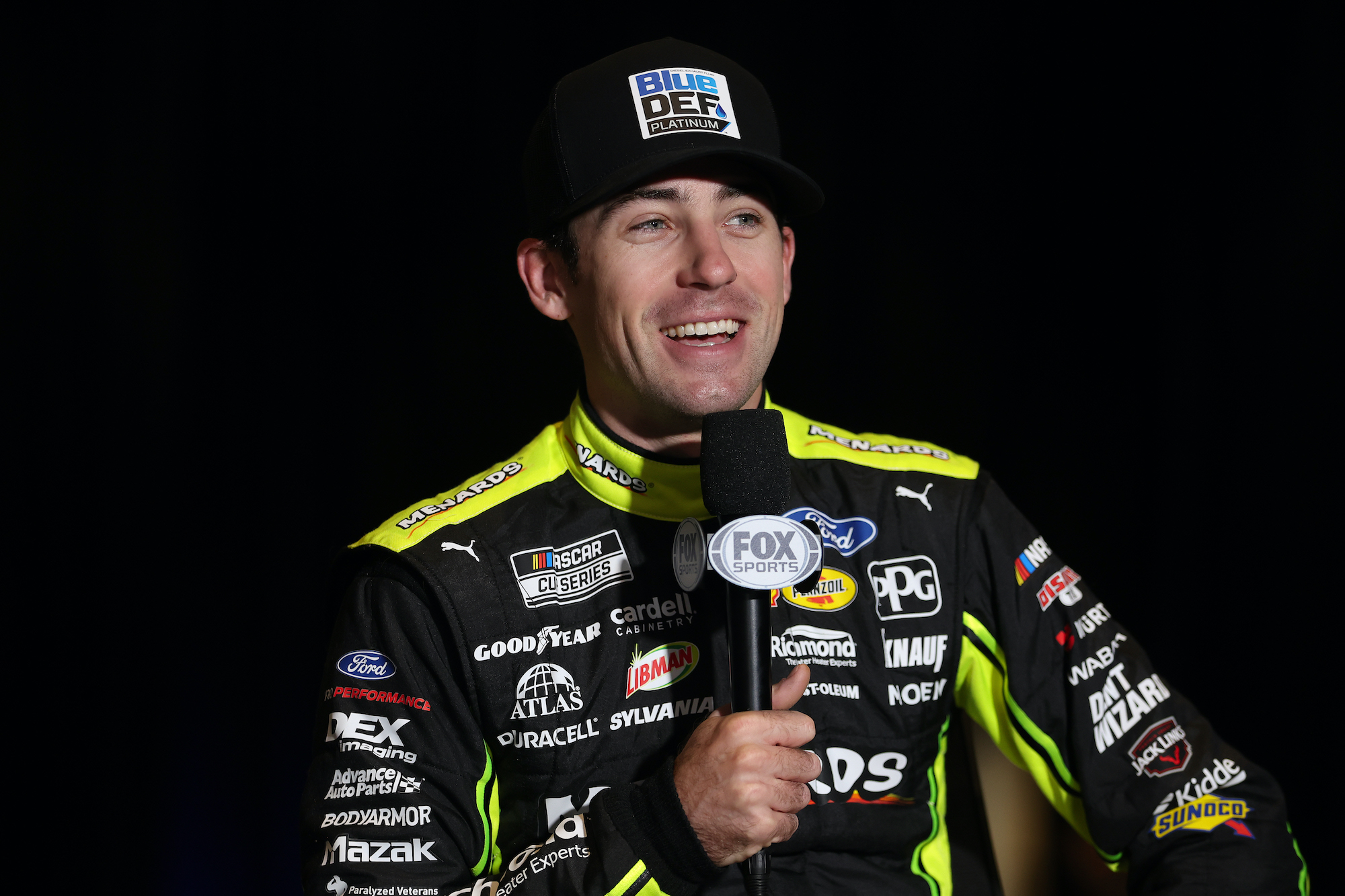 Ryan Blaney Calls Out Fox and Threatens to Leave During Xfinity Broadcast After Network Excluded Him Twice From Cup Series Promo
Ryan Blaney was excluded from Fox Cup Series promo during Xfinity Series broadcast and he let the network know he wasn't happy about it.
Ryan Blaney is a top NASCAR Cup Series driver but proved last year that he could successfully cross over and bring his knowledge with him up to the broadcast booth. Fox didn't wait long to bring him back in 2022 and paired him and Joey Logano with the main announcer, Adam Alexander, for Saturday's Xfinity Series race in Fontana.
While the two Penske teammates performed well in the coverage, which was extended due to numerous late cautions, the network did Blaney dirty. It happened multiple times when promoting the Sunday Cup Series race that featured a graphic with five drivers, including Logano and Blaney's buddies Bubba Wallace and Chase Elliott, but no Blaney. He called out the network for the omission.  
Ryan Blaney calls out Fox for excluding him in Cup Series promo 
"Hey, tomorrow on Fox, the stars are really out in Fontana," Alexander opened when the broadcast featured a graphic of five Cup drivers that included Logano, Denny Hamlin, Kyle Larson, Bubba Wallace, and Chase Elliott. "RaceDay on FS1 at 2 PM ET, over to Fox at 3. It's race 2022. Who gets it done here? Watch it on Fox."
Blaney, realizing that his image was not included on the graphic, spoke up.
"I'm not a star I guess because I didn't get my face on the deal," he said. 
"Look at Logano," Alexander pointed out, deflecting attention away from Blaney's remarks.
"My mouth is wide open," he replied. "You guys couldn't have picked a better picture, could you?" 
"What pose would you give? We've got the camera on," Alexander said to Blaney when the cameras faded out the graphic and focused on the three in the booth.
"You'll never know because I'm not going to get put on it. My last broadcast ever," the 28-year-old said, smiling at the camera. "Until I'm on that promo, last booth appearance." 
Alexander then took the time to speak to the Fox production team and reminded them that Blaney will also be working again next weekend in the broadcast booth and advised them to include him in the next promo.
"You don't have to take anybody off," Blaney said. "But just space it out and put me in there. I could be tiny. I don't want the spotlight. I just want to be involved in what's going on." 
Broadcast shows promo again near end of race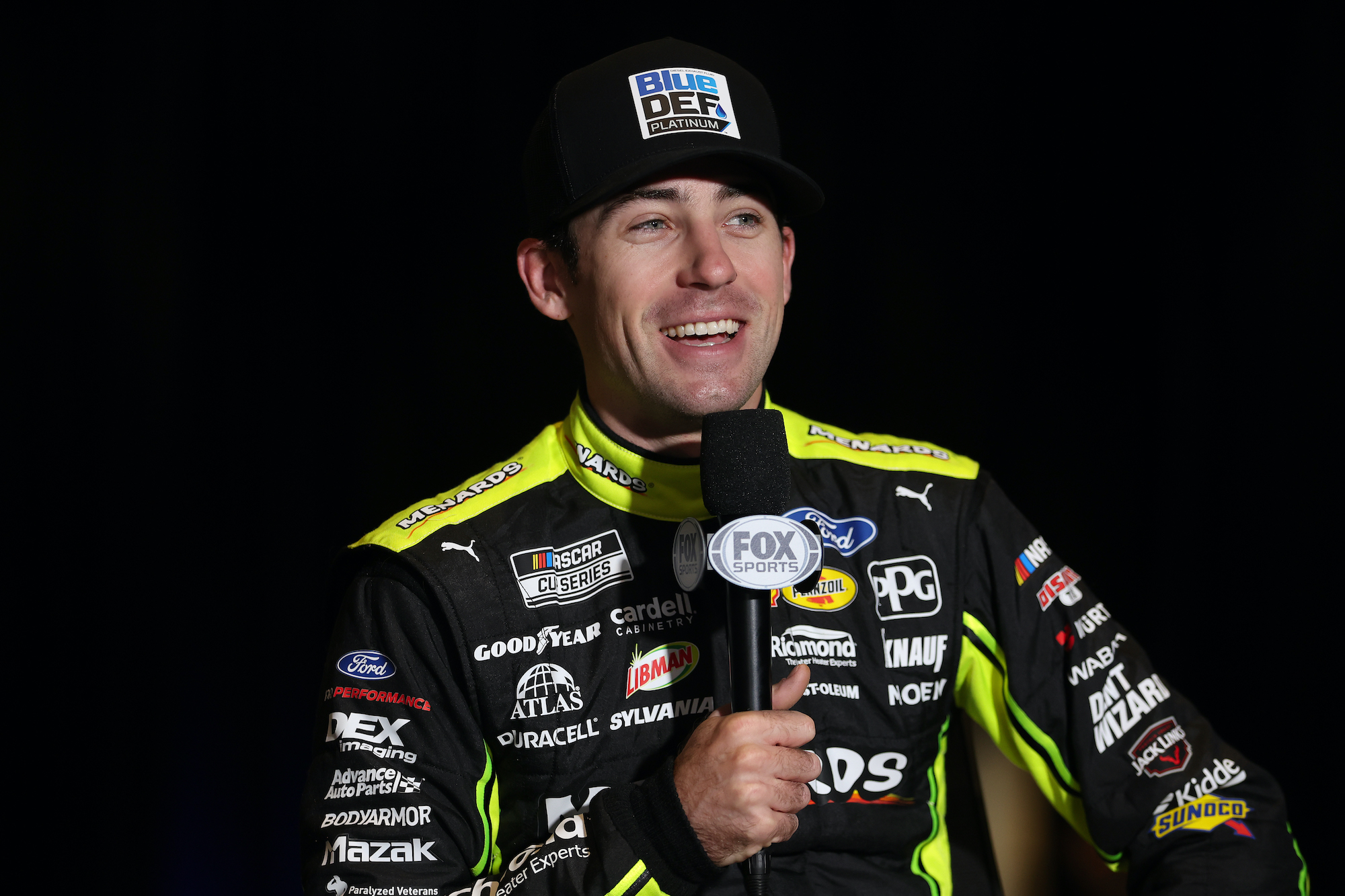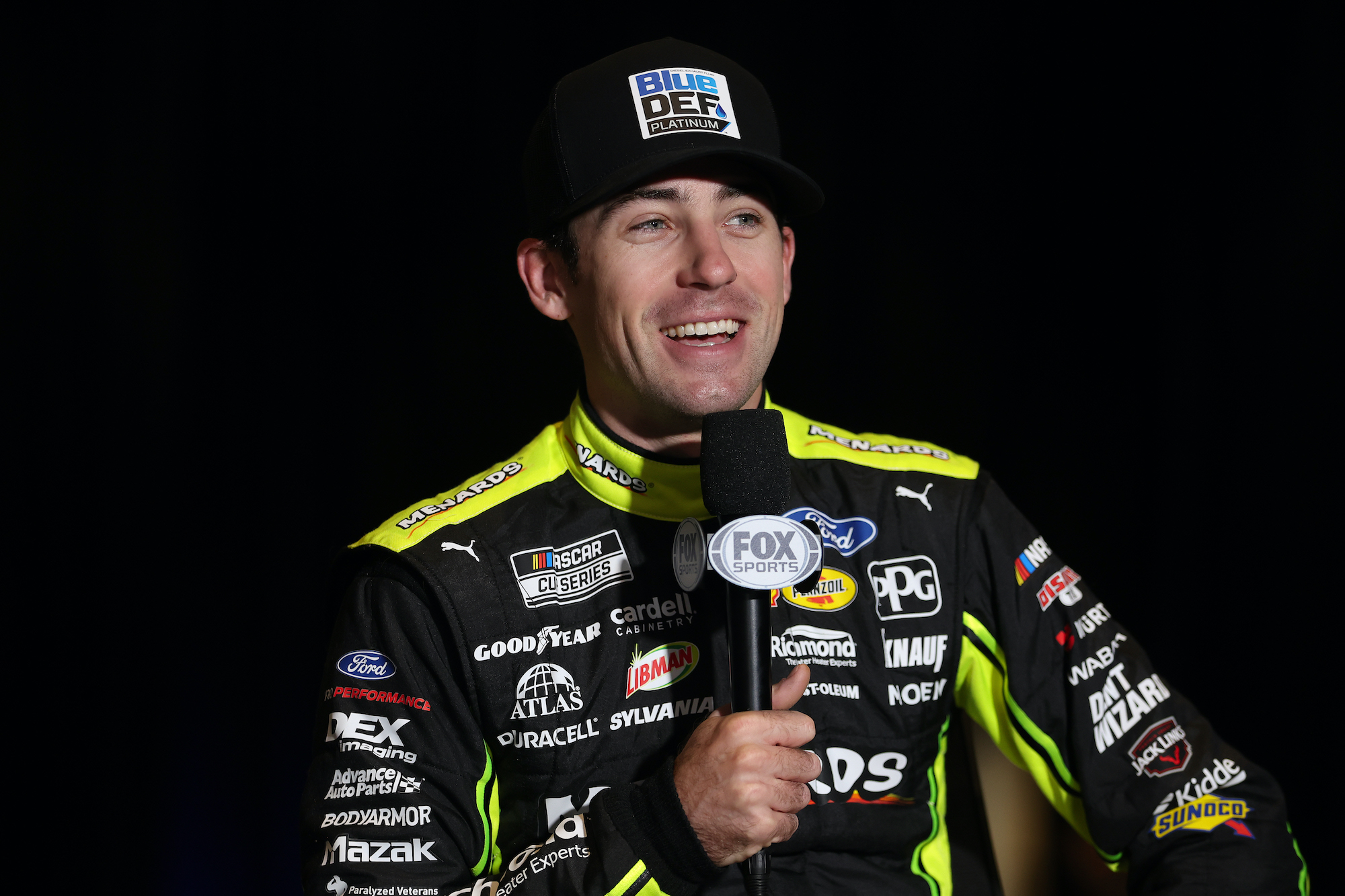 Later in the broadcast, with the race going into overtime, Fox ran the promo again. Unsurprisingly, it led to another interesting exchange in the booth. 
"Where's Blaney?" Logano asked. "He's still not in it. They didn't fix it yet?"
"Y'all enjoy the end of this race. I'm out of here," Blaney responded, which drew a big laugh from Logano and Alexander. 
"It's a two-man booth now," Alexander added. 
"Your buddies are on there, too," Logano pointed out, referring to Wallace and Elliott. 
"I think I'm in Bubba's reflection on his glasses," Blaney joked. "I think they put me in there." 
Blaney proved at Daytona he can be a team player
As Blaney suggested the first time Fox showed the promo, he doesn't want the spotlight but wants to be involved. He proved that last week at Daytona how he is more than willing to be a team player. 
He fought off any temptation to pursue his own self-interest in the final laps of the sport's biggest race when he allowed his other Penske teammate, Austin Cindric, to slide down in front of him on the race's final restart. Once the pair knew it would be next to impossible for someone to get past them before the finish line, they battled it out. 
Unfortunately for the No. 12 car, it was too late. Cindric made a late block, shoved Blaney into the wall, and held off a late-charging Wallace to win the race. 
Blaney showed he's willing to acquiesce on the sport's biggest stage just as long as he's given an opportunity. Fox didn't give him a chance. It'll be interesting to see if the network makes the change for next week's race at Las Vegas. If Fox officials want the driver and his natural broadcasting talent back in the booth in the future, they'd be smart to include him.
Like Sportscasting on Facebook. Follow us on Twitter @sportscasting19.