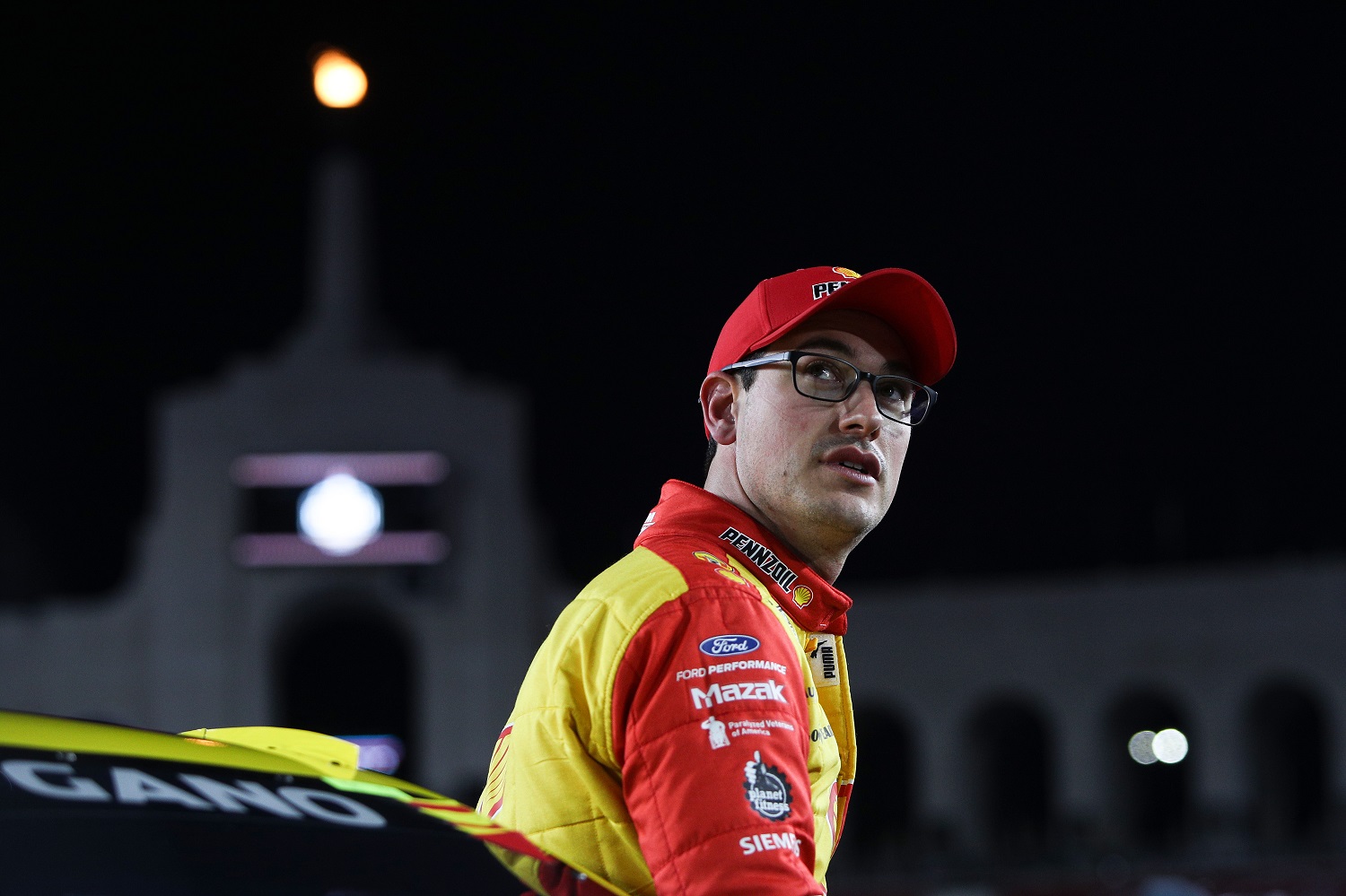 Joey Logano Talked About Overcoming Mistakes and Immediately Proceeded to Make a Huge 1
Joey Logano took the blame for the last-lap accident during the Bluegreen Vacations Duels at Daytona. A day earlier, he offered advice for getting over a mistake.
The first step in addressing a problem is admitting there is, in fact, a problem. Joey Logano handled that immediately after his blunder on Thursday in the Bluegreen Vacations Duels during Daytona Speedweek.
"A dumb mistake," Logano said after triggering a last-lap wreck with a desperation move to try preserving a NASCAR victory. "All there is to it."
The second step in fixing a problem is to formulate the plan for dealing with it. Fortunately for Logano, he has one of those. In fact, he unveiled it a day beforehand in an interview.
Like they say, timing is everything.
Even Joey Logano understands what he did was dumb
Joey Logan led 33 of the first 59 laps in the nightcap of the Bluegreen Vacations Duels doubleheader at Daytona International Speedway and was in a position to win when the white flag came down. Everything changed when Chris Buescher got a run on Logano and dropped low to pass.
Logano instinctively went down along with the Roush Fenway Keselowski Ford in a bid to block, but it was too late. Buescher tapped Logano, launching him toward the outer wall, and took the checkered flag just ahead of 2021 Daytona 500 winner Michael McDowell.
"I knew as the leader, I was a bit of a sitting duck, but at worst I was gonna finish fourth and was gonna try to let it play out," Logano said. "Didn't think (Buescher) was going to get a run that quick. … I should have just let it happen and race from there. Just messed up."
Joey Logano's interview with The Athletic lays out the path forward
Jeff Gluck of The Athletic does a standing Q&A feature throughout the season, interviewing a driver from one of NASCAR's three national series each week. The questions are a mix of offbeat and thought-provoking, and Gluck kicked off his 2022 edition on Wednesday by interviewing Logano.
Midway through the interview, Gluck asked for advice to someone having a hard time getting over a mistake. Logano is a guy who rubs some competitors the wrong way with a take-no-prisoners approach to driving, so his beginning the response by admitting to making a lot of mistakes qualified as a breakthrough of sorts.
"The worst thing anybody can do in their life is be afraid of failure, being afraid of making a mistake," he said. "Because you'll never grow. You limit yourself immediately as soon as you have a mindset of being scared.
"Sometimes you've just gotta go for it. And you know what? If it just doesn't work, then, 'Oh well.' But if you never try, you'll never know. So, I'm a huge believer in just going for it and trying it.
"Now, it's still about being calculated — not just being stupid about it and saying, 'Oh, I'm gonna try jumping out of an airplane,' or something. Maybe not that."
And maybe, just maybe, he'll remember that two Next Gen cars do not fit comfortably into one spot the next time he goes charging for the checkered flag.
Joey Logano served his penance after causing the wreck
As is often the case in wrecks, Joey Logano caused collateral damage in the race that helped set the field for Sunday's Daytona 500. Harrison Burton's No. 21 Ford came away with front-end damage that looked problematic. However, the Wood Brothers Racing team tweeted the car will be ready to go on Sunday.
"Worst part is I put our team in a bad spot trying to … get another car (ready), and I got (Burton) in it, too," Logano said.
Team Penske made the decision to go with a backup car. Logano's crew started prepping it Thursday night. According to The Athletic, the driver walked into the garage and apologized to crew members individually for creating extra work.
Logano then took it upon himself to grab some tools and lend a hand in setting up the seat and interior to his liking. He was only there for an hour, but it meant one less hour that someone on the team would have to spend in the garage.
"The least I can do is help," Logano said. "If you're going to be stupid, you better work hard. You better be tough. … I like to lead from the ground floor. That's just how I do it."
As work wrapped up, Chris Buescher showed up to say he was sorry for how things went down in the race.
"I know," Logano told him. "It was my own fault."
Like Sportscasting on Facebook. Follow us on Twitter @sportscasting19.