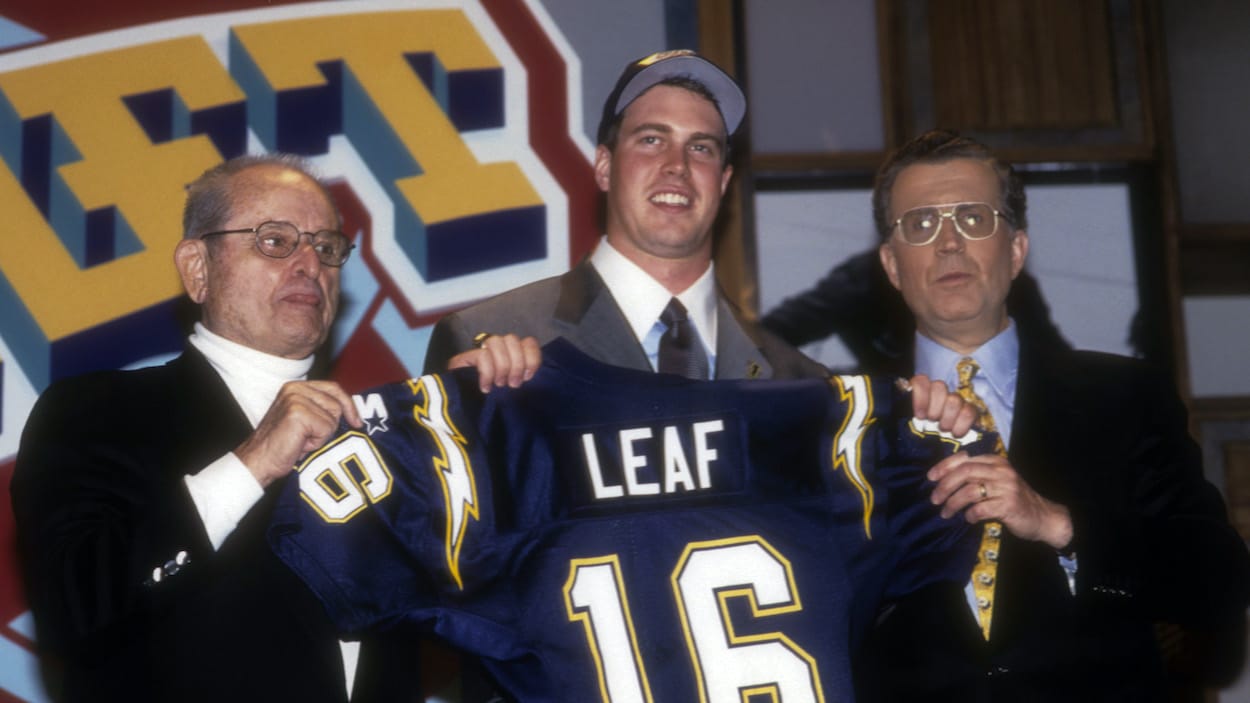 Ryan Leaf Wants to Know Why Former Colts GM Bill Polian 'Made That S*** Up' About Him at 1998 NFL Draft
Ryan Leaf admits he was a major NFL draft bust, but he doesn't understand why Bill Polian is still telling a story he says is a lie.
The 1998 NFL Draft featured two potential franchise quarterbacks at the top in Peyton Manning and Ryan Leaf. The Indianapolis Colts took Manning, and he became one of the best of all time. The San Diego Chargers took Leaf, and he became one of the biggest NFL draft busts of all time. Leaf is at peace these days with how this all went down, except for the fact that he says former Colts general manager Bill Polian still tells a "bold-faced lie" about him, and he wants to know why.  
Ryan Leaf says Bill Polian lied about their interaction during the 1998 draft process
"Every April, the conversation is steered back to don't drop another Ryan Leaf."
That's what former Washington State and QB Ryan Leaf says he deals with annually. As one of the biggest draft busts in NFL history, he's used to it by now. After years of battling mental illness, drug addiction, and even landing in jail, Leaf is now doing well and at peace with this situation.
Despite owning his draft bust status, there is one thing about the 1998 draft process that still bothers the motivational speaker and podcast host. And that's the story that former Colts GM Bill Polian tells about him.
"What he does to ingratiate himself to everybody else in the masses is he goes on, and he tells an absolute fabrication," Leaf says of Polian.
That "fabrication" is that Leaf told Colts coach Jim Mora that if the team drafted him, he'd be a few days late reporting to the team because "my buddies and I have a trip planned to Las Vegas."
The Colts' decision to pick Manning solidified after that, and the rest is history. Except, Leaf is still chapped about Polian telling this story that he says isn't true.
"It's an absolute bold-faced lie," Leaf said. "The story is already compelling enough. You have arguably the greatest quarterback to ever play and one of the biggest busts of all time."
The former QB then rehashed a story that's been out for a long time, that he missed his meeting with the Colts at the NFL Scouting Combine because the Chicago Bears wanted him to get an MRI on his hand.
"I've never had a conversation with Bill Polian. I've never met Bill Polian, to be honest with you," Leaf admitted. "It's really easy to tell my story now. You know why? Because I don't lie about it, OK."
To wrap up, Leaf invited Polian to come on his podcast to have a conversation so Leaf can ask him, "why you made that s*** up?"
Is Leaf the all-time biggest NFL draft bust?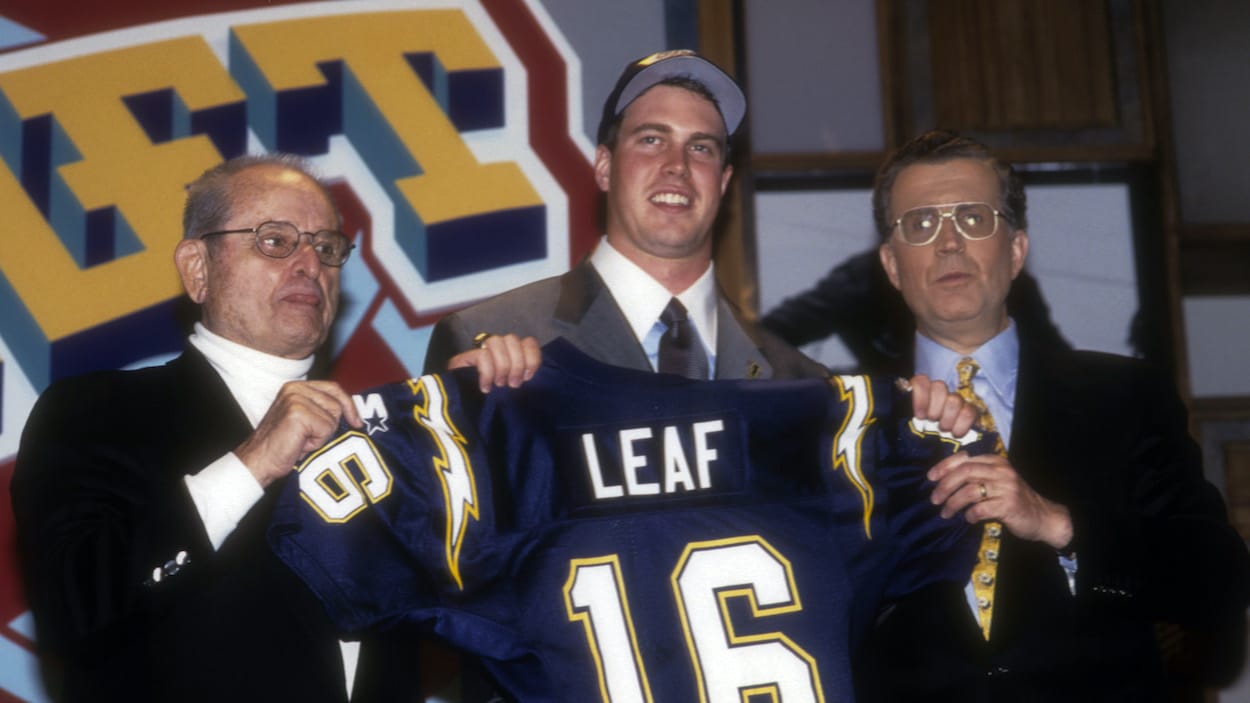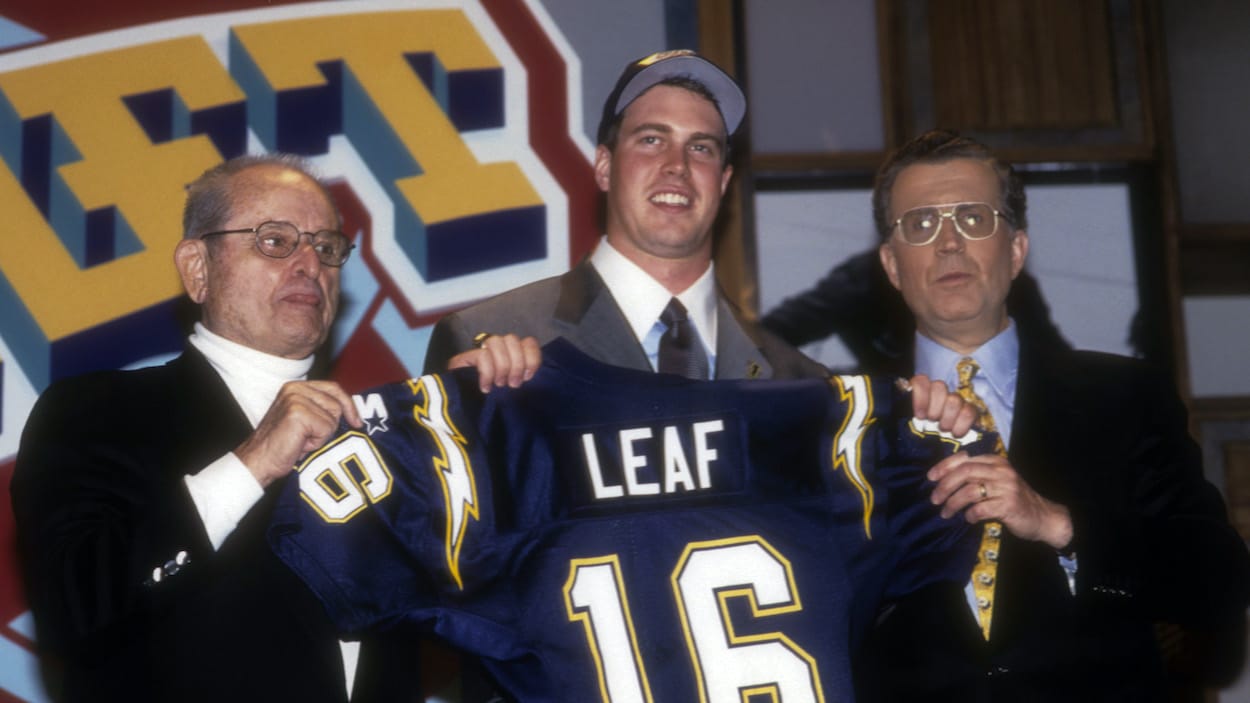 Is Ryan Leaf the biggest draft bust in league history? To determine the biggest NFL draft busts of all time, you first have to set some parameters.
The first is that no matter how highly drafted or how big a bust, no player that is not a quarterback could have come in and truly changed a franchise anyway, so position players can't be the biggest draft busts of all time.
This gets players like RB Ki-Jana Carter, OT Tony Mandarich, WR Charles Rogers, LB Brian Bosworth, and DE Steve Emtman off the hook.
Now, we're down to just quarterbacks in the running for this dubious title, but there is another caveat to put in. If the QB doesn't go in the top three or maybe the top five, they can't be the biggest draft bust ever.
That means we say goodbye to QBs like Todd Marinovich (No. 24), Johnny Manziel (No. 22), Andre Ware (No. 7), Josh Rosen (No. 10), and Tim Tebow (No. 25).
These rules only leave a few candidates.
There's Ryan Leaf (No. 2, 1998), JaMarcus Russell (No. 1, 2007), Akili Smith (No. 3, 1999), and Heath Shuler (No. 3, 1994). And with all due respect (or disrespect?) to Smith and Schuler, it really comes down to Leaf and Russell.
Both were major busts, but Leaf's association with Peyton Manning and his 36 interceptions to 14 touchdowns (Russell had 18 TDs, 23 INTs) make him the biggest NFL draft bust of all time.