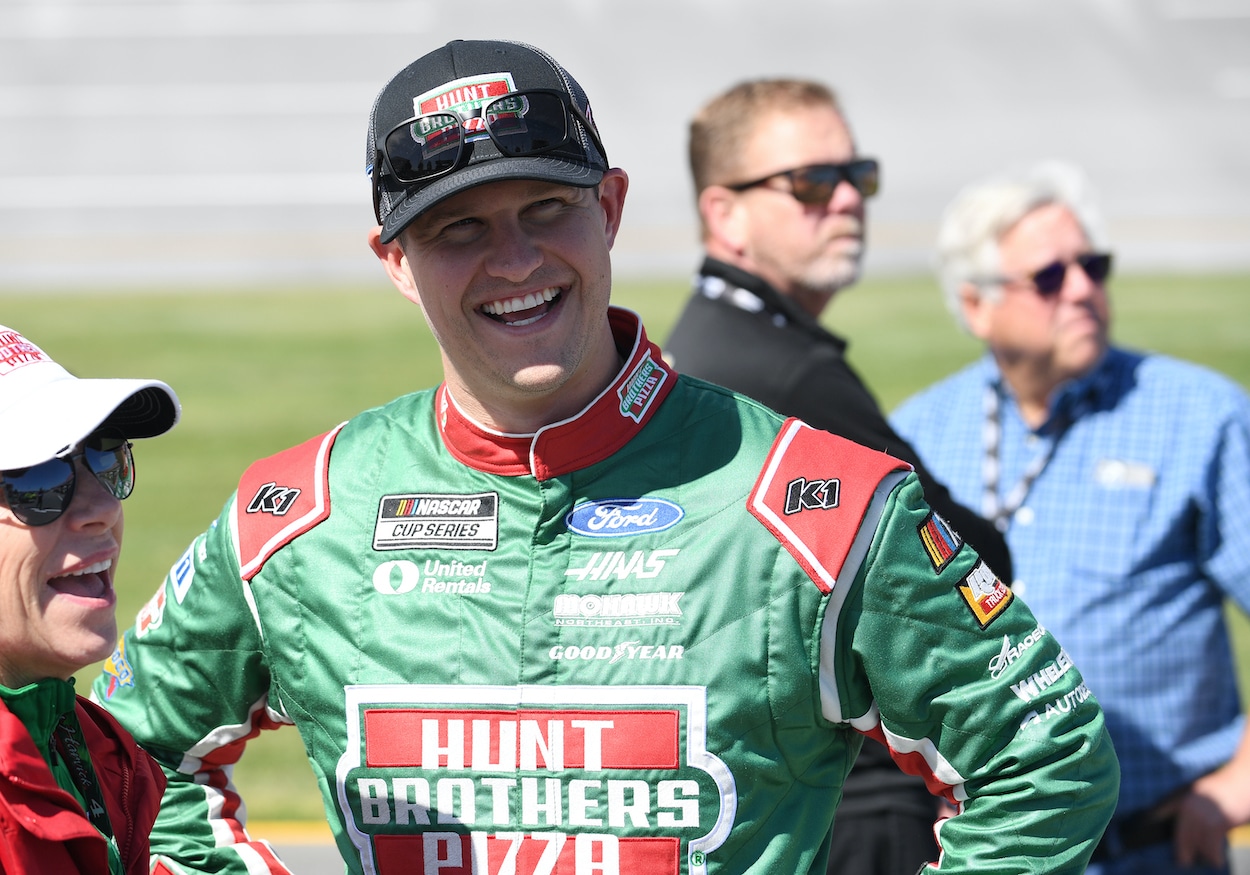 Ryan Preece Has Had a Rough Month, and It Includes Some Shocking Personal News
Ryan Preece met with reporters this week and revealed that his bad run of luck on the track has carried over into his personal life with some shocking news.
Ryan Preece returned to the NASCAR Cup Series this year with high expectations. Through the first 10 races of the 2023 season, it's been a challenge for the Stewart-Haas Racing team, which has had some good runs but nothing to show for it, including no top-10 finishes. 
The early season has also included some controversy with Kyle Larson a few weeks ago at Bristol. Interestingly, that brief history with the 2021 champion was forgotten on Sunday at Talladega when the two drivers had another encounter of a much more serious nature in a violent high-speed crash, with both thankfully walking away uninjured.
In a call with reporters this week, Preece talked about that scary crash with the Hendrick Motorsports driver and unexpectedly revealed that his bad month has carried over into his personal life, sharing that his home recently got struck by lightning. 
Ryan Preece and Kyle Larson get into it on Bristol Dirt
Ryan Preece was making a move to get past Kyle Larson on the high side at Bristol when the No. 5 car slid up the track and squeezed the Stewart-Haas Racing car into the wall. The 32-year-old driver wasn't happy and made that clear a short time later when he displayed a specific finger outside of his window as he passed his fellow competitor.
They weren't done. 
Later in the race, the two got together again. This time it was Preece running Larson into the fence. The HMS driver responded by driving into the side of the SHR car on the backstretch but spun himself out in the process.
Preece said his contact late in the race wasn't intentional, while Larson said he couldn't understand why the SHR driver was still mad more than an hour after the initial incident. 
Meet again in violent crash at Talladega
The Preece-Larson budding conflict was a hot topic of debate for days following the race. The HMS driver completely changed the narrative when he went out and won a week later at Martinsville. 
Unfortunately, the two drivers reconnected on Sunday at Talladega under a very different set of circumstances with much more serious consequences, in a violent crash where the No. 41 t-boned the No. 5 car at a high rate of speed. 
The view from Preece's in-car camera has unsurprisingly received considerable attention this week because it shows the driver's head uncontrollably lunging forward while his arms fly off the steering wheel at the moment of impact. It's disturbing to watch a human body go through something so violent.
The SHR driver met with the media this week and said he was feeling no effects from the crash and was thankful everything in the car worked as designed. 
Preece reveals house got struck by lightning
During that visit with reporters, NBC's Dustin Long asked the driver if he had been inundated with text messages from friends similar to after winning a race but, in this case, out of concern for his well-being. Preece answered the question but first offered a shocking bit of personal news. 
"Quick little story is my house actually got struck by lightning two weeks ago," the driver began. "So my internet in my garage, which if I don't have internet in my shop, I don't have a cell phone signal, so I have to leave it at the window.
"So yes, to answer your question, my phone kept going off and I kept having to walk from what I was doing over, which you're thankful for people caring. I got a lot of text messages from people at different organizations, a lot of drivers, a lot of people I used to race with. It was a lot more text messages than I really thought I would get but it was certain — people want to see you OK, I guess, so that's a good thing."
It's been a month to remember for Ryan Preece. The hope is that one day in the future he'll be able to look back on this time and know that he persevered. That it made him stronger. And who knows, maybe this start of the season will be viewed as the low point that ended with a big crash in Talladega and started a strong run of races and good finishes to close out the 2023 campaign.
Time will tell.
For the latest breaking news and information about NASCAR's three national series, check out @kdsportswriter on Twitter.