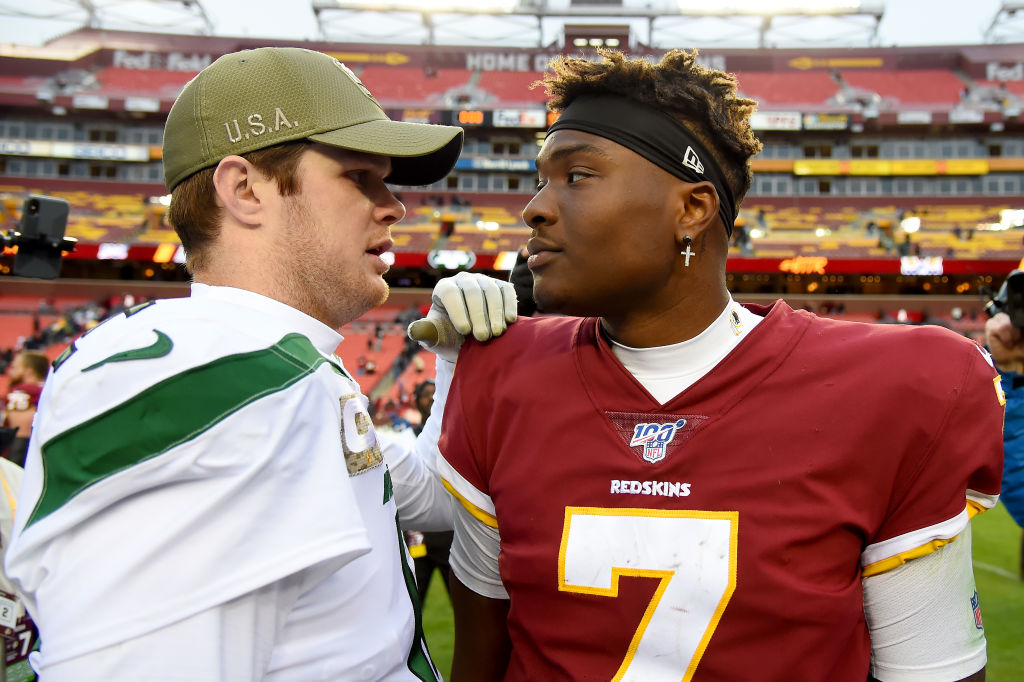 Sam Darnold Gave Dwayne Haskins 1 Piece of Season-Saving Advice
The NFL can be an incredibly competitive league. On Sunday, however, Sam Darnold gave Dwayne Haskins some heartfelt advice.
While it's never easy for a young quarterback to adjust to life in the NFL, teams can do plenty of things to make the transition easier. Whether they come in the form of another quarterback, a respected head coach, or franchise veterans, most rookies are surrounded by plenty of positivity and support. It's a safe bet that Dwayne Haskins isn't getting too much of that inside the Washington Redskins organization.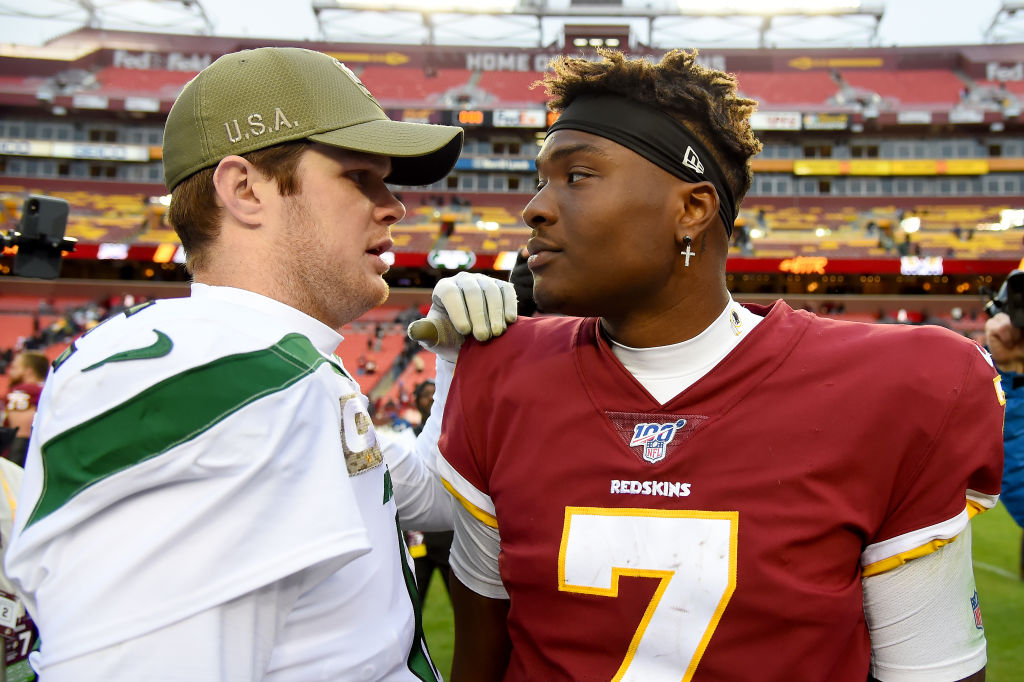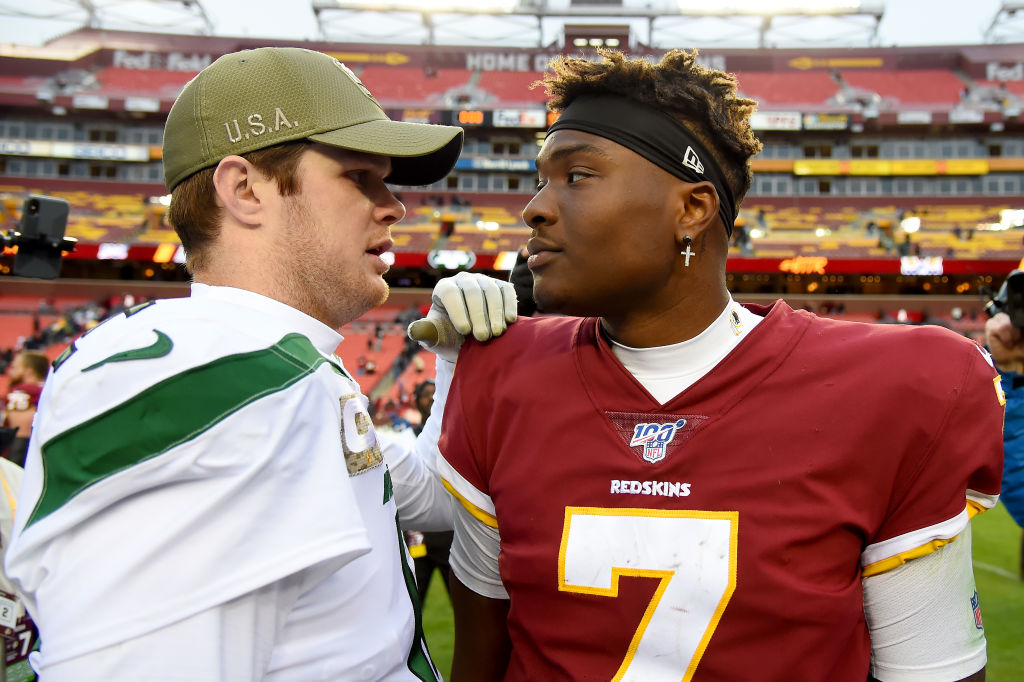 After starting the season on the bench, Dwayne Haskins has been thrown into the fire. While the Redskins' starting quarterback might not be in the best situation, another young quarterback stepped up to offer him some special advice.
Dwayne Haskins' time in Washington
After posting big numbers at Ohio State, Dwayne Haskins entered the 2019 NFL draft. The Washington Redskins selected the quarterback with the 15th overall pick but didn't promise him the starting job.
Head coach Jay Gruden preached patience, saying that Haskins would only play when he was ready. After Gruden was fired, Bill Callahan kept Case Keenum in the starting role. The quarterback, however, suffered a concussion, however, throwing Haskins into the fire.
After making two relief appearances, Haskins got his first NFL start in Week 9 against Buffalo. The rookie completed 15 of 22 total passes for 144 yards; while it was far from the worst performance in league history, it wasn't exactly inspiring. Despite the loss, Haskins kept working through the bye week, emerging with a new level of comfort and confidence.
Haskins' confidence takes a hit
Coming off of the bye week, the Redskins offense was feeling pretty good. Their young quarterback had been putting in work on the practice field, and everything seemed to be paying off.
"I just felt like the more reps I get, the easier it'll be for me to be able to play naturally, instinctively," Haskins said. "As I play, the more mistakes I'll learn from and the better plays I'll make." His veteran teammates also noticed a change, saying the young quarterback was taking more ownership of the Washington offense.
All of that positivity, however, vanished on Sunday afternoon. The lowly New York Jets came to Washington and thumped the Redskins. Sam Darnold shredded the Washington defense, throwing for 293 yards and four touchdowns; Haskins, while far from the Redskins' biggest offender, only threw for 214 yards and two touchdowns.
Haskins also snapped at his offensive line on the sidelines, asking the unit he had to do to help them. As the game wound down, fans started a chant of "sell the team." It wasn't a good day for anyone tied to the organization.
Sam Darnold's helpful advice
After the final whistle, Sam Darnold and Dwayne Haskins shook hands on the field. While opposing quarterbacks always share a few words, this interaction was a little different. While Darnold is still a young quarterback, he's been in the league for longer than Haskins; he's also felt the weight of a struggling franchise on his shoulders.
"I just told him after the game to keep his head up," Darnold explained. "No matter what people say, the doubters, people who are going to say anything bad about him, I just said, 'Walk it out, man. Just continue to go to work. And if you go to work every single day, it'll be all right.'"
Both Haskins and his head coach echoed those sentiments; the quarterback said he would keep working to earn his teammates' trust, while Callahan called the game "a great learning experience." Darnold's advice, however, rings especially true.
Given the general negativity around the Redskins organization, it would be easy for Dwayne Haskins to start doubting himself. We've all seen athletes with unbelievable talent fail to put everything together on the field. At this point, it's understandable that Haskins is frustrated, but he can't allow himself to be crushed by a dysfunctional franchise. All the rookie can do is keep working and improving. At some point, he'll get a chance to prove himself, whether it's in Washington or with a different club.