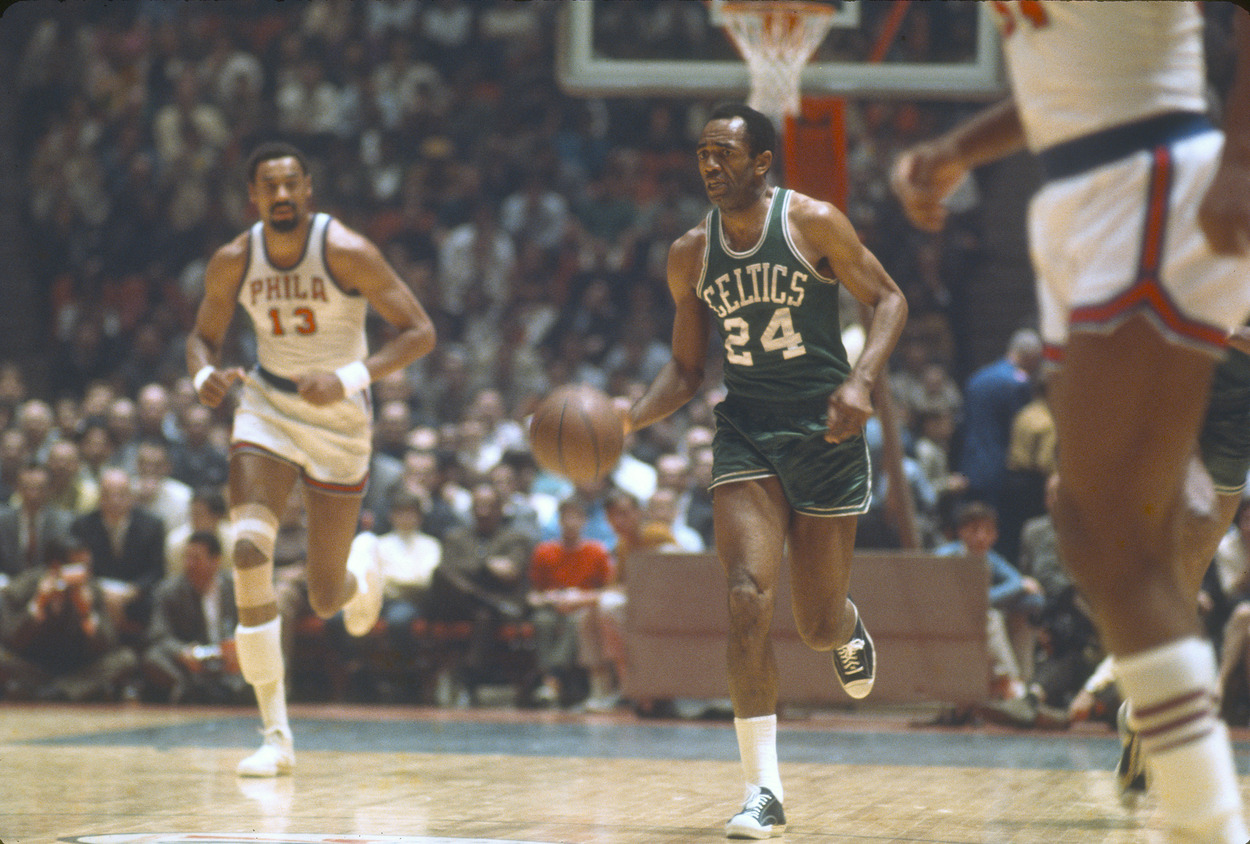 Sam Jones Recalled Being Part of the 1st All-Black Starting Lineup: 'Red Shocked Me'
The Boston Celtics made history by starting five Black players, one of whom is the late Sam Jones.
The NBA community is mourning the loss of a legend. Boston Celtics great Sam Jones died Thursday night at the age of 88. Jones spent his entire 12-year career with the Celtics, winning 10 NBA titles.
In addition to being one of the greatest champions in league history, Jones is also one of the five men in the NBA's first all-Black starting lineup. In 2020, the former Celtic discussed that moment and how it was something he didn't expect to see.
Sam Jones had a decorated career for the Boston Celtics
Bill Russell, John Havlicek, and Bob Cousy are typically the names who first come to mind when you think of the Celtics of old. But Jones was every bit as important to Boston's dynasty throughout the late 1950s and 1960s.
The eighth pick of the Celtics in 1957, Jones began as a reserve who saw about 10 minutes on the court per game. Gradually, he received more and more time while becoming more of a contributor with each passing season. By his fifth year, Jones earned his first All-Star selection on the way to averaging 18.4 points per game. By 1964-65, the 6-foot-4 guard was scoring a career-high 25.9 points for the C's.
Jones, a product of North Carolina Central, finished his career averaging 17.7 points, 4.9 rebounds, and 2.5 assists. He is a five-time All-Star and three-time All-NBA selection, finishing with more career points (15,411) than Russell. Speaking of points, his 51 points against the Detroit Pistons in 1965 are the fifth-most by any Celtic in franchise history.
As good of a player Jones was, his career is still defined by rings. With 10 titles in 12 seasons, the North Carolina native boasts more championships than every player in NBA history except for Russell, who has 11. The only years Jones didn't win a championship were in 1958 — his rookie season — and in 1967 — Russell's first as player-coach.
Jones shared his memories of the first all-Black starting lineup
On Christmas Day of 1964, the Celtics defeated the Pistons 118-106. But the holiday was spoiled thanks to an injury to Tommy Heinsohn.
With a game the following day against the St. Louis Hawks, head coach Red Auerbach needed to replace Heinsohn in the starting lineup. The legendary coach turned to Willie Naulls, a former All-Star near the end of his career. Naulls joined Jones, K.C. Jones, Tom Sanders, and Russell in the lineup on December 26, 1964. And just like that, the first all-Black starting lineup took the court.
In a 2020 conversation with Sanders and former Celtic Cedric Maxwell, Jones explained why he was surprised to see Auerbach play that particular lineup (h/t: Boston Celtics).
"Red shocked me. I thought Red was going to start Havlicek as the fifth man in place of Heinsohn. But Red Auerbach is just different.

So there's five of us and I said, 'My gosh, we better win.' And we did win. And with Willie Naulls, we won three straight championships while he was there. We weren't tall, but with Russell as a stopper, we probably had the best defensive team in the league."

Sam Jones
Sanders, an eight-time champion with Boston, explained how things were "business as usual" with Naulls, who would routinely relieve Heinsohn if the latter needed a break. That was evident immediately, considering Boston won its next 14 games from that night on.
The Boston Celtics broke other racial barriers
Jones' place in the first all-Black starting lineup is forever cemented. But beyond that, the Celtics organization can claim two more instances of breaking racial barriers.
In 1950, Auerbach's first year as coach, the Celtics drafted Chuck Cooper in the second round. With that pick, Cooper became the first Black player to be drafted by an NBA team. Then in 1966, Auerbach named Russell as his successor, making Bill the first Black head coach in the history of American pro sports.
Even though he played a role in three momentous occasions on behalf of racial equality, Red simply did what was best for the Celtics. And that includes his famous decision to start Naulls.
"I wasn't even aware of it," Auerbach once said, courtesy of ESPN. "They brought it to my attention later on. All we were trying to do here, all the time, is play the guys that, in our opinion, whether I'm coaching or someone else is coaching, is going to win the ballgame. That's all."
Regardless, Jones and the Celtics will always be remembered as champions and barrier-breakers.
All statistics courtesy of Basketball Reference.