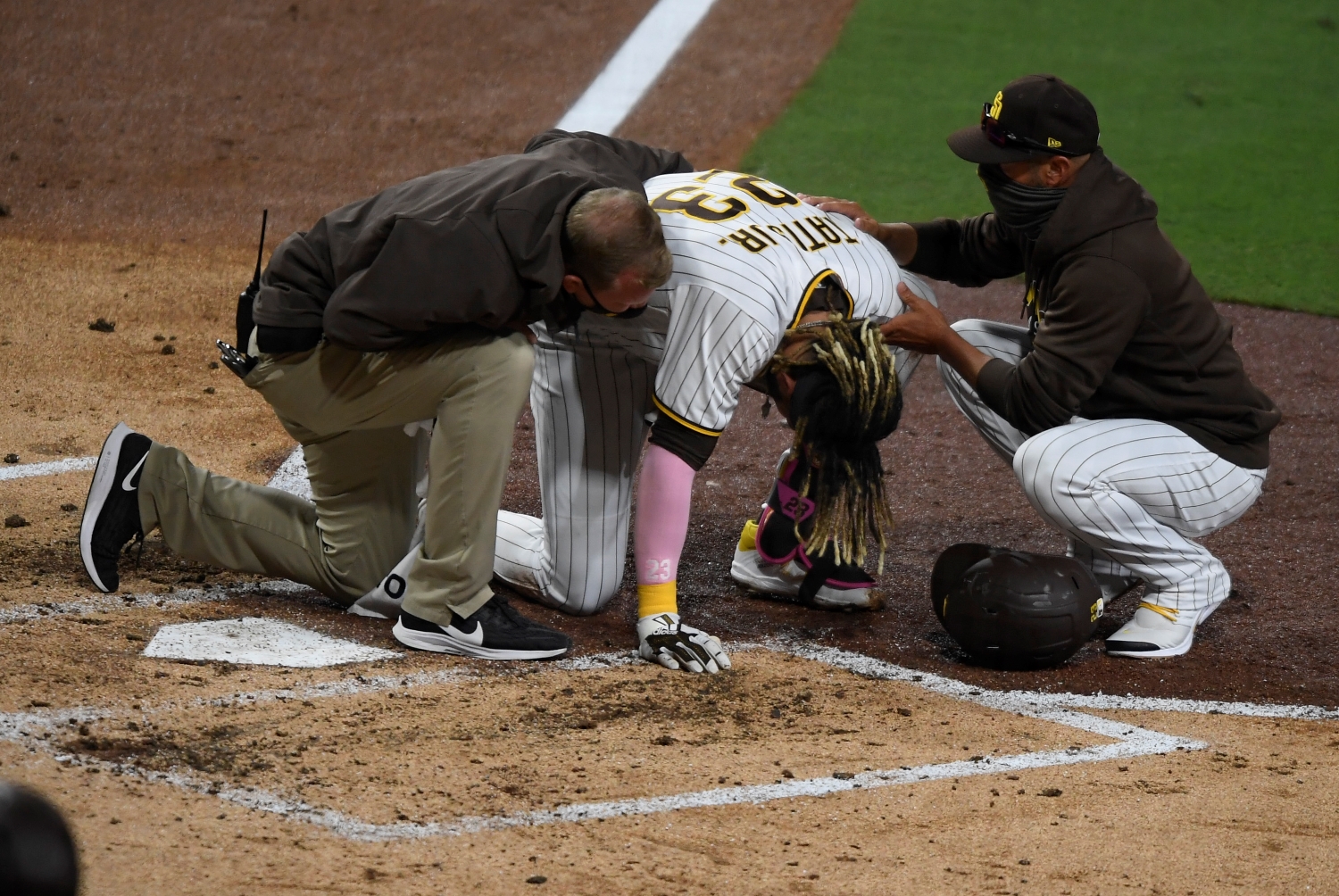 The San Diego Padres Are Watching Their $340 Million Nightmare Come to Life
The Padres could be without $340 million star shortstop Fernando Tatis Jr. for quite some time based on the latest reports out of San Diego.
After posting their first winning record since 2010, the San Diego Padres entered this season with the opportunity to take an even bigger leap forward.
It doesn't look like that will happen.
Because based on the latest report about the health of star shortstop Fernando Tatis Jr., the Padres are watching a $340 million nightmare come to life.
Fernando Tatis Jr. secured his financial future in record-setting fashion
At just 22 years old, Fernando Tatis Jr. may appear far too young to have already become one of the highest-paid baseball players of all time. But thanks to his skills at the plate, the Dominican native recently scored a record-setting payday.
In February, the Padres signed the talented shortstop to a 14-year, $340 million contract. The deal represents the longest contract in MLB history.
So why did San Diego commit such significant financial resources on a player who has less than a full season of experience under his belt?
At 6-foot-3, 217 pounds, Tatis boasts an impressive, athletic frame that gives him the ability to inflict serious damage at the plate. Padres fans got an early glimpse of his potential stardom back in 2019 when Tatis made his MLB debut at the age of 20. He hit .317 with 22 home runs and 53 RBI in 84 games.
Last season, his batting average dropped to .277. However, Tatis showcased his prolific power by smashing 17 home runs in just 59 games. He finished fourth in MVP voting and captured Silver Slugger honors for the first time in his young career.
The San Diego Padres are watching their $340 million nightmare come to life
Already off to a slow start, Fernando Tatis Jr. suffered a serious setback during a third-inning at-bat against the San Francisco Giants. The young star fell to the ground in obvious pain after he took a hard swing on a 2-2 pitch from Anthony DeScalfani. Padres manager Jayce Tingler and a trainer had to help Tatis off the field. The team later announced Tatis sustained a left shoulder subluxation—otherwise known as a dislocation.
Fresh off signing a $340 million contract, the shortstop now faces an uncertain future. In fact, it sounds like San Diego's worst nightmare is about to come to life.
Dr. Michael Banffy, an LA-based orthopedic surgeon, told Kevin Acee of The San Diego Union-Tribune, that Tatis is looking at "a long season of instability" in his left shoulder if he puts surgery. Delaying going under the knife could also result in long-term damage.
Tatis has had trouble with his left shoulder dating back to his days in the minors. But given his latest setback, the Padres star may have no choice but to undergo season-ending surgery.
"I think it probably would weigh pretty heavy on their mind, particularly if it occurred twice over the past two weeks and likely occurred prior to that," Banffy told Acee. "Then you also have the issue is he continuing to make it worse every time it comes out. You worry about the cartilage damage and bone loss. Unfortunately, this is an issue that is going to have some decision-making behind it. Unfortunately, it's (five) games into the season."
Who are the top candidates to take over for an injured Tatis?
If Fernando Tatis Jr. needs season-ending surgery, San Diego sits in the unenviable position of having just paid a record-setting price to secure a star who now has legitimate long-term health concerns. Because if his troublesome left shoulder continues to be a problem, that obviously doesn't bode well for his chances of living up to his $340 million deal.
With Tatis' availability firmly up in the air, the Padres must pivot in a different direction.
So who are the candidates to replace the 22-year-old in the lineup?
Ha-Seong Kim will get the first crack at the starting shortstop position. At just 5-foot-9, 168 pounds, he doesn't bring any of the size or power that Tatis provided. However, the 25-year-old does bring solid speed and contact ability to the equation.
Jake Cronenworth, San Diego's starting second baseman, could see some time at shortstop moving forward. Plus, the Padres also have 21-year-old Tucupita Marcano available. The 6-foot, 170-pound infielder currently ranks as the No. 6 prospect in the organization.
All statistics courtesy of Baseball Reference.