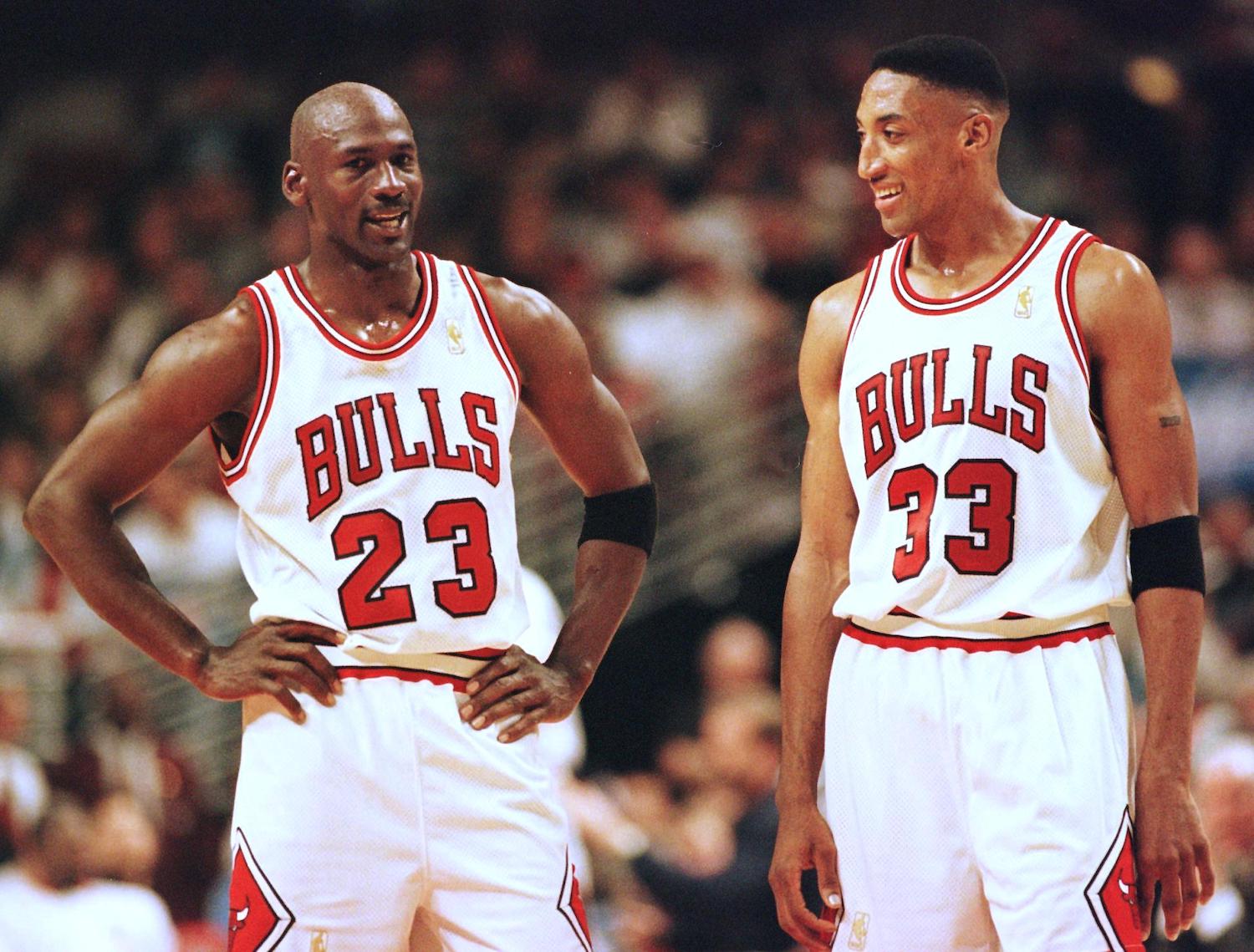 Scottie Pippen Admitted That He and Michael Jordan Drank 'a Beer or 2 in the Locker Room' Before Some Exhibition Games
During their time together, Scottie Pippen and Michael Jordan made plenty of memories...including occasionally drinking a beer before hitting the court.
In the history of North American sports, few dynamic duos have found more success than Michael Jordan and Scottie Pippen. During their time with the Chicago Bulls, MJ and Pip looked like a perfect match. The former had all-world talent, and the latter was skilled enough to give defenses a lose-lose proposition; you either left Scottie open, allowing him to score at will, or defended him and, in turn, gave His Airness space to work his magic. Together, they seemed like they could do no wrong.
Behind the scenes, though, the pair apparently took a few liberties. During a recent interview, Pippen admitted that he and Jordan occasionally drank "a beer or two" before hitting the court for exhibition games.
There are plenty of stories about Michael Jordan enjoying an adult beverage after Chicago Bulls games
As we learned during The Last Dance's "cocaine circus" clip, Bulls players had no problem gaining access to the vice of their choice. While Jordan didn't want to get caught up in any potential distractions as a rookie, plenty of stories still emerged about His Airness enjoying an adult beverage.
Several of those stories were compiled by Aaron Goldfarb in a 2015 First We Feast story trying to get to the bottom of a rumor that Jordan drank a six-pack of beer after NBA games. While he couldn't confirm or deny that ever happened, he did cite a few other notable stories.
In The Jordan Rules, for example, Sam Smith wrote that MJ "sucked down champagne like a baby sucking on a bottle" after claiming an NBA title. On the opposite side of the beverage spectrum, Michael Jordan: The Life contained a passage about how His Airness would drink a few beers on the team bus and start insulting Bulls GM Jerry Krause.
Lastly, in Blood on the Horns, Roland Lazenby wrote that "In the first half-hour after a game, Jordan and various teammates would pound down five or six beers and often fire up a cigar." It is worth noting, though, that MJ's longtime trainer, Tim Grover, denied that his star client would ever drink that much after a workout.
Lazenby also told Goldfarb that His Airness wasn't a big beer drinker but insisted that "MJ did enjoy that cigar and beer after games in his second stint in Chicago."
Scottie Pippen and Michael Jordan were occasionally known to drink before exhibition games
Whether all of the aforementioned Jordan drinking stories are 100% accurate or not, they do have a common thread: They're set after games. According to Scottie Pippen, however, he and His Airness occasionally enjoyed a beer before tip-off.
During a recent appearance on The Dan LeBatard Show, Pip fielded a question about drinking on a game day. In addition to confirming that he had, on occasion, enjoyed an adult beverage before a game, the forward also brought His Airness into the picture.
"Do I ever drink on a game day? I've had a few drinks during the exhibition season," Pippen explained. "You know, me and Michael, we tested the waters a few times when we had some exhibition games. We knew we weren't playing too many minutes, so we may have a beer or two in the locker room before we go out."
Charles Barkley once took things a bit further than Scottie Pippen and MJ ever did
In fairness to Pippen and Jordan, drinking a beer or two before an exhibition game doesn't sound like the biggest sin in professional sports. Was it irresponsible? Yes, but if they were only going to play a few minutes in a meaningless contest, there wasn't anything on the line.
Charles Barkley, however, did things a bit differently.
As he once recounted to Jimmy Kimmel, Chuck thought he was being traded away from the Philadelphia 76ers and decided to enjoy a celebratory lunch, complete with plenty of alcohol. Later that day, though, the deal fell through. Not only was Barkley still a 76er, but he had to suit up for a game that evening.
"I don't remember anything about that game," Sir Charles explained. "First of all, I was so pissed, but I was so drunk, too. I have no idea what happened that game."
Compared to that situation, Pippen and MJ's drinking sounds pretty inoffensive.
How to get help: In the U.S., contact the Substance Abuse and Mental Health Services Administration helpline at 1-800-662-4357.