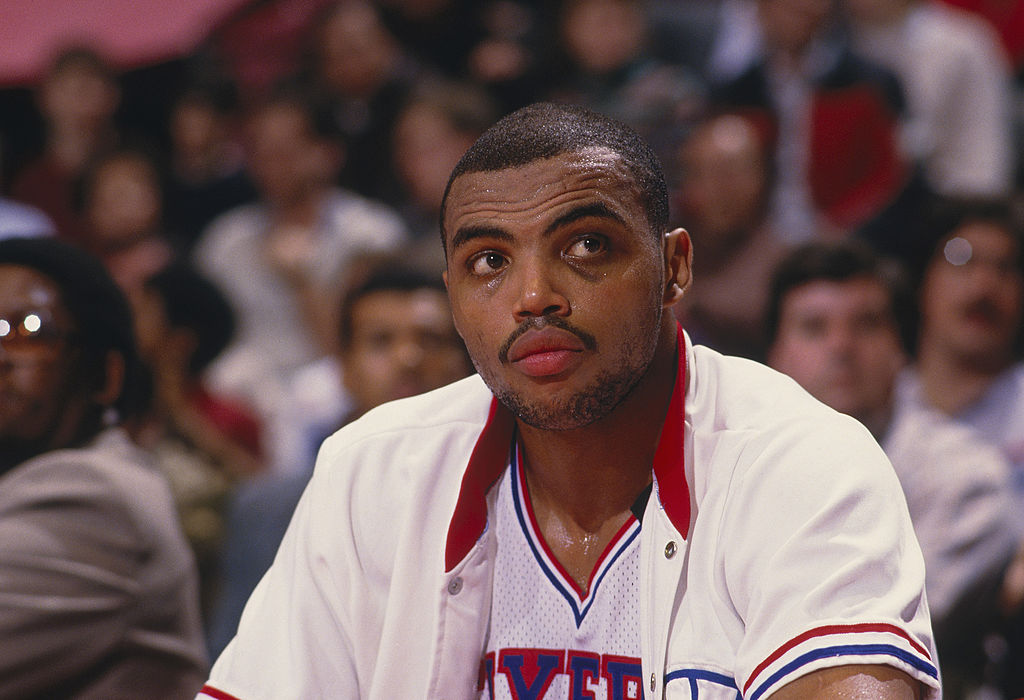 Charles Barkley Had to Play Drunk After His Lakers Trade Fell Apart
Charles Barkley famously said that he wasn't a role model; the fact that he once played an NBA game while drunk seems to confirm that statement.
As Charles Barkley once explained in an iconic commercial, he wasn't the best role model. While the forward was an incredibly talented NBA player, he also had a knack for getting into trouble. Whether he was spitting into the crowd, gambling, or getting into fights, Sir Charles rarely did things by the book.
One of those instances came during Barkley's time with the Philadelphia 76ers. After the forward learned he was joining the Los Angeles Lakers, he started celebrating; when the deal fell through, however, he had to hit the floor while he was still drunk.
Charles Barkley's time with the Philadelphia 76ers
Despite Charles Barkley's incredible talent, he never looked like a star athlete. Even when he burst onto the scene at the Alabama state high school basketball tournament, an Auburn assistant coach called back to campus saying there was "a fat guy here who can play like the wind."
Despite that less than flattering scouting report, Barkley headed to Auburn to play his college ball. He turned into the star with the Tigers; despite his seeming athleticism, he was able to play center, rip down rebounds, and run the floor with equal ease. The Crisco Kid spent three seasons in the SEC,  averaging 14.1 points, 9.6 rebounds, and 1.7 blocks per game. In the pros, however, he would take things even further.
Barkley landed with the Philadelphia 76ers and, after Moses Malone put the rookie through his paces, developed into a star. Despite his statistical success—the forward averaged 23.3 points and 11.6 rebounds per game during his eight seasons in the City of Brotherly Love—Sir Charles wasn't entirely happy. At the start of his career, he was overshadowed by Malone and Julius Erving; after they retired, he became the main man but could never get past the Chicago Bulls and Detriot Pistons.
A failed trade to the Lakers and a drunken NBA game
After spending eight seasons with the Philadelphia 76ers, Charles Barkley was traded to the Phoenix Suns. Before that deal, however, the forward almost became a member of the Los Angeles Lakers.
"So I get a call from my agent one morning, and he says 'I think we've got a deal, you're going to the Lakers," Barkley explained on Jimmy Kimmel Live. "And I was so excited. So me and my boys we out to celebrate; we started getting drunk in the middle of the day."
There was one problem, though. After three hours of celebrating, Sir Charles got another call from his agent; the 76ers had pulled out of the trade. Not only did that mean he wasn't heading to Los Angeles, but he had to suit up for a game that evening.
"I don't remember anything about that game," Barkley continued. "First of all, I was so pissed, but I was so drunk, too. I have no idea what happened that game."
Charles Barkley eventually got the trade he wanted, but not the ring
While Charles Barkley might not have left Philadelphia on that fateful day, he eventually got his wish. Things in the Western Conference, however, were still tough.
In July 1992, the 76ers traded Barkley to the Phoenix Suns; there, he finally got the recognition he deserved and took home the NBA MVP award. The forward carried his new club to the NBA Finals but met a familiar foe: Michael Jordan. Despite Barkley's heroic effort, the Bulls won the title in six games.
Before the 1996-97 season, Barkley was traded again, this time to the Houston Rockets. While a lineup consisting of Sir Charles, Clyde Drexler, and Hakeem Olajuwon seemed formidable on paper, they could never reach the league's summit.
Playing a game while drunk probably wasn't the best idea, but it's part of what makes Charles Barkley so iconic. He might not have won a championship and probably isn't the best role model, but NBA fans don't seem to mind.