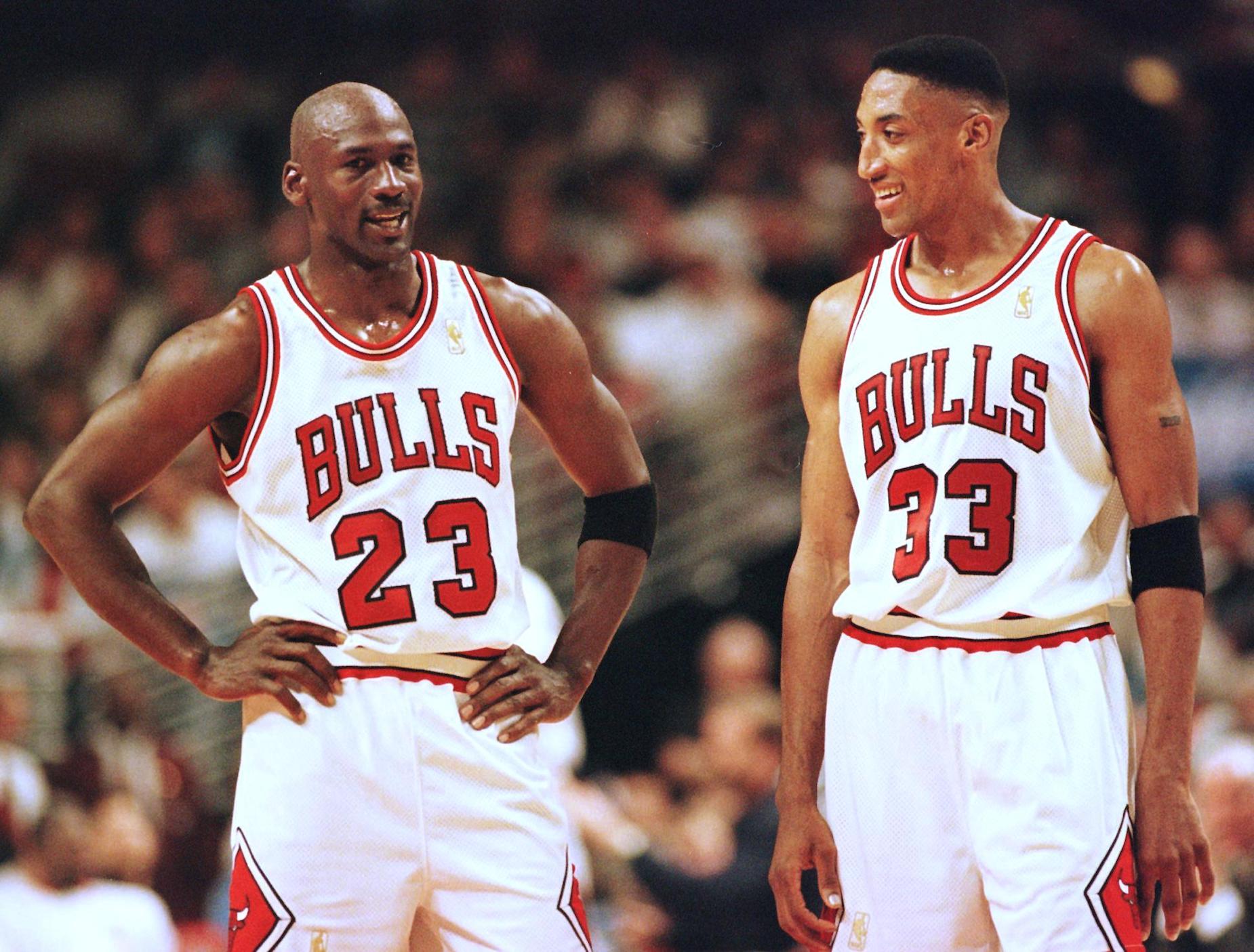 Scottie Pippen Gets Real About the Inaccuracies of 'The Last Dance': 'I Wasn't Too Pleased With It'
In a recent interview, Scottie Pippen confirmed what most basketball fans suspected: he wasn't happy with his portrayal in Michael Jordan's 'The Last Dance.'
In the world of sports, few dynamic duos had more success than Michael Jordan and Scottie Pippen. During their time with the Chicago Bulls, the two men dominate the NBA; even if they didn't always see eye-to-eye, they still managed to win six championships in two separate three-peats.
The Last Dance, however, seemed to kick off a new conflict between the two famous teammates. In a recent interview, Scottie Pippen confirmed that he wasn't pleased with the series and made sure to tell Michael Jordan exactly that.
Scottie Pippen and Michael Jordan were a perfect pair on the court
On a cynical level, you could say that it's pretty easy to look good playing alongside Michael Jordan; simply get out of the way and allow His Airness to go to work. Scottie Pippen, however, formed a legitimate partnership with MJ during their time in Chicago.
While Pippen was still pretty raw when he joined the Bulls, Jordan saw his potential and helped whip him into shape. That choice would eventually pay massive dividends.
At his best, Pippen was like an early version of today's stretch forwards; he could play lockdown defense, pull down a rebound, then run the floor like a guard. He was also capable of acting as a steady number-two scorer. That skill set complimented Jordan perfectly, allowing His Airness the space and support needed to do his thing.
In total, Jordan and Pippen won six NBA championships with the Chicago Bulls before going their separate ways. Neither man, though, ever had as much success individually as they did together.
Some controversy around 'The Last Dance'
For sports fans, The Last Dance was a chance to experience a new side of Michael Jordan's glory days. For Scottie Pippen, however, the viewing experience was a bit different.
The series, for better or worse, framed Jordan as the protagonist. Pippen, though, was shown in a less flattering light. While MJ did refer to the forward as the best teammate he ever had, he also called Pip's decision to delay surgery and ask for a trade "selfish." The Last Dance also showed Pippen refusing to take the floor during the 1994 playoffs, even though Jordan wasn't a member of the Bulls at the time.
Once the series hit the airwaves, though, conflicting reports emerged about Pippen's reaction to The Last Dance. According to ESPN's Jackie MacMullen, those close to the forward said he was "wounded and disappointed by his portrayal." Dan Gelston of the Associated Press, however, reported that Pippen was neither upset nor bothered by anything that aired.
Scottie Pippen wasn't pleased with 'The Last Dance' and let Michael Jordan know
While it's been quite a while since The Last Dance aired, we now have another on-the-record statement from Scottie Pippen. In a recent interview with Andrew Anthony of The Guardian, the forward explained exactly how he felt about the series.
"I don't think it was that accurate in terms of really defining what was accomplished in one of the greatest eras of basketball, but also by two of the greatest players – and one could even put that aside and say the greatest team of all time," Pippen explained. "I didn't think those things stood out in the documentary. I thought it was more about Michael trying to uplift himself and to be glorified [the series was co-produced by Jordan's Jump 23 company]. I think it also backfired to some degree in that people got a chance to see what kind of personality Michael had."
Anthony then asked Scottie if he had shared his opinions with MJ himself.
"Yeah. I told him I wasn't too pleased with it. He accepted it. He said, 'hey, you're right.' That was pretty much it."