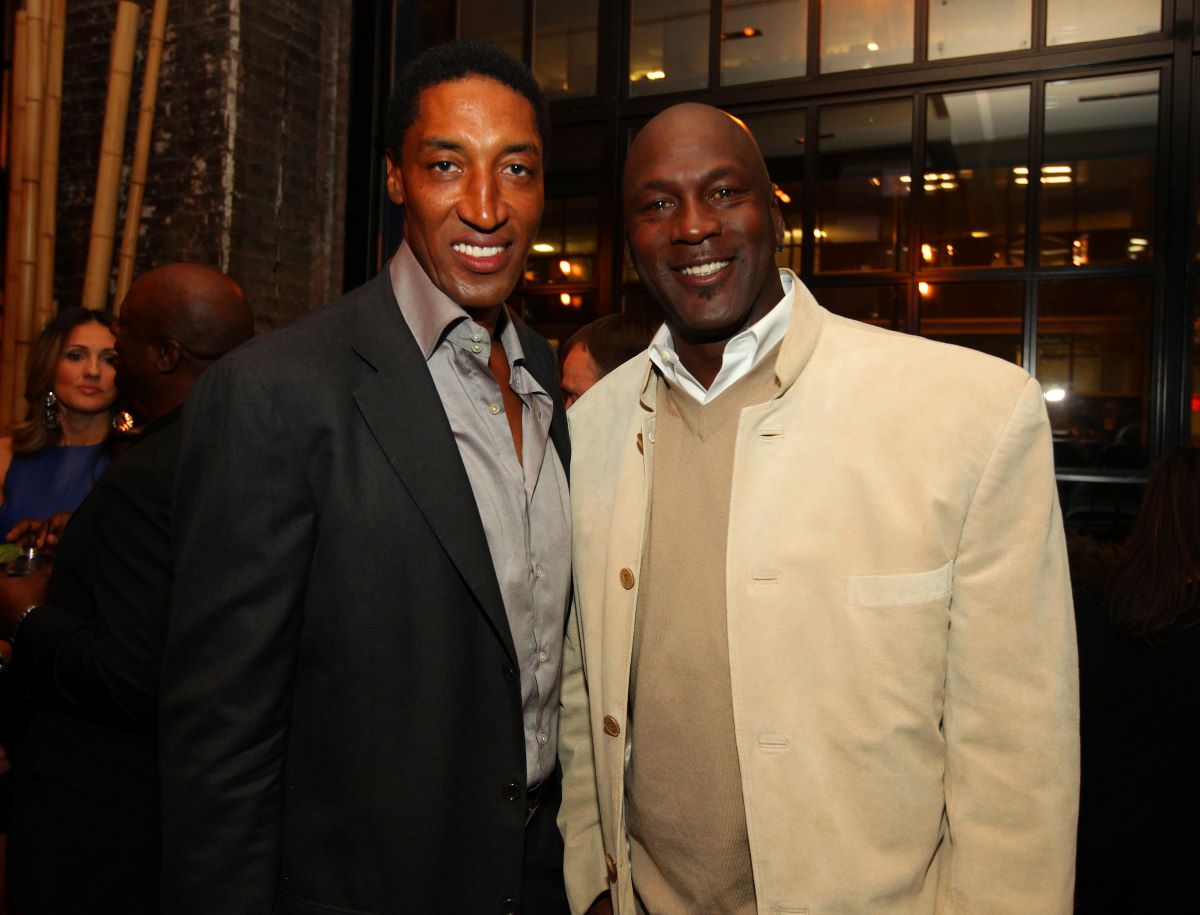 Scottie Pippen Occasionally Gets Sad About Lack of Closeness Between Him and Michael Jordan: 'It Hurts a Lot'
Believe it or not, there's a chance Michael Jordan and Scottie Pippen may never talk again.
Scottie Pippen and Michael Jordan are arguably the greatest duo in NBA history. The Chicago Bulls icons won six championships and three-peated twice during the '90s while going undefeated in the Finals. Most people assumed that Pippen and Jordan were close friends since they had incredible chemistry on the court and never said anything negative about each other.
However, in his memoir, Unguarded, Pippen revealed he and Jordan have never had a close relationship, and he doesn't allow their lack of closeness to bother him. Nevertheless, there are occasions when the legendary small forward thinks about the relationship he wishes he had with MJ.
Scottie Pippen opened up on his relationship with Michael Jordan
Pippen wrote in his book that he has plenty of friends and doesn't get too upset that he and Jordan aren't close. However, the Arkansas native admits he "missed some openings" that could have brought him closer to His Airness.
"I don't usually allow our lack of closeness to bother me," Pippen wrote. "I have plenty of friends. Yet there are occasions, and watching the doc was definitely one, when I think about the relationship I wish the two of us had, and it hurts. It hurts a lot. By no means am I an innocent party here. I missed some openings that might have made a difference, and I have to live with that."
Jordan gave Pippen a set of golf clubs in 1987. Superman loved playing golf and invited his new teammate to play with him during his free time. However, Pippen never joined Jordan on the greens for two reasons. He wrote about that and another significant regret in his book.
Scottie Pippen: My doctor told me not to play golf; I never talked to Michael Jordan about his dad's death
Pippen was having problems with his back during his rookie season with the Bulls, so his doctor told him not to play golf with Jordan. There's nothing wrong with that. However, Pippen should be ashamed of himself — and it sounds like he is — for not speaking with Jordan after Black Jesus' dad was killed in 1993.
"Another opportunity, if you can call it that, came during the summer of 1993, and I feel horrible every time I think about it," Pippen wrote. "Michael's father, James Jordan, had been murdered. The two were inseparable. When I heard the news, I should have reached out to Michael right away. Instead, I went through the Bulls' PR department, and once they told me no one from the organization had been in contact with him, I gave up. Having lost my own dad three years before, I might have been able to offer Michael some comfort. To this day, he and I haven't spoken about his father's death."
Pippen and Jordan won three championships before James Jordan was killed and three more after the funeral. Pippen had multiple chances to talk to Jordan, but he never did. That's not a good look for him whatsoever, and it's surprising he wrote about it.
Jordan hasn't spoken publicly since Pippen's book came out. The latter bashed the former several times in the book, so much so that it wouldn't be a surprise if the two Hall of Famers never speak again. After all, Pippen is mad at Jordan over how The Last Dance docuseries turned out, and Air Jordan may not forgive Pip for never reaching out about his father's death, assuming he heard the tidbit from Unguarded.
Pippen and Jordan were phenomenal teammates. Unlike Kobe Bryant and Shaquille O'Neal, they never had beef. However, one thing is clear: Pippen despised being called Robin.
Pip: I hated being called MJ's sidekick
Pippen made sure he wrote about Jordan's playoff record without him. The six-time Finals MVP was 1-9 in the postseason before Pippen joined the Bulls, which is why the one-time All-Star Game MVP hated being called "Robin."
"God, I hated that term and being referred to as Robin to his Batman," Pippen wrote. "Someone he felt he needed to pull along to approach every game and practice as intensely as he did; me, a team-oriented purist, offended when he tried to win games by himself."
Pippen is bitter about The Last Dance and uses his book to tell his story and reveal what it was like playing with Jordan. It's been sad to watch him write and say so many negative things about Captain Marvel, but Pippen is free to use his book and words as he wants to.
Stats courtesy of Basketball Reference