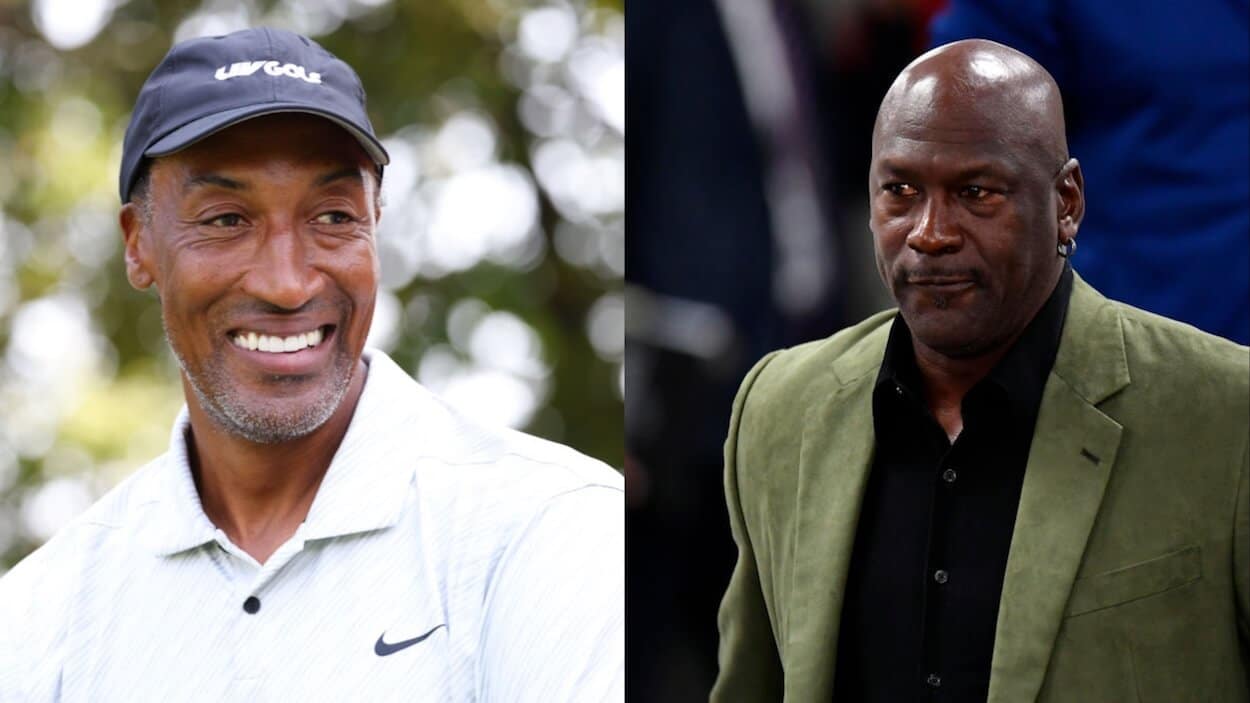 Scottie Pippen Throws Some Serious Shade At Michael Jordan Before Putting Himself on a Pedestal
In recent years, Scottie Pippen has been more than happy to throw shade at Michael Jordan. That trend isn't over yet.
During their time on the NBA hardwood, few dynamic duos found the success of Scottie Pippen and Michael Jordan. His Airness, of course, brought an incredible amount of talent and his sheer will to win. Pip might not have had the same natural gifts, but he was a lock-down defender and a more-than-capable offensive player. That forced defenses to make a choice. If you respect Scottie, MJ is free to strut his stuff; if you devote all your attention to Mike, Pippen would make you pay.
As every basketball fan knows, that partnership paid dividends. The Bulls won six championships in two separate three-peats, and many members of that dynasty — including Jordan and Pippen — became legends. While you might think that meant the two stars became friends, that's not the case.
For the past several years, Pippen has been needling his old teammate at seeming every opportunity. That trend continued with an appearance on Stacey King's podcast, and No. 33 followed it up with a rather pointed Instagram post.
Let's check it out.
Scottie Pippen said Michael Jordan was "horrible" and then posted about his own greatness
In recent years, Scottie Pippen hasn't had any problem producing his fair share of hot takes. A new one, however, may have hit nuclear levels.
During an appearance on Stacy King's podcast, Pip touched on the topic of LeBron James and his dominance. "LeBron will be the greatest statistical guy to ever play the game of basketball," the famous forward began. "And there's no comparison to him. None. So, does that make him the greatest player to ever play the game? I'll leave that out for debating because I don't believe there's a great player because our game is a team game, and one player can't do it."
By podcast standards, that's a pretty reasonable take. James has posted some incredible numbers by sheer volume alone and has a legitimate place in the GOAT discussion. Allowing the listener to decide is also a nice touch, and it cools down the heat of the take by several degrees.
Then things took a turn.
"I seen Michael Jordan play before I came to the Bulls. You guys seen him play. He was a horrible player. He was horrible to play with. He was all one-on-one, he's shooting bad shots, and, all of a sudden, we become a team, and we start winning. Everyone forgot who he was."

Scottie Pippen
While calling MJ a "horrible player" is already a red flag, let's give Pippen's claim its due diligence. Mike played three seasons before his famous running mate arrived in Chicago, with one of those being limited to 18 games. Were there some growing pains during that time? Of course, but Jordan was far from horrible. During the 1986-87 campaign, for example, he averaged 37.1 points, 5.2 rebounds, and 4.6 assists per outing. Even if that meant the Bulls' offense was a bit too Jordan-centric, it's tough to argue with those numbers. And, again, no matter how harshly you're marking, they certainly weren't horrible.
As you might expect, social media let Scottie have it. The forward, however, wasn't deterred. If anything, he doubled down.
On Instagram, Pippen shared a childhood photo of himself. While that may seem innocuous, the caption added a bit more spice, especially when you consider it came on the heels of criticizing Jordan's game.
"From humble beginnings to 6 championships, 2 gold medals, Hall of Fame, and leading the Bulls franchise with the most playoff wins," he wrote. "Here's to the unsung heroes… Cheers!"
At this point, Pippen's beef with Michael Jordan is more sad than surprising
When Scottie Pippen's new Michael Jordan take hit the internet, there was a certain amount of shock. That reaction, however, was more to the content than the fact that Pip said something controversial. It was more of a "He said what now?" reaction than anything else.
That reality, like it or not, speaks to the corner Pippen has painted himself into. Ever since The Last Dance aired, there has been no shortage of jabs thrown in Jordan's direction. And, by and large, they've only served to make No. 33 look bad.
At this point, Pippen has essentially reached sideshow status. You're not waiting for his next media appearance to hear his stories or gain insight; the "value" is seeing what bizarre claim he'll make. And that's rather sad because of the forward's story and place in NBA history.
This is a guy, after all, who rose from team manager to college basketball talent. This is a guy who, despite being overshadowed by Michael Jordan, played some great basketball and won six titles. This is a guy who, if nothing else, witnessed plenty of history firsthand and has a unique perspective on it.
All of that, however, is buried behind a seeming distaste for Michael Jordan and what some on social media have labeled a desperate attempt to stay relevant. And every time Pip makes a comment and MJ turns the other cheek, the former man is the one who takes the hit.
From the outside, it's impossible to know exactly what's motivating Pippen to make these repeated statements about Michael Jordan. It seems safe to assume, however, that they won't stop anytime soon.