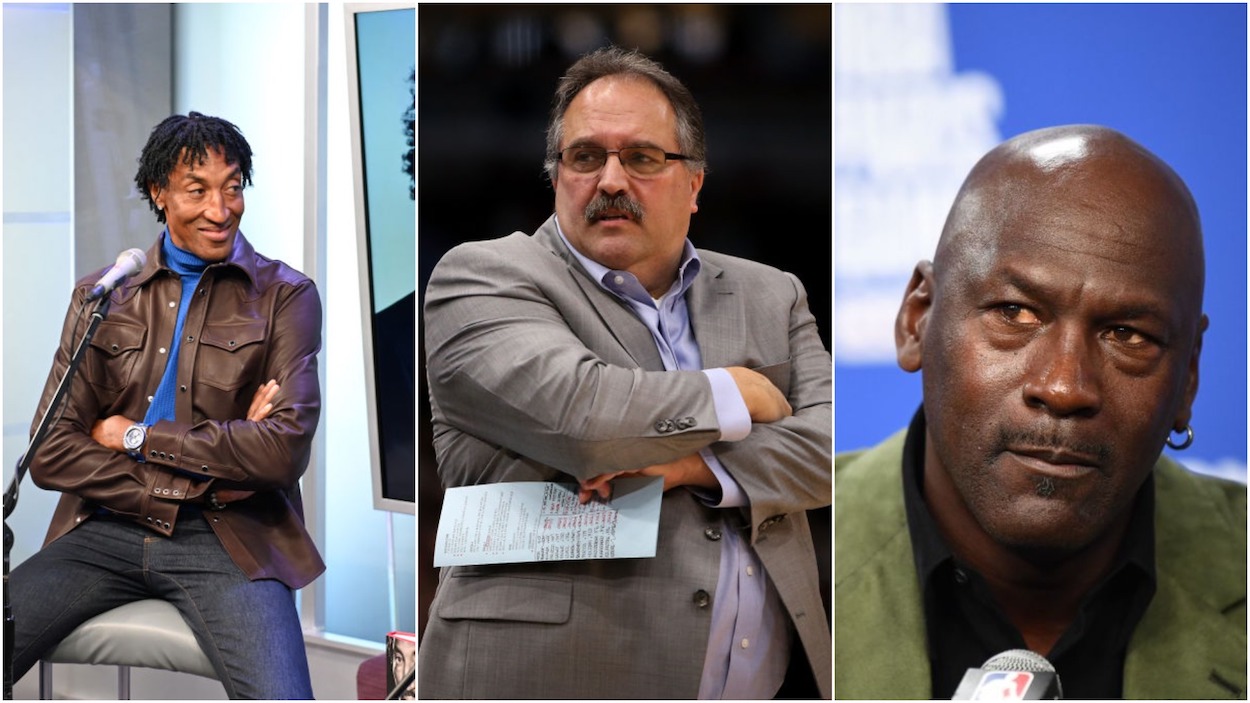 Stan Van Gundy Perfectly Explained the 'Sad' Reality of the Scottie Pippen-Michael Jordan Beef in a Single Tweet
With a simple, nine-word tweet, Stan Van Gundy provided the perfect summary of Scottie Pippen's on-going beef with Michael Jordan.
In the world of sports, few dynamic duos were better than Scottie Pippen and Michael Jordan. While the pair found great success on the basketball court, the two men haven't exactly been buddy-buddy as of late. Ever since The Last Dance aired, Pip has been taking shots at His Airness. While you could cynically argue they were a PR effort to promote his memoir, they still furthered the perception that he was mad at MJ.
Since then, the barbs have kept on coming. According to a recent ESPN tweet, Pippen is now saying that he never won a Defensive Player of the Year title because Jordan was stealing the spotlight.
Bomani Jones retweeted that graphic, and then Stan Van Gundy replied to offer his own take. While the former head coach only typed out nine simple words, he still managed to provide a perfect X-ray of the "sad" situation.
Scottie Pippen is still throwing jabs at Michael Jordan
Given all we know about Michael Jordan's behavior during his playing career, it's understandable why some of his former teammates might hold a grudge against him. Scottie Pippen, however, is taking things to another level.
When The Last Dance aired, there were mixed reports about how Pippen felt. Some, like ESPN's Jackie MacMullen, reported that he was "wounded and disappointed by his portrayal." Others, like Dan Gelston of the Associated Press, said that the former Bull was neither upset nor bothered by anything that aired.
Eventually, Pip stepped forward to say that he thought the series wasn't accurate. He even confirmed that he told Jordan that he "wasn't too pleased with it." The tension, however, didn't end there.
During June 2021, the forward went on a bizarre media tour. In addition to making headlines by suggesting that Phil Jackson made a "racial" move by drawing up a play Toni Kukoc in 1994, Pippen also continued to poke at Jordan. During an appearance on The Dan Patrick Show, he called MJ selfish and argued that the cameras that captured footage during the Bulls' run were "working for Michael Jordan not the Chicago Bulls."
While things have largely calmed down since then, the occasional comment still emerges from the forward's side of things. According to a May 1 ESPN tweet, for example, Pippen said that he never won the Defensive Player of the Year title because everyone was too busy watching Michael Jordan. While that's relatively benign and was admittedly said with a bit of a smile, it still keeps the narrative going.
Whether it's genuine or not, it certainly seems like the forward is carrying a bit of a grudge.
Stan Van Gundy gets it right: It's sad to see Pippen damaging his own legacy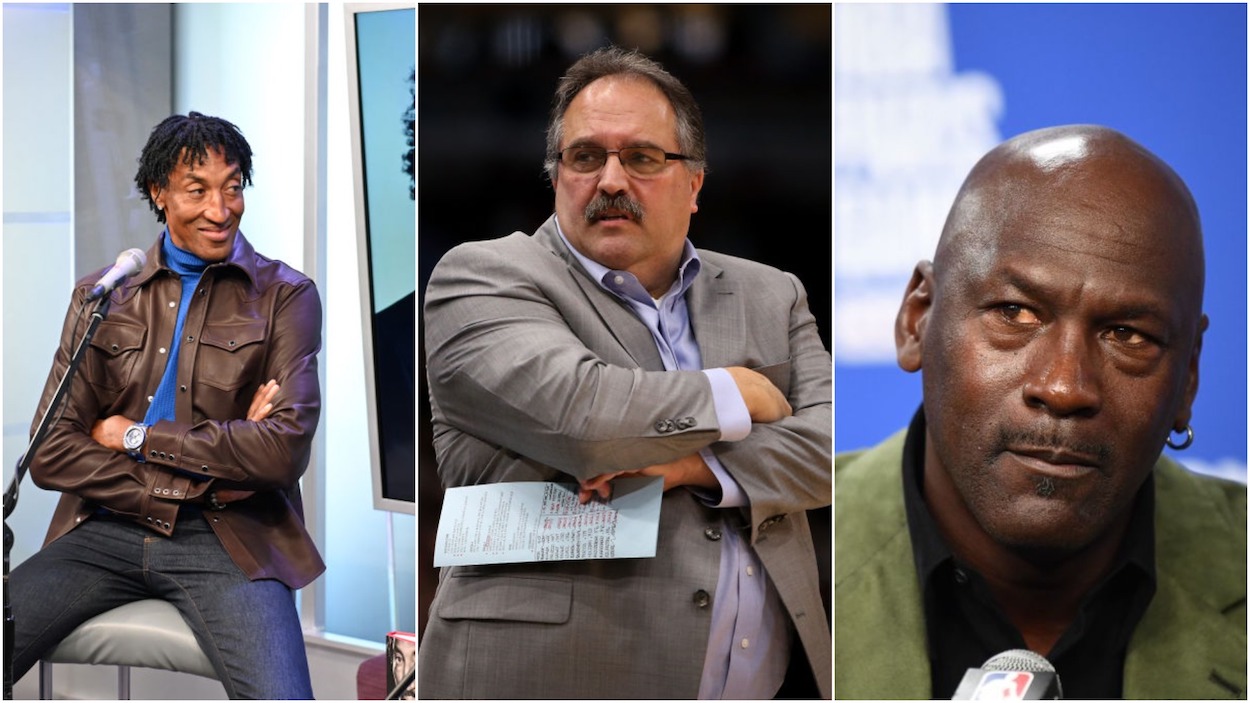 After ESPN tweeted out that DPOY-based graphic, Bomani Jones weighed in via Twitter by saying Pippen never won the award since he wasn't a big man. While we can debate the merits of that assertion in its own right, Stan Van Gundy's response is arguably more powerful.
"It's sad to see a great player so bitter," the coach-turned-analyst wrote.
That's it. That's the entire tweet.
While there isn't too much to parse in that message, it is incredibly telling. It's easy to get caught up in the gossip-style drama of Pippen's comments, but it's sad to see the evolution of his pop-cultural identity. In the (comparative) blink of an eye, the forward has gone from being Michael Jordan's trusted running mate to the metaphorical old man yelling at a cloud.
Pippen, for all the perception of him riding MJ's coattails, was a solid player in his own right. Even if you want to argue that everything's easier playing next to the GOAT, you don't average 16.1 points, 6.4 rebounds, 5.2 assists, 2.0 steals, and 0.8 blocks per contest by accident. The forward also possessed a skill set that would be right at home in 2022, as he was a lengthy defender and a capable ball-handler who could float between the perimeter and paint with ease.
That's who Pip should be remembered as. He was a very good player on some legendary teams. Michael Jordan might have stolen the show, but you can't tell his story without Scottie Pippen. No one wants to play second fiddle, but there's nothing wrong with being overshadowed by one of the most famous men in modern history.
While we can't really know what's going on in the forward's head — Is this still a PR play? Is he finally letting decades of built-up bitterness out? — it is somewhat painful. The Last Dance wasn't completely positive, but it added a bit more context to the Michael Jordan mythos. Pippen, on the other hand, is trending in the opposite direction.
Like it or not, the forward can't get back on the court to change his NBA legacy. All he can do now is color our modern conceptions of him. He's not acting like an elder statesman with great stories and insightful perspectives. Instead, he's becoming little more than a sideshow, the guy who you listen to hoping you'll hear the next questionable claim before it reaches Twitter.
At the end of the day, though, the worst part is that he's doing this to himself. At this point, the jabs aren't hurting Jordan. They're only damaging Scottie Pippen's own legacy.
No matter how much you hate the Bulls or think Pip was overrated, that's just sad to see.
Stats courtesy of Basketball-Reference