The Season-Saving Ben Simmons Trade the 76ers Need to Offer the Panicking Trail Blazers Before It's Too Late
The Philadelphia 76ers may have finally found a trade destination for Ben Simmons.
Damian Lillard is losing patience with the struggling Portland Trail Blazers, and he reportedly wants to team up with Simmons to save their season. With the Blazers starting to panic about their early-season woes and their disgruntled superstar growing more and more frustrated by the day, Daryl Morey needs to pick up the phone and offer a deal that can help both franchises solve their most glaring problems.
Damian Lillard just opened the door for the Trail Blazers to trade for Ben Simmons
Ever since Simmons demanded a trade from the 76ers back in August, the 29 other teams in the NBA have had a good deal of leverage over Philadelphia in trade talks. Every general manager in the league knows Simmons doesn't want to suit up for the Sixers ever again, so they aren't going to offer up a superstar in a potential trade.
But the 76ers just uncovered some much-needed leverage of their own thanks to Lillard.
According to a report from Shams Charania and Sam Amick of The Athletic, Lillard "would like to play" alongside Simmons on the Trail Blazers. The six-time All-Star isn't ready to move on from the franchise just yet, but he wants to see the Blazers add a defensive playmaker like Simmons to the roster. Portland has the worst defensive rating in the NBA through 24 games (114.0), and the team just gave up a season-high 145 points against the Boston Celtics in its most embarrassing loss of the season.
With the Trail Blazers sporting a losing record a quarter of the way through the season, recently firing general manager Neil Olshey, and now hearing complaints out of their franchise player, it might be time to pull the trigger on a Simmons deal.
The Ben Simmons trade the 76ers need to offer the Trail Blazers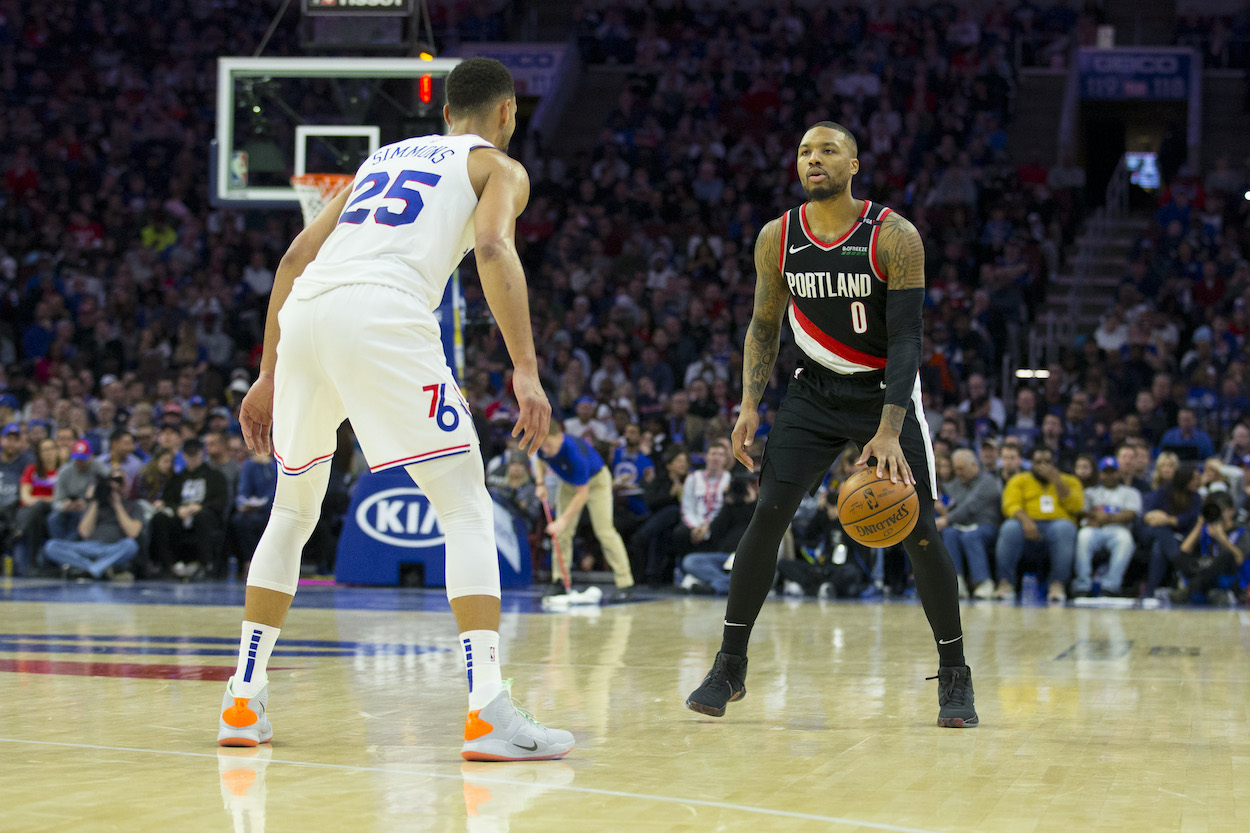 This isn't the first time the Trail Blazers have been involved in the Simmons sweepstakes. Earlier this year, the Blazers and 76ers spoke about a trade centered around Simmons and CJ McCollum, but the sides couldn't find a middle ground in negotiations.
Charania reported in October that Philadelphia asked Portland for McCollum, three future first-round picks, and three future pick swaps in return for Simmons. The Blazers obviously turned that offer down, but they're in a much more desperate position now than they were just a few months ago. Morey needs to strike while the iron's hot.
If the 76ers want to get serious about dealing Simmons, they need to get the Trail Blazers on the phone this week and propose a trade for McCollum, Anfernee Simons, and one future first-round pick. And if the Blazers were smart (which they haven't proven to be in recent years), they would say yes immediately.
A season-saving trade for both sides
The Trail Blazers are in dire need of a defensive stopper who can guard multiple positions and shut down the opponent's best player every night. They're also now under immense pressure to make a move and keep Lillard happy before he becomes fed up with Portland's incompetence and demands a trade himself.
What better way to do that than to give Lillard exactly what he's asking for? Lillard and McCollum have been a lethal backcourt combination for the last eight years, but with no NBA Finals appearances to show for it, it might be time to go in another direction.
As for the 76ers, moving on from Simmons just seems to be a necessity at this point. He's only adding unnecessary drama to a crucial season of Joel Embiid's prime. Philadelphia can immediately become an Eastern Conference contender if it can add McCollum to its starting lineup, plus Simons would add a much-needed scorer to a bench that's still lacking offensive playmakers.
The Sixers won't receive a better opportunity to ship Simmons out of town all season, and they need to take advantage before it's too late.
Like Sportscasting on Facebook. Follow us on Twitter @sportscasting19.