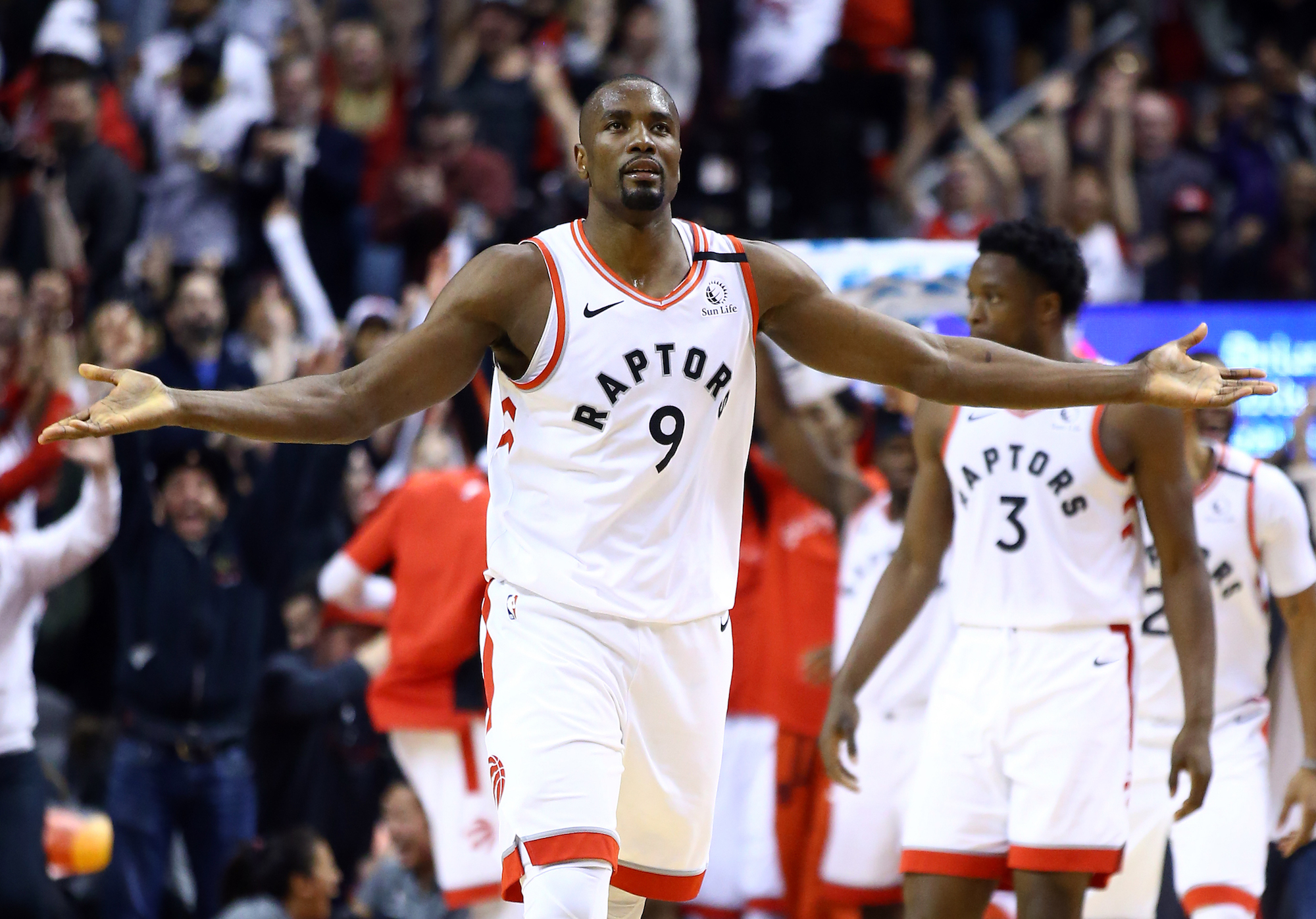 Serge Ibaka Overcame a Tragic Childhood, Blighted by War and Death, to Become an NBA Champion
Long before he became an NBA champion, Serge Ibaka faced death and civil war during his tragic childhood in the Republic of the Congo.
When you consider the salary of an NBA player, it's easy to assume they've always been living on easy street. Plenty of athletes, however, had to overcome tragic childhoods to become the stars they are today. Just look at Toronto Raptors big man, Serge Ibaka, for an example of that reality.
While he currently plies his trade in Canada, Ibaka grew up in the Republic of the Congo. There, he had had to stare down death and civil war before becoming a professional basketball player.
Serge Ibaka's tragic childhood
Related: Luol Deng: From a War Refugee to NBA Success Story
These days, Serge Ibaka is an eleven-year NBA veteran with a championship ring on his finger. Growing up, though, the big man faced a tougher challenge than any on-court opponent.
As documented by Darnell Mayberry of The Oklahoman, Ibaka grew up in the Republic of the Congo as the third-youngest of 18 children. Both of his parents were basketball players, so Serge inherited a passion for the game. His childhood, however, would soon include bigger concerns than hitting the court.
When Ibaka was eight-years-old, his mother died; soon after, the Second Congo War began. "As millions of Congolese fled their homes, Ibaka's family moved north to the small town of Ouesso," Mayberry explained. "Ibaka remained there for nearly four years, living in adverse conditions that have been characterized as having no electricity or running water."
While the family returned to their Brazzaville home in 2002, things didn't immediately improve. Ibaka's father, Desire, worked across the border in the Democratic Republic of Congo; one day, he was arrested, "essentially for being on the wrong side of the battlefield," and remained in prison until the war ended in 2003.
Becoming a professional basketball player in Europe
With the civil war over and his dad back home, Serge Ibaka was able to focus on basketball. As NBA fans now know, he turned out to be pretty good.
Ibaka started playing with Avenir du Rail, a local basketball team, before making the jump to continental Europe. In the French second division, however, he faced a new set of challenges; even at that low level, the game was a bit different than it was at home.
"My first time to play in Europe, I was shooting the ball well, I was blocking shots, I was rebounding," Ibaka told Lang Whitaker of SLAM. "The most difficult for me was how to play team play, five against five, learning the offense. That was a real problem. I never played basketball with a shot clock in the Congo. In Congo, we played on [the] playground. No clocks. So for me, everything was new—the clock, new referees. It was difficult."
Ibaka's talent shone through, though, and he began to make a name for himself. He left France for Spain and began playing at international basketball showcases; there, he started catching the attention of NBA scouts.
Serge Ibaka has since become an NBA champion
During his time in Europe, Serge Ibaka apparently made an impact on the Seattle SuperSonics. They selected the forward in the first round of the 2008 NBA draft. After spending one more season in Spain, he moved to North America and joined the rebranded Oklahoma City Thunder.
Although Ibaka arrived as a defensive stopper, the big man evolved into a solid, all-around player. He spent seven seasons in OKC before being flipped to the Orlando Magic; after half a season in Florida, he was traded again, this time to the Toronto Raptors. The big man averages 12.6 points, 7.4 rebounds, and 2.4 blocks per game for his career, won an NBA title in 2019, and, according to Spotrac, has earned almost $120 million in salary during his time in the association.
While it's always risky to draw a straight line between an athlete's personal life and their on-court accomplishments, at least one person believes that Serge Ibaka's tragic childhood set the stage for his future success.
"Maybe for these reasons, Serge is so tough mentally and is able to achieve one goal after another," Pere Gallego, Ibaka's Spanish agent, told Mayberry. Based on the forward's resume, that seems like a solid theory.
Stats courtesy of Basketball-Reference