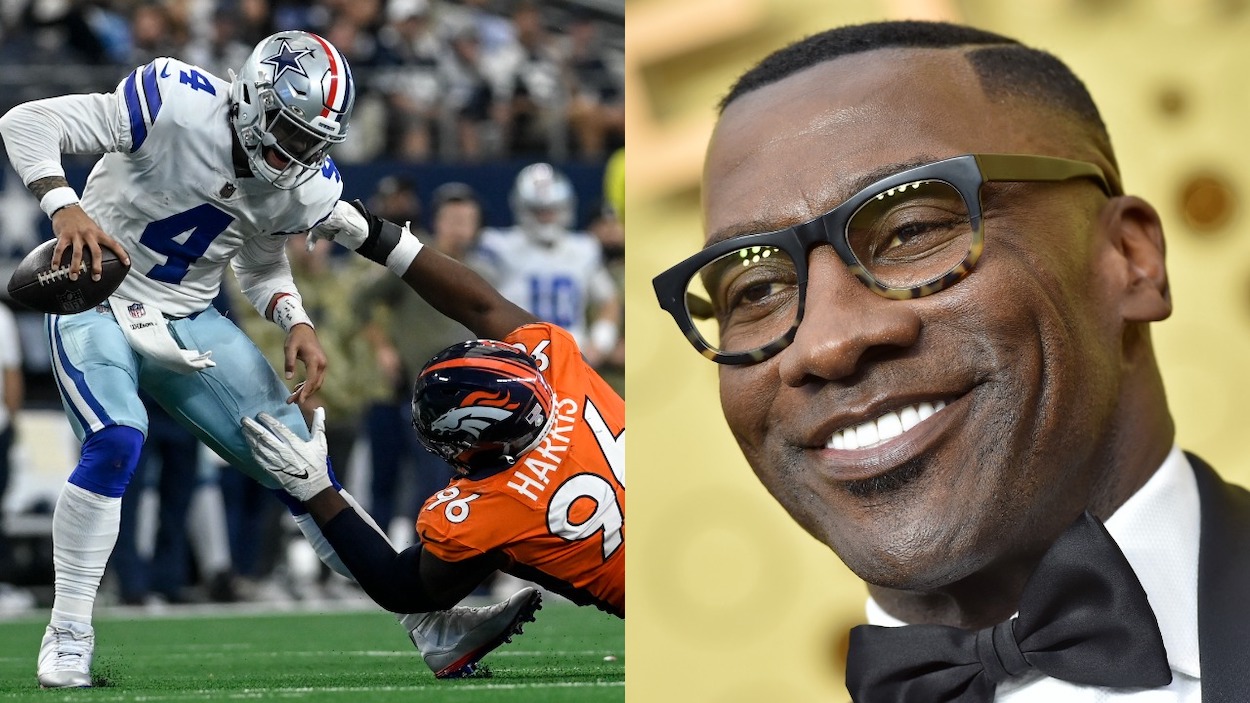 Shannon Sharpe Channels Denny Green, Sings R.E.M, and Wears His Old Broncos Helmet During Epic Cowboys Troll Job: 'Ya'll Still Dem 'Boys?'
After the Denver Broncos shocked the Dallas Cowboys 30-16 on Sunday, former Bronco TE Shannon Sharpe took to social media with a hilarious video aimed at his TV co-host Skip Bayless.
Sports media personality and former All-Pro Denver Broncos tight end Shannon Sharpe was incredibly upbeat after his Broncos beat his co-host Skip Bayless' Dallas Cowboys on Sunday. The Hall-of-Famer-turned-pundit was so ecstatic, in fact, that he couldn't wait until his show kicked off Monday morning to gloat. So, the gregarious pass-catcher took to Twitter to post an incredible video that hit all the trash-talk high notes.
The Dallas Cowboys lost in shocking fashion to the Denver Broncos on Sunday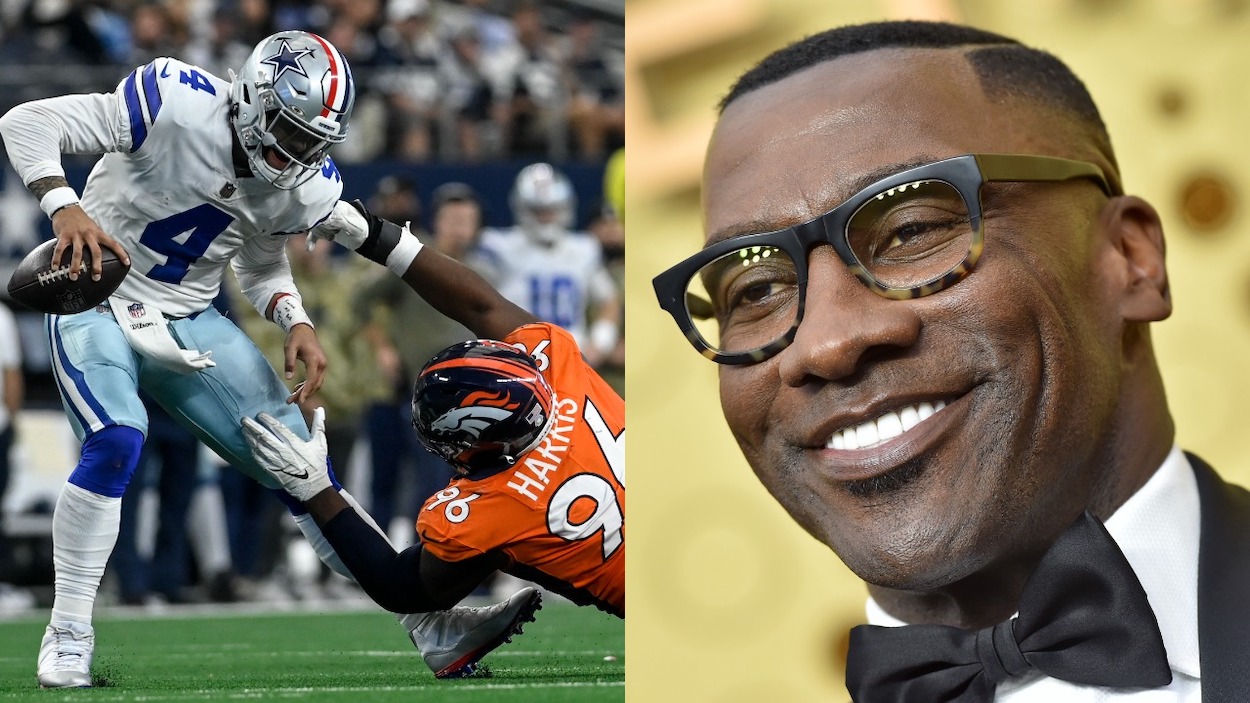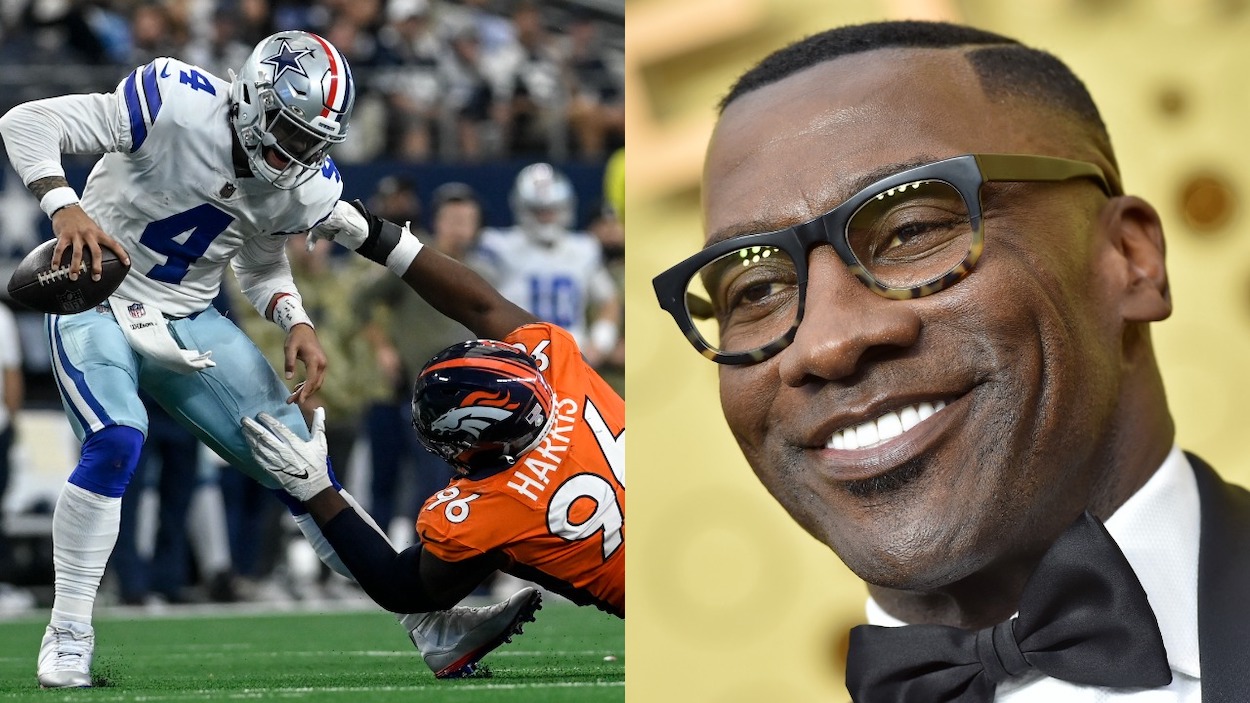 The Dallas Cowboys came into their Week 9 matchup against the Denver Broncos at 6-1 and riding high. After a close loss on opening night to the Tampa Bay Buccaneers, the 'Boys ripped off six wins in a row, including a Week 8 victory over the Minnesota Vikings with backup QB Cooper Rush.
The Cowboys welcomed the Broncos to Texas as a 10-point favorite. With Dak Prescott back and healthy, the team likely expected to cruise to yet another win.
Teddy Bridgewater's Broncos had other ideas.
The game wasn't just a Denver victory. It was an absolute mugging. Cowboys running back/kick returner Tony Pollard took the opening kick 54 yards to start the game in Broncos territory. The Cowboys didn't have another meaningful highlight until they scored their first points with 4:08 left in the game.
The Broncos took a 16-0 lead into halftime before growing their advantage to 30-0 before the Cowboys got on the board. Teddy Bridgewater was 19-of-28 for 249 yards and a touchdown, and RBs Javonte Williams (111 yards) and Melvin Gordon (80 yards) combined for 191 rushing yards.
The Broncos D — in their first game after the Von Miller trade — sacked Prescott twice, picked him off once, and recovered a fumble.
Prescott engineered two late touchdown drives in the game's final four minutes to make the score a slightly more respectable 30-16, but the damage was done.
After the game, Dallas head coach Mike McCarthy told reporters, per ESPN, "Frankly we were outcoached, we were outplayed all the way through. This is the first time I've felt clearly our energy didn't exceed our opponent. That's disappointing."
Former Bronco Shannon Sharpe posted an epic troll video on Twitter Sunday night
On FS1's Skip and Shannon: Undisputed, former Denver Broncos tight end Shannon Sharpe co-hosts with noted Dallas Cowboys lover Skip Bayless.
It's no surprise that this was a hot topic on the show leading up to the game, and Bayless approached the matchup with his usual Cowboy-centric arrogance.
After the upset win, Sharpe took to social media to taunt his co-host in an epic video that combined an incredible amount of awesomeness.
The video comes from poolside at what one can assume is Sharpe's home. The Hall of Fame TE wore a Broncos sweatshirt and a team helmet on his head. He starts the video by singing R.E.M.'s famous ballad, 'Everybody Hurts,' before busting into his best Dennis Green impersonation:  
Now I told ya'll, the Cowboys are who we thought they were. And we, us, these guys, we ain't let 'em off the hook. Not today. Now, Dak gonna end up with a couple touchdowns, but ya'll know them empty calories. Ya'll know those calories don't taste good. That was bad. Skip Bayless, you gotta see me tomorrow. … I just need to know one thing. Cowboys Country, Cowboys Nation, are y'all still Dem 'Boys? Cause if ya'll Dem 'Boys, ya'll didn't make no noise.

Shannon Sharpe after the Broncos beat the Cowboys
It was an incredible video and one that any fan who occasionally (or always) finds themselves annoyed by Skip Bayless had to love.
The Cowboys can get back on track in Week 10 vs. the Atlanta Falcons
Getting crushed on your home field is never good for any NFL team, especially one with playoff and eventually Super Bowl aspirations.
That said, things are still all good in Jerry World. For now.
Even after the Denver drubbing, the Cowboys still comfortably hold first place in the putrid NFC East, four games ahead of the 3-6 Philadelphia Eagles and New York Giants.
And, in Week 10, Dak Prescott and the 'Boys are home again against the 4-4 Atlanta Falcons. Matt Ryan and company pulled off their own upset in Week 9, taking down the New Orleans Saints 27-25.
While a win is a win in the NFL, the Falcons weren't completely confidence-inspiring while getting their W. In the fourth quarter, the team coughed up a 24-6 lead and needed a late Younghoe Koo field goal to seal the win.    
Dallas is again a touchdown-plus favorite (+8.5) and should handle Atlanta with relative ease.
If not, then it is time for Cowboys fans (looking at you, Skip Bayless) to start worrying and, hopefully, for Shannon Sharpe to make more videos.  
All stats courtesy of Pro Football Reference