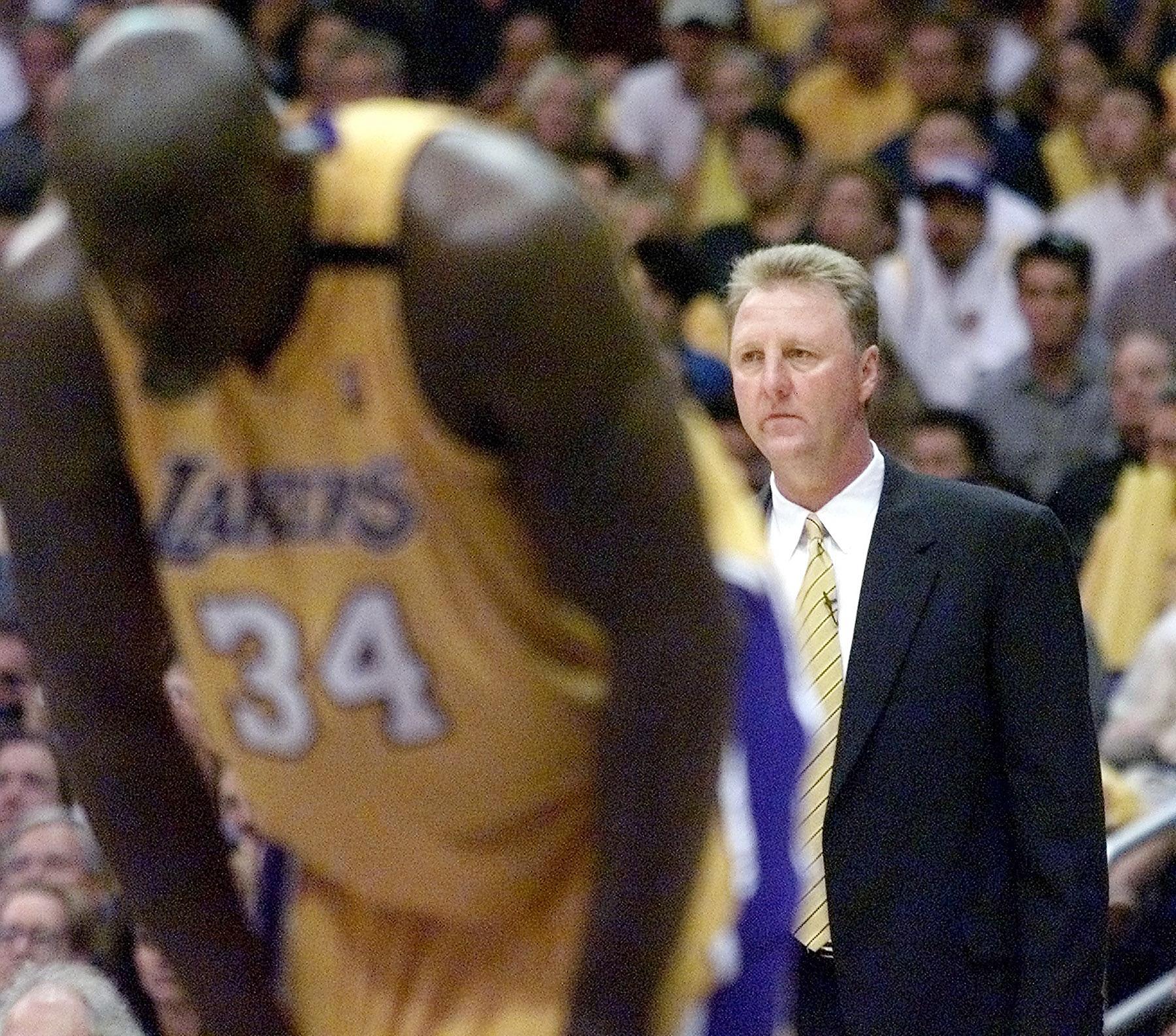 Shaquille O'Neal Details Why He Was Flat-Out Wrong About Larry Bird
Shaquille O'Neal finally admitted he was wrong all along about Larry Bird.
Shaquille O'Neal and Larry Bird never played against each other, missing by one year in the NBA. When a back injury forced Bird into retirement after the 1991-92 season, O'Neal came into the league as the Orlando Magic made him the first pick in the 1992 NBA draft. O'Neal has always had an opinion of Bird and he recently admitted he was completely wrong about it.
Shaquille O'Neal was one dominant center
There are no longer any players in the NBA like Shaquille O'Neal. The back-to-the-basket center is a thing of the past. If there was ever a true low-post, dominant center in the 1990s, it was the man they called Shaq.
O'Neal played the first four years of his Hall-of-Fame career that spanned 19 seasons with the Orlando Magic. The Magic selected him first in the 1992 NBA draft and he was an instant star, averaging 23.4 points and 13.9 rebounds in his rookie season. In that first season, he made the first of his six straight NBA All-Star appearances.
O'Neal spent the bulk of his 19 NBA seasons with the Los Angeles Lakers, winning three titles in eight years with the team. In the last 30 years, there hasn't been a more dominant in-the-paint center than O'Neal, who led the league in field goal percentage 10 years. He owns two scoring titles and four NBA titles. O'Neal was inducted into the Naismith Memorial Basketball Hall of Fame in 2016.
Larry Bird was short on athleticism but big on grit
Larry Bird never shied away from a challenge. He wasn't the most athletically gifted, but he was determined. Bird was a guy who always overcame the odds. Bird went from being a garbage man to a star college basketball player at little-known Indiana State.
At Indiana State, Bird took the Sycamores to the NCAA title game against Magic Johnson and the Michigan State Spartans. From there, he became a first-round pick of the Boston Celtics and went on to play 13 years in the NBA. Bird was a three-time NBA champ with the Celtics.
Bird wasn't the fastest, quickest, or strongest, but he was a winner. One of the game's best shooters and passers, Bird found a way. For three straight seasons, he was named the league's MVP. Bird averaged 24.3 points and 10 rebounds for his career. He was inducted into the NBA's Hall of Fame in 1998.
Shaq admits he was wrong about Bird all along
Shaquille O'Neal was a recent guest on the Dan Patrick Show and admitted he wasn't a big fan of Larry Bird as a kid. He never thought Bird was that skilled. O'Neal even went as far as to say he felt Bird was always lucky.
"Wasn't a fan of Larry Bird growing up," O'Neal told Patrick, "because I thought everything he did was lucky. I did. I had a friend named Mitch Riles, and I was Magic and Mitch was Bird. Mitch had the long hair and he did everything Bird did. One day we were playing a seven-game series and it was tied 3-3. He shot that same over-the-backboard shot that Bird did. We actually got into a fight.
"When I got older and started seeing guys putting in work, I realized he was one of the greatest players ever. It's not luck. It's all skill."
All stats courtesy of Basketball Reference.