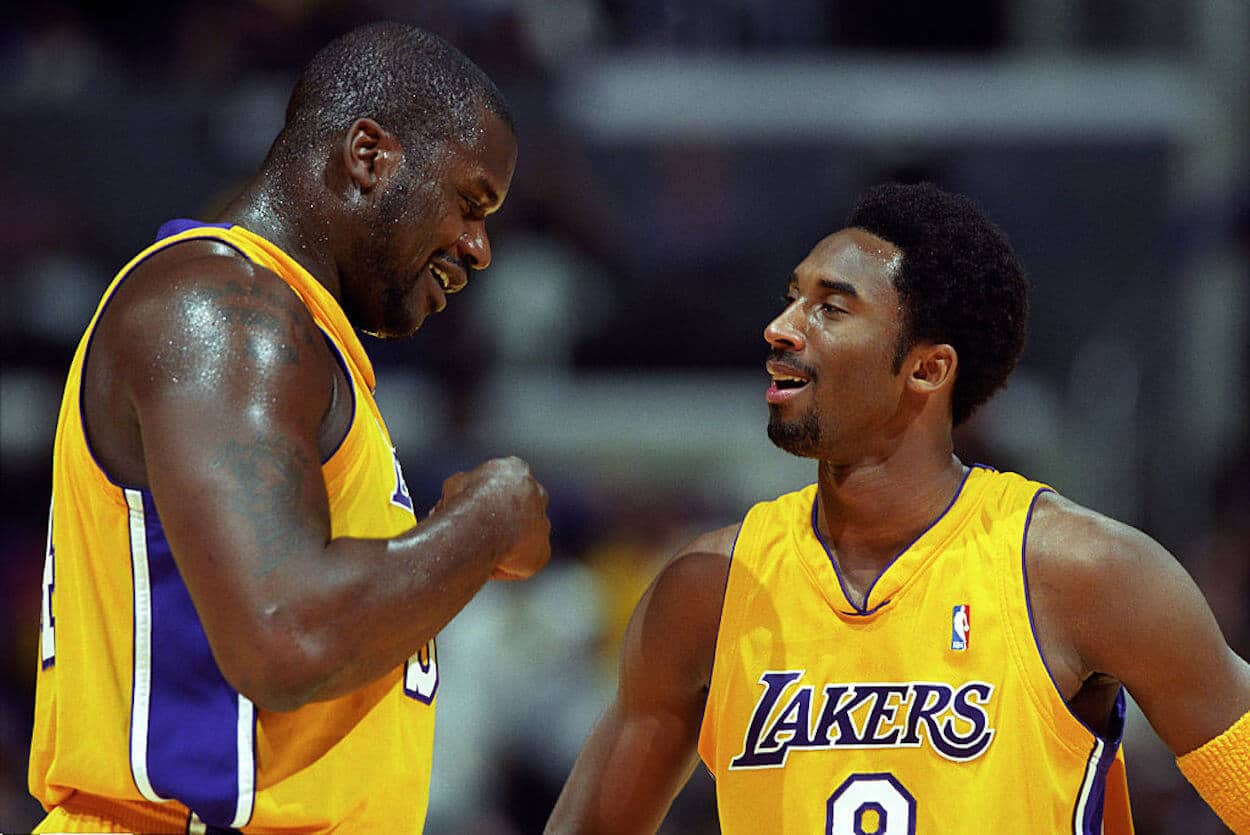 Shaquille O'Neal and His Lakers Teammates Were Banned From Hazing a Young Kobe Bryant
While Kobe Bryant was a ruthless competitor, he was apparently treated with some kid gloves when he first landed in Hollywood.
When you think of all-time NBA duos, Shaquille O'Neal and Kobe Bryant have to be near the top of the list. While things eventually broke down in Hollywood, the two stars did find great success with the Lakers, dominating the Western Conference and winning three championships.
But did you know that Dr. Jerry Buss and the team brass played an important role in getting things off on the right foot?
Well, according to Gilbert Arenas, Bryant arrived in LA with some special protections. Apparently, Shaq and the rest of the squad were specifically told that they couldn't haze the teenager.
Sound unbelievable? Well, let's hop in the time machine and check it out.
Shaquille O'Neal was known as something of a prankster, but he was told that Kobe Bryant was off-limits
While Shaquille O'Neal was a force of nature on the basketball court, the legendary big man was also known as something of a big kid. That manifested in plenty of practical jokes and pranks over the years, but a young Kobe Bryant was apparently exempted from those practices.
In 1996, Bryant jumped straight from high school into the NBA draft. On the big night, he joined the Charlotte Hornets as the 13th pick; a trade, however, brought him to Los Angeles.
And, when he arrived, the Lakers brass apparently made sure that he landed in a positive work environment.
"People don't realize, you know, when Kobe got drafted, Jerry Buss and them told Shaq and the Lakers, 'He's off-limits. You cannot haze him. There's no rookie hazing him. F*** off," Gilbert Arenas explained in a VladTV interview.
And, to be clear, this wasn't a universal edict. Other rookies could be needled, it was just Kobe who was in a league of his own. While that might not seem fair, it did make sense from an asset-management perspective.
"That's the type of future they seen with him," Arenas added. "Protected him all the time. Right? And, as owners in these leagues, that's really how you're supposed to treat your number one pick or your future. … There's things that can break mentally, right? You're talking about an 18, 19-year-old kid who's coming in, trying to fit in, right? You're trying to fit into this thing, right? So, whatever you get in your first few years is what really you're turning into. So, if you don't really nourish what you're getting early, it can turn out bad."
It goes without saying that Kobe turned out rather well. After a slow rookie season, he blossomed into one of the best players the NBA has ever seen. And while everything we know about Bryant suggests it's unlikely that his spirit would have been broken by some rookie hazing, maybe receiving a gentler introduction to the Association helped him find his feet that much quicker.
Arenas' anecdote about nurturing Kobe does provide an important reminder about nurturing talent
While Gilbert Arenas had a specific story to share about Kobe Bryant landing in Los Angeles, that memory was nested inside of a larger point about how players are treated. The former Washington Wizard touched on Mark Cuban's ability to make you feel special and how the San Antonio Spurs will be a good place for Victor Wembanyama to develop.
That, taken in totality, is a good reminder for us as sports fans that softer factors can matter.
As the knowledge floor rises — just think about how data and analytics have evolved over the years — it's easy to get a bit removed from the human aspect of the game. The best team, in theory, is the one with the best underlying numbers. Soft factors, like chemistry, are easily written off as obsolete nonsense that isn't replicable across a large sample.
And while there's some wisdom to that, it's easy to take things too far. Pro athletes are, at the end of the day, human, which means that things like a positive work environment do matter.
At the risk of painting with a broad brush, let's consider an example. Think about your job and how you feel in the workplace. Do you feel respected by those around you? Or do you simply watch the clock until it's time to go home? I'd wager that you'd be more productive in the former than the latter.
Can you argue that, if you were making millions of dollars per year, you could tolerate even the worst work environment? Sure, but it's easy to say that from the outside. Once you were actually in the trenches and had spent multiple years being (metaphorically) kicked, you might feel differently.
That's not to say that every sports team needs to sing Kumbaya around the campfire; there's room for criticism, coaching, and hard decisions. At the same time, though, there is something to be said for creating a positive environment around a team. Whether that's done through amenities, a strong organizational culture, or any other means, those things do matter.
And, if you're feeling skeptical about those "soft" factors, just think back to Kobe Bryant. If one of the most fearsome players in modern NBA history took advantage of a gentler environment to get a solid foundation at a pro level, anyone can benefit from that.