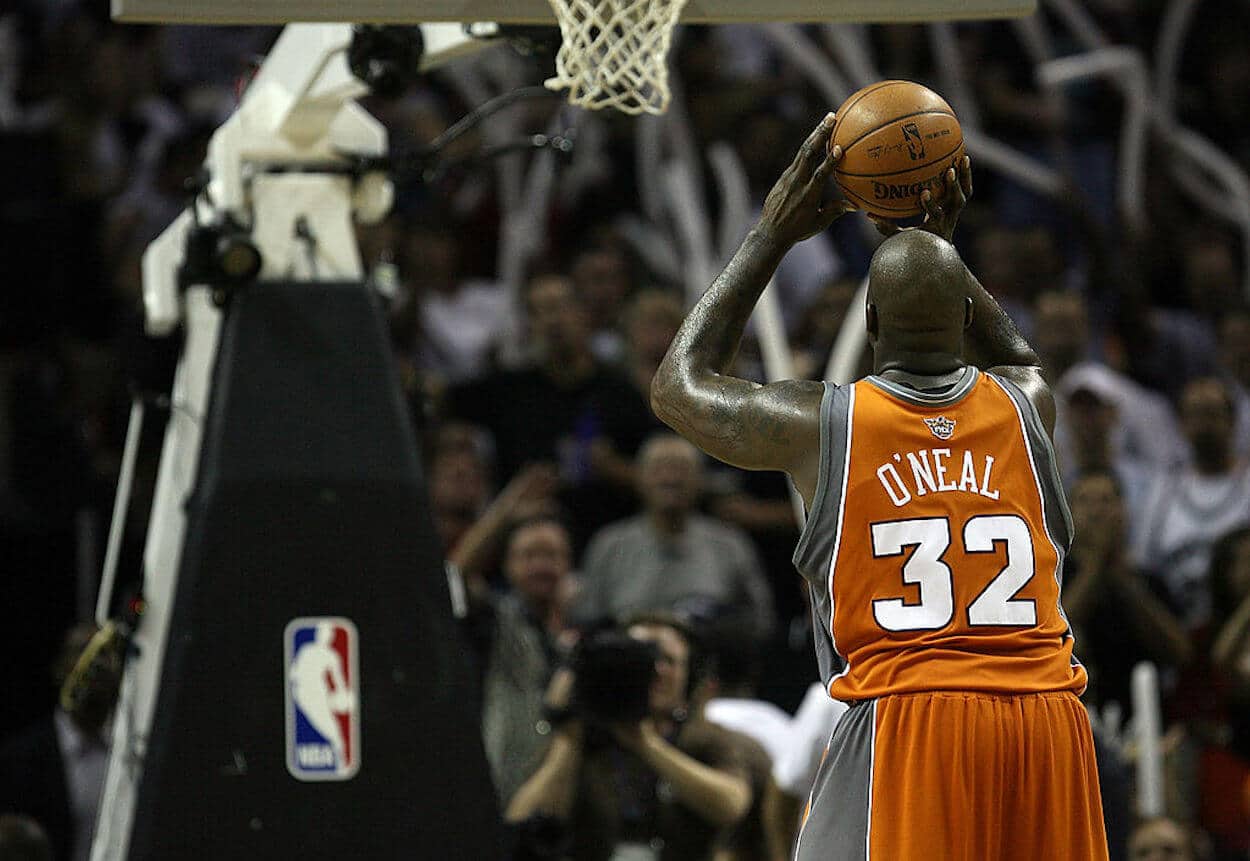 Shaquille O'Neal Blamed God for His Bad Free Throws, but Ignored a Very Real (Potential) Solution
Shaq's poor free-throw shooting is the stuff of legends. Was he to blame of those struggles? Or was there a higher power at play?
While NBA players can seem real-life superheroes, just about everyone has a weakness in their game. That was even true for Shaquille O'Neal, who famously identified with Superman. For all of the center's size and strength, his kryptonite was foul shots. Put Shaq 15 feet from the basket, and things would get ugly rather quickly.
Even today, O'Neal's free throws stand tall as a piece of popular culture. Fans reminisce about just how bad they were; when a center struggles from the line, he'll eventually be compared to the Diesel.
But did you know that the Big Aristotle left a potential stone unturned when it came to his famously bad foul shots? Yes, despite the potential help that a sports psychologist could have offered, Shaq wasn't interested.
Shaq's said his free throw problems came from God, but he also refused to see a sports psychologist
The best coaches know how to think outside of the box. That's what Don Nelson did when he started intentionally fouling players who he knew struggled from the free-throw line. While conventional wisdom indicates that giving away (potential) free points is a bad thing, he played the percentages and dared players to sink both shots from the charity stripe. That idea evolved and ultimately reached pop-cultural prominence as the "Hack-a-Shaq."
Over the course of his career, O'Neal was a 52.7% free throw shooter. That glaring weakness has inspired plenty of armchair analysts to diagnose the big man's issue. Some suspect that his massive frame affected his form; others theorize that an old broken wrist affected his ability to shoot. Shaq himself, however, offered a more divine explanation.
"The theory is, it was the man way upstairs' way of keeping me humble," he said, according to USA Today's Nina Mandell. "Seriously. Because the way I played, the way I made everyone else around me better, all of the publicity I was doing — imagine if I was doing that and had shot 90% from the free throw line. I would have been arrogant. I'd probably be so arrogant. So it was just his way of saying, 'hey, buddy, you're just like everybody else.'"
Elsewhere in that For the Win write-up, though, the Diesel discussed the notion that he simply needed to practice shooting free throws. While that wasn't the issue, he did seem to suggest that there was a hang-up between his ears.
"I tried to make 200 a day," O'Neal explained. "And then when I got really big time and was able to build gyms in my house, I shot all the time. But there's a difference between playing craps at your house with your boys and going to Mr. [David] Cordish's casino and playing craps. [For context, Shaq had a foul-shooting contest against Cordish, which ended in a tie.] When I'm by myself, I shoot like Steve Kerr. But it's just something about when I'm in a game, there's pressure, I just tighten up."
Tightening up under pressure is pretty standard fair for a sports psychologist, which raised the question: Had Shaq ever seen one? Despite his fame and fortune — if anyone could access treatment, it would be an NBA star — the answer was a resounding negative.
"No," Shaq simply said. "I don't believe in that."
And there you have it, straight from the Big Aristotle himself.
While nothing is guaranteed, it's tempting to imagine Shaquille O'Neal draining foul shots
It goes without saying that nothing is guaranteed. Even if Shaquille O'Neal went to see a sports psychologist and fully bought into the process, it's possible that he wouldn't have improved. But when you consider the realities of the situation — the big man was an incredible athlete, put in plenty of work, and tightened up in a specific situation — it's easy to imagine how working through the situation with a trained professional would have led to some improvement.
And, at the risk of stating the obvious, Shaq was already an unstoppable talent in his prime. If his free-throw shooting was even marginally better, he would have essentially become a video game character dropped into the Association.
Let's consider, for example, the 1999-2000 season, when the big man was at the height of his powers. During that campaign, he averaged 29.7 points and attempted 10.4 foul shots per contest. If we want to assume that work with a sports psychologist would have led to a moderate improvement and his free-throw accuracy improved from 52.4% to something like 70%, that would push him over the 31-point-per-game threshold.
And while that would have been an eye-popping statistical achievement, it's about more than just numbers. The improvement would also affect how the game was played.
At that time, the Lakers were still a bit top-heavy. After Shaq and Kobe Bryant, Glen Rice averaged 15.9 points; the next leading scorer was Ron Harper, who only recorded 7.0 points per outing. If O'Neal was an improved free throw shooter, though, it's possible that defenses would have to devote even more resources to stopping him; you couldn't, after all, use a foul as a 'Get out of Jail Free' card. While the illegal defense rule still existed at that time, floating in between two offensive players was the issue. Fully committing to a double-team was allowed, and it's easy to imagine even more of those coming Shaq's way if he was draining three-quarters of his foul shots.
If nothing else, you know Kobe would have been licking his lips whenever he saw a second man commit to the low post.
That, of course, is speculation, but there are few things sports fans love more than unpacking what-if scenarios.
And, given his overall talent and sheer dominance, it's impossible not to wonder what would have happened if Shaquille O'Neal addressed the largest hole in his game.
But, on the other hand, maybe he was just divinely ordained to be a bad free-throw shooter.