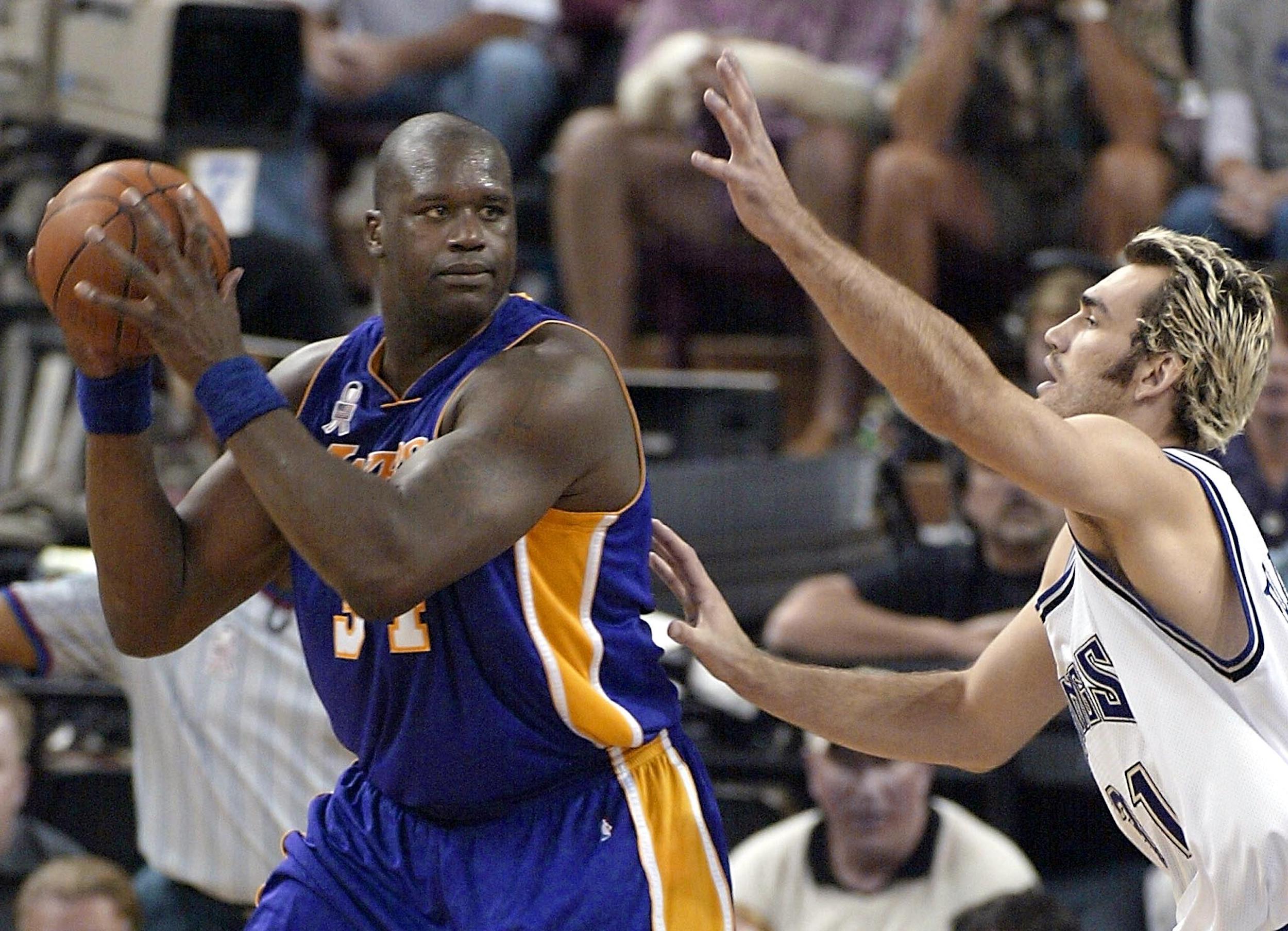 Shaquille O'Neal Honored His Own Greatness With an Inaccurate Quote and a Weird Nickname
While Shaquille O'Neal has plenty of nicknames, he once created a title just to honor his own greatness. It, however, was based on an inaccurate quote.
While the history of professional sports is full of larger-than-life characters, few are bigger than Shaquille O'Neal. Beyond his physical size and on-court ability, the center has a massive personality; he's starred in movies, dropped rap albums, and goes by plenty of colorful nicknames.
Not all of those nicknames, however, were given to Shaq by his friends and teammates. During his time in Los Angeles, O'Neal actually created a new moniker to honor his own excellence.
Shaquille O'Neal's impressive time on the NBA hardwood
While cynics might say it's easy to become a basketball star when you're more than seven-feet tall, Shaquille O'Neal was more than just a big body. During his time in the NBA, he was a legitimate star.
After dominating the competition in high school, O'Neal headed to LSU. While he only spent three seasons in the bayou, he proved to be an incredible talent; averaging 21.6 points and 13.5 rebounds per game in addition to claiming the 1990-91 AP Player of the Year crown.
Shaq then entered into the 1992 draft, becoming the first overall pick. He immediately made an impact with the Orlando Magic, cruising to the Rookie of the Year title and developing into an unstoppable offensive threat. While he made it as far as the NBA finals, O'Neal couldn't make it over the hump in Orlando; that eventually inspired him to seek greener pastures.
In the summer of 1996, the big man hit free agency and joined the Los Angeles Lakers. Playing alongside Kobe Bryant, O'Neal won three NBA titles; Shaq would later win a fourth ring with Dwyane Wade and the Miami Heat.
While he bounced around a bit at the end of his career, O'Neal still retired with an impeccable NBA resume. He spent 19 seasons in the association averaging 23.7 points and 10.7 rebounds per game. Beyond his four championships, the big man also took home an NBA MVP award and two scoring titles.
The man of many nicknames
When you spend more than two decades in the media spotlight, you're bound to pick up some nicknames. Shaquille O'Neal, however, has more than your average sports star.
As documented by Joey Ramirez of NBA.com, Shaq went by at least 10 different nicknames during his career. For the most part, they followed a similar construction: add "big" to a topical noun, and you've got a new title. During his time in Phoenix, for example, O'Neal was 'the Big Shaqtus;' when he suited up for the Boston Celtics, he became 'the Big Shaqrock.'
Even when the nicknames were less formulaic, they usually alluded to O'Neal's status as a dominant big man. Lakers announcer Chick Hearn simply called him 'Big Fella.' Shaq also broke out some acronyms, deeming himself the LCL (last center ever) and MDE (most dominant ever). There are also a few aliases, like 'the Diesel' and 'Superman' that have become a part of Shaq's brand.
Shaquille O'Neal's own excellence (and an inaccurate quote) inspired 'the Big Aristotle'
While you can debate the quality of most of Shaquille O'Neal's nicknames, most of them at least seem to make sense. 'The Big Aristotle,' however, seems a bit more random. What does an ancient Greek philosopher have to do with basketball?
Shaq actually gave himself the nickname after winning the 2000 NBA MVP award. The title, at least by O'Neal's logic, was simply a way to commemorate his own greatness.
"From this day on, I want to be known as 'The Big Aristotle,' because Aristotle once said excellence is not a singular act, it's a habit," O'Neal explained, according to an AP report shared by the Deseret News. "You are what you repeatedly do."
While that's a noble sentiment, it's unclear if Aristotle ever said it. Although the philosopher discussed the concept of good habits leading to moral excellence, KnowYourFact explains that Shaq's quote stems from a 1926 book about philosophy.
Regardless of that historical inaccuracy, no one is going to argue with Shaquille O'Neal calling himself whatever he wants. He has the resume—not to mention the size—to pull off just about any nickname.
Stats courtesy of Sports-Reference and Basketball-Reference