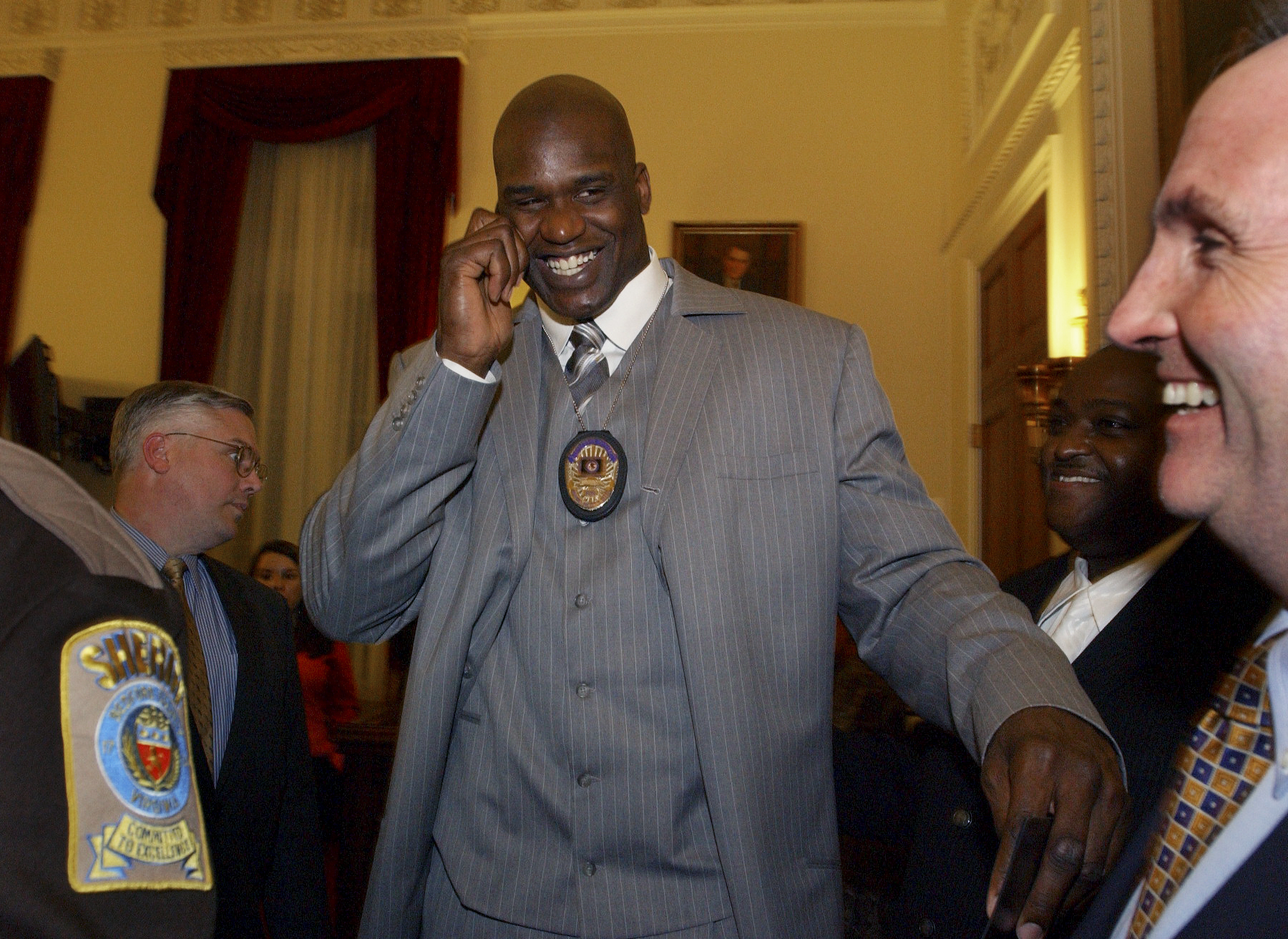 Shaquille O'Neal's Roadside Assist Wasn't the First Time He's Stepped Up to Help a Stranger
While Shaquille O'Neal dished out plenty of assists on the basketball court, he's also well versed in helping strangers and law enforcement officers.
While every professional athlete is talented, Shaquille O'Neal's skillset knows no bounds. On the basketball court, Shaq shone as one of the most dominant big men in basketball history; away from the hardwood, he's dropped rap albums, become a prolific celebrity pitchman, and done everything else you can imagine. O'Neal, it seems, also has a knack for helping people.
On Tuesday, O'Neal made headlines by stopping to assist a stranded driver on Florida's Interstate 75. That wasn't the Diesel's first act of public service, though. He's actually put his police skills to work on at least two other occasions.
Shaquille O'Neal's legendary basketball career
While Shaquille O'Neal may have an extensive resume, everything started with his basketball career. In case you've forgotten, the big man was a force to be reckoned with every time he stepped onto the hardwood.
Shaq first made a name for himself in high school, where he carried his team to a 68-1 record over the course of two seasons. After graduation, the big man headed to LSU. He spent three years with the Tigers averaging a dominant 21.6 points 13.5 rebounds per game; O'Neal also claimed 1990-91 AP Player of the Year honors before entering the 1992 NBA draft.
The Orlando Magic selected O'Neal with the first overall pick, and he immediately lived up to the hype. The center averaged 23.4 points and 13.9 rebounds during his first year in the pros, cruising to the Rookie of the Year title. Despite his individual success, though, the Magic couldn't get over the hump and win a championship. In 1996, however, everything changed.
That summer, Shaq hit free agency and joined the Los Angeles Lakers. While things weren't always happy in Hollywood, he and Kobe Bryant teamed up to win three championships. O'Neal would win a fourth title with the Miami Heat, before seeing out his career with the Suns, Cavaliers, and Celtics.
During his 19 seasons in the association, the big man averaged 23.7 points and 10.7 rebounds per game, while winning four titles. He also won one NBA MVP award, claimed two scoring titles, and earned a place in the Basketball Hall of Fame.
Providing an assist to a stranded driver
While he was more of a scorer than a facilitator, Shaquille O'Neal dished out plenty of assists during his NBA career. On Tuesday, he provided another helper, although this one came on the interstate.
According to a Facebook post from the Alachua County Sheriff's Office, O'Neal "was traveling through Alachua County on I-75 when he witnessed a crash. He stopped to check on the welfare of the driver and remained with her until law enforcement arrived. He fist-bumped Deputies Purington and Dillon before going on his way."
The post also included some dashcam footage from when the deputies arrived on the scene. While Shaq's seven-foot frame is always hard to miss, he can clearly be seen on the side of the road.
Shaquille O'Neal is no stranger to public service
While Shaquille O'Neal's actions may seem like a great story in isolation, this wasn't his first time lending a hand. In fact, the big man has quite a history of public service.
As documented by ESPN, O'Neal helped the Miami police make an arrest in 2005, when he witnessed an alleged assault. After witnessing a man yell "anti-gay slurs" and throw a bottle at pedestrians, Shaq followed the perpetrator and alerted the police, who made the arrest.
A similar situation also unfolded in 2007, O'Neal and a Miami Heat bodyguard witnessed an alleged hit-and-run. According to another ESPN report, the two men followed the car in question to a gas station and flagged down a police officer.
Beyond those two incidents, O'Neal is no stranger to law enforcement. The big man is an auxiliary deputy of the Broward County Sheriff's Department and holds several other law enforcement-related titles around the country and is even an honorary U.S. Deputy Marshal.
Stats courtesy of Sports-Reference and Basketball-Reference