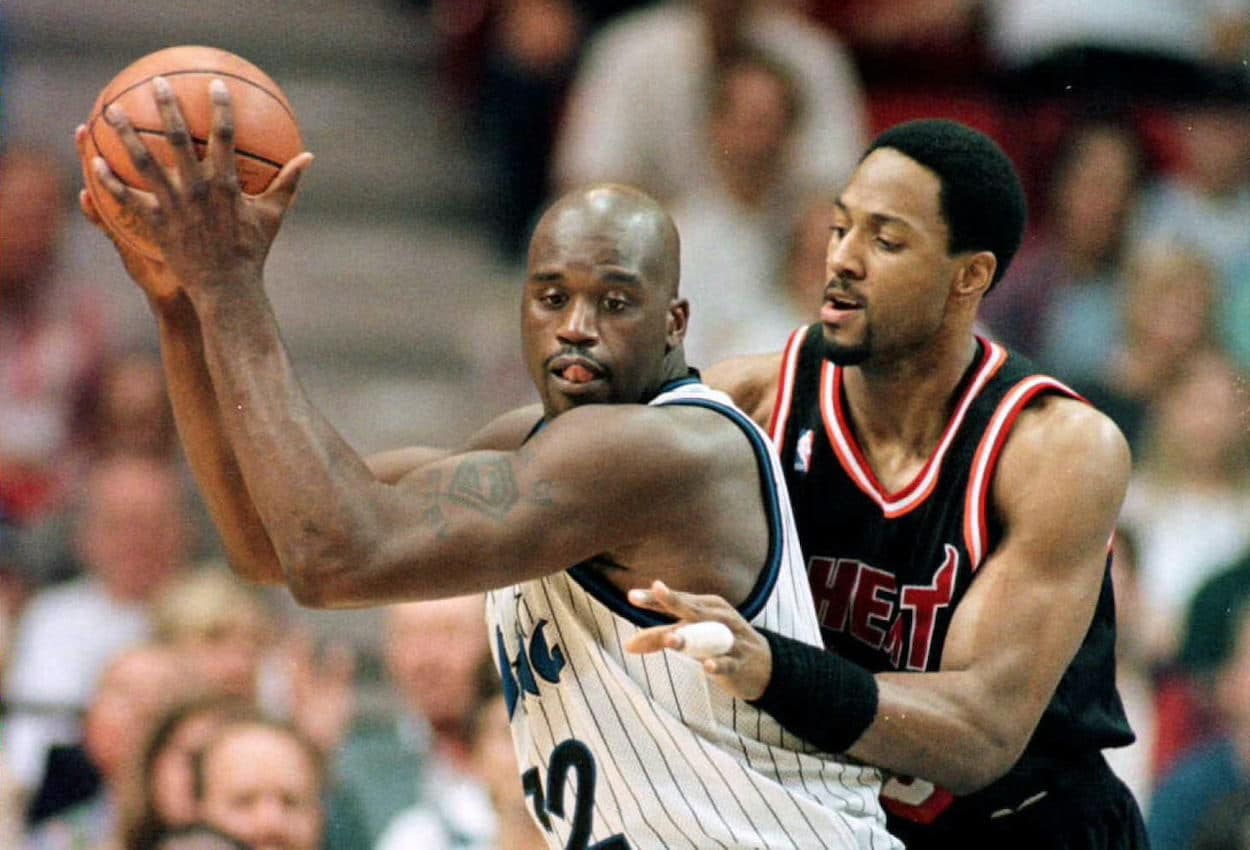 Shaquille O'Neal Left the Orlando Magic Because of a Billboard Outside His Mom's Office
When Shaquille O'Neal left the Orlando Magic for the LA Lakers, it changed NBA history. And it may have been avoided if not for a billboard.
In the summer of 1996, a 23-year-old Shaquille O'Neal was already a four-time All-Star. He and 24-year-old Anfernee "Penny" Hardaway were leading the Orlando Magic to become a perennial championship contender.
When Shaq's rookie deal ended, all the team had to do to keep its superstar in place was give him a massive contract extension. Instead, the team low-balled him, the city of Orlando turned on him, and O'Neal ended up a Los Angeles Laker, changing NBA history forever.
The Orlando Magic picked Shaquille O'Neal No. 1 overall in 1992, and he immediately became a star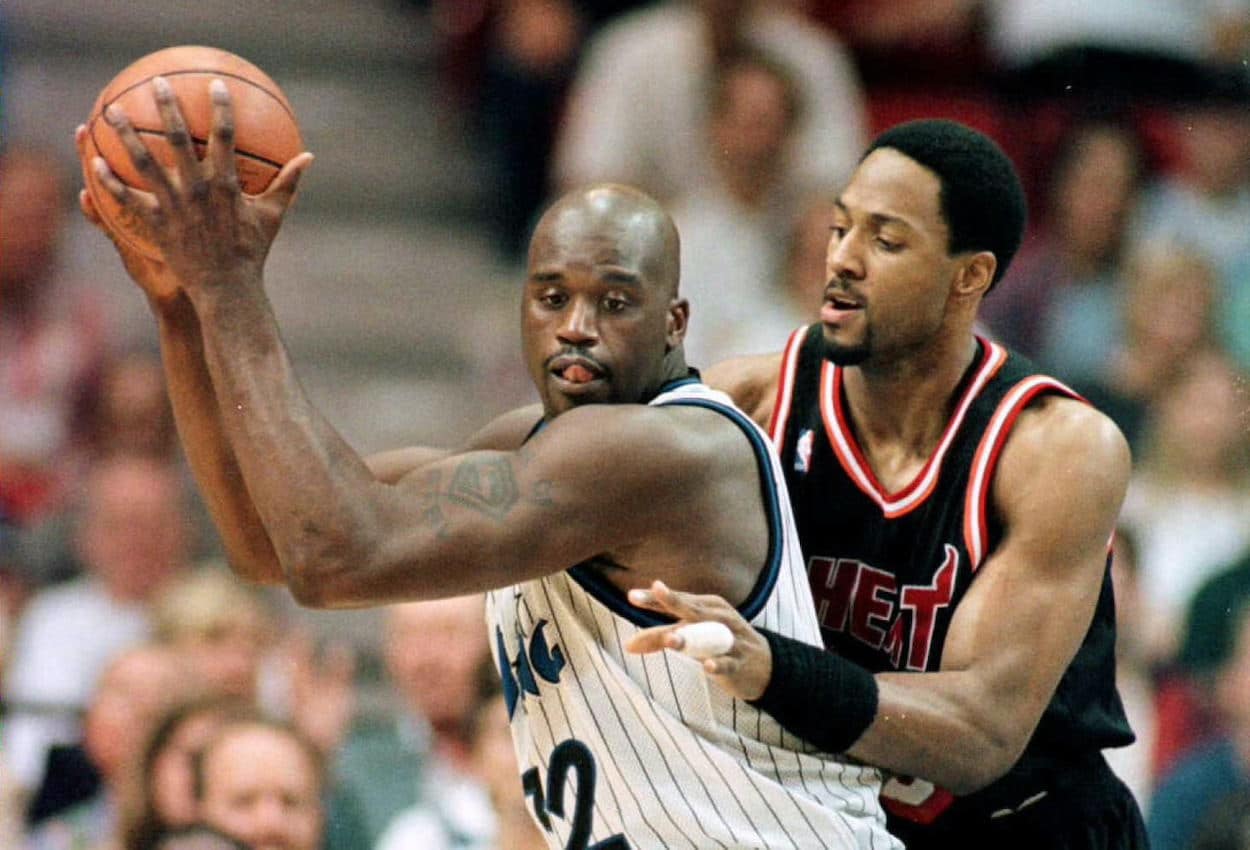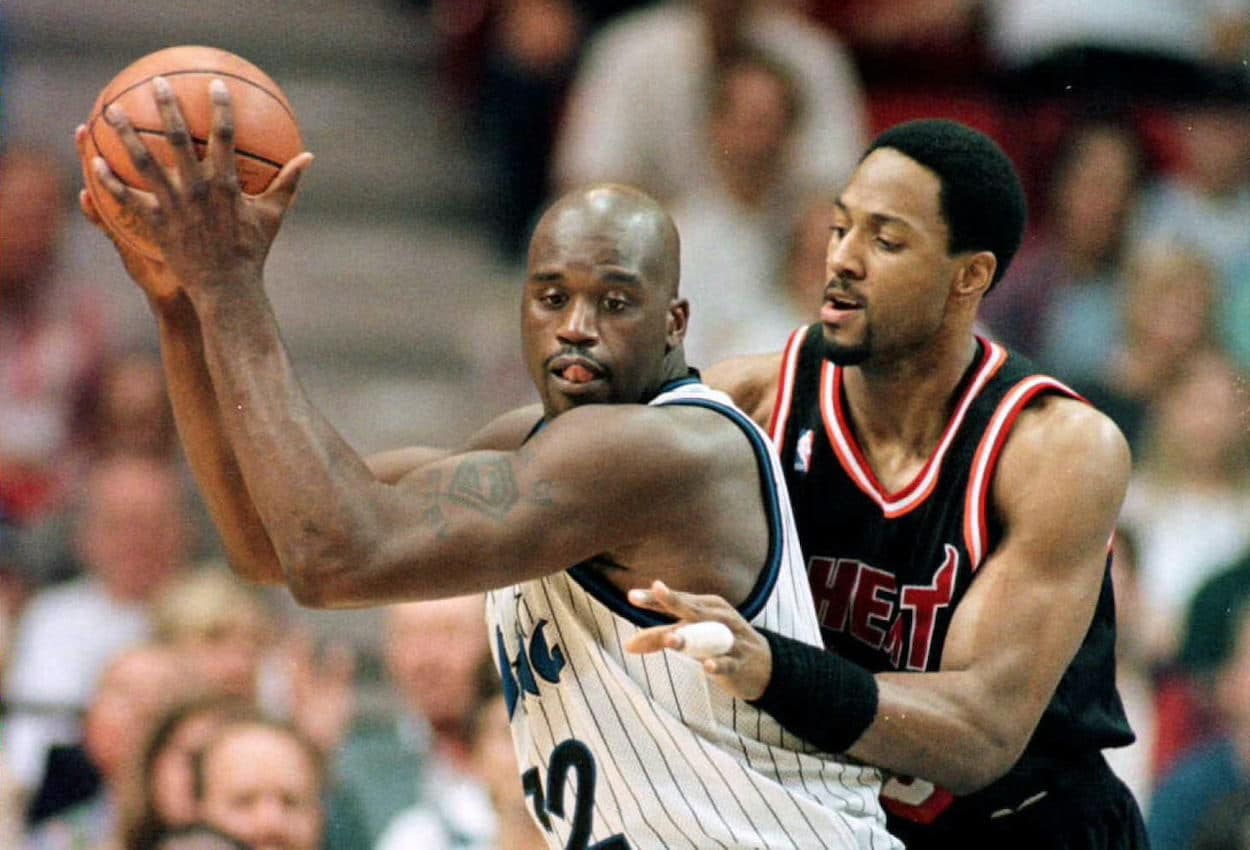 At 7-foot-1 and over 300 pounds, LSU's Shaquille O'Neal was already one of the most physically dominating forces in basketball history before he ever stepped on an NBA court. That's why the Orlando Magic selected him No. 1 overall in the 1992 NBA Draft.
The Magic front office was right to take him over more established college stars like Duke's Christian Laettner and Georgetown's Alonzo Mourning.
Shaq was a star from Day 1 in the NBA.
He averaged 23.4 points and a career-high 13.9 rebounds in his first season, on his way to the NBA Rookie of the Year Award. While the Magic finished .500 in 1992-93, Shaq's dominance would start to help the team the following season. That's when he teamed up with Penny Hardaway.
Together, Shaq and Penny led Orlando to the playoffs in 1994, the NBA Finals in 1995, and the Eastern Conference Finals in 1996. In those three postseason years, O'Neal averaged 28.4 points and 11.8 rebounds.
O'Neal entered the 1996 offseason intending to re-sign with the Magic. That's when things went horribly wrong.
The Magic dropped the ball on Shaq's extension, but the city of Orlando helped drive him out, too
On The Ringer and Jackie MacMullan's Icons Club podcast, the longtime NBA insider tells the story of what went wrong between Shaquille O'Neal and the Orlando Magic and how the superstar got to the LA Lakers.
The issues started when the club lowballed the big man. Even without a max contract figure back then, the Magic only offered O'Neal four years and $54 million. And, MacMullan shares, "adding to the insult [the Magic front office] actually criticized Shaq's rebounding and defense."
It wasn't just Magic brass that wronged O'Neal that summer, though. The people of Orlando threw their own fuel on the fire. MacMullan explains:
The Orlando Sentinel newspaper set up a poll in which callers weighed in on a single question. Is Shaquille O'Neal worth $150 million? More than 5,000 people called in, and over 91% said no. Shaq, who was training with Team USA at the time, was mercilessly teased by his teammates over the results. Back in Orlando, his mother, Lucille, was subjected to a bird's-eye view of the results plastered on a billboard, which she could see from her office.

Jackie MacMullan on Shaquille O'Neal's last summer with the Orlando Magic
All this was too much for Shaq, who "has always been sensitive about criticism." He took the poll as "a slap in the face."
On July 18, 1996, O'Neal signed a free-agent deal with the LA Lakers for seven years and $120 million.
The center's move to the LA Lakers was one of the biggest game-changers in NBA history 
The sports world is filled with "what ifs?"
What if Drew Bledsoe never got hurt, or if the ball didn't go through Bill Buckner's legs? What if the Portland Trail Blazers drafted Michael Jordan instead of Sam Bowie?
Outside of that last question, "what if the Orlando Magic kept Shaquille O'Neal and Penny Hardaway together?" is one of the biggest unanswerable questions in NBA history.
Hardaway stayed in Orlando for three more seasons and made two playoff appearances. However, the team never got out of the first round again in those years. After that, the franchise had some decent seasons with Tracy McGrady and even made another NBA Finals in 2009 with Dwight Howard. However, they let them leave, too.  
Meanwhile, on the other coast, you know what happened.
Shaq teamed up with a teenage sensation named Kobe Bryant, legendary Chicago Bulls coach Phil Jackson signed on to lead them, and the Lakers won three of their 17 NBA championships.
Then, all this led to the Shaq vs. Kobe feud, O'Neal going to the Miami Heat and helping Dwyane Wade get his first title, and Bryant and Jackson winning two more on their own.
That is how NBA history went down. It is fun to think what might have been, though, if not for that newspaper poll and the billboard outside O'Neal's mom's office.
All stats courtesy of Basketball Reference