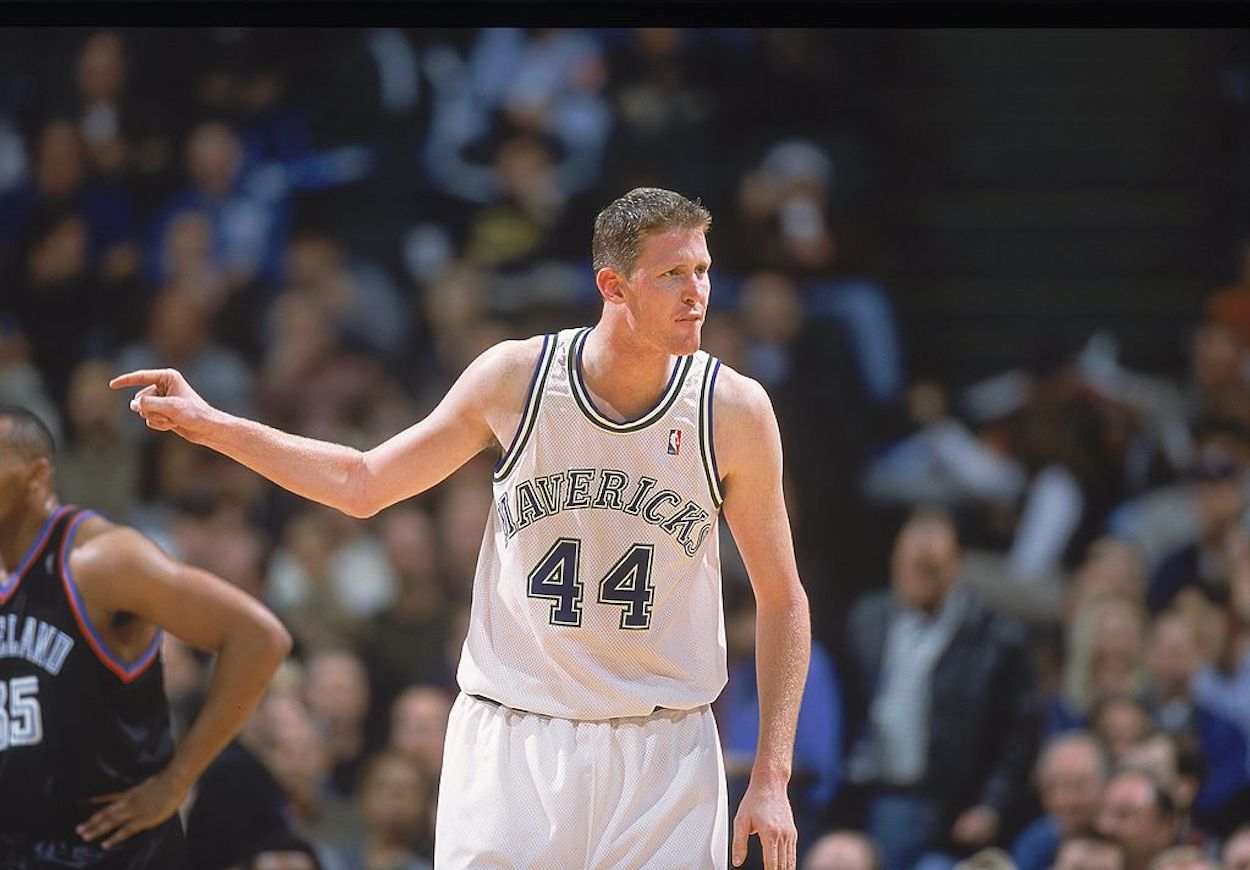 Shawn Bradley Shares a Heartbreaking Update on His Life as a Person With Quadriplegia
Shawn Bradley is still adjusting to life as a person with quadriplegia and, as you might expect, the video interview can be pretty heartbreaking.
Sometimes, NBA players can barely seem human. Between their sheer size, massive paychecks, and incredible athleticism, they can seem like they stepped off the pages of a comic book. Shawn Bradley is a reminder that isn't the case. He's a real human being with a life beyond the basketball court.
While most fans will remember the big man from his time with the Dallas Mavericks, he's no longer throwing down slam dunks and swatting shots into the first row. Instead, he's living life as a person with quadriplegia following a 2021 bike accident.
More than a year later, Bradley and his family have found themselves living a life that none of them ever imagined. As you might imagine, it isn't always easy.
Shawn Bradley was in the wrong place at the wrong time on January 20, 2021, and it changed his life
Although his playing career came to an end in 2005, Bradley didn't instantly abandon his physical pursuits after stepping off the hardwood. The big man took up biking and had a custom ride built to accommodate his massive frame. Unfortunately, that hobby ultimately played a role in changing his life.
As explained in a statement that Bradley issued through the Mavericks organization, he "was struck from behind by an automobile while riding his bicycle a mere block from his home in St. George, Utah. The accident caused a traumatic spinal cord injury that left him paralyzed."
Since then, the former center has provided a few glimpses into his new life. As detailed in a January 2022 Sports Illustrated story, his height, the very asset that made him millions, transformed into a burden. Bradley needed a custom wheelchair, which "costs more than most cars." Simple tasks, like rolling over in bed or taking a shower, have become sizable undertakings. Rehab sessions left him longing for the days when he felt exhausted after a tough basketball practice. His relationship with his wife and children has, understandably, taken on a different tone.
That piece, however, isn't the latest update from the big man.
A recent video candidly conveys the challenge Shawn Bradley is facing
As the cliche says, a picture's worth a thousand words. If that's the case, a video is probably worth quite a bit more.
On March 15, Salt Lake City's KSL released a 10-minute video detailing Bradley's new life. In addition to blatantly showing his challenges — it's jarring to see a former professional athlete needing to be lifted out of bed with a pulley — the network also spoke to the former Maverick, who shared some heartbreaking comments.
"I wouldn't say I have depression," he explained, "but there are thoughts that come into your head. 'Well, maybe it would be easier for the people around me if I just wasn't here.' It's not just me that was affected at all, and, in fact, I kind of have the easy part. I get to sit a chair and scoot around and try to be [as] positive as I can, and everyone around me has a big load to carry because I can't do it anymore."
While those sentiments are completely understandable, it's still a gut-punch to hear Bradley articulate them. Again, he was a man defined by his physical gifts. He used his body to find fame and fortune. Now, he needs help to eat, use the bathroom, and even get out of bed.
Elsewhere in the segment, he shared similar sentiments, even if they originated from a slightly different starting point.
"I've never been angry with God about this," he said. "That's just not my relationship with him. It never has been. I was more along the lines of, 'OK, if you ask me to do this, help me through it cause I can't do this alone.' I don't want to be a burden on people, especially the people I love, you know, my wife and children. I don't want to be a burden."
With all of that being said, though, Bradly is still finding the positives where he can. They may be different — like picking up some french fries as opposed to throwing down a thunderous dunk — but they still exist.
"I don't think our happiness is determined on the accident," he told KSL. "There's a lot of things we have to deal with that are different, but we can still be happy through those things. We can still find joy in the journey, find joy in what we're doing. It's just different."
How to get help: In the U.S., contact the Substance Abuse and Mental Health Services Administration helpline at 1-800-662-4357.