Smush Parker Learned a Two-Week Long Lesson in Respect After Refusing to Buy a Speaker for Derrick Coleman
Smush Parker only played a handful of games with the Detroit Pistons, but he probably left the Motor City with an indelible memory of his time with Derrick Coleman.
While it's easy to remember the stars, all sorts of players occupy a space in NBA history. Take, for example, Smush Parker. The guard was, with all due respect, never a game-breaker. He spent two seasons in the Lakers' starting lineup and didn't make much of an impact beyond that. His time in the Association still carried some lessons, though.
Just ask Derrick Coleman about that.
During the early days of his career, Parker found himself playing for the Detroit Pistons. The team took a trip to the mall, and Coleman, flexing his status as a veteran, asked the new guy to buy him a speaker for the locker room. Smush didn't comply, and even though he didn't shell out the cash, he still ended up paying the price.
Smush Parker had a target on his back after refusing to (literally) pay his dues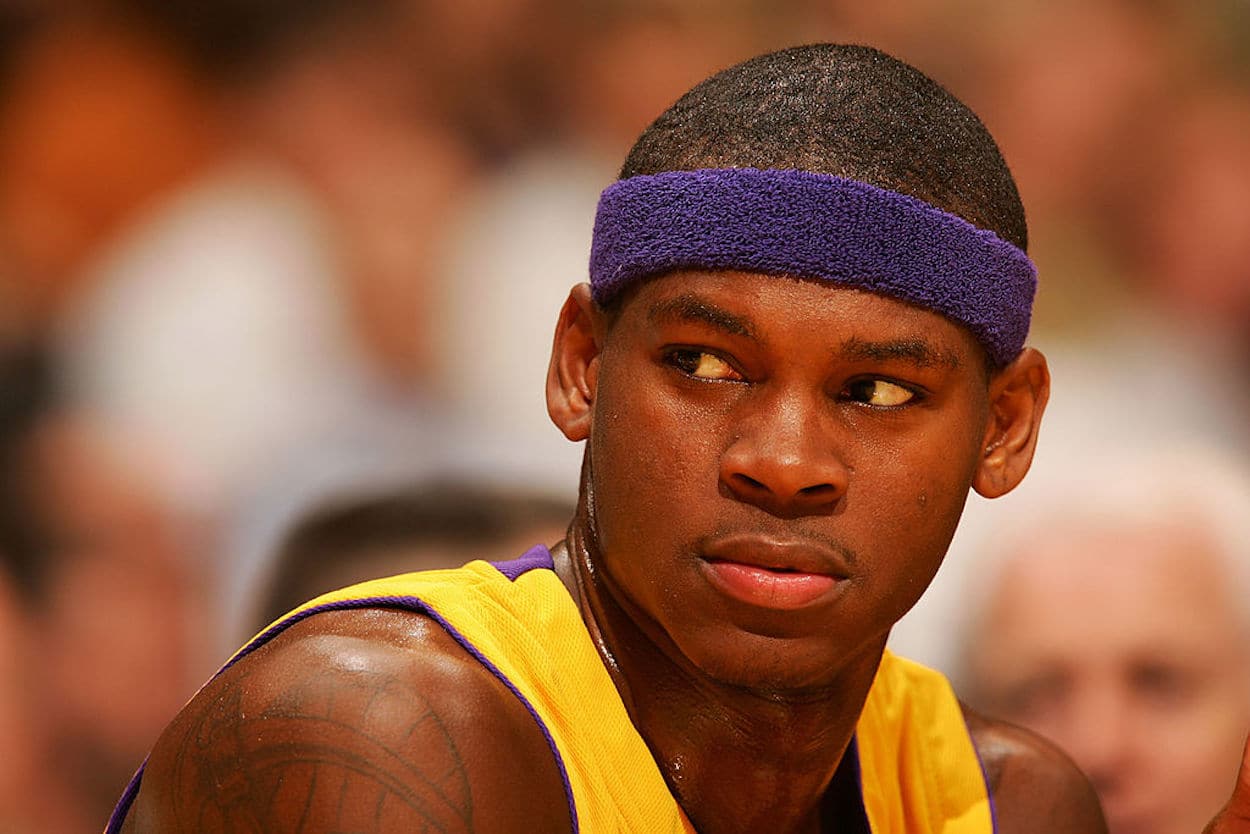 Coming out of college, Smush Parker signed as an undrafted free agent with the Cleveland Cavaliers. After a season there and a year in Greece, he returned to North America and joined the Detroit Pistons. And while he wasn't technically a rookie, the guard still had to pay his dues.
"We were in the mall as a team unit," Rasheed Wallace told Rob Perez on Underdog NBA's Youtube channel. "You know, we wanted to grab some grub. Everybody's shopping and s***. And it's almost, probably almost, Christmas time, right? So, it's myself, DC [Derrick Coleman], who else is with me, I think Lindsey Hunter, there was like one or two more people, right? So, you know, we walking, window shopping. So, we see the rook in the Apple store. Smush Parker."
While Parker wasn't technically a rookie, that didn't matter. The veterans headed into the store, picked up some products, and jokingly added them to Parker's purchases. Coleman, however, was serious. He gave Smush a speaker and expected him to buy it for the locker room.
Parker didn't buy it.
"So then a couple of days later, we were back home in Detroit," Wallace continued. "So we in the locker room, right? So DC's like, 'Hey, you got that speaker?' [Parker]'s like, 'No DC, I thought you was playing.' This and that. Man, DC's like, 'Alright. Alright.' So Smush, you know, rookie. You gotta go out there before the vets. Smush goes, and so, he tells, he f***s with Smush for about two weeks, bro."
What did those two weeks entail? If you're morbidly curious, Wallace had a rather detailed recollection of what happened.
So Smush in there getting tape, and if DC just walking in, "Nah, Nah. F*** that. Nah. I want to get tape. Nah. Get this rookie the f*** out of here." This and that, right? So the whole time when anything, getting on the bus, eating, like if were eating the team meal, you know, we're eating. "Nah, nah. Somebody else can go before him." And he kept f***ing with Smush.

Rasheed Wallace
Ultimately, Parker apologized and offered to make things right. From Rasheed Wallace's perspective, though, the entire situation wasn't actually about the speaker. It was about being part of the collective.
"It was just showing Smush pretty much like, yo, it's still a chain of command," the former forward explained. "The point of it was like, look, you know, that's where the veterans play with you. … It's just little things that you do with rookies to see where their mentality's at. Because if Smush would have got the speaker, then the whole point would have been [that] DC wouldn't have f***ed with him. But with him fighting it and this and that, so DC kept f***ing with him. So DC taught him a lesson. I mean at the end of it, Smush got it. So he got the point, and he ended up getting the speaker."
When all was said and done, Parker only spent 11 games with Detroit. That spell, however, certainly seems like it was eventful.