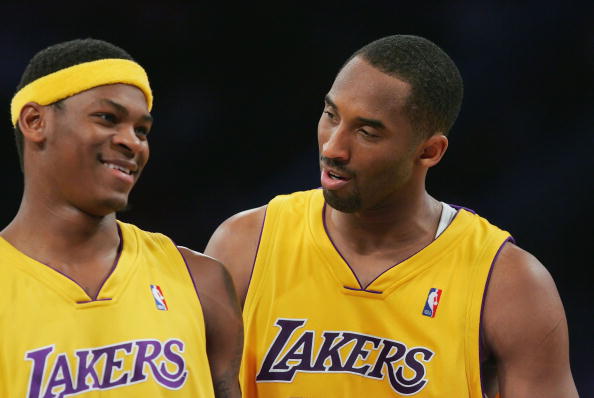 Meet Smush Parker: The Basketball Player Who Kobe Bryant Did Not Like
Smush Parker did not make a good impression on Kobe Bryant, who said the Lakers were 'too cheap' to pay for a point guard.
After competing in the NBA for 20 seasons, Kobe Bryant experienced nearly every personality and skill set involved in the league. Some players he enjoyed; others he clearly did not, including Smush Parker.
The starting point guard played two seasons with the Lakers from 2005-07. Parker possessed a lot of talent, but Bryant did not enjoy playing with him. Here's why:
Kobe Bryant and Smush Parker's beef
In 2012, Bryant gave his thoughts on Parker. The Lakers star told Mark Medina of the LA Times that Parker did not belong in the league. "[Parker] shouldn't have been in the NBA, but we were too cheap to pay for a point guard," Bryant said. "We let him walk on." The Black Mamba clearly had no issues expressing his feelings.
Parker appeared on ESPN's Highly Questionable six years ago and talked about a conversation he had with Bryant: "I tried to talk to him outside of basketball about football, and he looked at me in practice and was dead serious and said, 'You can't talk to me. You need more accolades under your belt before you come talk to me.'"
From that conversation alone, Bryant let Parker know he wouldn't hear anything he had to say.
Parker's NBA career and time with the Los Angeles Lakers
William, known as "Smush" Parker, spent five seasons in the NBA, first signing with the Cleveland Cavaliers for the 2002-03 season. Smush played in 66 games and averaged 6.2 points and 2.5 assists.
In 2003, Parker signed with the Greek League, helping lead Aris Thessaloniki to the 2004 Greek Basketball Cup. After one season overseas, the Brooklyn native returned to the NBA. Parker played 11 games for the Pistons and then was sent to the Suns. In the summer of 2005, he signed with the Lakers. Parker was not known in the league until he joined the LA team.
In his first season with the Lakers, he became the starting point guard, playing in all 82 games and averaging 11.5 points, 3.7 assists, and 3.3 rebounds — all career highs. The next season, Parker remained a Lakers starter and averaged double digits in scoring again with 11.1 points per game.
Lakers head coach Phil Jackson was impressed with Smush when he first joined the team. But toward the end of his time in LA, the point guard did not get along with the players or coaches. After the 2006-07 season, Parker was no longer a member of the Lakers organization.
Smush Parker's short NBA career
After Parker spent two seasons with the Lakers, he signed with the Miami Heat in 2007. The Fordham alum only played in nine games with the Heat and averaged 4.8 points per game. That same season, Parker returned to LA and played for the Clippers. In 19 games, he averaged 6.4 points and 3.6 assists.
The 2007-08 season was the last time Parker played in the NBA. For six years, he played basketball overseas, representing teams in China, Russia, Greece, Iran, Venezuela, Dominican Republic, and Mongolia. The last time he played for a team was in 2017 when he signed with the Albany Patroons of the North American Premier Basketball.
In 2023, the New York Post reports that Smush has been officiating recreational league basketball games at Manhattan's Baruch College for the past four years. He considers it his "full-time profession," explaining:
"You might ask: Why am I officiating corporate league games? It helps me stay sharp and fit and engaged. It's to help you develop your skills and sharpen your mechanics. Just seeing plays, working on your angles, on your positioning on a basketball court. You have to approach the game like you would at a high level."
Stats courtesy of Basketball Reference.