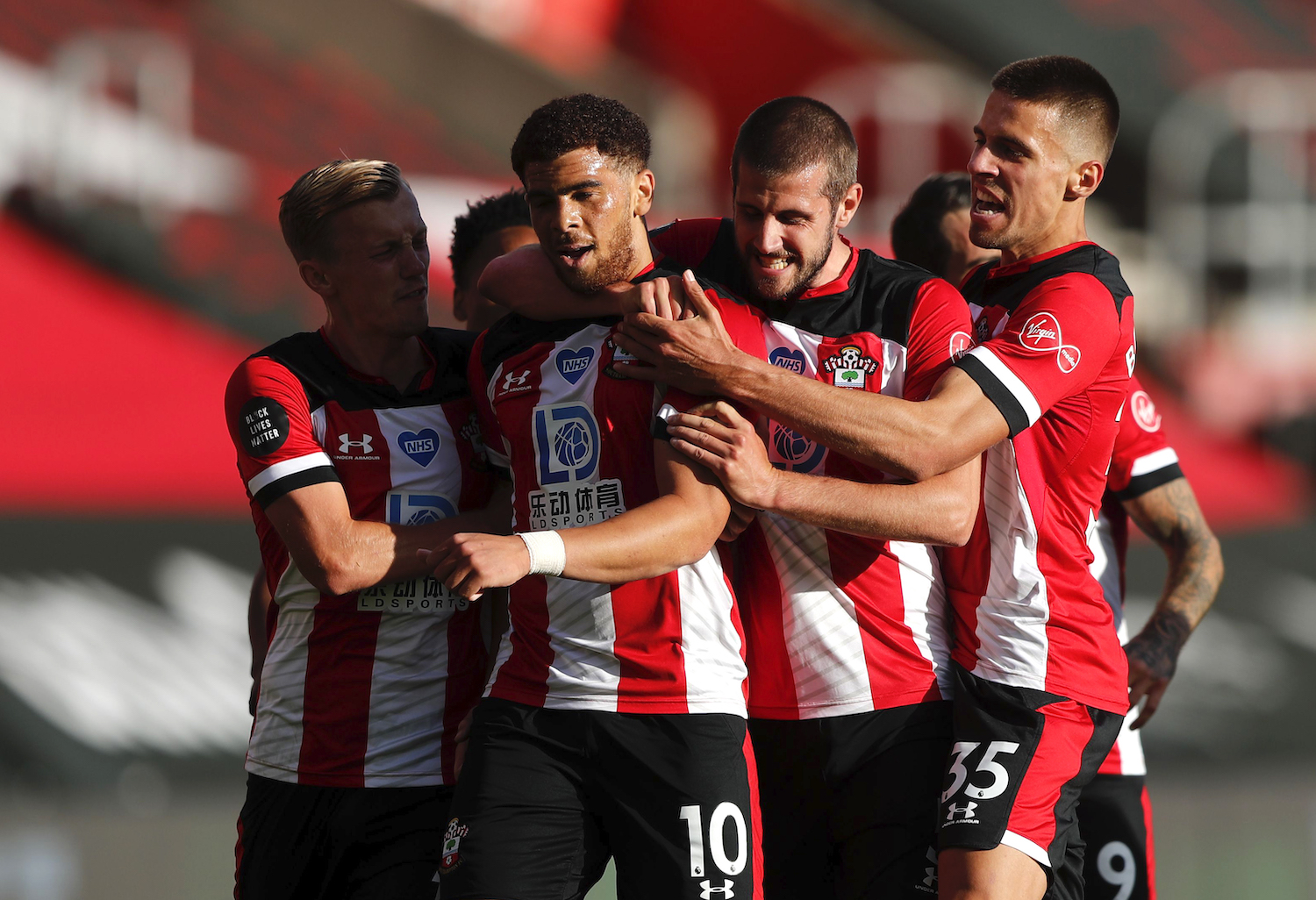 Southampton's Che Adams Scores Wonder Goal Against Manchester City
Southampton's Che Adams has struggled in his first season with the Saints going scoreless in 30 appearances. Adams spectacularly ended his scoring drought with a wonder goal against Manchester City.
Southampton's Che Adams hasn't had the kind of season anyone expected when he signed a five-year contract with the soccer club in July 2019. On Sunday against Manchester City, Adams finally ended his season-long drought in spectacular fashion scoring a wonder goal in what has to be considered a Premier League Goal of the Year candidate.
Che Adams makes his way up the ranks
Five years ago, Che Adams was playing in League One for Sheffield United, where he tallied 11 goals in 36 appearances. Just one game into the start of the 2016-17 season, Adams signed a three-year deal with Championship side Birmingham City.
At Birmingham, Adams made 40 appearances in his first season where he notched seven goals. In 2017-18, Adam saw less time on the pitch due to a couple of hamstring injuries. As a result, his scoring dropped to just five goals in league play. 
In 2018-19, Adams was fully healthy, and it showed. In his 46 league appearances, the 22-year-old was much more aggressive in the attack. In February, he scored six goals, which brought his season total to 21, making him the first Birmingham player to score 20 goals in a season since Steve Claridge did it back in 1994-95. Adams was named player of the month and finished the campaign with 22 goals. More significantly, his offensive production that season generated interest from numerous clubs in the top flight.
Che Adams joins Southampton and struggles 
In July 2019, Southampton signed Che Adams to a five-year contract worth a reported $18.25 million. Adams made his Premier League debut on August 10 in a 3-0 defeat against Burnley.
Adams started the first six games of the Premier League and failed to score. Unfortunately, Adams' struggles were exacerbated because the Saints struggled as a team, recording just a couple of wins in that same six-game stretch. 
After his early-season struggles, manager Ralph Hasenhüttl benched Adams in favor of Danny Ings. Ings came in and did precisely what Hasenhüttl had expected of Adams. He scored goals. In his 32 Premier League appearances in 2019-20, Ings has tallied an impressive 18 goals. Meanwhile, Adams has stayed on the bench.
Adams scores wonder goal and Goal of the Year Candidate
Heading into the home fixture against Manchester City, Che Adams had made 22 appearances, most of them off the bench. In a change, Hasenhüttl inserted Adams into the starting 11 for his first start since December 28. 
The 23-year-old, who turns 24 on July 13, rewarded his manager in the 16th minute. That's when Manchester City's Oleksandr Zinchenko got sloppy on the possession and misplayed a pass near midfield. Adams saw the mistake and pounced.
In one fluid motion, Adams quickly glanced down the field at Man City keeper Ederson, then caressed the ball with his right foot from 50 yards out. The ball started well outside the frame but deftly curled inside and over a helpless Ederson's head bounding into the back of the net to give the Saints a 1-0 lead. 
Adams' teammates all gathered around to congratulate him for his first-ever Premier League goal, and his first score in 35 appearances dating back to his time at Birmingham City. It was his fourth shot on target all season. For Adams, the goal will be remembered as his first in the Premier League. For Southampton fans and the rest of the Premier League, it will be remembered as one of the best goals of the year.