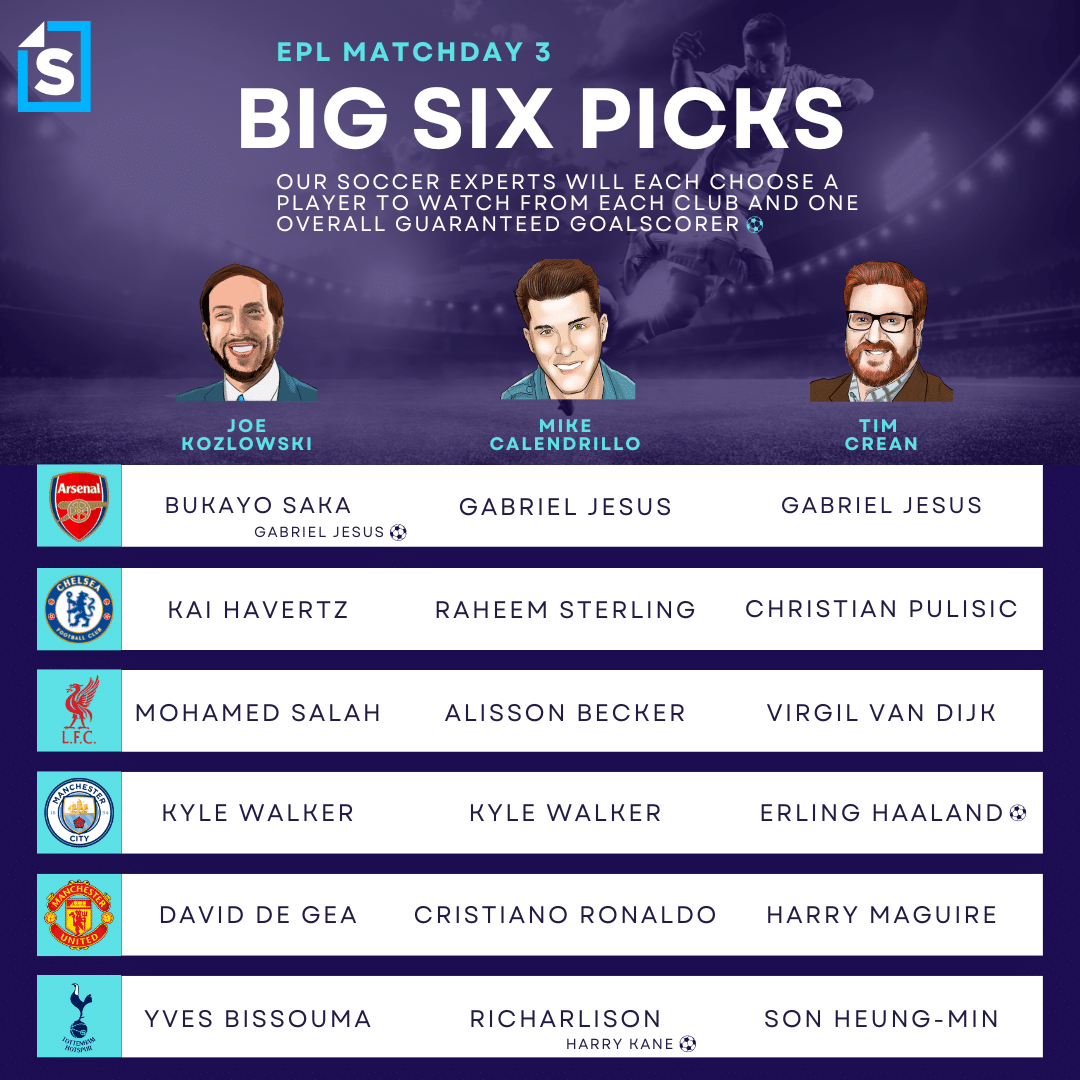 Sportscasting Big 6 Picks: Premier League Matchday 3
Want to know who to watch during this weekend's Premier League action? Our Sportscasting soccer experts have you covered.
As a North American soccer fan, it's easy to be spoiled for choice. While things have become a bit tougher recently (thanks, NBC), there are plenty of options at our fingertips every weekend. Beyond your favorite club, there are usually eight other Premier League matches going on in a given weekend. Which ones should you pick, and, within those, where is the best place to focus your attention?
With that in mind, Sportscasting's soccer brain trust has come together to create "Big 6 Picks." Each matchday, we'll give you a player to watch from each of the league's biggest clubs, plus a guaranteed goal scorer for good measure. Think of it as your Premier League cheat sheet; if you find yourself watching a match, let's say Arsenal-Bournemouth on NBC, and don't know a thing about the Gunners, we'll have you covered.
With that out of the way, let's get into it.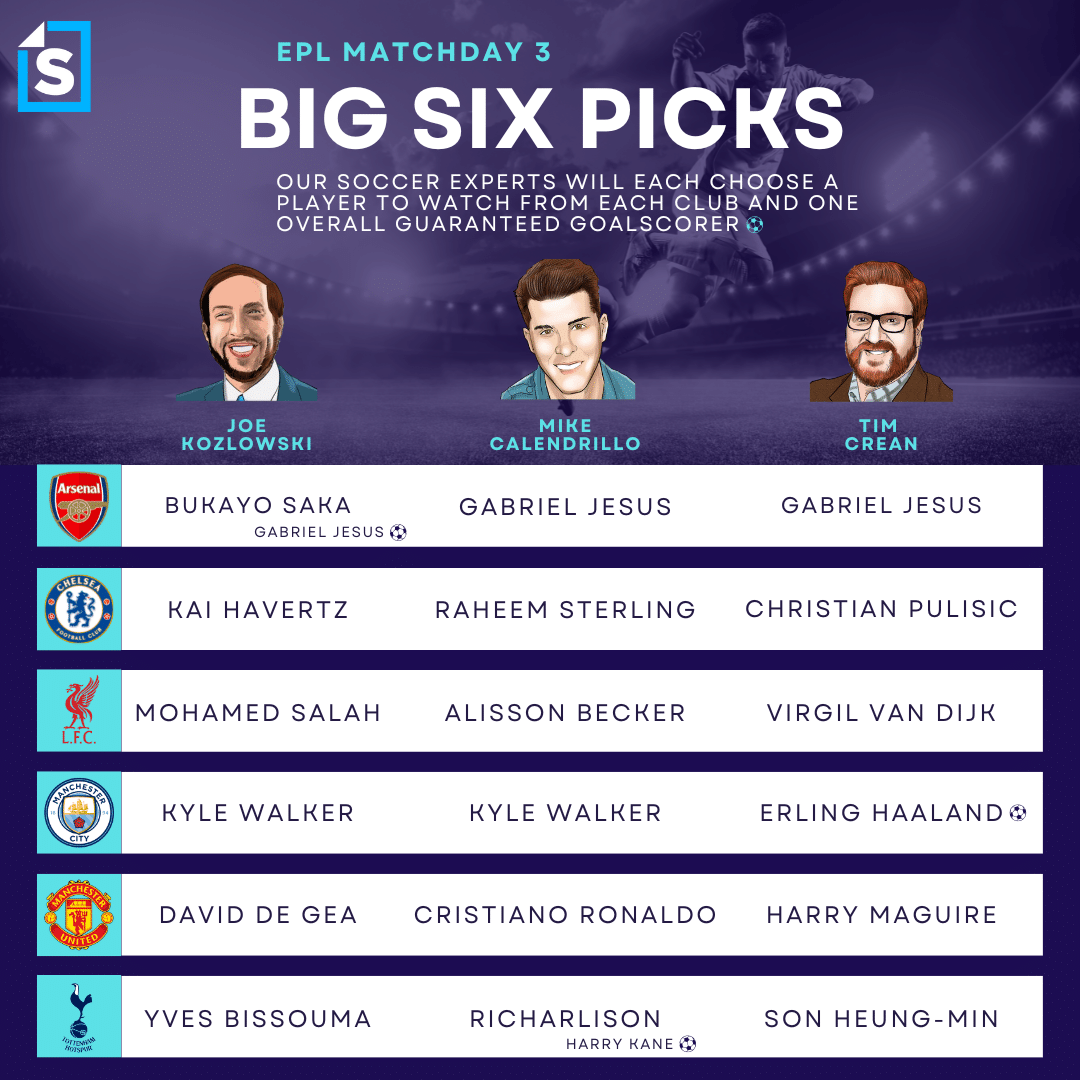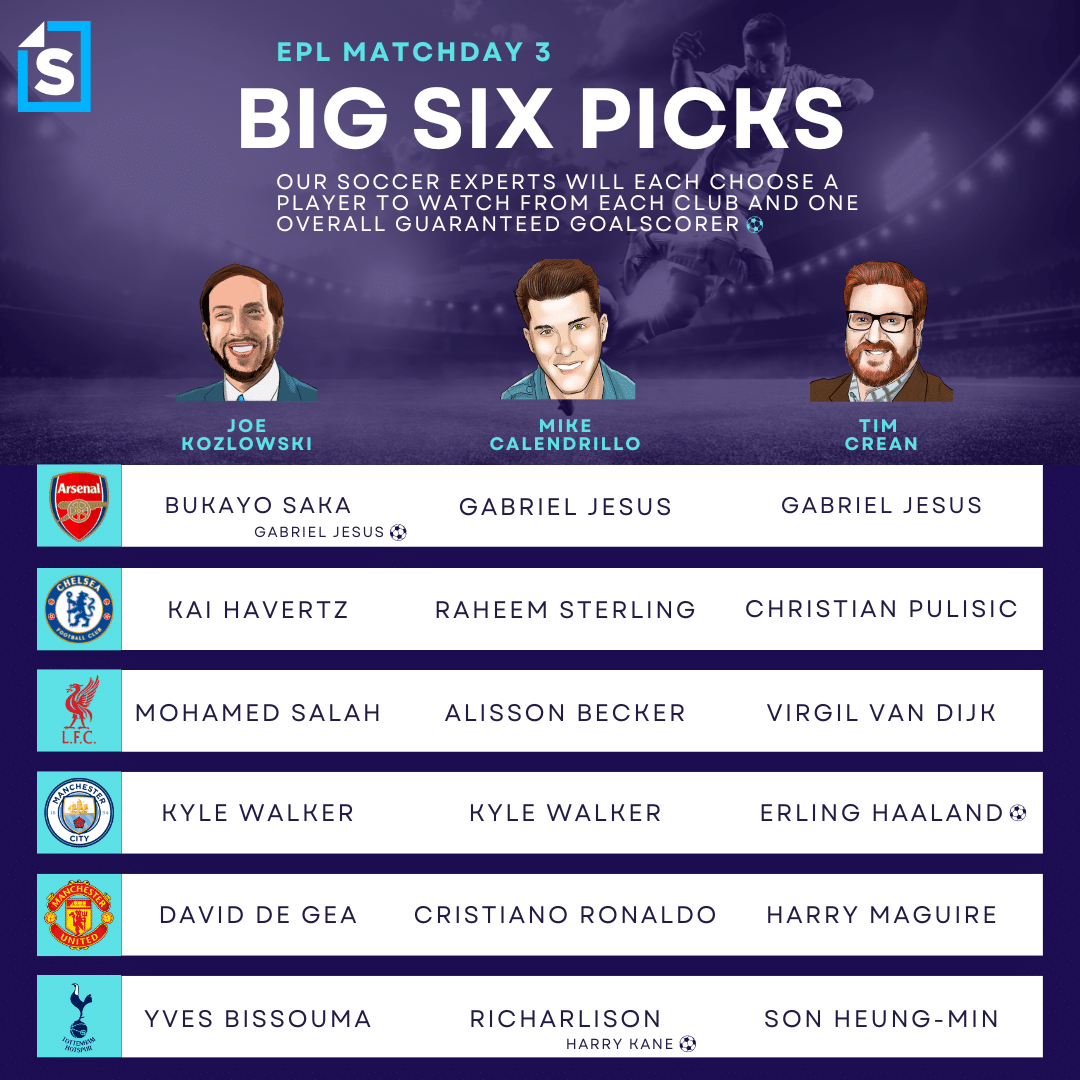 Tottenham Hotspur vs. Wolves
Joe Kozlowski: Yves Bissouma – Against Chelsea, Spurs' midfield two looked static and unable to create anything moving forward. Bissouma, should he be fit to start, can change that dynamic.
Mike Calendrillo: Richarlison – When Antonio Conte changed shape and brought on Richarlison for Ryan Sessegnon in the 57th minute versus Chelsea, Spurs were finally able to keep possession, move into Chelsea's final third, and score twice in the matter of 39 minutes. Currently a super-sub, should Spurs start off slowly once again, this time in North London, expect the $63.8M summer transfer to make his presence known.
Tim Crean: Son Heung-Min – Spurs are always best when Son and Harry Kane are both playing well. Kane got his first goal of the season vs. Chelsea, now Son needs to get off the schnide against Wolves. 
Arsenal vs. Bournemouth
Joe: Bukayo Saka – While he's yet to get on the scoresheet himself, the young winger has played well in both of Arsenal's wins. On Saturday, he'll have a great chance to get off the mark.
Mike: Gabriel Jesus – Since coming over from Man City this summer, Gabriel Jesus has yet to put in a poor performance, and that includes preseason friendlies. Facing recently promoted Bournemouth could be a trap game for the Gunners, so anything less than three points led by Jesus, who finally looks to be reaching his potential, would be a real bummer. 
Tim: Gabriel Jesus – The Brazilian striker had some nice runs of form at Man City but could never put it together to become the go-to guy. If he plays well again this weekend, Jesus may be taking the step up with Mikel Arteta that he never could under Pep Guardiola. 
Chelsea vs. Leeds
Joe: Kai Havertz – Chelsea don't have an out-and-out striker, and the German missed a big chance against Tottenham. Can he step up and make amends?
Mike: Raheem Sterling – Taking on Leeds, in a rivalry that dates back to the 1960s, Sterling will either be up top opposite Kai Havertz or alone as the No. 9, a position that doesn't use his best attribute, his speed. However, there'll be no better time to ingratiate himself to Blues supporters than a goal or two at Elland Road. 
Tim: Christian Pulisic – Kai Havertz isn't the answer to anything. It is time to give Captain America a try up front and see if that helps Chelsea's anemic offensive so far this season. And, worst case, it can be a showcase for a transfer or loan. 
Manchester City vs. Newcastle
Joe: Kyle Walker -Pep Guardiola usually uses his fullbacks like midfielders, but Walker will have his hands full facing the tricky Allan Saint-Maximin.
Mike: Kyle Walker – City have yet to allow a goal this season, but they also haven't faced a winger with the pace and dribbling ability to disrupt a contest like Allan Saint-Maximin. Walker can't allow Saint-Maximin abundant space or time to create for others. If Walker finds himself in a footrace, it will be a long day down the left side. 
Tim: Erling Haaland – This isn't an "oh no, Haaland didn't score in a 4-0 win last week" pick. The truth is, though, the young striker is still figuring out how to best fit in with a cohesive Man City side. This is a good match to keep trying things with Haaland before the first big match of City's season in three weeks against Tottenham.
Manchester United vs. Liverpool
Joe: David de Gea – After giving up four goals last week, the spotlight will be on United's goalkeeper. Can he handle Liverpool's high press?
Mike: Cristiano Ronaldo – He says he will tell the world the truth behind the lies in a few weeks' time (right after the transfer window shuts), until then, United only stand a chance against Liverpool if Ronaldo offers a vintage performance. Beating the Reds at home could very well change the course of the Red Devils' season.  
Tim: Harry Maguire – Letting up six goals in two games to Brighton and Brentford (not exactly the Arsenal "Invincibles" or Man City "Centurions") is unacceptable. It's time for Harry Maguire to prove his worth as the Premier League's most expensive defender and slow down the Liverpool attack.
Liverpool vs. Manchester United
Joe: Mohamed Salah – With Darwin Nunez suspended and Diogo Jota injured, Salah is the main man in Liverpool's attack. Look for him to cash in against a scattered United defense.
Mike: Allison Becker – While Allison can't take all the blame for allowing three goals in Liverpool's first two matches versus Fulham and Crystal Palace, he's about to face a Man Utd squad that has only found the back of the net once so far this campaign. Therefore, the Brazilian keeper can't let the pressure of grabbing just two points mount and try to outdo himself by making risky plays out from the back – as he is known to on occasion.
Tim: Virgil van Dijk – The EPL's previous most expensive defender also leads a defense that hasn't covered itself in glory yet this season. If VVD can stop the United attack (like Brighton and Brentford have done), Liverpool will have enough firepower to take this match home. 
Guaranteed goalscorer
Joe: Gabriel Jesus – After scoring twice and assisting twice against Leicester, look for Arsenal's new top gun to keep firing against newly promoted Bournemouth. 
Mike: Harry Kane – Coming off his 96th-minute, tying header versus Chelsea, Kane will keep the good times rolling against Wolves. One more goal will see him move past Sergio Aguero for fourth all-time in the Premier League, with Andy Cole at No. 3 just a stone's throw away. 
Tim: Erling Haaland – The big Norwegian heard the worried whispers and saw the derogatory tweets this week. Now he is going to stick it in everyone's faces vs. Newcastle on Sunday. 
Like Sportscasting on Facebook. Follow us on Twitter @sportscasting19 and subscribe to our YouTube channel.