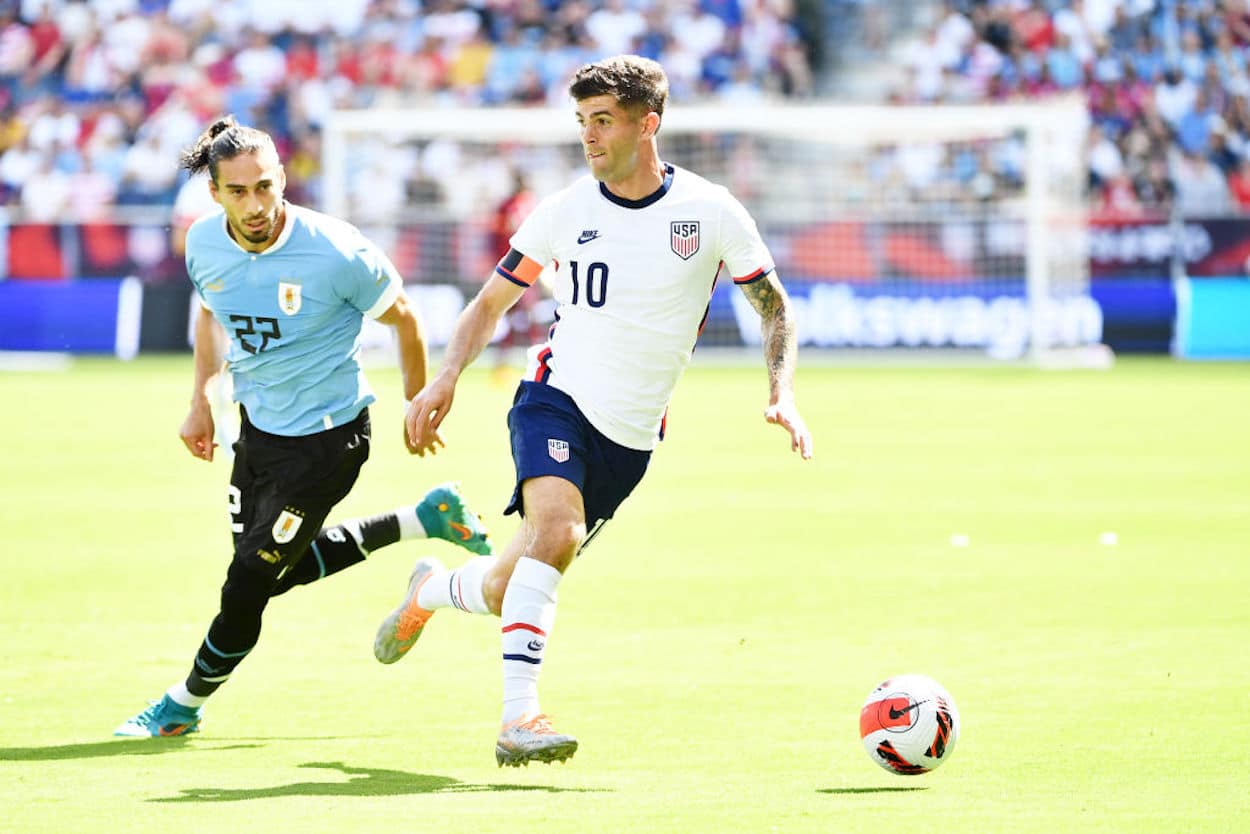 USMNT News: Christian Pulisic's Potential Loan Could Be a Game-Changer Ahead of the 2022 World Cup
With the 2022 World Cup getting closer, USMNT fans will be watching Christian Pulisic's potential loan move with bated breath.
Right now, most soccer fans are focusing on the new domestic season. Between the optimism of a fresh campaign and the fact that the transfer window is still open, it's tough to look beyond your favorite club and consider the big picture. There is, however, a World Cup taking place later this year, which adds an extra wrinkle to every move. Take, for example, Christian Pulisic and his potential loan.
While it's easy to only view things through a club lens — What would that mean for Chelsea? Which landing spots would represent a good fit for the American? — there's also something larger at play. Like it or not, the forward's immediate future could also affect the United States' chances at the 2022 World Cup.
Let's break down the potential implications.
Christian Pulisic has slipped down Chelsea's depth chart and is considering a loan
When Christian Pulisic and Thomas Tuchel reunited at Chelsea, it seemed like the perfect situation for the American attacker. In reality, though, his career hasn't exactly taken off.
Although injuries haven't helped, Pulisic has struggled to make an impact in the Premier League. He's slipped down the depth chart and, after this summer's business, has to compete with Raheem Sterling, in addition to Mason Mount, Kai Havertz, and others. That reality has seen the American appear in 31 minutes across the Blues' opening two matches.
With that reality looming large, rumors have emerged that the forward could leave Stamford Bridge on loan. According to The Athletic, Manchester United are interested in Pulisic, with Newcastle United, Juventus, and Atletico Madrid also approaching Chelsea.
While things have to work out for all parties, this summer has suggested that the Blues won't stand in a player's way if he's surplus to requirements and wants to move on. Both Romelu Lukaku and Timo Werner have left London, despite costing a pretty penny when they were purchased.
With a World Cup rapidly approaching, Pulisic's potential loan is essential for America's hopes
Under normal circumstances, Pulisic's loan would be a relatively small matter. Given this year's soccer calendar, however, it's a much bigger deal.
With the 2022 World Cup coming up in a matter of months, the forward's loan will also affect the USMNT. Pulisic, even if his domestic form hasn't been great, is one of America's top attacking talents, and he'll be a key part of anything the squad accomplishes in Qatar.
Ideally, a good loan spell would provide Pulisic with a chance to simply get some minutes in his legs and build up his confidence. Even if he's one of the team's top talents, you don't want him entering the tournament cold. For better or worse, the realities of pool play don't provide much room for error. If Team USA isn't at its best against Wales and England, the third match against Iran could be materially irrelevant.
Through that lens, American supporters will be watching the forward's future with bated breath. Moving to Manchester United, for example, could provide an immediate opportunity to make a difference on a team in dire need of help, but it's also a rather toxic environment at the moment. Would a spell at Old Trafford boost Pulisic's confidence ahead of the World Cup? Or would it be a dispiriting experience where he sits on the bench behind Jadon Sancho or Marcus Rashford?
With Qatar on the horizon, that's the sort of realities that enter the equation.
Similar questions could be raised for the other interested clubs. Newcastle represents a positive environment at the moment, but it's unclear if Pulisic would replace Miguel Almiron in the starting 11 since they're different sorts of players (he's not going to unseat Allan Saint-Maximin). He could also view the Magpies as a step backward, despite their upward trajectory.
Breaking into the Atletico Madrid lineup can be tricky — just ask Lucas Torreira about his loan there — and Diego Simeone, for all his success, probably isn't the coach to jump-start a winger's scoring touch.
Juventus, however, could represent an interesting opportunity. There's room on the depth chart — at least until Federico Chiesa is fully fit — and Giorgio Chiellini has publicly urged his former club to consider the winger (h/t ESPN). Serie A would probably also allow the American to recover some of his lost form and build a bit of confidence and let him play with Weston McKennie. CBS Sports' Ben Jacobs has reported that Pulisic would be interested in the move, so Italy could be the space to watch.
At this point, it's unclear what the future holds. An entire nation's worth of soccer fans, though, will be waiting for Pulisic to make his decision. This potential loan will do more than affect his 2022-23 campaign; it could change America's fortunes in Qatar.
Like Sportscasting on Facebook. Follow us on Twitter @sportscasting19 and subscribe to our YouTube channel.