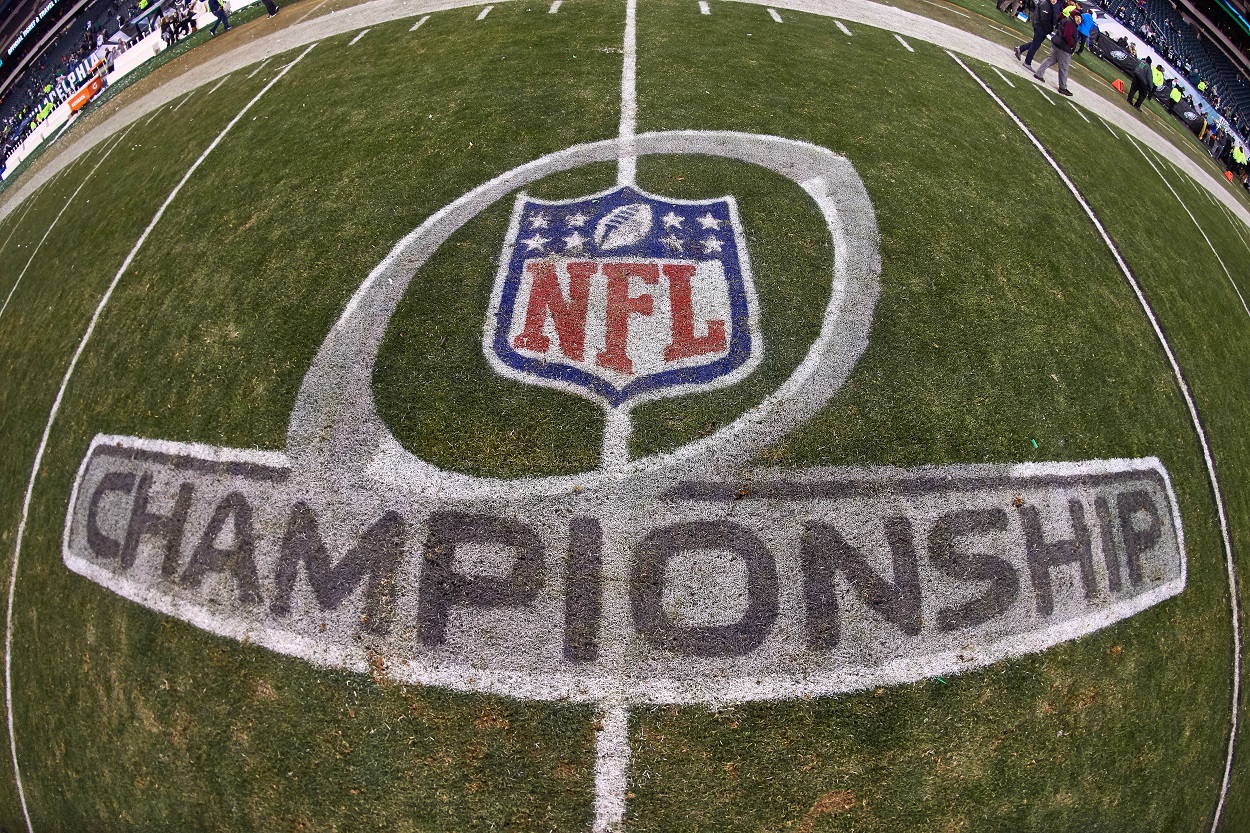 Sportscasting NFL Conference Championship Staff Picks
The Sportscasting NFL staff picks winners for this weekend's conference championship games.
After a bit of a lackluster start to these NFL Playoffs on a Super Wild Card Weekend that wasn't really all that super, the Divisional Round more than made up for it with four thrilling football games that dwindled the postseason field from eight to four.
On a weekend where both top seeds, the Tennessee Titans and Green Bay Packers, and the defending champion Tampa Bay Buccaneers were all eliminated, all four matchups were decided on the game's final possession. Last-second field goals decided the first three, all won by the road team, while the fourth — the epic battle between the Kansas City Chiefs and Buffalo Bills — was simply one of the greatest games in NFL history.
So I think it's fair to say the AFC and NFC Championship games have a lot of work to do to match up. But with the four teams we've got left, there's certainly a chance. Here's a quick look at what we'll all be watching this Sunday.
(4)Cincinnati Bengals at (2)Kansas City Chiefs — Sunday, January 30, 3:00 p.m. Eastern — CBS
(6)San Francisco 49ers at (4)Los Angeles Rams — Sunday, January 30, 6:30 p.m. Eastern — FOX
And here's who the Sportscasting NFL writers see taking that final step to Super Bowl 56.
AFC Championship: (4)Cincinnati Bengals at (2)Kansas City Chiefs
Brandon Austin: The Bengals have been a great story in 2021. What an incredible run it's been. It ends here, though. It's hard to beat the Chiefs once, let alone twice. I don't see Patrick Mahomes letting it happen again. I see another shootout with some more Mahomes Magic to pull away late. 
Tim Crean: This is not (entirely) based on being a disgruntled Buffalo Bills fan, but give me the Cincinnati Bengals. Joe Burrow and Ja'Marr Chase shocked the world once at LSU, and they are poised to do it again by upsetting the Kansas City Chiefs. On paper, the Chiefs have most of the advantages, but so did the Titans, Buccaneers, Packers, and Bills last week. The Bengals just keep finding a way to get it done, despite the odds, and that will continue for another week as Who Dey Nation gets back to the Super Bowl for the first time in three decades, 31-28. 
Jake Elman: Every part of my brain (the same brain that chose to be a New York Jets fan) says the Chiefs' hot streak will end on Sunday afternoon…and, yet, I'm still picking Kansas City to win at home. I don't trust the Bengals' defense to stop Mahomes, who remains well on pace to become the greatest quarterback in NFL history. I like Kansas City winning 35-14.
David Esser: I picked the Chiefs to beat the Steelers, I picked the Chiefs to beat the Bills, and I'm picking them to beat the Bengals. I absolutely love Joe Burrow and think he's good enough to make things interesting. However, Mahomes is ultimately the better QB, and Andy Reid is ultimately better than Zac Taylor. Plus, the Chiefs are at home. Make it three straight Super Bowl appearances for Kansas City. 
Jeff Goldberg: I want to believe in the Bengals keeping this ride going all the way to the Super Bowl, where they face the 49ers, and what a tribute to John Madden that would be 40 years after he called his first Super Bowl with those two teams. But the other history is the Chiefs going to a third straight Super Bowl, and they are only getting healthier the deeper they go. Joe Burrow is cool, but he's not 50-burger cool, and that might be what it takes to keep up. 
Andrew Kulha: After seeing what Patrick Mahomes and the Chiefs did to the Bills last weekend, I just can't pick against them. All Mahomes needed was 13 seconds. He's the grim reaper, and I'm not crossing him. Joe Burrow and Ja'Marr Chase will have their time in the sun, but this won't be it.
Luke Norris: Every part of me wants to pick the Bengals here. And it's certainly not because I'm bored with the Chiefs and don't want to see them in a third straight Super Bowl. Come on. Anyone who watched that classic with the Bills can't truthfully say they're bored with Mahomes & Co. It's just that this Bengals story is better. But it'd be bonkers to pick against Kansas City after what this team has done lately, right? Well, we're gonna go the bonkers route anyway and take Cincy in an upset.
Matt Wadleigh: Joe Burrow is something else. Ja'Marr Chase is the Rookie of the Year. Joe Mixon and the rest of the Bengals are scary. However, Patrick Mahomes, Tyreek Hill, and Travis Kelce are an unstoppable force – just ask the Buffalo Bills. Mahomes was unbelievable in the best game ever seen against Buffalo, and that momentum carries over in a huge way. Chiefs win to head to a 3rd straight Super Bowl, 42-24.
NFC Championship: (6)San Francisco 49ers at (2)Los Angeles Rams
Brandon Austin: This one is a toss-up for me. The Rams are playing their best football at the perfect time. Matthew Stafford stepped up and silenced the doubters. Still, there's just something about San Francisco. The 49ers have had the Rams' number this year. I expect another close game throughout, but Deebo Samuel and the running game will be too much late in the game. Give me the Niners.
Tim Crean: The San Francisco 49ers left it all on the field against the Green Bay Packers last Saturday. As impressive as Kyle Shanahan's team has been down the stretch, the injuries are piling up, and the team won't be 100% vs. the LA Rams. On the other side, Sean McVay's squad is healthy and looking good, which will set up a Bengals vs. Rams Super Bowl with a 28-17 win. 
Jake Elman: Before the 2020 NFL season, we'd never seen a team play a Super Bowl, much less win one, in their home stadium. The Tampa Bay Buccaneers did it last year, and I like the Rams to at least reach the Super Bowl this year. Who would have guessed that Odell Beckham Jr. would play such a pivotal role in the Rams' championship hopes? I'll take the Rams, 24-13.
David Esser: This is a really hard game to pick. The Rams clearly have the better roster on paper. However, there's a bit of a magical element going on with Kyle Shanahan and the 49ers right now. They've pulled off back-to-back upsets and are clearly leaning into an "underdog" mentality right now. It won't be pretty, but I think San Fran pulls this one off, and we get a Super Bowl rematch from two years ago.
Jeff Goldberg: Turns out, beating a team three times in one season is the norm. Teams are 14-8 in such scenarios since the merger in 1970, including 2-3 on the road. Last year's Saints lost at Tampa Bay after winning the first two. Basically, the team that makes the fewest mistakes is probably going to win. And that is a real toss-up after the way the Rams tried to give Sunday's game away. I think the 49ers, fresh off their win at SoFi three weeks ago, will find a way to do it again.
Andrew Kulha: I've always believed that it's not always the best team that wins the Super Bowl but the hottest team. With that in mind, the 49ers have a ton of momentum right now after back-to-back road-dog upsets of the Dallas Cowboys and Green Bay Packers. Try as the Rams may, SoFi Stadium will still likely be split 50-50 between Rams and 49ers fans. The 49ers have a "do whatever it takes" attitude about them, and I'm thinking that means they're going to pull off one more upset win.
Luke Norris: I'm not even going to pretend that it ever entered my mind that the Niners and Rams would be playing for a third time this season — not with the paths each had to take to get to this NFC Championship showdown. But here we are. While truly happy to see Matthew Stafford get that pesky "he can't win a big game" monkey off his back with a huge victory over Tom Brady and the Bucs, I'm still going to pick against him and the Rams this week. Jimmy G is 6-0 against the Rams in his career, and I genuinely don't think LA can get past that loss it suffered to San Francisco three weeks ago — even with what they've done thus far in the postseason. Give me the 49ers here to set up a classic '80s Super Bowl.
Matt Wadleigh: This is the hardest game of the entire playoffs. Can you really trust Jimmy Garoppolo on the big stage? Can you trust Matthew Stafford? The Rams tried their best to cough up the game against the Buccaneers, and if it weren't for a bad Todd Bowles decision, Tom Brady would probably still be in the playoffs. Nonetheless, the 49ers Cinderella story – and Kyle Shanahan's 6-0 record against LA – is too much. Stafford tosses a couple of interceptions, and Deebo Samuel's magic continues. 49ers win, 23-16, to set up a 49ers-Chiefs Super Bowl once again.