Steelers Defender Passionately Defends His $14 Million QB Ben Roethlisberger Against Critics
Pittsburgh Steelers quarterback Ben Roethlisberger has heard it all from critics in the last year. They say the 39-year-old is too old, his arm strength isn't what it used to be, he can't move anymore, and his body is breaking down.
Despite all that, the QB is coming back for his 18th NFL season in 2021. He may not be the same signal-caller he was when he burst on the scene from the Miami (OH) University in 2004, but at least one Steelers player is sick of hearing about Roethlisberger's demise.
Ben Roethlisberger struggled at the end of the 2020 season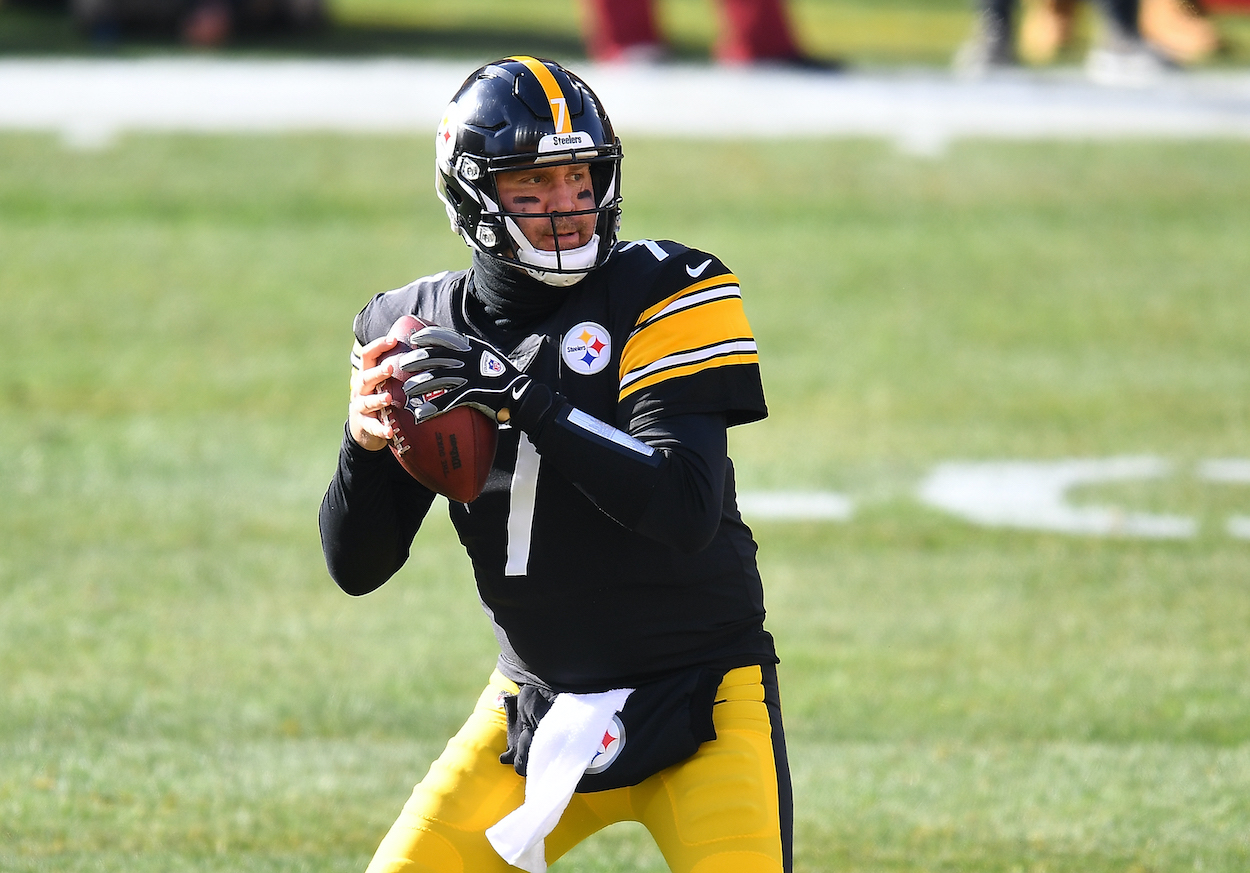 Roethlisberger is a six-time Pro Bowl quarterback and a two-time Super Bowl Champion. He is seventh all-time in passing yards and, if he can throw for just over 3,000 yards this coming season, the 6'5″ QB will move into fifth place.
In 2020, the Steelers started 11-0 as "Big Ben" threw for 3,803 yards, 33 touchdowns, and 10 interceptions. While these numbers look good on paper, there are worries. His yards per attempt last season was the lowest of his career at 6.3, save for 2019 when he played just two games.
Also concerning is that when the chips were down at the end of the season and teams took away his short passes, Roethlisberger responded poorly. He threw seven picks in his final six games and four in the Steelers playoff loss to the Cleveland Browns.
In order to stay with the team he has played for his entire career, Roethlisberger restructured his deal in the offseason. He took a $5 million pay cut for the 2021 season.
Steelers DL Cam Heyward came to his QB's defense
One Steelers defender, 10-year veteran Cam Heyward, has heard the criticism of his long-time teammate and isn't having it. The defensive lineman told the assembled media at Steelers OTAs:
When I hear the bad-mouthing about him being a not great quarterback and everybody is ready to elevate other quarterbacks, I'm like, what have they done? This guy is a proven winner, but yet we're ready to discount him.
He also said critics are "blowing it out of proportion" when it comes to Roethlisberger being done. Heyward believes all the offseason additions to the offense will help Roethlisberger in the coming year and propel the team to success.
The Steelers face stiff competition in the AFC North in 2021
Even if Roethlisberger has a great 2021 season and proves all his critics wrong, the Steelers still face an uphill battle in the loaded AFC North division.
The division produced three playoff teams in 2020 and features two of the best young QBs in the league. Both the Baltimore Ravens with Lamar Jackson and the Browns with Baker Mayfield, project to be two of the top teams in the NFL in 2021.
The Cincinnati Bengals, who finished 4-11 in 2020, are getting their promising rookie passer, Joe Burrow, back from a knee injury. They have also upgraded at both wide receiver and offensive line in the 2021 NFL draft. If Burrow can regain his form and take the next step in his development, the Bengals could be a team on the rise as well.
Facing this type of talent in their division, it will be difficult for the Steelers to return to the playoffs in 2021. If they can't reach the postseason, a lot of blame will likely fall on Roethlisberger's shoulders.
Just don't tell Cam Heyward that. He doesn't want to hear it.
All stats courtesy of Pro Football Reference
RELATED: Alejandro Villanueva Just Shifted the AFC North Power Balance by Leaving Ben Roethlisberger and the Steelers to Sign With the Ravens