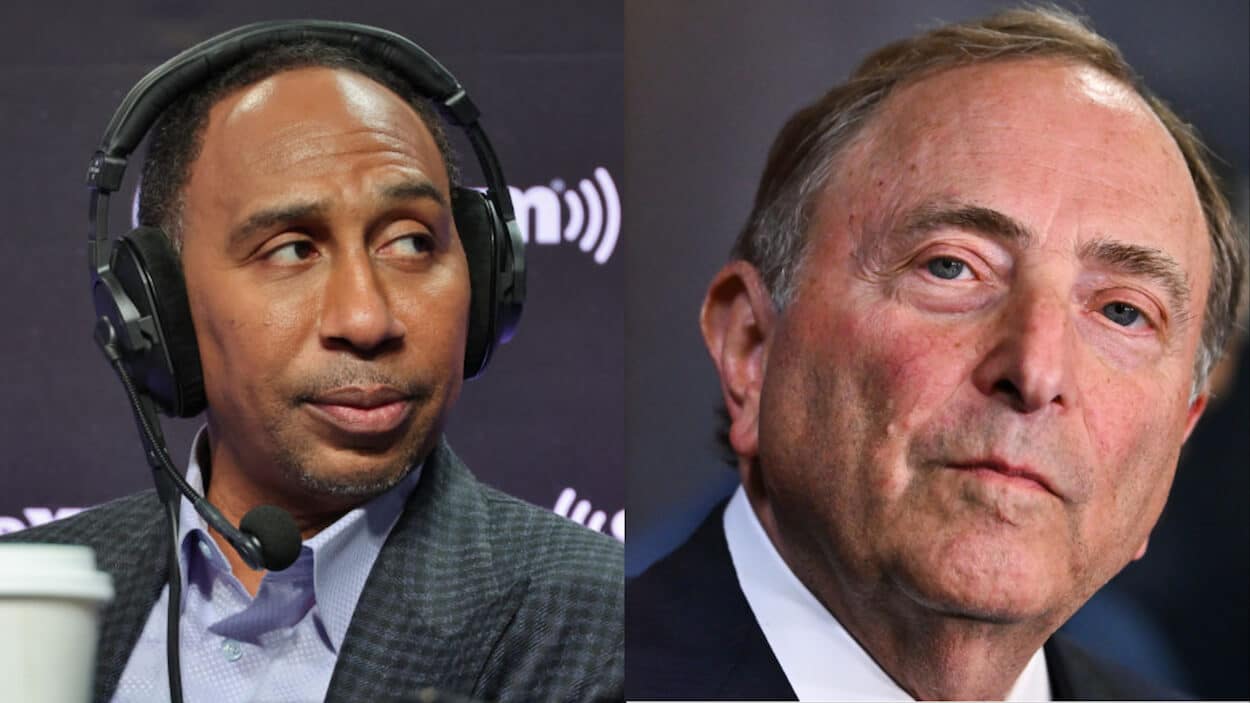 Stephen A. Smith Just Proved Gary Bettman Made a $2.8 Billion Mistake
Stephen A. Smith isn't one for subtlety, and he recently laid his feelings about hockey bare for all to see.
While hockey may be considered one of the big four North American sports, its place in that category can be tenuous. Things were supposed to change after a move to ESPN, though. Gone were the days of searching for NHL games on obscure channels; the ice game would (theoretically) get prime real estate on the Worldwide Leader. Approximately two years after the deal was signed, though, things still don't seem ideal.
Take, for example, Stephen A. Smith and Molly Qerim's reaction when Michael Kay mentioned the New York Rangers on First Take. The talking head — who, like it or not, is a major face of the network — admitted that he knows nothing about hockey and removed it from the show's purview.
Is that understandable? Yes, but you'd also expect more from a broadcast partner receiving somewhere in the neighborhood of $2.8 billion across seven years.
Stephen A. Smith and Molly Qerim weren't too interested in engaging with the NHL
While First Take might rub some fans the wrong way, the show is a key part of ESPN's presence in the sports media space. Through that lens, it's reasonable to assume the network would use Stephen A. Smith and company as something of a shop window. If there's something the viewers should know about, include it in the debate and let the viral clips take care of themselves.
On March 2, however, the opposite happened. Rather than promoting the NHL, First Take put a skate squarely in its metaphorical mouth.
Michael Kay, who hosts a New York City radio show in addition to serving as the Yankees' TV play-by-play announcer, appeared on the program and was asked which local team was the closest to a championship. As a hockey fan, Kay tapped the New York Rangers. Needless to say, that didn't warrant a warm response.
"Oh lord," Smith lamented before saying that his knowledge of hockey is limited to the color of the puck and his love of "buddy" Gary Bettman. Molly Qerim also interjected, adding that "[the Rangers] don't count."
The pair tried to run damage control — Qerim said that the visceral response wasn't "disrespect" but an effort to keep the discussion in Stephen A.'s comfort zone, to which Smith added "football, basketball, baseball" — and Kay gave a non-hockey pick.
The talking head also followed up on Twitter later in the day, insisting that he does support Rangers. Saying, "let's do that hockey," however, probably only increased the skepticism around his claims.
The genie, at this point, is already out of the bottle.
Despite Stephen A.'s declaration of friendship, Gary Bettman can't be happy with that segment
While Stephen A. Smith did make sure to shout out Gary Bettman (and I'd pay good money to watch the pair hang out at a hockey game), the commissioner can't be too pleased with what unfolded on First Take. Hockey's reputation isn't going to change overnight, but having a favorable relationship with ESPN would theoretically play a key role in reaching the masses.
And while the move the ESPN and Turner initially seemed like the perfect scenario — after years of bland coverage on the NBC family of networks, the NHL would theoretically have some money and personality behind its broadcasts — things seem to have gone a bit stale. As Sports Business Journal reported at the end of January, viewership numbers across both networks had fallen 22% in the second year of the deal.
Although there could be some mitigating factors, like carrying more games and Sunday action competing against the NFL for the first portion of the season, the numbers were still something of a punch in a gut. Even if digital numbers are moving in the right direction, ESPN broadcasts averaging roughly 400,000 viewers per contest is a punch in the gut.
Adding insult to injury is the sheer scale of the NHL's investment. According to a 2021 New York Times write-up, the league agreed to a seven-year deal with the Worldwide Leader, with the estimated cost clocking in at approximately $400,000 per year. Over the entirety of the contract, that totals to a shade under $3 billion.
It's not completely fair to blame ESPN for the poor viewership — I'm not naive to hockey's place in the hierarchy, and it will take plenty of systematic work on the league's side to change that — but you would expect a certain amount of effort from a $2.8 billion business partner.
Stephen A. Smith doesn't have to appear on the set wearing a full set of goalie gear, but maybe he, as one of ESPN's biggest individual names, shouldn't actively dismiss hockey on his show? How hard would it have been to ask a follow-up question and allow Michael Kay to spend 30 seconds explaining why the Rangers' trade-deadline acquisitions were exciting before shepherding the question into a more comfortable area?
To be clear, this isn't entirely an ESPN problem. As I alluded to above, the NHL can do a significantly better job of getting its own house in order by promoting stars, allowing players to show more personality, and making similar low-cost efforts. At the end of the day, though, the deal with ESPN doesn't seem to be doing exactly what anyone on the league's side of things would want.
Is that because of ESPN's promotion, or lack thereof? Is the majority of the fault on the NHL's side of things? Was signing this big-money broadcast deal and expecting things to change a bit premature? There's plenty of room for debate there.
At the end of the day, though, Stephen A. Smith's response on First Take suggests that the $2.8 billion going to ESPN might not be money well spent.