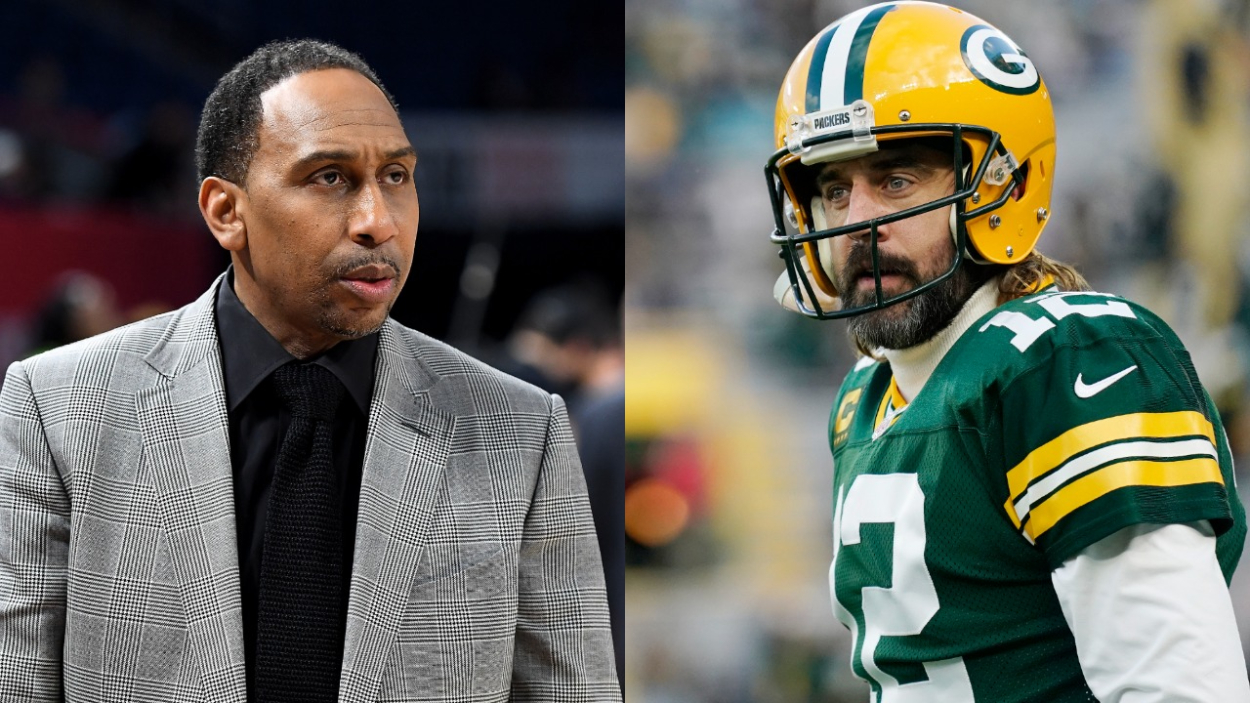 Stephen A. Smith Wastes No Time Challenging Aaron Rodgers After Historic Deal
After all the drama, Aaron Rodgers is staying with the Green Bay Packers on a massive deal. Stephen A. Smith, though, wasn't necessarily impressed and instantly challenged him.
It seems like we have spent every waking moment the last year following the Aaron Rodgers–Green Bay Packers saga. Is he staying in Green Bay? Will he retire? What about a new team?
However, it looks like all that drama was for nothing. Rodgers is reportedly returning to the only franchise he has ever played for on a new deal.
But not everyone is impressed with his record-breaking contract. ESPN's Stephen A. Smith wasted no time putting the four-time MVP on notice after hearing of the news.
Aaron Rodgers is reportedly staying with the Green Bay Packers
After months of drama last offseason, Aaron Rodgers chose to stay with the Packers in 2021.
He then had a spectacular year. The 10-time Pro Bowler threw for 4,115 yards, 37 touchdowns, and four interceptions, and he won his fourth NFL MVP award, earning it for the second time in as many years.
However, this offseason, Rodgers' future was in question again following the San Francisco 49ers' upset win over the 13-4 Packers in the NFC Divisional Round. According to NFL.com's Ian Rapoport, Rodgers considered retiring and going to the Denver Broncos, but he has since reportedly agreed to a four-year, $200 million contract to stay in Green Bay.
He will become the highest-paid player in league history and has $153 million in guaranteed money coming his way.
So, how does Stephen A. Smith, a major Rodgers fan who coined the phrase, "He's a baaaaad man," feel about the news?
He's unimpressed.
Stephen A. Smith immediately challenged the Packers QB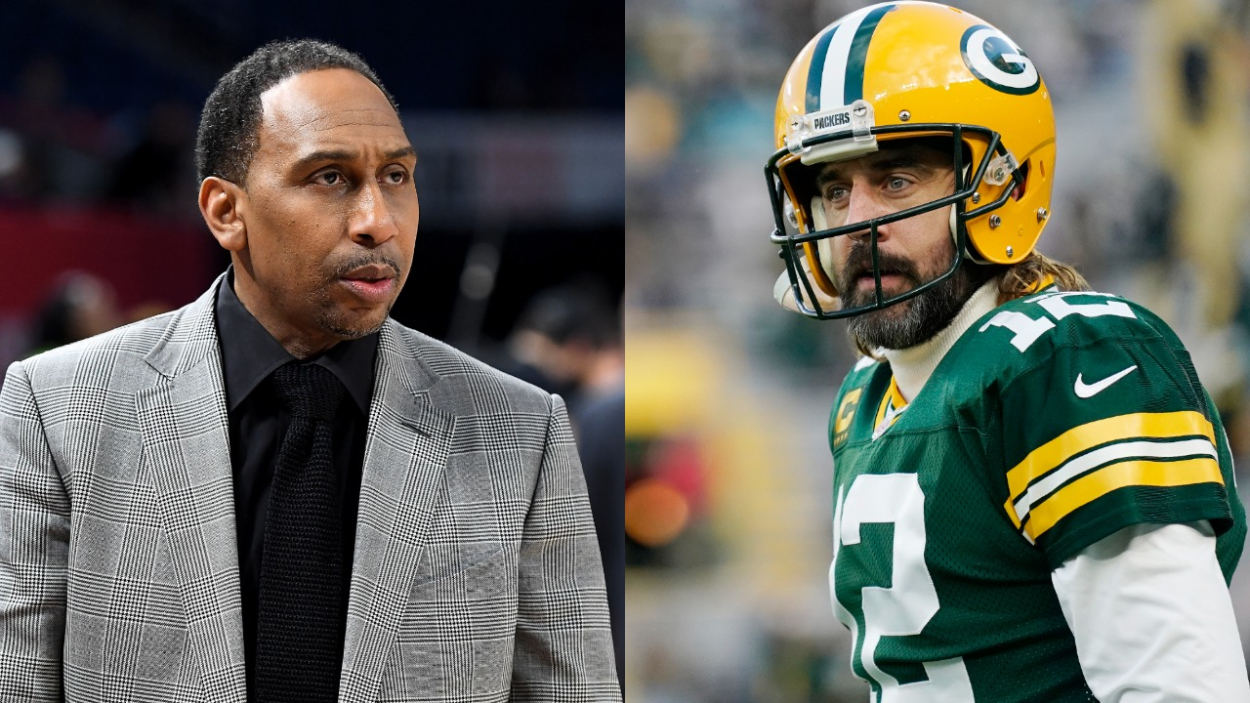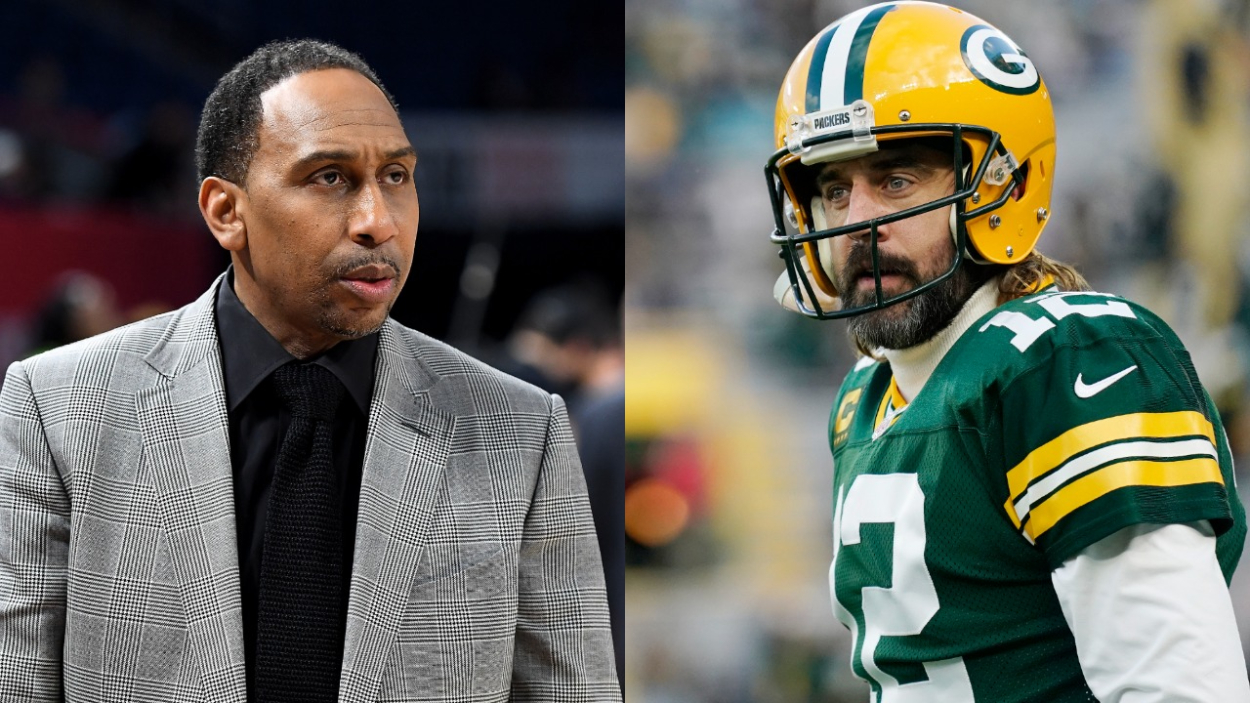 The news of Aaron Rodgers' deal broke while Stephen A. Smith was on First Take, and he gave his unfiltered response to the news.
But he wasn't as excited as some may have expected.
"So what?" Smith said on the March 8 episode. "Congratulations. So? Aaron Rodgers is phenomenal. He deserves every penny that he's getting. Congratulations. … I'm waiting for the Super Bowl. You got $50 million a year; can I get a chip?"
Smith continued praising the Packers star, explaining why he created his famous "bad man" phrase. But he wants Rodgers to accomplish one thing with this new deal: win another Super Bowl.
"He let me down," Smith said. "He let me down with the fake immunization, all of that other stuff. And then after that, to come in and wet the bed against Jimmy Garoppolo. … You got your money, bro. Congratulations, well deserved. You gonna win the chip? That is the question with Aaron Rodgers. Super Bowl or bust as far as his legacy over the next three, four years. You gotta win the chip."
Smith was brutally honest with his response, and his comments further proved that it's time for Rodgers to put up or shut up in Green Bay.
It's Super Bowl or bust for Aaron Rodgers
Aaron Rodgers led the Packers to a Super Bowl title in his third year as the team's starter in 2010. However, he has failed to live up to expectations (at least in the playoffs) year after year ever since.
Green Bay went 15-1 in 2011, and Rodgers won his first MVP award that year, but he and the Packers lost in the Divisional Round. The Cal product then won his second MVP in 2014, and he led his team to a 12-4 record, but they lost in the NFC Championship Game that season before later falling in back-to-back NFC title games in 2019 and 2020 despite having 13-3 records each year.
In 2021, Rodgers won his fourth MVP, and the Packers went 13-4. But the 49ers beat them in the Divisional Round.
The team hasn't been back to the Super Bowl since that 2010 campaign, which has been a significant blemish on Rodgers' legacy. He has played in the same era as Tom Brady, who has seven Super Bowl rings, so Rodgers' success has been, for the most part, underwhelming.
Many believe Rodgers is one of the most talented quarterbacks to ever live. That's likely why he got the record-breaking deal. But if he wants to hear his name mentioned with the likes of Brady, Peyton Manning, Joe Montana, and others, he needs to win another Super Bowl. 
This new deal will be considered a failure if he doesn't.
Stats courtesy of Pro Football Reference