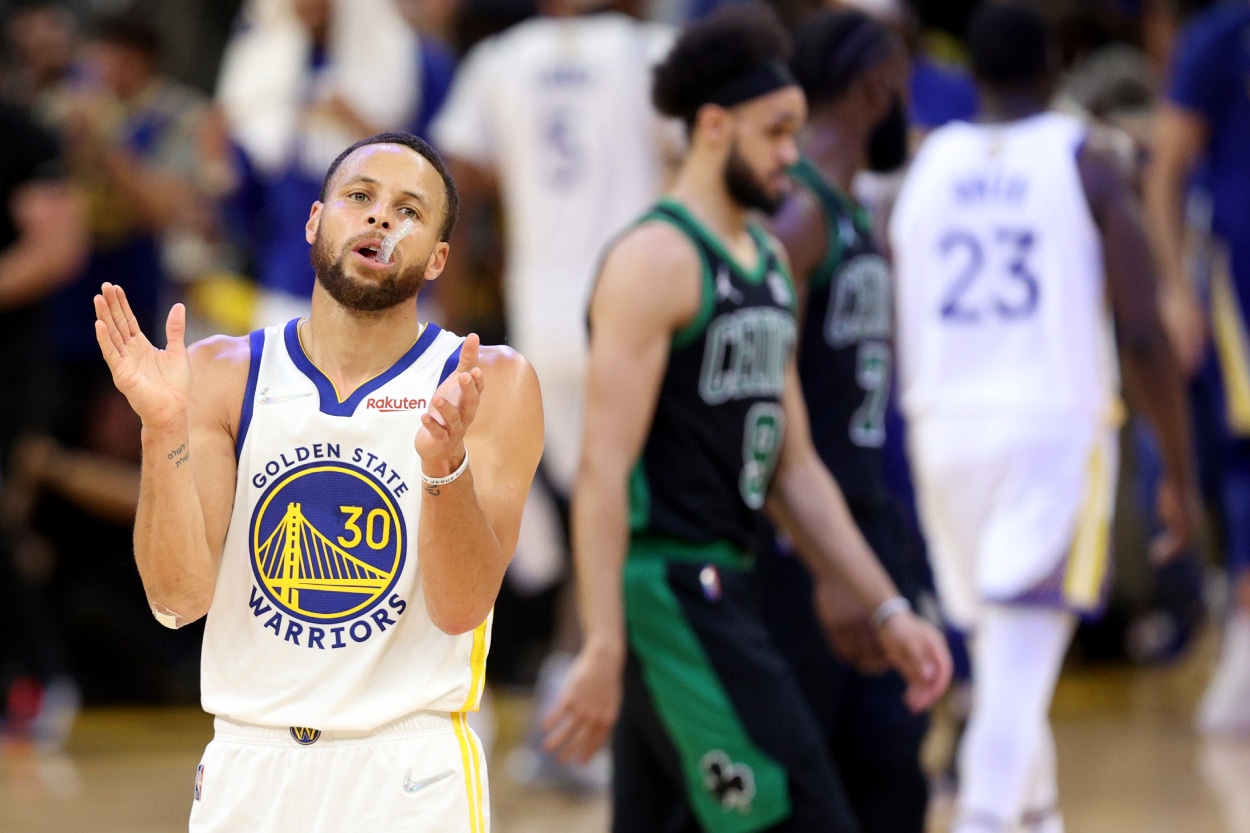 Stephen Curry's Game 5 Struggles Further Proved He's Not on LeBron James' Level
Stephen Curry is having a tremendous series in the 2022 NBA Finals. However, his Game 5 performance proved he's not quite on LeBron James' level.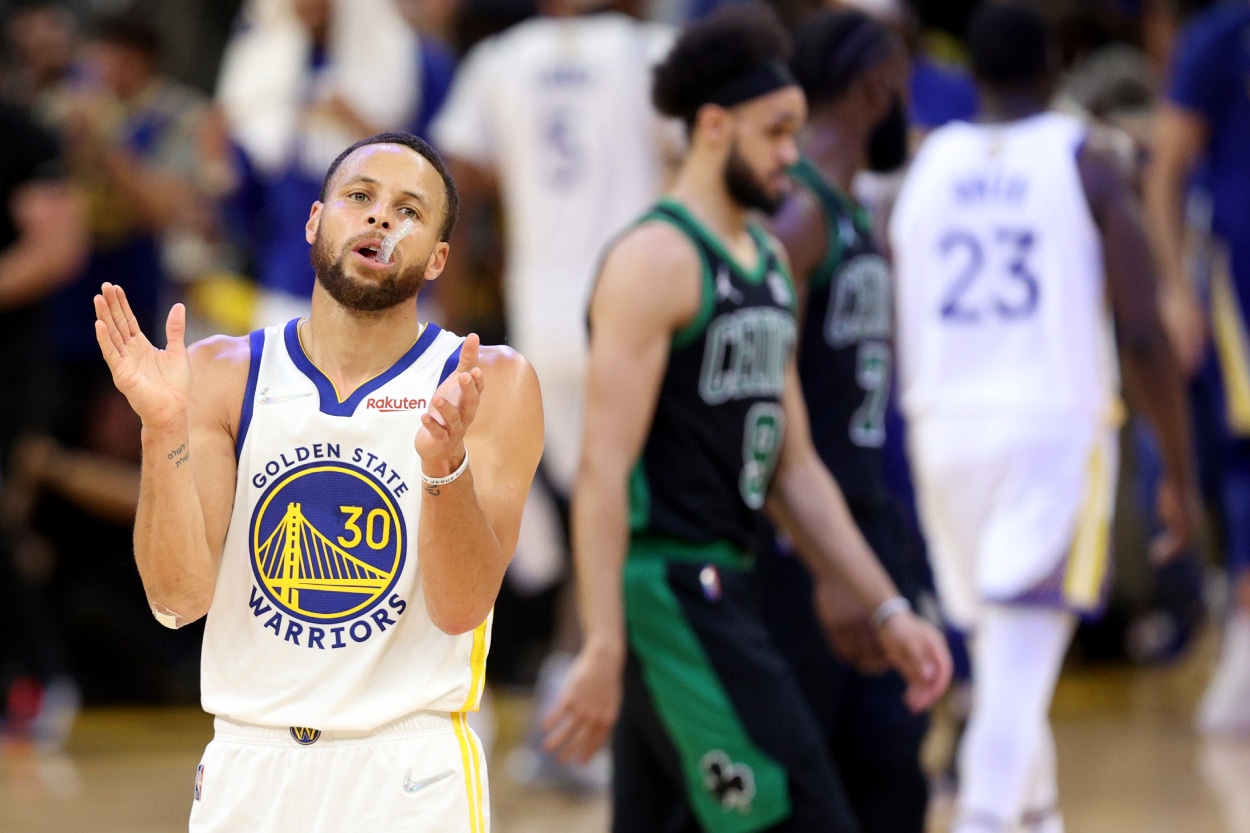 In Games 1 through 4 of the 2022 NBA Finals, Stephen Curry had given us LeBron James-type performances. His teammates who typically come through for him simply weren't, so he had to carry the Golden State Warriors to a couple of wins over the Boston Celtics.
Game 5 was a different story. Curry's teammates carried him, and he had one of his ugliest performances of this year's playoffs. It was just one game, and Steph is still one of the greatest players ever. But it further proved he isn't quite on the same level as LeBron.
Stephen Curry struggled during Game 5 of the NBA Finals
Stephen Curry had been having a tremendous series through the first four games of the Finals. He averaged 34.3 points on 50% shooting and even made 49.0% of his three-pointers. In Game 4, Curry dropped a whopping 43 points and 10 rebounds on 53.8% shooting, and he helped the Warriors tie things 2-2 with the Celtics.
Considering how great he played, there was an expectation that he would continue performing at that level heading into Game 5. But Steph isn't LeBron.
Curry (who at least recorded eight assists in the game) scored 16 points on 7-of-22 shooting. He also missed all nine of his three-point attempts.
Luckily for him, Andrew Wiggins went off. The No. 1 pick in the 2014 NBA Draft recorded 26 points and 13 rebounds, and he shot 52.2%. Klay Thompson added 21 on 50% shooting, and Gary Payton II had 15 with a 75% field-goal percentage. Those performances led to the Warriors winning 104-94, and they took a commanding 3-2 lead in the series.
Unlike Curry, LeBron James didn't have the luxury of his teammates carrying the load during the years he had to have all-time great performances.
James had to be on every night for his team to have a chance.
Steph isn't quite on LeBron James' level
As I wrote in a story following Game 4, Curry looked a lot like LeBron through the first four games due to the fact he was doing everything he could to lead his squad to a victory.
James averaged 35.8 points, 13.3 rebounds, and 8.8 assists against the Warriors in the 2015 NBA Finals. His Cleveland Cavaliers running mates, Kyrie Irving and Kevin Love, were both out due to injuries, which forced The King to have to do a little bit of everything.
In 2018, with Irving on the Boston Celtics and the Warriors adding Kevin Durant the previous season, James recorded 34.0 points, 10.0 assists, and 8.5 rebounds per game for the Cavs.
LeBron had to be on every night. Cleveland's weapons (or lack thereof) weren't enough to lead the team to victory. In 2015, none of his teammates averaged over 14.0 points in the series. James, on the other hand, dropped at least 40 in three of six games. He did have one poor shooting night in Game 4 but made his presence felt in several other areas, recording 12 rebounds and eight assists. Still, with the Cavs not having someone like Wiggins to take over, they lost that game.
During the 2018 Finals, James and Kevin Love were the only players to average at least 10.0 points. The four-time MVP had 51 in Game 1, and he never shot under 46.4% in a game, making at least 50% of his shots in three of four contests. James did everything he could to help his team win, but his solo efforts weren't enough.
Before Game 5 on Monday, the question of whether Curry deserved Finals MVP even in a potential Warriors loss started floating around. While it made for an interesting debate, it didn't consider the help Steph has actually had (especially when comparing him to LeBron, who maybe should have won Finals MVP during his 2015 loss). Andrew Wiggins and Klay Thompson are both averaging at least 18.0 points this series, and Jordan Poole is recording just under 13.0 per game. 
Curry deserves Finals MVP if the Warriors win, but Game 5 proved it's not just a one-man show. Unlike those Cavs teams, Golden State can win with a struggling Curry. Cleveland couldn't do that with a struggling LeBron.
Stephen Curry is on a higher level than every other player in the 2022 NBA Finals. But he's not up there with LeBron James.
Stats courtesy of Basketball Reference