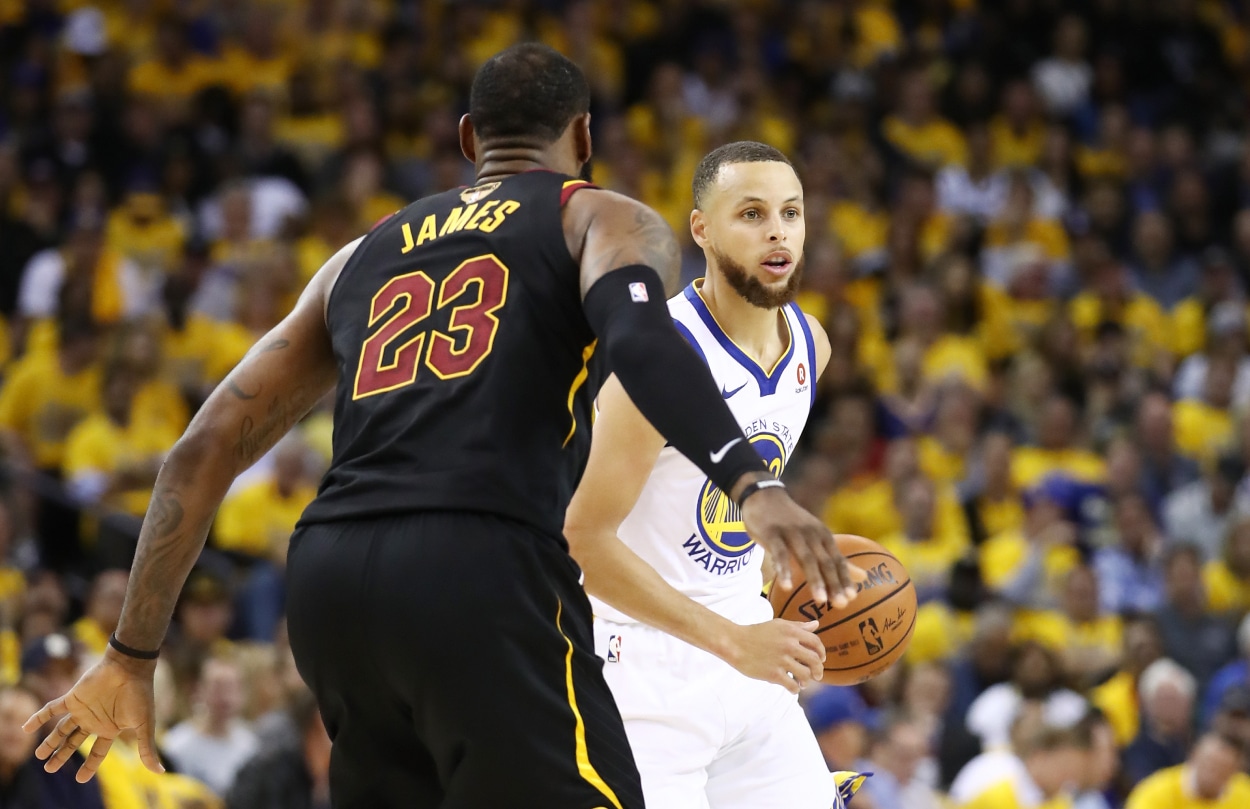 Stephen Curry Doesn't Compare to LeBron James, but His Recent Performances Do
Stephen Curry isn't as complete of a player as LeBron James. However, Curry's recent NBA Finals performances for the Golden State Warriors have been LeBron-like.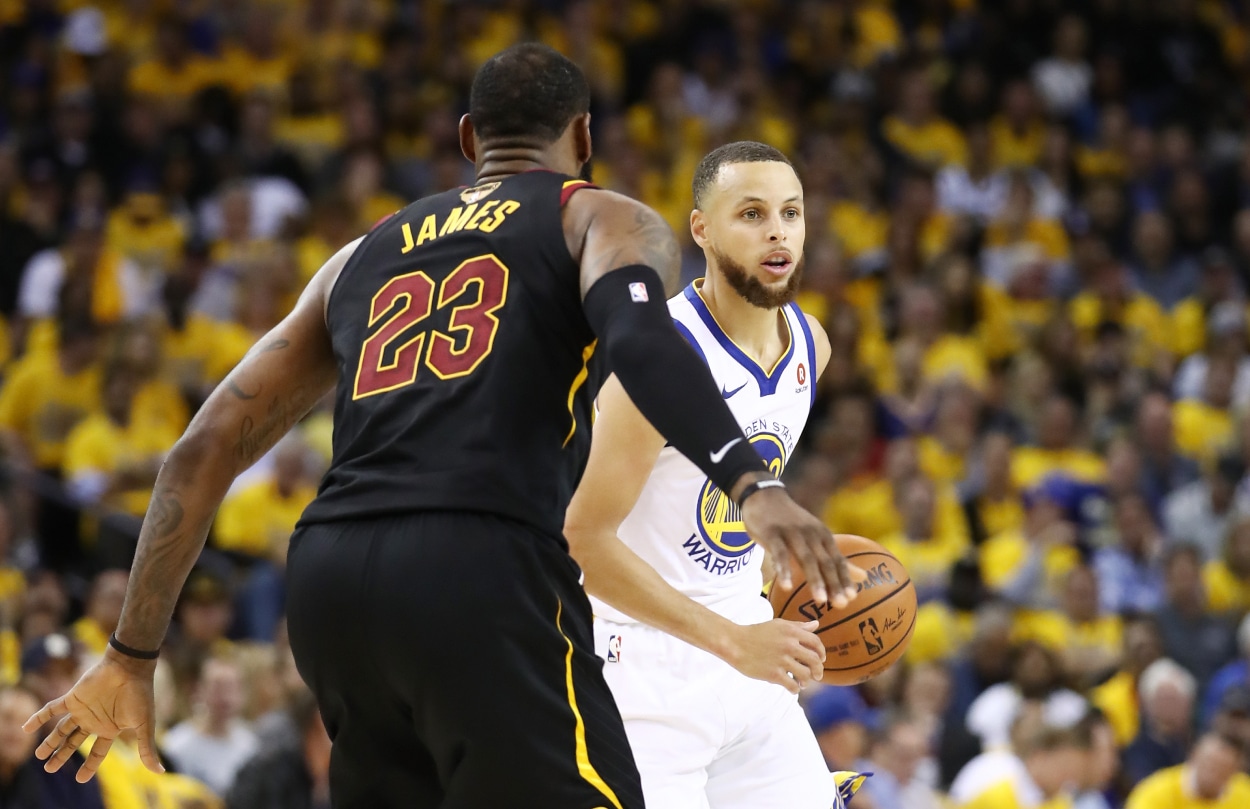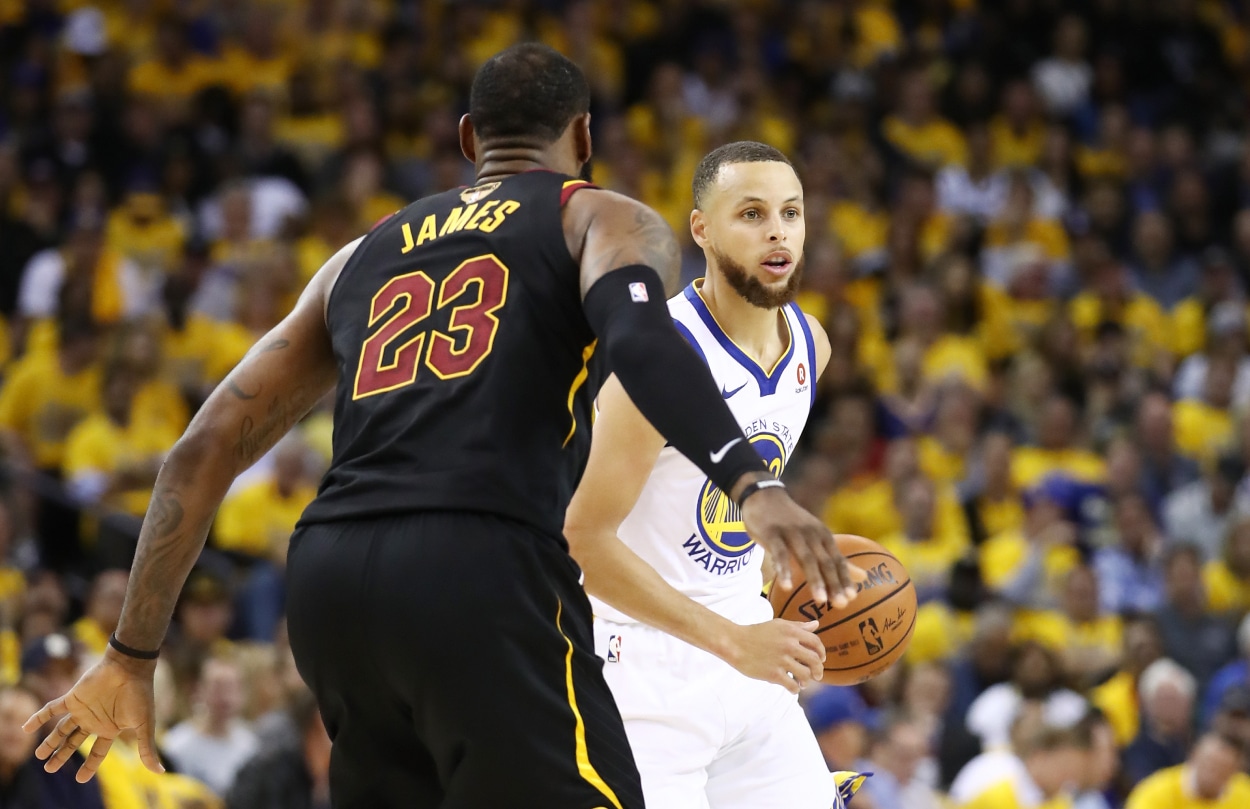 Like it or not, experts and talking heads typically bring up Stephen Curry in various conversations that also include LeBron James. James is by far the better player, but Curry's elite shooting abilities have changed basketball forever.
However, while Curry's talent doesn't actually compare to James' (the latter is a more complete player), his recent NBA Finals performances have been LeBron-like.
Stephen Curry is carrying the Golden State Warriors in the 2022 NBA Finals
The 2022 NBA Finals currently sit at 2-2 after the Golden State Warriors tied the series with a Game 4 win over the Boston Celtics.
But Stephen Curry is the only reason the Dubs are in this position.
Steph has been remarkable throughout all four games, averaging 34.3 points on 50.0% shooting. He dropped 34, 29, and 31 in Games 1, 2, and 3, respectively. And in Game 4, Curry had an all-time great Finals performance, recording 43 points and 10 rebounds. He also shot 53.8% from the field and made 7 of 14 three-pointers.
Whenever Golden State needed a bucket, Curry came through, and he often scored in moments when his teammates weren't providing him with much help at all.
While the Celtics have two players (Jayson Tatum and Jaylen Brown) averaging 22.3 points this series, Curry is the only Warriors star scoring more than 17.3 points per game. Of Golden State's top-four scorers in this year's Finals, he's also the only player making over 43.3% of his shots.
Klay Thompson has had an up-and-down series, shooting 35.8% from the field. Jordan Poole – who averaged 18.5 points this season – has been MIA since the middle of the Conference Finals, only recording over 15 points in two of his last seven games. Andrew Wiggins is playing well but isn't great from deep, and Draymond Green has been awful.
Curry is essentially doing everything he can to carry his team, and his performances have looked a lot like various games we have seen from LeBron James.
Stephen Curry is looking like 2007, 2015, and 2018 LeBron James
Most teams that make the Finals have multiple weapons to turn to, which should be the case for the Warriors. But none of Stephen Curry's teammates are consistently playing well this series. Golden State has been a one-man show, with Steph doing anything to give his squad a chance.
Sound familiar?
LeBron James has been in this situation countless times.
During the 2007 NBA Finals, in which the Cleveland Cavaliers lost 4-0 to the San Antonio Spurs, James averaged 22.0 points, 7.0 rebounds, and 6.8 assists. No other Cavs player recorded 13.0 points per game.
Then, there were the 2015 and 2018 Finals in which James actually went against Curry.
In 2015, Cavs stars Kyrie Irving and Kevin Love were both out due to injuries. James gave Cleveland a chance, taking the Warriors to six games by dropping 35.8 points, 13.3 rebounds, and 8.8 assists per contest. But no other Cavaliers players averaged over 14.0 points, and the Dubs won 4-2.
During the 2018 season, Irving had essentially forced his way off the Cavs and to the Celtics. So, James didn't have a true No. 2 scorer in the Finals that year, and he averaged 34.0 points, 10.0 assists, and 8.5 rebounds. The King even dropped 51 on 59.4% shooting in Game 1. However, while Kevin Love scored 19.0 points per game in that series, no one else averaged over 9.5, and Golden State won in four games.
LeBron did everything he could for those Cavs teams, but he simply didn't have enough help. Maybe Curry's teammates will step up in Games 5 through 7 (if the series lasts that long), but he has looked a lot like LeBron through the first four matchups.
If history proves anything, Stephen Curry and the Warriors can't continue going down this current path. If they do, the Celtics could end the series as NBA champions.
Stats courtesy of Basketball Reference