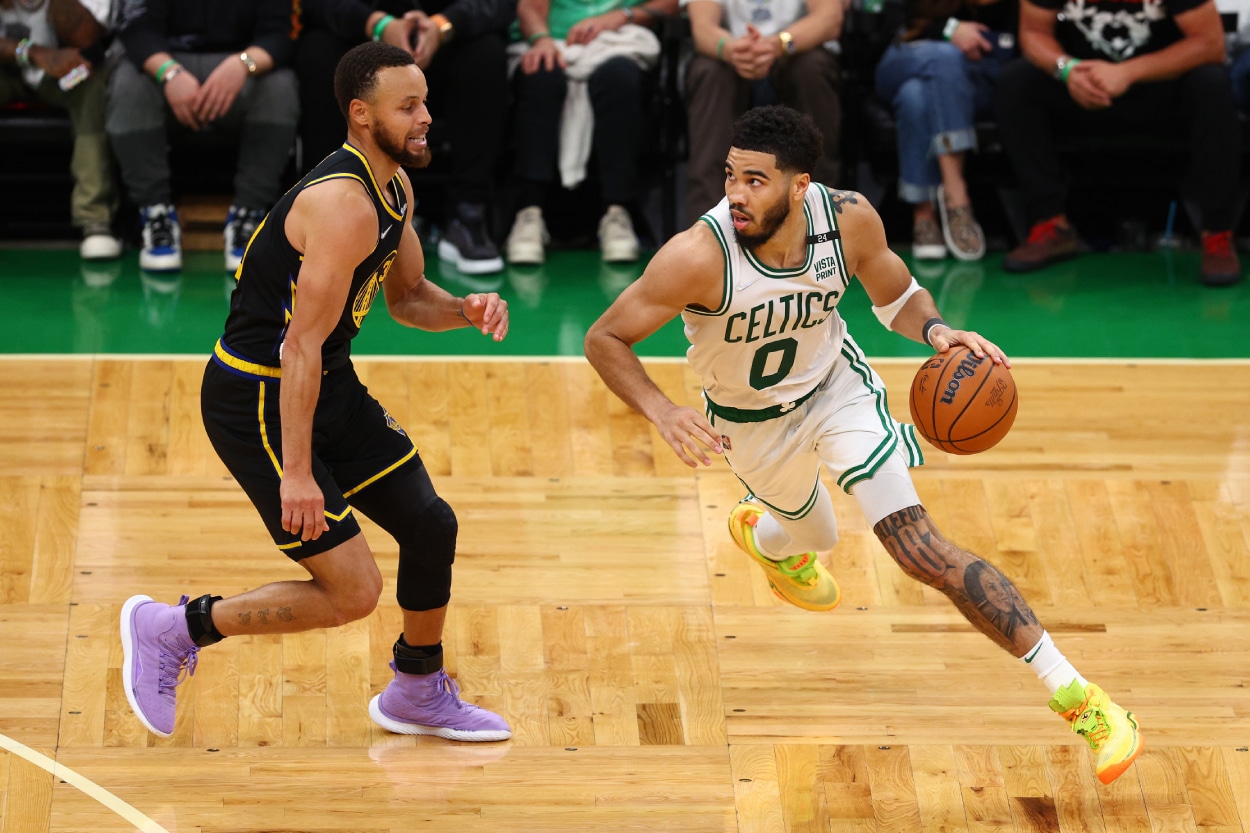 Stephen Curry Shows Jayson Tatum the Difference Between a Superstar and a Star
Stephen Curry continues to dominate when the Golden State Warriors need him the most.
Jayson Tatum is one talented NBA player. He's certainly done his part in getting the Boston Celtics over the hump and into the NBA Finals. Tatum's a star among stars. He's just not a superstar yet.
Stephen Curry is a superstar. He's shown it through the first four games of the 2022 NBA Finals. In Game 4, a road game the Golden State Warriors desperately needed, Curry put the team on his back. He showed Tatum the difference between a superstar and a star Friday night.
Stephen Curry took charge as the Golden State Warriors reclaimed homecourt advantage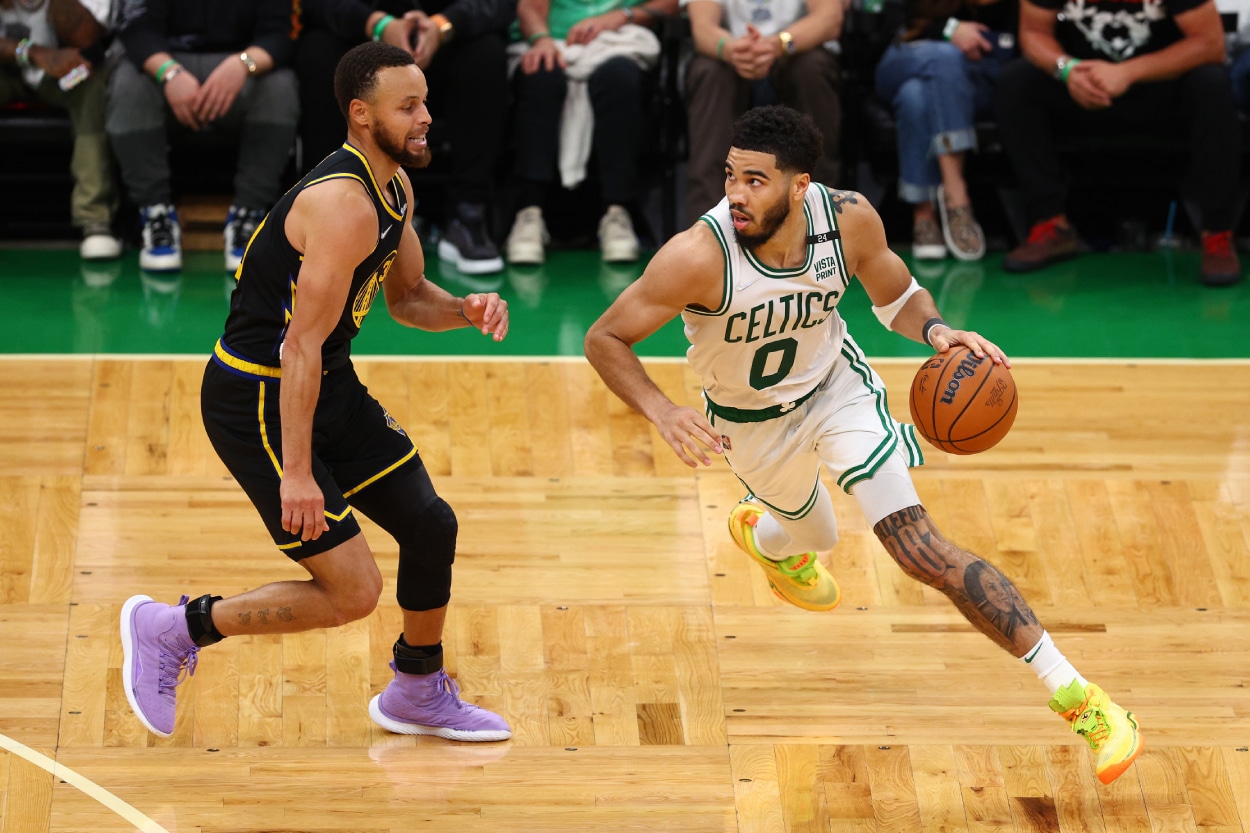 Playing on a sore foot that he injured Wednesday night in Game 3, Curry dominated Friday night to get his team back even in the series at two games apiece. The 12-year veteran put up 43 points, and singlehandedly led the Warriors.
In this series, Curry has scored 34, 29, and 31 points before his 43-point outburst Friday. He's done it with very little help. The other two of Golden State's so-called Big Three — Draymond Green and Klay Thompson — haven't provided much help. Green has been non-existent in the series. Thompson has been erratic.
Thompson and Green showed their appreciation for their superstar.
"The heart on that man is incredible," Thompson said after the game, per ESPN. "The things he does, we kind of take for granted at times, to go out there and put us on his back. We've got to help him out on Monday."
"He wasn't letting us lose. That's all it boils down to," Green said. "I could tell in his demeanor, last couple of days, even after Game 3 that he was going to come out with that kind of fire."
Boston's guards and wings are much more athletic and are bigger and quicker than Curry. That didn't make a difference.
"He's the ultimate competitor. … Made huge plays down the stretch," Warriors coach Steve Kerr said. "This is a tough series for him to score because of Boston's size and athleticism, but he's still impacting the game at a huge level."
Curry showed Tatum what it takes to be a superstar
Tatum and Curry are on different levels. Both are outstanding basketball players, but it's the consistency and the knack for coming up big when it counts most that separate the two.
Like Milwaukee Bucks superstar Giannis Antetokounmpo was in the Eastern Conference Semifinals, Curry has been both dominant and consistent. Tatum, not so much.
The fifth-year Celtics star has been good, but not superstar good. He's had one superstar outing this postseason, that coming in Game 6 at Milwaukee. With Boston on the road in an elimination game against the defending champions, Tatum dominated from start to finish. Jimmy Butler of the Miami Heat did that twice against the Celtics in the Eastern Conference Finals.
Tatum's long-range shooting hasn't been great. He turns the ball over way too much. He struggles to finish at the rim. These aren't superstar qualities. He's had two 10-point outings this postseason. On multiple occasions, he's gone to his postgame press conferences with the same message — I need to be better.
Tatum is just 24. He's an All-NBA First Team player this year. The tools are there. He just isn't there quite yet.
Watching Curry and Tatum, the difference is poise. With Green and Thompson struggling, Curry calmly takes charge and does it himself. Tatum has much better pieces around him, but when he tries to take over, turnovers and missed layups get in the way. He'll bark at an official and let his opponent head down the other end for an easy basket.
Curry and Tatum are both stars, but at this point, only one is a superstar.
Like Sportscasting on Facebook. Follow us on Twitter @sportscasting19 and subscribe to our YouTube channel.