Jimmy Butler Has Done What Jayson Tatum Should Be Doing
Jayson Tatum is a star, but he could up his game if he took a page out of Jimmy Butler's book.
Jayson Tatum is almost there. The Boston Celtics All-Star is a rising star trying to take his team to the next level. He's still only 24, but if he wants to be considered one of the big boys of the NBA, he needs to do what Jimmy Butler has done.
Tatum shows flashes of being a superstar, the next great player in the NBA. He's also inconsistent. Against the Milwaukee Bucks, he had two great games. He was great start-to-finish in a crucial Game 6, a game the Celtics desperately needed. He also had a few not-so-great games, including a Game 3 that could be classified as dreadful.
Tatum is more talented than Butler. His future is much brighter. For now, Butler is the more complete player, and he knows how to put a team on his back.
Jimmy Butler wanted it more than Jayson Tatum in Game 1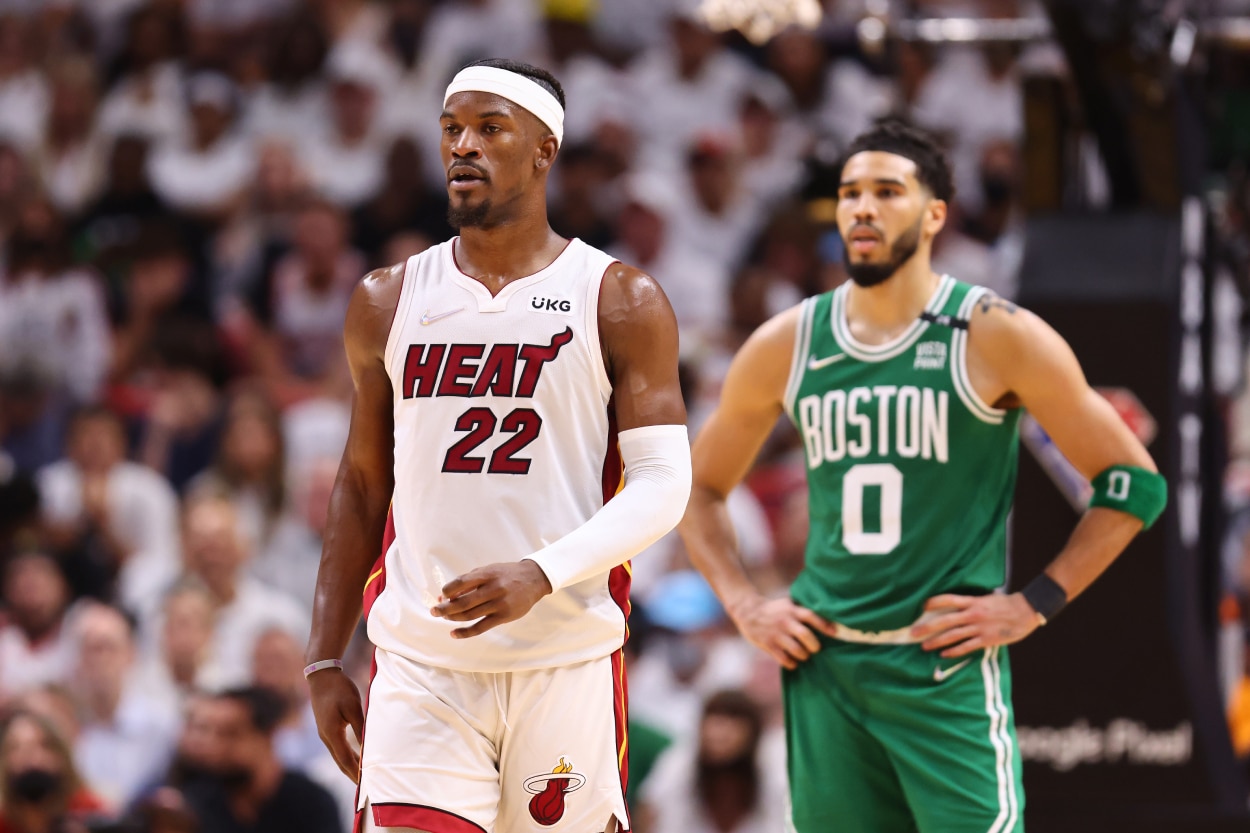 Tatum's problem isn't talent. It's immaturity. Just when you think he might be getting over that hump, a no-call will happen and Tatum's palms immediately go up in the air. He spends more time questioning the calls or no-calls of a referee than he does getting back on defense.
It cost him a couple of times in the series against the Milwaukee Bucks. Celtics coach Ime Udoka even made mention of it during a press conference.
Tatum got off to a quick start in Game 1 against the Heat. Then he fell apart in the third quarter. It wasn't just him, but on consecutive possessions, he basically handed the ball to the Heat. He had six of his seven turnovers in an ugly third quarter where the Heat outscored them 39-14.
When Tatum faltered, Butler shined. Butler's 41 points led all scorers. He did his damage from the free-throw line, going 17-for-18. Butler's not a guy who cares about numbers, he cares about doing the right thing and going all out to make sure it happens.
"Every time and pocket in the game when we needed to control the game, or get the right shot, or make the right decision, Jimmy had his fingerprints on that," Miami coach Erik Spoelstra said, per The Ringer. "If you're driven by competition, and the stakes get raised, you're going to raise your level of play. It's not about trying to get bigger numbers. It's about doing what's required."
Tatum needs to learn from Butler
Ask most NBA fans who the better player is between Tatum and Butler, and they'll tell you Tatum, usually without hesitation. Tatum has superstar written all over him, but he's not there yet.
Tatum, who is bigger than his listed height and weight of 6-foot-8, 210 pounds, spends most of his time living beyond the three-point line. During Games 3-5 against the Bucks, Tatum jacked up 27 threes. He missed 22. He's far from an elite shooter but continues to play like he's one.
Butler, listed at 6-foot-7, 230 pounds, punishes his defenders. He makes them work. He creates contact that puts him on the line. Butler won't settle for three-pointers. In fact, he doesn't want to take them.
"I want to run into people and see who falls down first, who is going to quit first," Butler said, per The Athletic. "I think that's the style of basketball I like to play. And so do they. And, you know, I was 0-for-2 from 3 tonight. I want to go 0-for-0 next game because I just want to keep banging into people."
Tatum needs to bring that mentality to the table. He needs to stop settling for the three-point shot. He needs to learn to get back on defense when things don't go his way. Tatum's mental game isn't good.
Butler might not be considered an elite player, but Spoelstra called him an "elite competitor."
"Jimmy Butler is an elite competitor," Spoelstra said, per ESPN. "There's a lot of guys in this league that are playing basketball. He's competing to win. That's a totally different thing and he does that as well as anybody in this league."
Yes, Tatum has been to two Eastern Conference Finals before this trip, but he's 0-for-2. If he gets a little Jimmy Butler in him, maybe it will be enough to get the Celtics over the hump.