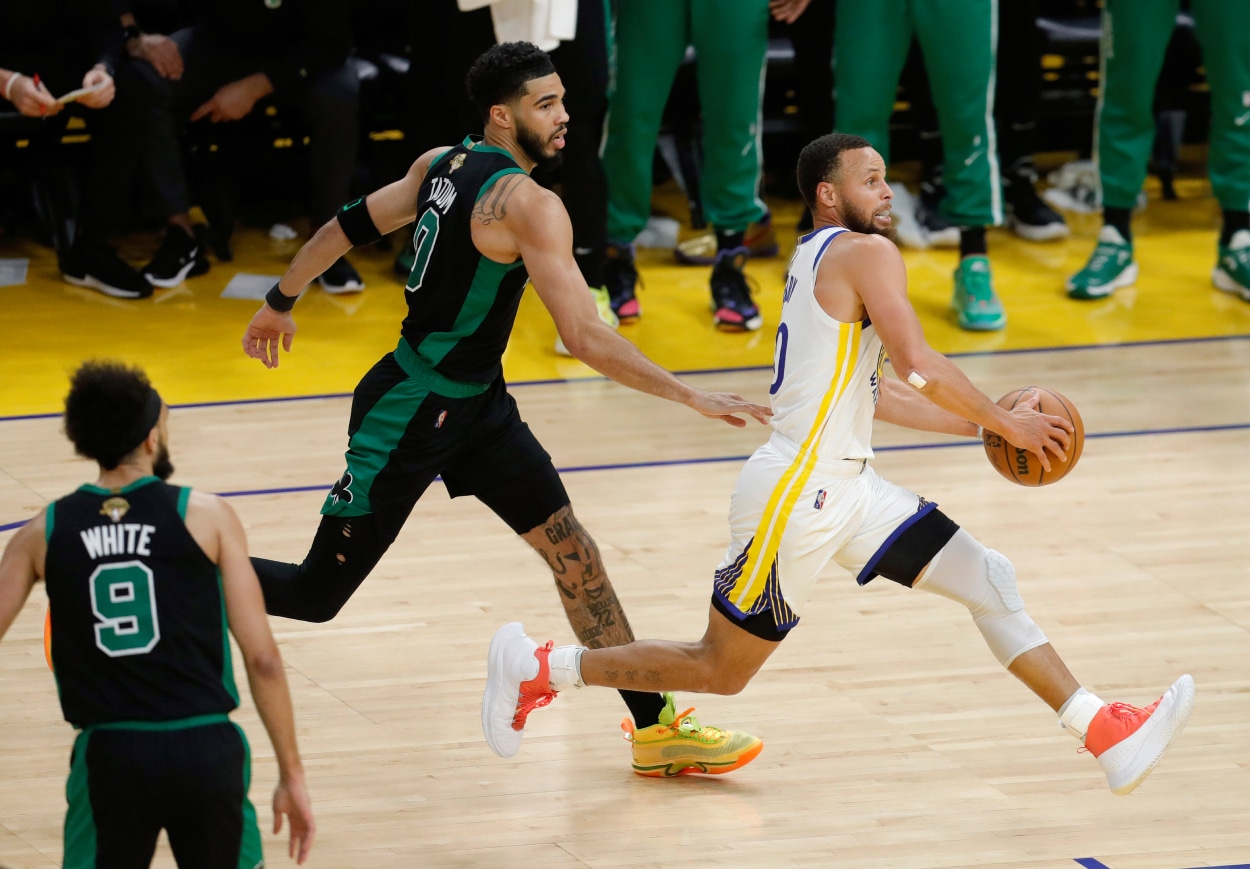 Stephen Curry Hears the Trolls and Simply Plays Along
Can Stephen Curry and the Golden State Warriors close things out Thursday night in Boston?
Stephen Curry is enjoying the moment. The Golden State Warriors star is in the spotlight as his team tries to clinch its fourth NBA title since 2015.
When you're the star of a championship team, and you have the opportunity to clinch the series in enemy territory, the trolls come out in bunches. Curry's dealing with it, and he's handling it in stride.
A Boston restaurant recently trolled his wife Ayesha, and Curry played along.
Stephen Curry's wife trolled by a Boston restaurant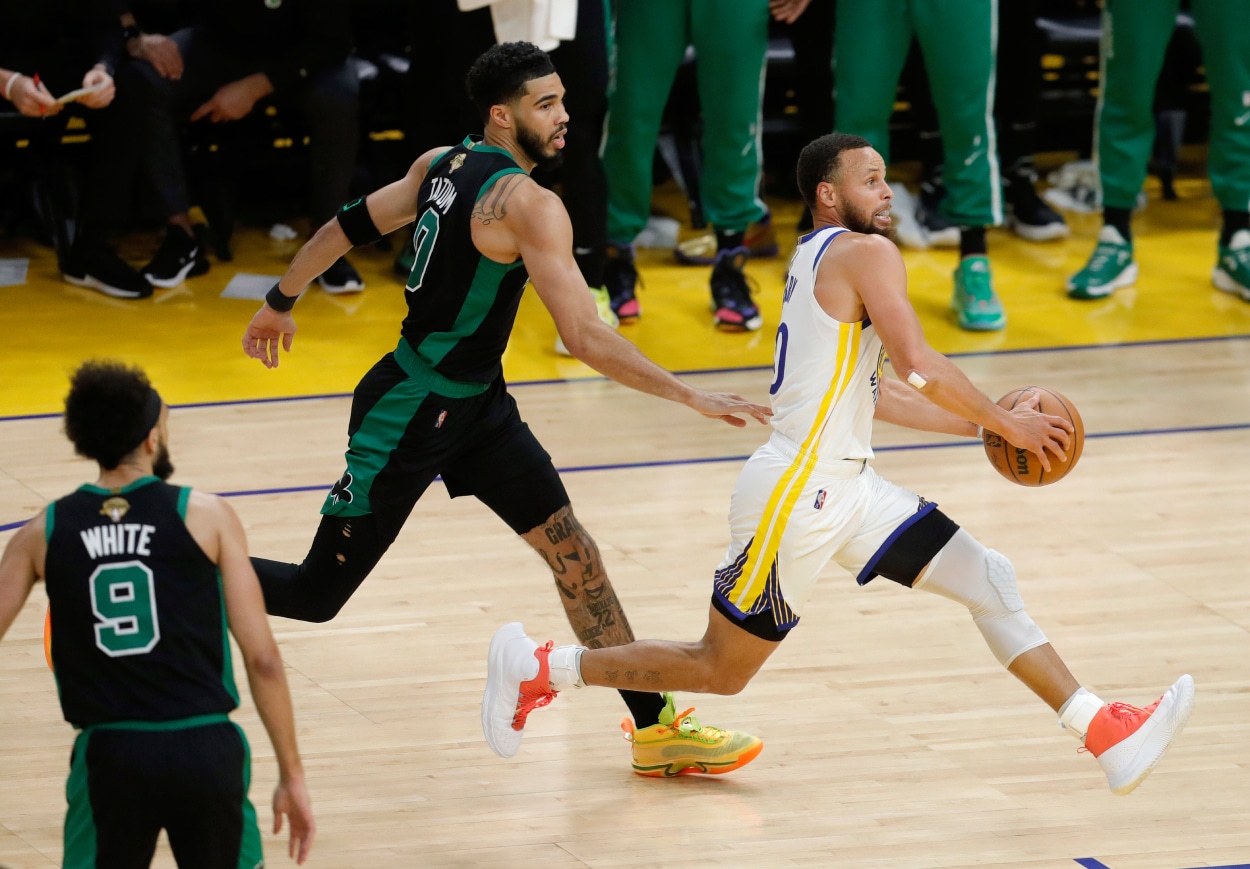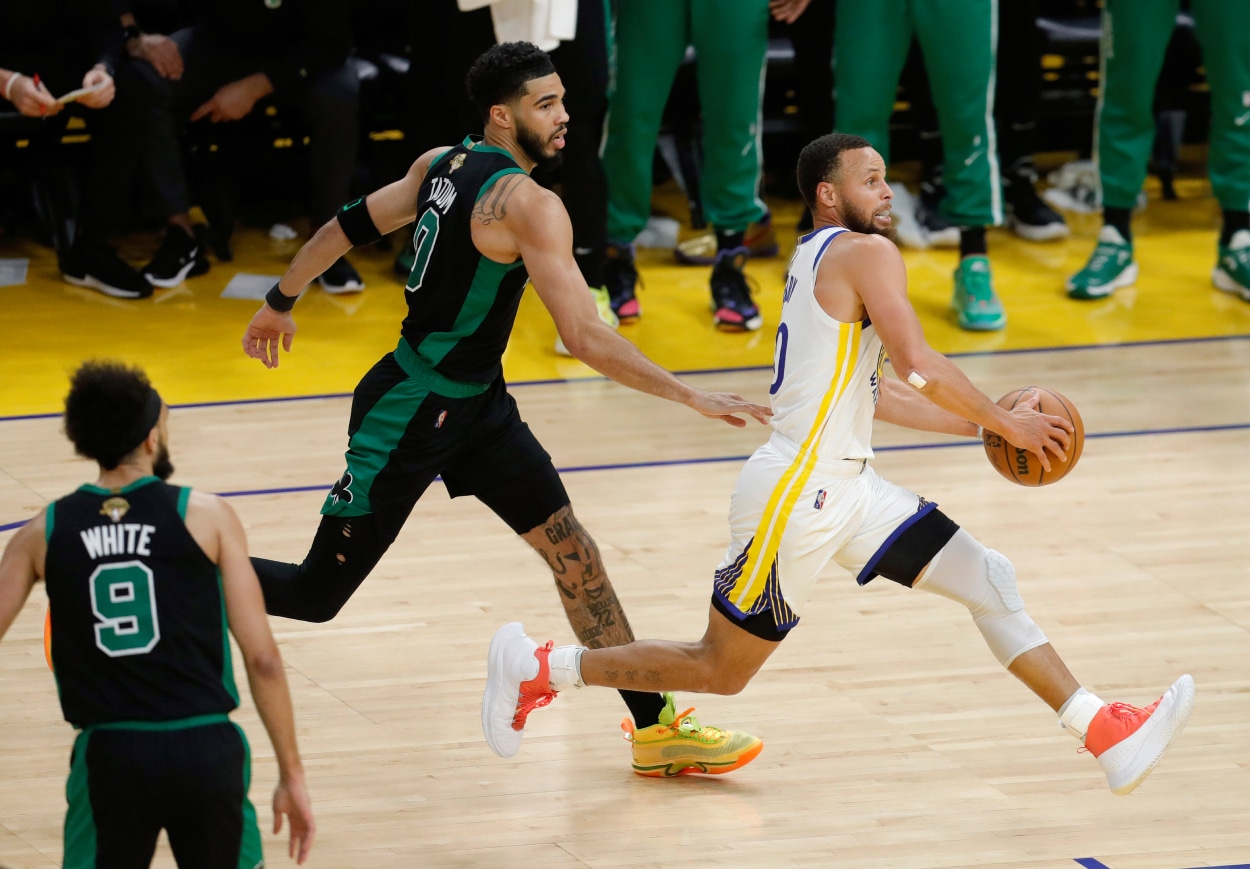 Curry has been known as "Chef Curry" for the way he cooks opponents on the basketball court. According to NESN, Ayesha Curry jumped into the cooking industry in 2015. She's authored three cookbooks and teamed with celebrity chef Michael Mina to open up steakhouses on the West Coast.
Game On!, a Boston restaurant located near Fenway Park, apparently isn't a fan of Ayesha's cooking. Or maybe the restaurant workers are simply playing the trolling game. 
The restaurant had a chalk sign outside that read "Ayesha Curry Can't Cook." Workers also wore green t-shorts that sported the same message.
Curry is used to the trolling. He's one of the top players in the league and has been to the NBA Finals in six of the last eight years.
He's used to the pressure and he hears it from fans all over. Celtics fans were all over the Warriors in Game 4 as their team had a chance to take a commanding 3-1 series lead. Instead, Curry took charge. He put the team on his back with a 43-point effort. Now, it's Curry's team who can close out the series tonight in front of those Boston fans.
Curry plays along with the Boston trolls
Curry had a rough outing in Game 5, finishing with 16 points after going 0-for-9 from three-point land. Despite the struggles, the Warriors posted a 104-94 victory to take a 3-2 series lead.
The Warriors guard stepped up to the podium with a t-shirt of his own. His read "Ayesha Curry Can Cook."
On Wednesday in Boston, Curry explained how he enjoys everything that comes with playing in the NBA Finals, even if that means taking some ribbing from fans.
"I'm the petty king so I know all about everything," Curry said. "I use it as entertainment and just have fun with it.
"The more you're on the stage, the more you realize the attention that is on you, how much it means to each fan base, and how much it means to the cities. So you can't really be surprised by anything. There's a lot at stake when it comes to winning championships."
The restaurant struck back after seeing Curry's shirt, firing another shot on another chalk sign. This one read "Steph saying his wife can cook is like your mother telling you you're HANDSOME."
Curry and the Warriors hope to have the last laugh Thursday night in Boston.
Like Sportscasting on Facebook. Follow us on Twitter @sportscasting19 and subscribe to our YouTube channel.